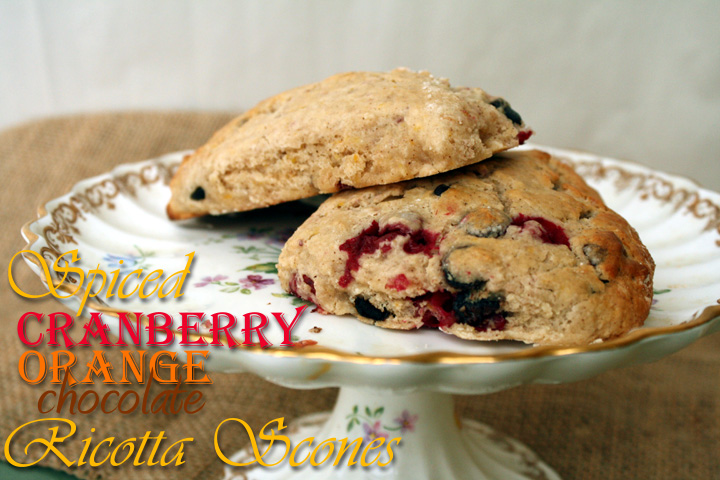 Well here we are approaching Christmas, and I actually have my act together enough to post a festive recipe for you ahead of time! Hopefully you can make this for your family on Christmas morning…or on any morning :)
Before I met Nate, I had never celebrated Christmas. I guess every family does it differently, but at his house (or technically his mom's house) the whole family wakes up Christmas morning, opens presents, and then has a big, yummy breakfast. You need food after all that exhausting unwrapping.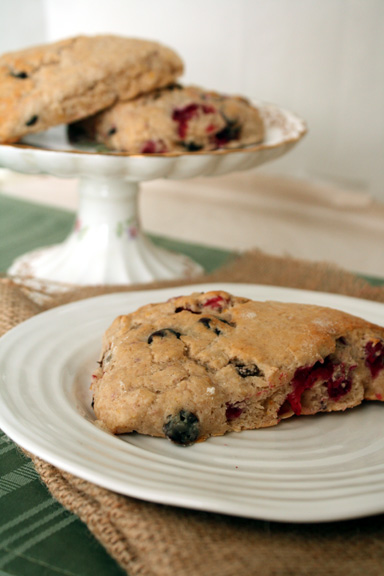 The first year I got to spend Christmas morning with them, I wanted to contribute something, so I made these delicious overnight cinnamon rolls. They're definitely a good choice! They get prepped the night before and then you just take them out about an hour before you wanna bake them to let them warm to room temp. Nate's mom also makes turkey sausage and bacon and has plain croissants and chocolate croissants and blood orange juice! I told you it was a big, yummy breakfast ;)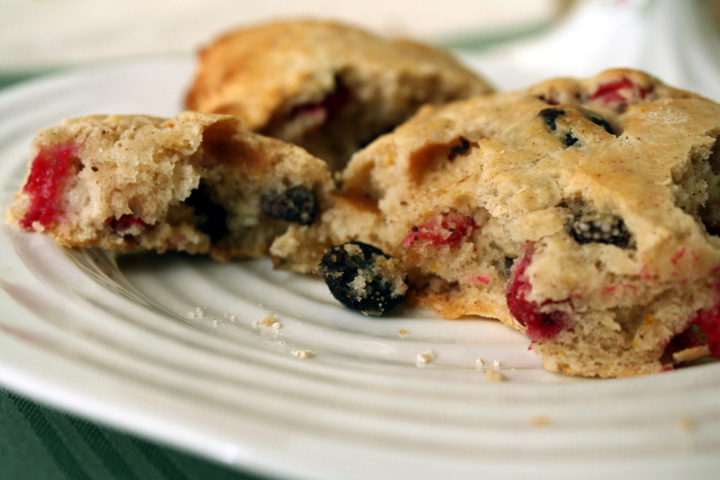 If you want to be really decadent, you could make this thick and rich hot chocolate too. It's practically like eating (drinking?) dessert.
But another great breakfast food is scones. Ok, maybe not in England because I think they eat them for tea time there. But in America, scones are lovely for breakfast.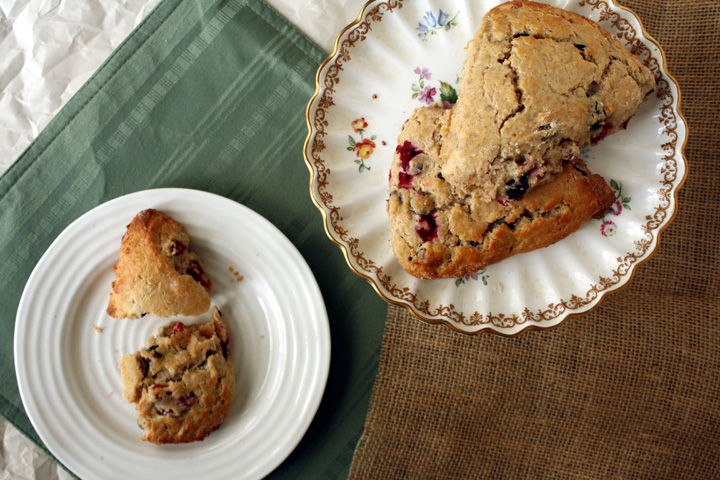 We had some leftover ricotta the other day and I knew Nate loves scones, so I tried to  come up with something festive. Not only did I succeed (I think cranberries and spices definitely scream holiday), but Nate said they were "AMAZING." And I think I have to agree ;)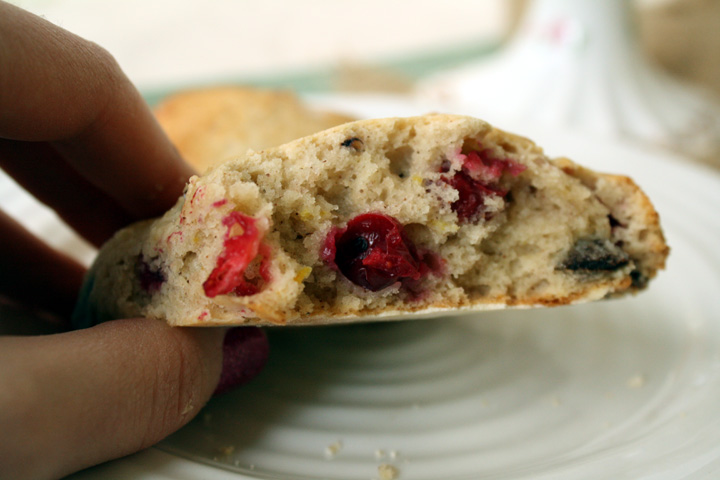 Spiced Cranberry Orange Chocolate Ricotta Scones
Makes 8 large scones
2 1/2 cups all-purpose flour
1 Tbsp baking powder
3/4 cup granulated sugar
1/2 teaspoon salt
1 tsp cinnamon
6 Tbsp cold unsalted butter, cut in small pieces
1 cup fresh cranberries (or thawed frozen ones)
1 cup dark chocolate chips (I actually used mini nonpareils because I had them and they're festive!)
1 cup whole milk ricotta
1/3 cup whole milk + 2 Tbsp to brush tops of scones
zest of one orange (about 1 Tbsp)
1 egg
Preheat oven to 425. Line a large baking sheet with parchment paper or silpat. In a large bowl, whisk flour, baking powder, sugar, salt and cinnamon together.
Add the butter and use the a pastry cutter (and/or your fingertips/ potato masher or ricer) to cut/blend the butter into the flour mixture until the biggest pieces are the size of small peas. Toss in cranberries and use the cutter again to break them into pieces and quarter berry sized chunks. Add chocolate chips.
In a small bowl, blend ricotta, milk, egg and orange zest. Stir them into the flour mixture to form a dough with stiff spatula or wooden spoon. The dough will be very wet.
Dump dough on to a very well-floured counter, flour the top of the dough and pat it into a 1-inch thick circle. With a large knife, divide the dough 8 pieces, cut like a pizza (or whatever shape you like your scones). Transfer the scones to prepared baking sheet with a spatula and keep them at least 1-2 inches apart because they will spread. Brush scones lightly with milk.
Bake the scones for about 20-25 minutes, until lightly golden at the edges. Cool in pan for a minute, then transfer to a cooling rack.
Best served warm but still delicious the next day. They even stay pretty moist when straight out of the fridge!