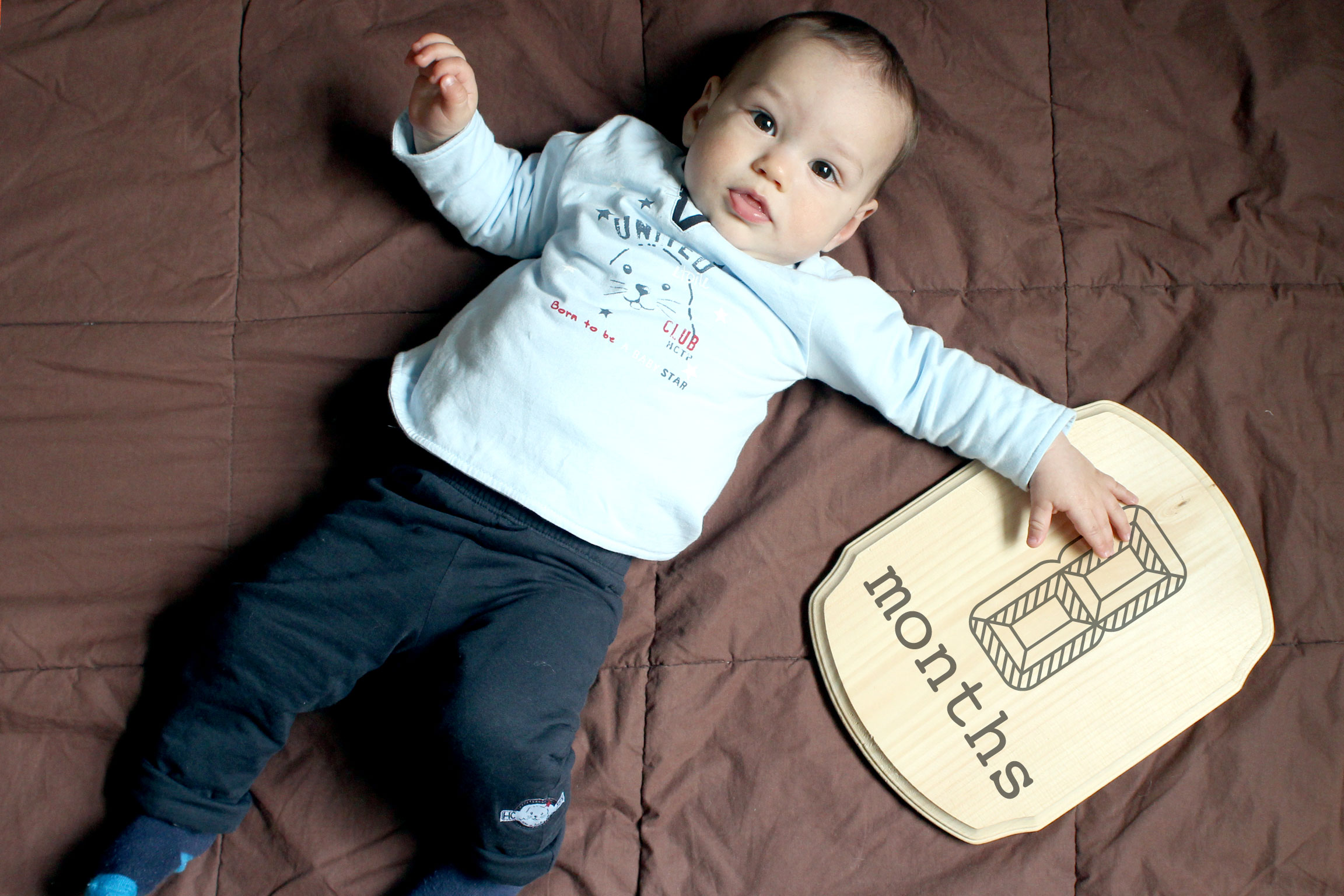 *this post is a wee bit late, as Berkeley is almost 10 months old now. His 9 month update will be coming soon, hopefully…
I know I say this every month, but 8 months was a big one for little Berkeley! Pardon all the pictures, but they're all so cute I couldn't choose :)
He officially started crawling on his hands and knees instead of crab crawling, and man is he fast! He pulls himself up on anything and everything and even cruises a little bit (whenever we put him down for a nap or he wakes up from one, we see him on the monitor standing in his crib walking around the perimeter…or throwing all of his pacifiers one by one out of the crib).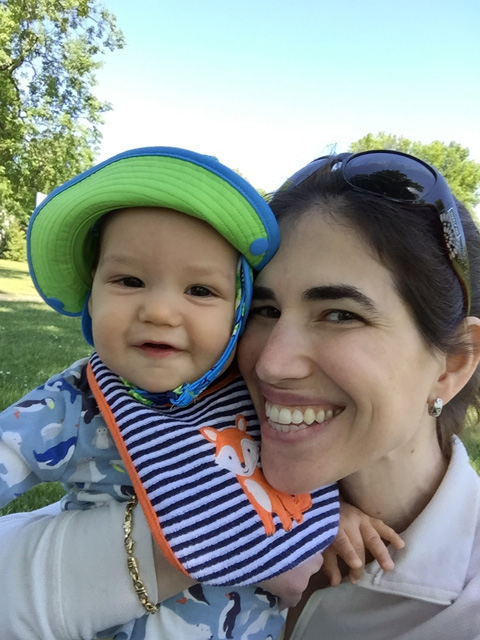 He doesn't quite understand that when he's standing and he lets go, he'll fall, which has led to his head smacking against the floor a couple times and him crying :( We watch his every move but i swear it happens in the split second i turn my head! He has also learned how to lower himself from standing by bending his knees and putting one hand back on the ground, but he doesn't always remember to do it.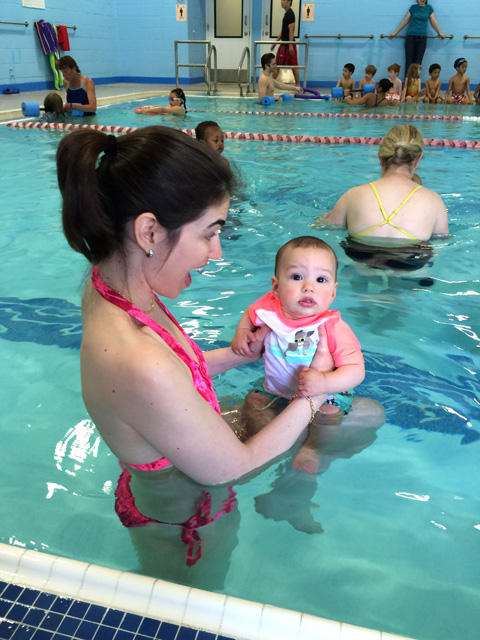 He started his swim class! He's the youngest one and doesn't really understand the stuff he's supposed to be doing, but he loves the water. He splashes and almost does a doggy-paddle thing that is SO CUTE…with me holding him of course. We even dunked him under the water a couple times, which he does not like. But he only cries for like 2 seconds when he comes up and then he's fine.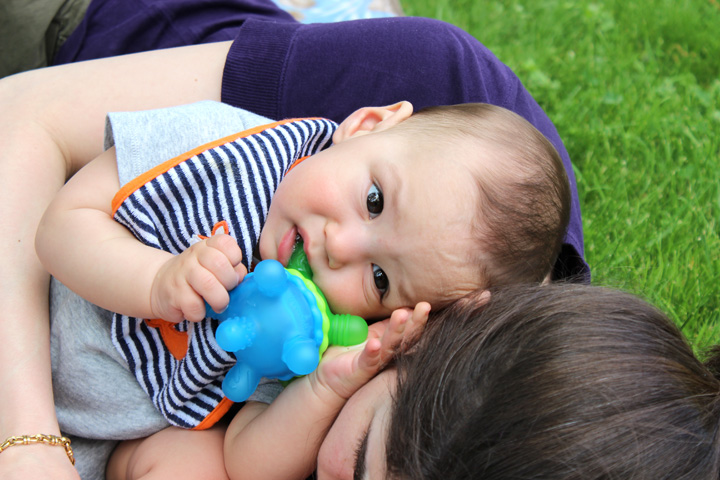 The weather's been nice so we've been spending lots of outside time, sitting on porch, playing in backyard.
P.S. He's not sure what he thinks about grass…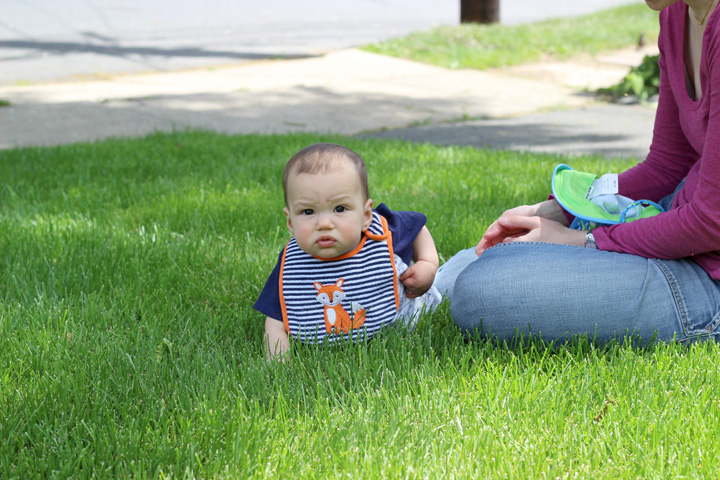 He tried one of those MumMum biscuits but he didn't understand that after biting off a piece, you have a to chew it. So he just kept biting and shoving it in his mouth and biting again. I don't think he understood that he was biting piece off since it doesn't happen when he bites his toys. He's still not great at chewing, but he's been eating real finger foods now! I cut everything into very small pieces and make sure that they're soft enough that if he swallows without chewing, it won't choke him or hurt going down.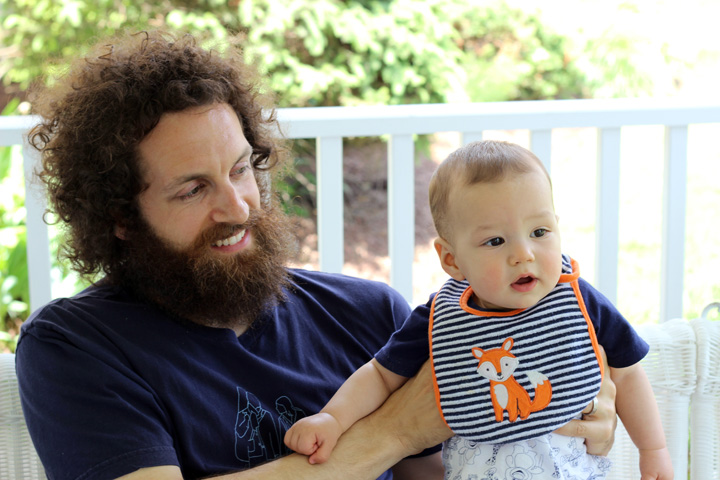 He freaking LOVES eating. There is nothing he won't eat and he just keeps shoving things in his mouth…or grabbing the spoon if you're feeding him. We tried lots of new foods this month- scrambled eggs, blueberry waffles (made by grandpa), blueberries, steamed pears, sweet potato sticks (definitely his favorite). My favorite thing is when he eats scrambled eggs, he doesn't chew them so they're a little difficult to get down, so he just takes a drink of water between bits to wash it down, haha.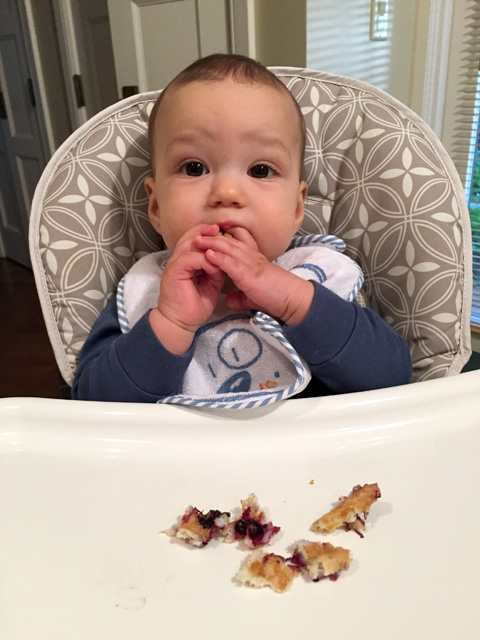 Speaking of water, he loves it so much, and he figured out how to use a straw cup! He's so good at it and it's the most adorable thing. He can drink a ton of water with his meals so sometimes i take it away since he still spits up some.
He also started reaching for people when he wants them ( i love this!!!). And towards the end of the month he's been having some separation anxiety. It makes me so sad to see him get upset, but at the same time I love knowing that he loves me so much that he gets sad when I leave. He's easily distracted tho, so it's not a big deal to sneak out. We've been practicing waving and saying bye-bye, but he doesn't get the waving thing yet…at least not enough to repeat it back.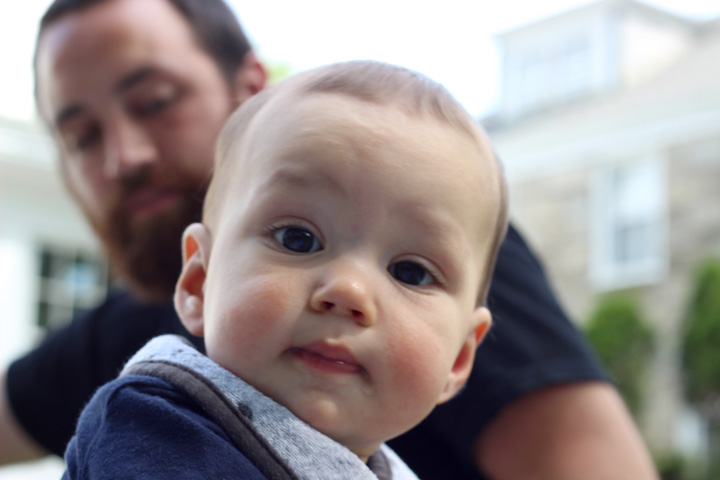 I've been trying to do some sign language with him before i give him food, drink, milk, when he sees LC, etc. I'm not too consistent with doing it but I have no idea if he understands what i'm doing yet.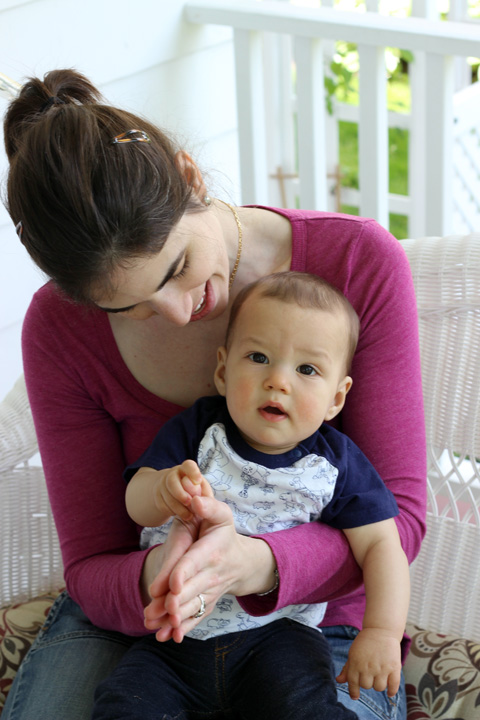 By the end of the month, he seemed more and more like a real little person, and it's amazing. He's much more dexterous with his hands and is practicing his pincer grasp but hasn't gotten too good yet. He totally gets books now and when I read him a "pat the bunny" type book, he reaches for the textures to feel them. it's so cute!!! He sometimes tries to turn the pages, but not always. Also, he likes when i read the same book to him 5 times in a row, haha. Oh, and my mom bought him this toy that talks when you open and close it, and he figured it out and kept opening and closing it! I was so impressed.
Berkeley had his first plane ride this month! We went to Florida to visit my parents.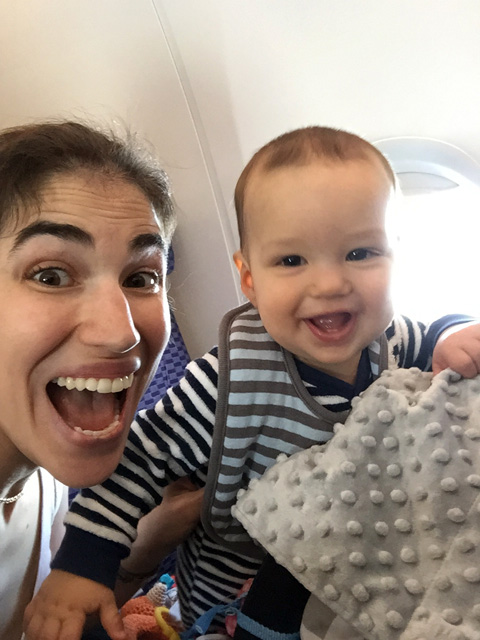 My mom flew there and back with me so I had help on the plane, since Nate couldn't join. I seriously don't know how moms travel without help. Between a baby that doesn't sit still and a TON of bags, there is no way i could have done it alone.
We had a lot of fun in Florida- taking walks, going swimming, showing him off to my mom's friends.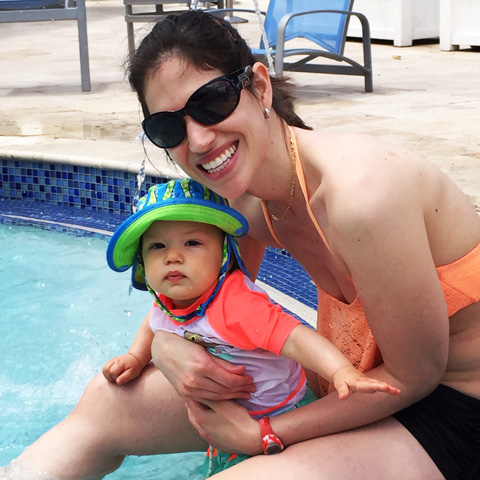 Stats: 18ish lbs, Size 3 Pampers Swaddlers diapers (Size 3 Huggies Overnite with a booster pad for nighttime)
Likes:
Crawling on his hands and knees, swim class, lots of outside time, sitting on porch, playing in backyard, EATING, reaching for mom or dad to be held, drinking from his straw cup, standing and cruising, grabbing spoon and trying to feed himself, turning pages in books (sometimes backwards), throwing pacis out of crib when he wakes before i get him.
Dislikes:
When mom or dad leaves the room, when you don't feed him fast enough or take his water away before he's done, napping (sometimes), staying still for more than 2 seconds, being restrained for too long in a car seat, getting dunked under water (in swim class), being startled.
Schedule:
between 5-6 am: wake up
6:15 am: 7 oz bottle of formula followed by baby oatmeal (made with prune juice) and some pureed fruit or fruit pieces
7:30-8 am: 1/2 hr-1.5 hr nap (the latter if we're lucky)
9:30 am: 6 oz bottle of formula
11-11:30ish: lunch (he eats all sorts of things: sweet potato chunks, fruit, mini meatballs, avocado, eggplant, peppers…)
11:30/12:30ish: 1/2 hr-1.5 hr nap (the time he goes down for his nap depends on when he got up from last one)
1:30-2ish (when he wakes): 6 oz bottle of formula
3 pm- more solids (technically his dinner since he goes to bed so early)
4:30: 7 oz bottle of formula
5pm: bedtime! he's usually out within 20 min, sometimes even within 5 min.