I have a recipe all ready to post finally! It will go up in a few days but I thought I'd give you a little pregnancy update in the meantime.

I've been MIA and missed a couple weeks of a belly pics because I managed to somehow throw my back out. I woke up one morning with it hurting and by the next morning I literally couldn't move. It wasn't fun.
My doc told me to head over to the PET unit at the hospital which is basically the ER for pregnant women. I didn't know it existed but it sure made the wait better!
I wasn't worried about the baby since he was kicking a ton, but wanted to make sure I didn't have some sort of bladder infection. Turns out it was just muscular and they gave me some pregnancy-safe muscle relaxers that I took for a few days and then switched to Tylenol.
I was back at work this past week but still in some pain. I got this pregnancy back support thing that you wear around and it seems to help a bit. I think I just need to take it easy and be careful of my posture now that I have what looks like a soccer ball strapped to my belly.
I stupidly decided to paint in the nursery right when my back was feeling better and managed to take my recovery back a couple days. Oh well.
I painted birch trees in the corner of the nursery where the crib will eventually be. I'm going for a Woodland Theme as I think I mentioned in my last post. Here are some before and after pics :)
You can't see it in this pic since I added it later, but I "carved" the baby's initials into one of the trees. Nate thought I should add a little heart with his and my initials in another tree, which I think would be super cute!
I'd seen a bunch of other blogs doing this little pregnancy update and although it's not quite as fun since I haven't been doing it all along and so can't compare now to then, I stil thought it would be nice to look back on later:
How far along: 30 weeks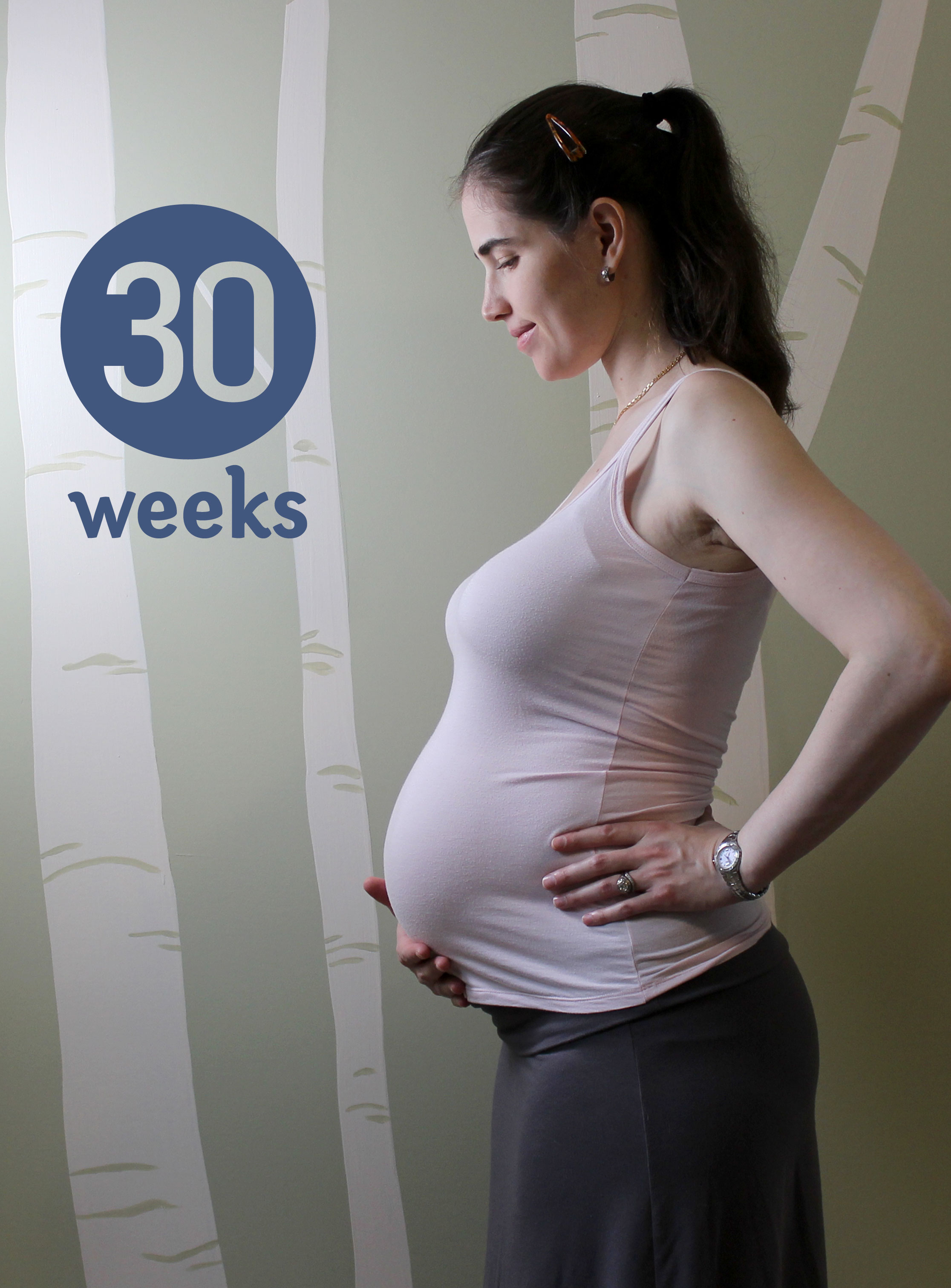 Gender: Baby boy!
What Fruit are you? He's the size of a large cabbage now- about 15.7 inches long now and weighs almost 3 pounds
Due date: September 8, 2014 – At 12 weeks they told me I was measuring a week ahead and he seems to be measuring consistently according to that now. At the last appointment his head was measuring large (thanks a lot, Nate!) but his body was right on track.
Total weight gain/loss: At my 29 wk appt, I was up 20 pounds according to my scale at home, but my doc is claiming 23. They told me this is right on track and I should be gaining about 1 lb per week now.
Exercise: I walk about 40 min a day with my commute, so that's good. The last two weeks when I was out of commission from my back I basically did nothing. I did meet Nate at the train a couple days (20 min walk total) and he also suggested taking a walk with me a few days.
Stretch marks: None so far (fingers crossed)
Swelling: None
Belly button: It's still an inny…seems it will prob stay that way.
Sleep: I've been feeling really tired lately. I seem to fall asleep easily but then wake up throughout the night to shift positions (very difficult now!) or pee. I also haven't been sleeping deeply and so have been remembering some weird and vivid dreams.
Food cravings: I'm back to craving what I did in my first trimester- anything juicy, specifically watermelon, nectarines, grapes, etc. Also craving meat whenever I smell someone bbq-ing.
Symptoms: Major back pain (I somehow threw my back out), feeling generally large and heavy. I don't enjoy having to bend down to pick things up. Pretty good otherwise!
What I miss: Stomach and back sleeping :(
What I'm loving: Baby kicks :)
What I'm looking forward to: Feeling better prepared for the baby- we're getting some baby things now but keeping them in a closet til the baby comes home. I finished painting the trees on the nursery wall as you can see evidenced in my belly pic from this week.
We're also taking a birthing class and that's making me feel a little more ready.
Latest Concern: I have a different complaint every week. The doctor told me she's never had anyone with such odd maladies…but we already knew I was a hypochondriac :)
Also the birthing class taught us about epidurals and c-sections last class, and I've decided I really hope I don't have to get either. They're scary!
And just for fun, here's a collage of my pregnancy thus far…