I know I know, you guys haven't heard from me in weeks and now you're expecting a recipe- soon I promise. These last few weeks have been a bit crazy to say the least.
House News
We moved into our house on April 16th and my parents came up to help. I don't have many pics but I can share some instagram ones of LC enjoying the new place.
My parents stayed most of the weekend and then Nate's mom came into town for Easter. My parents both managed to get sick on their return home…and since pregnant women have weakened immune systems, guess who they got sick?
I had a really bad cold that kept me home from work the week after our move. It was bearable but I was just paranoid it was going to turn into something that would require medication, which I really hate to take while preggo. I did take some Robitussin DM and tylenol, both of which the doc said was safe. Thankfully after 4-5 days I was feeling much better.
Nate's mom and brother came to visit the next weekend, so we still haven't had time to unpack our house! I will take pics as soon as it's slightly cleaned up. Or I suppose I could have some "progress" pics before it's really decorated.
Our kitchen island still hasn't arrived (hopefully it will get installed next weekend!!!) but I did manage to FINALLY cook a meal on Wednesday. I used our new oven's convection mode to roast two trays of veggies at once and it worked great :)
Baby News
In other news, the ultrasound doctor at the hospital told me that I'm measuring a week ahead…so i've skipped to 22 weeks now! Aaaaaand…

It's a boy!!!
I think knowing the gender has totally made this more real. Also, I've felt some definite kicking, and even Nate felt it the other day! I've been wearing more belly-hugging clothing and still find myself surprised that I'm pregnant when I catch a glimpse of myself in the mirror. It's just very strange. I think my belly just expanded overnight.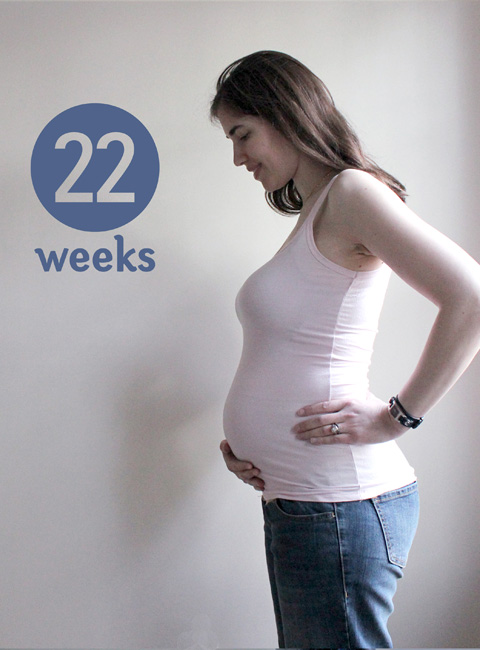 Sorry about the quality of this photo. I finally remembered to take a pic at dusk so the light stunk. From here on out I'm going to try to take weekly pics tho…and I'll try to get them in daylight!
I apologize for not being around much but hopefully I'll get back in the groove soon. Hope you're all enjoying your spring!