Hello everyone. I'm sorry I've been totally MIA (if you're my blogging buddy, I promise I'll be to your blog soon to comment!!). Our house has had some delays, and I've had to make a billion decisions. We've officially booked our move for April 16th although the contractor has told me that he's barely going to finish by then. UGH.
Anyway, we've already started packing, and we're going to be leaving this apartment with a little more than we came with: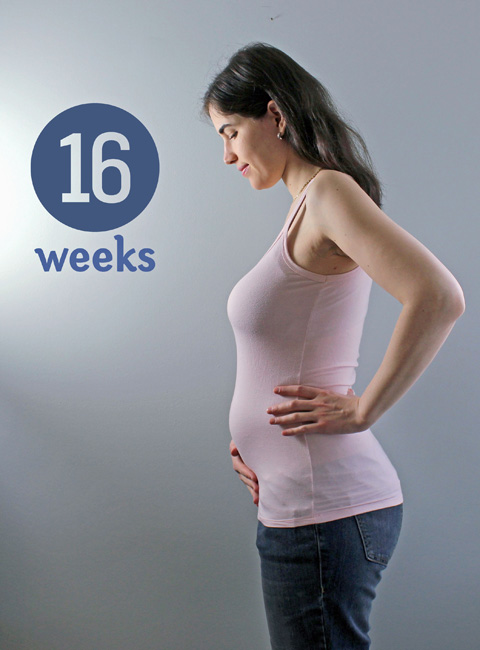 I wanted to tell you guys SO BADLY. I was waiting til I announced it to my boss, but the secret's out now…and so is my belly!. Is a belly this big normal for 16 wks?! I've only gained 7 lbs so far, so it's kind of crazy.
Anyway, this baby is a large part of why I haven't blogged recently. The first trimester I was majorly nauseous and exhausted all the time. I didn't think you would want to see my "recipes" that I made on a nightly basis (plain pasta).
I've finally made it into the second trimester, and I'm feeling so much better. Baby is officially the size of an avocado :)
Now if I just didn't have the house stuff stressing me out, I might find some time to cook something for you. Soon we'll be packing up our kitchen so I hope I can find some time between now and then to cook up something tasty. But if I don't, I promise that I will do lots of cooking in our new kitchen!
Speaking of the new kitchen, the island has a little issue so we will be island-less for a week or two after moving in :( Not the most convenient thing but at least it will be corrected in the end.
Here's a pic of the kitchen partially assembled…but this is with the incorrect, too-big island: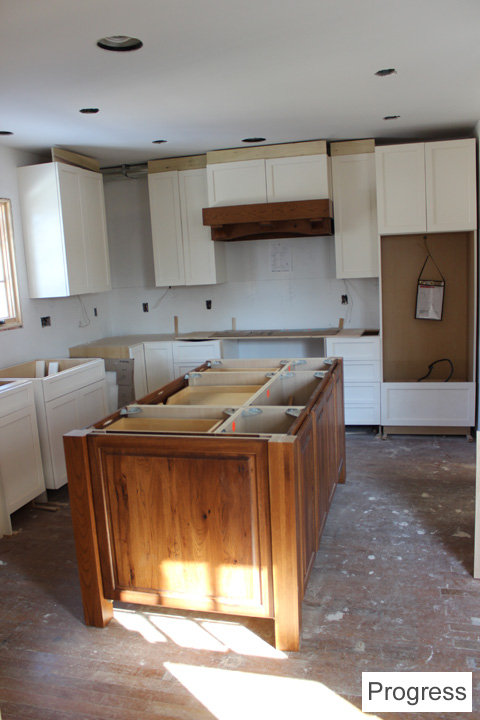 And now since I'm sure you can't wait to see, here are some more progess pics of the rest of the house. It's actually even more done now but I haven't been out there with a camera lately.
Entryway: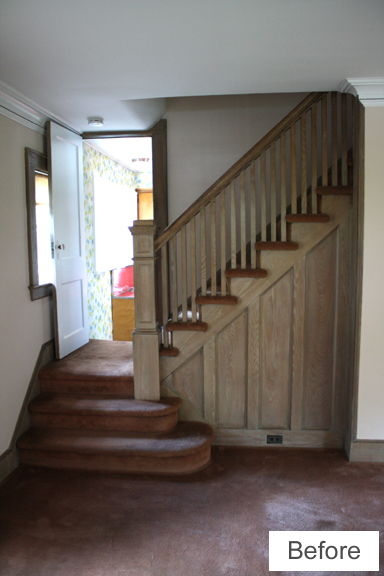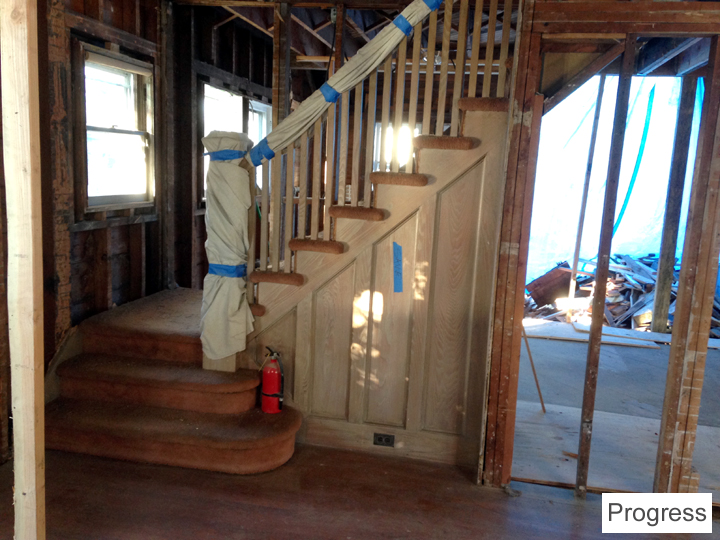 Living Room: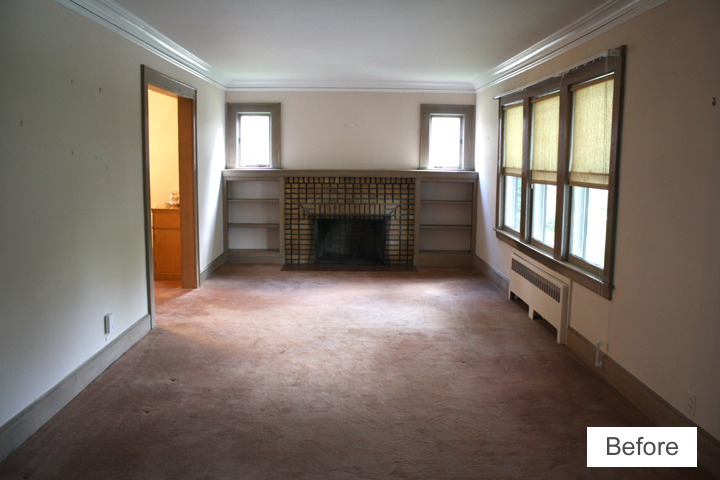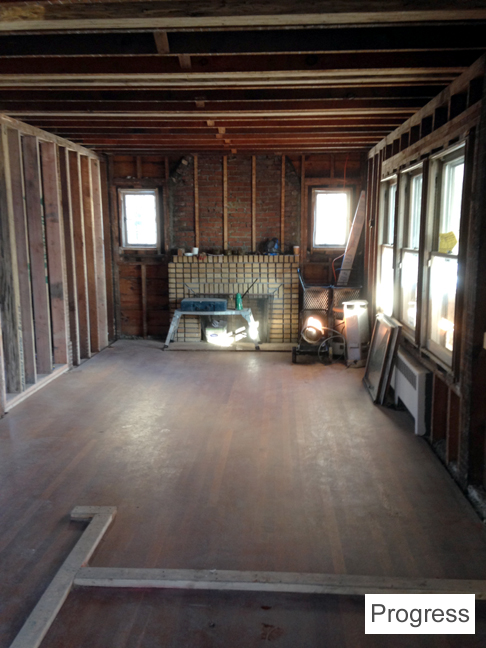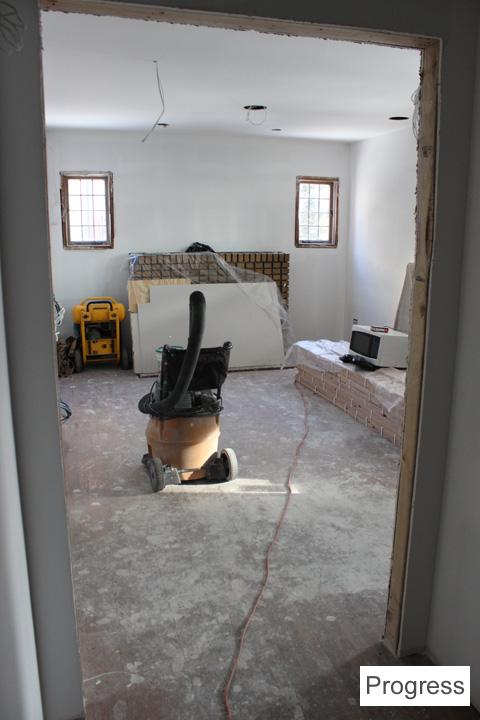 There is going to be a wood mantle surround and cabinets around the fireplace. They're in the process of being built. The living room is smaller now because there's a front hall closet and built-in desk/bookcase on the living room side.
View from fireplace towards front door: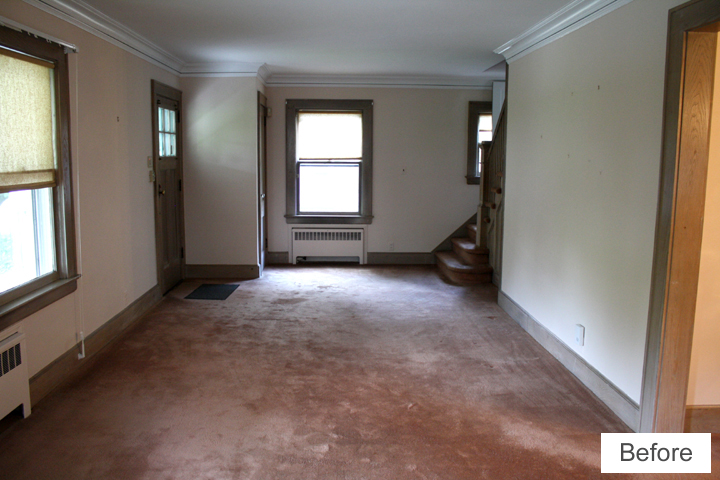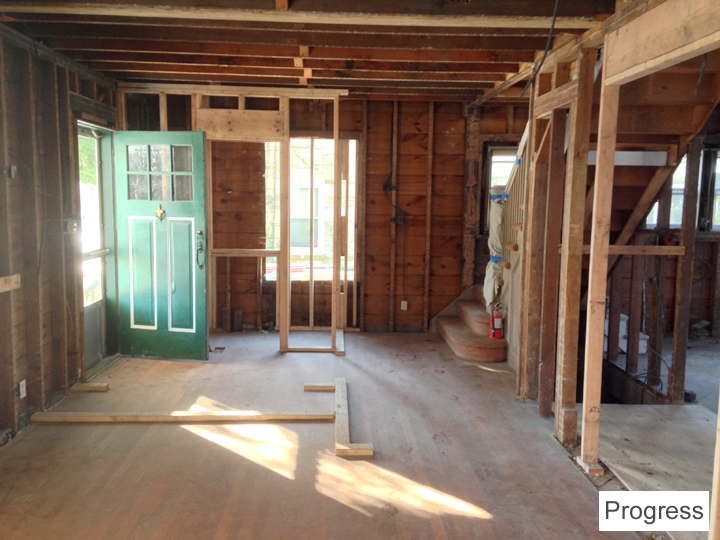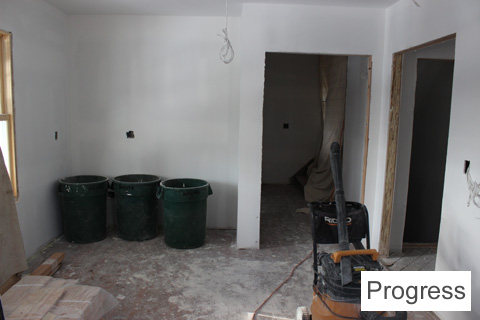 and here's the bookcase/desk being built, plus some trim on the windows/doors: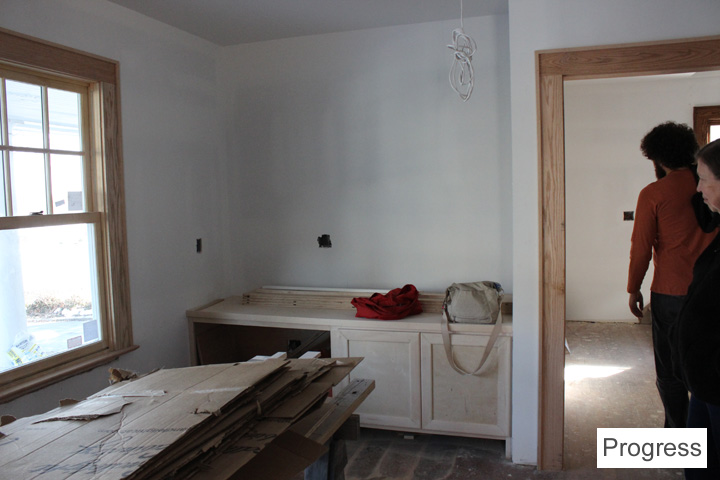 Looking towards living room windows from what will now be the hallway: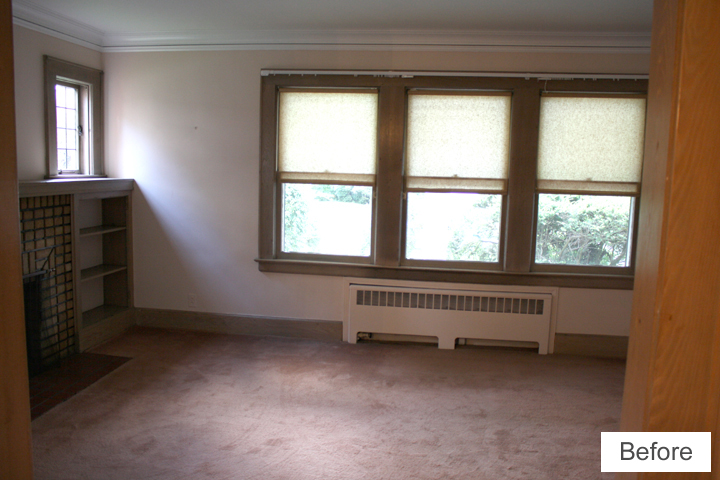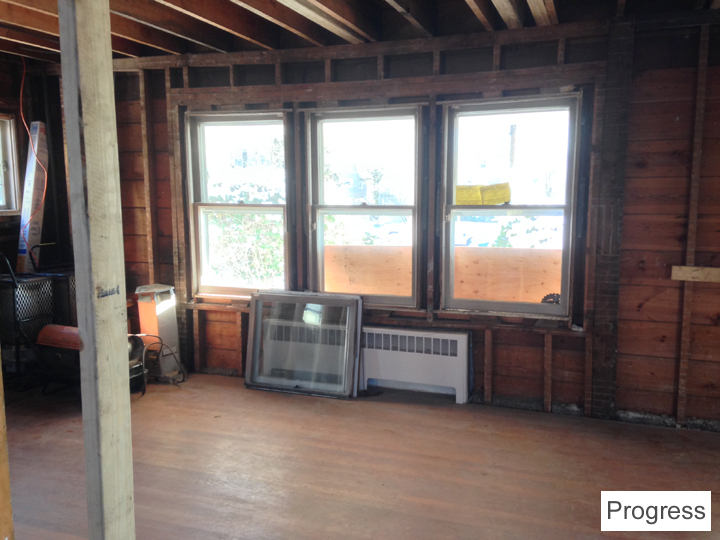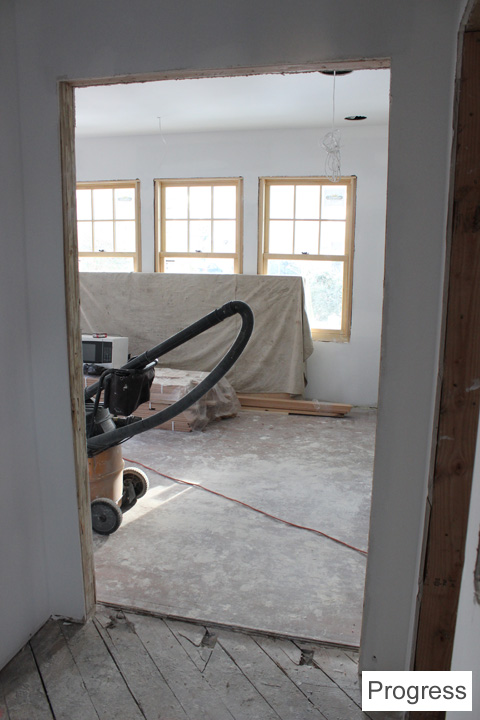 view from living room windows towards the new hallway to the kitchen/dining rooms: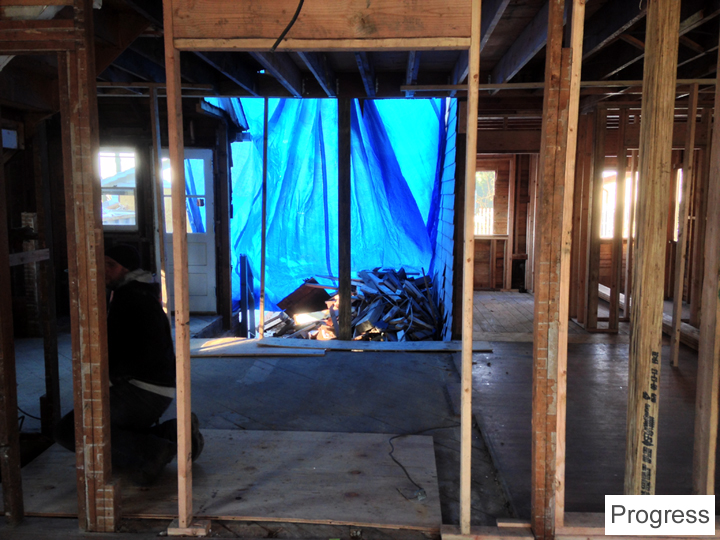 Kitchen:


Now the "kitchen" is officially a dining room and the window in the back is actually the kitchen: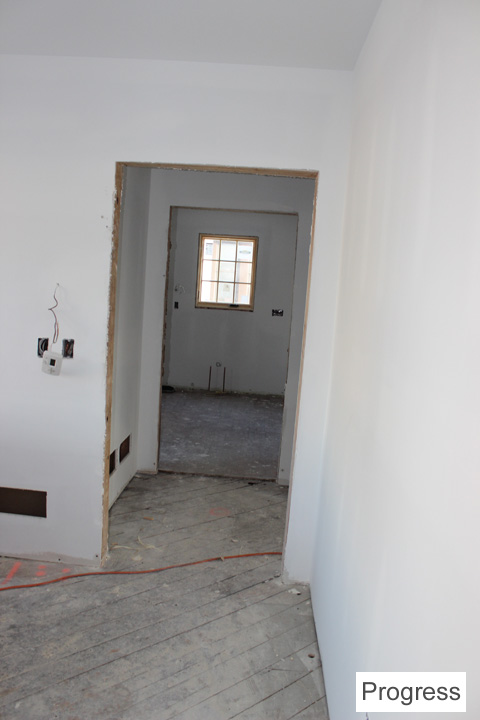 Den: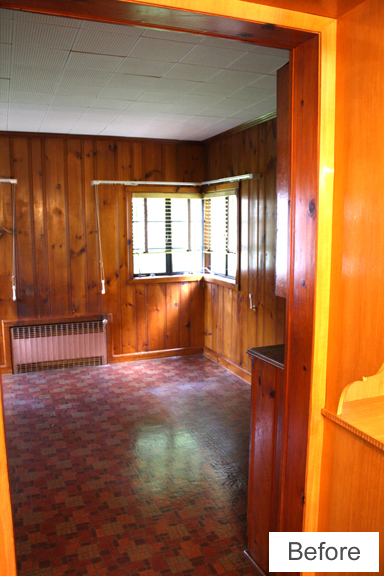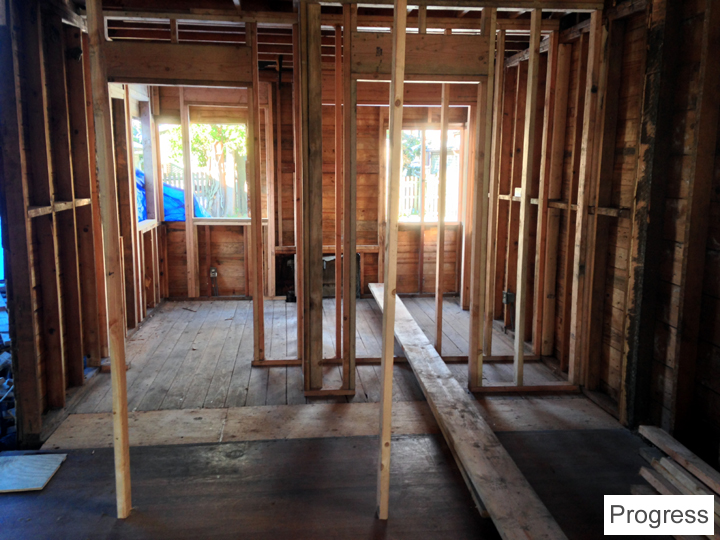 What was the den is now the back of the kitchen and the new mudroom/laundry room (through that doorway).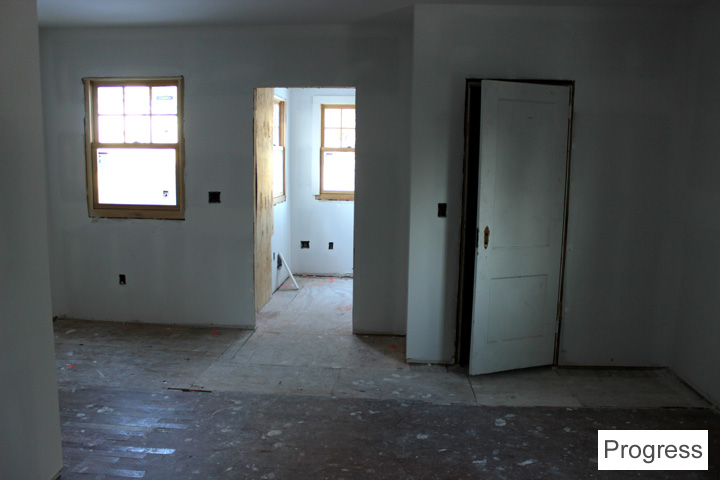 Ok, let's go upstairs.
I don't think I ever showed a before pic of this, but there used to be a closed door leading up to the attic…and now it's a nice bright, open stairwell!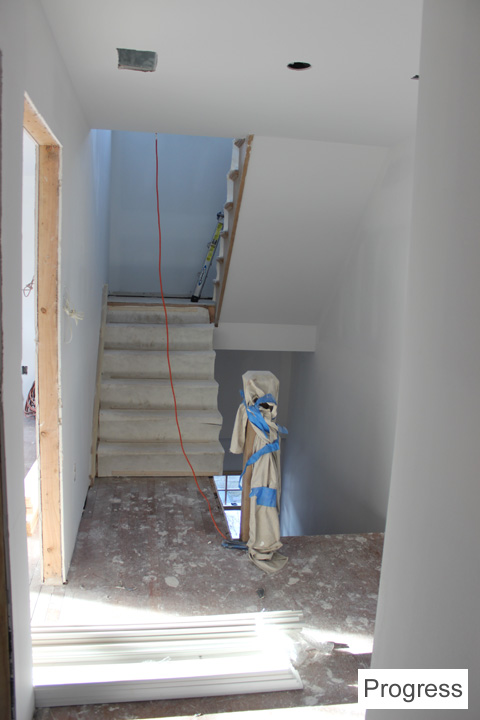 Master Bedroom: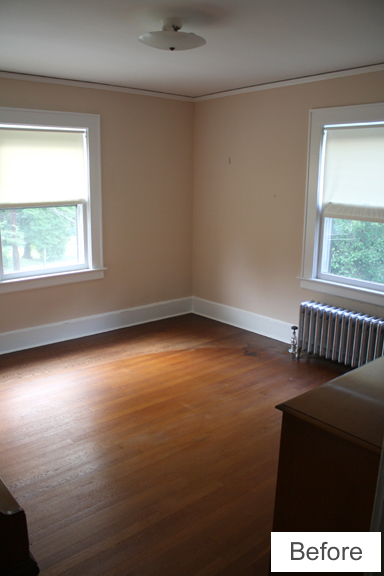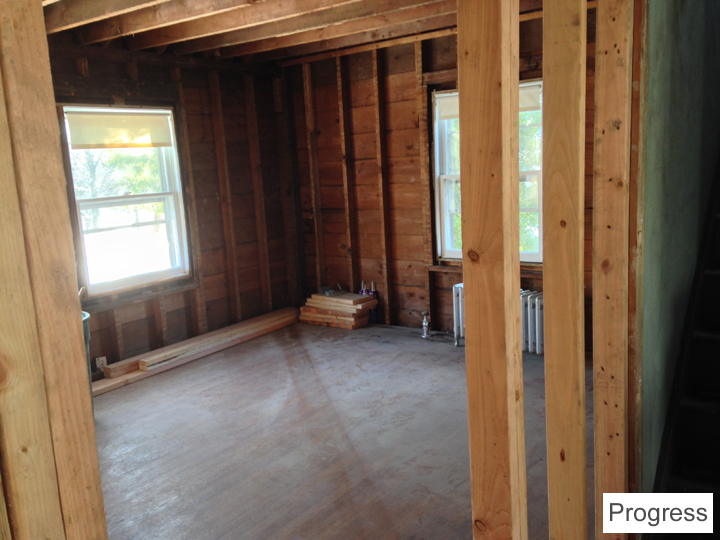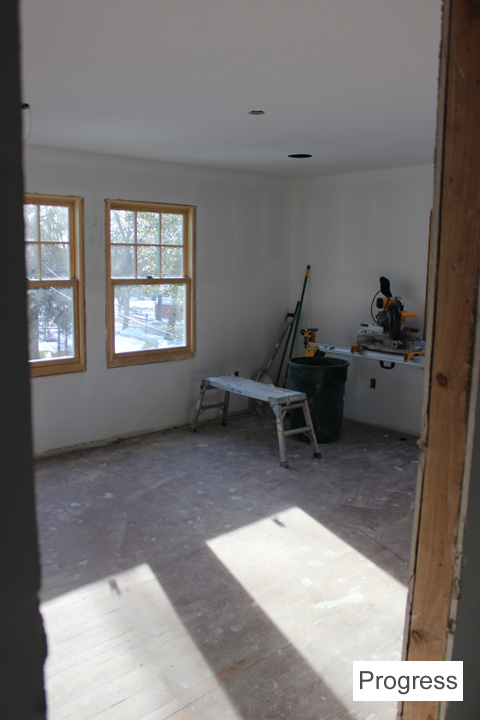 There are still windows on the other wall, they're just cut off in this pic.
View from new Master bedroom "through" the new walk-in closet to the master bathroom: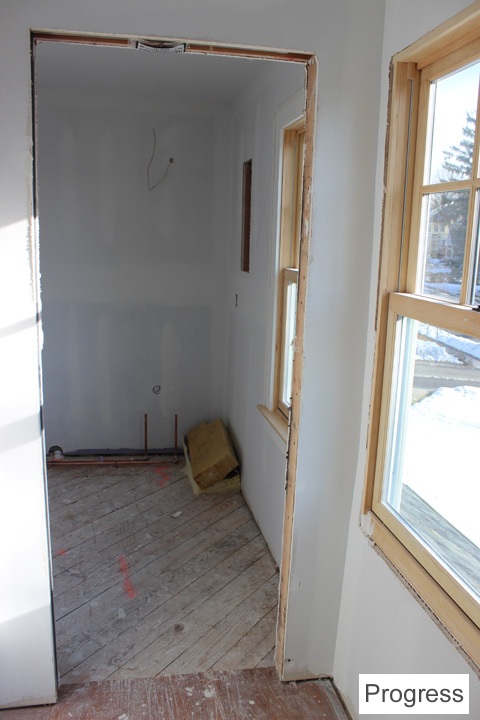 And here's a pic from the bathroom back thru the closet hallway into the bedroom: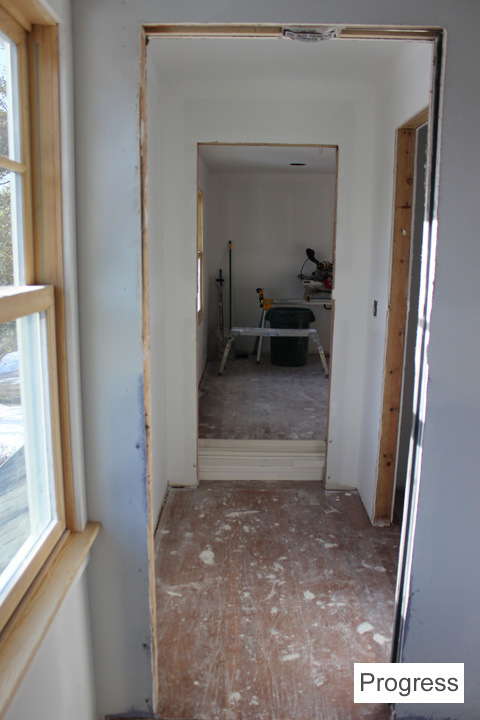 And the rest of these pics don't have good "before"s unfortunately, so I'll just give you a new tour:
Nursery (!!!):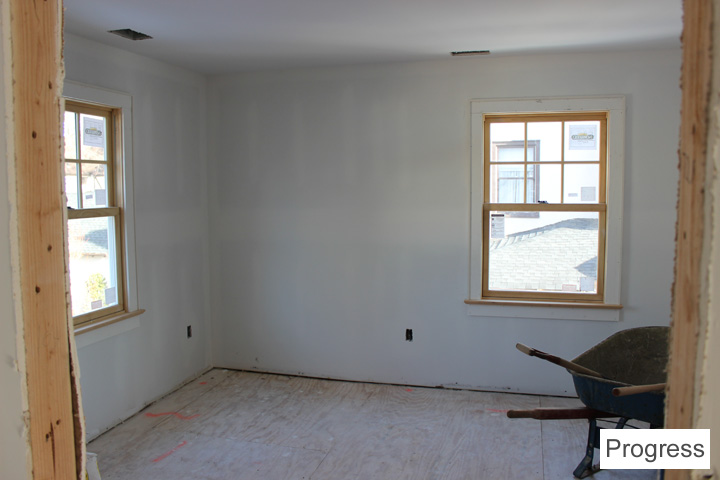 Hall Bath:

Bedroom 2:

View towards the closet, which is next to the door to the room: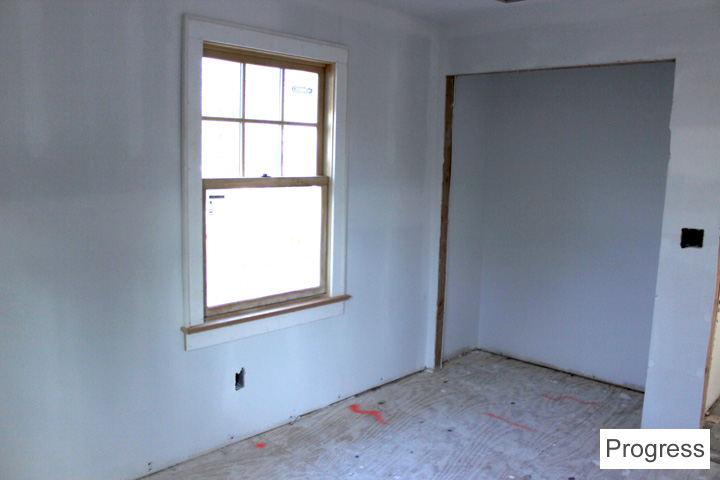 On landing to 3rd floor looking at 3rd floor bedroom door:

3rd Floor Bedroom:

3rd floor bedroom, view from windows to other side of room: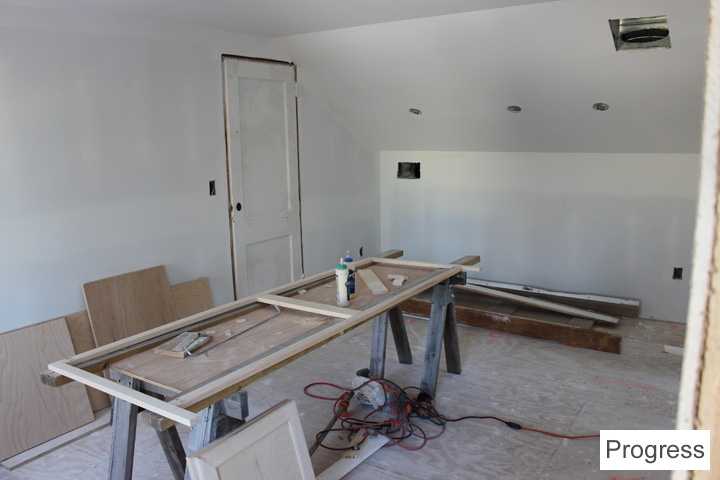 3rd Floor Bath:
and same view with tiling started: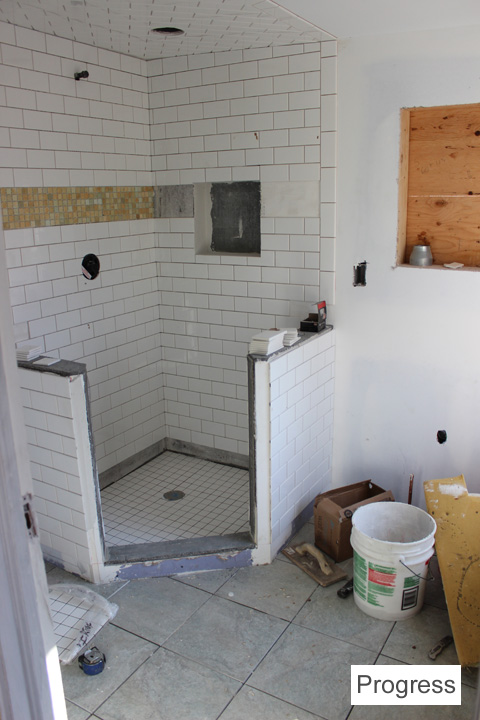 Hope you enjoyed the updated tour. The next pics will prob be after we move in!!! Prob the next time I post a recipe too…unless I can find one stored somewhere that I haven't posted…