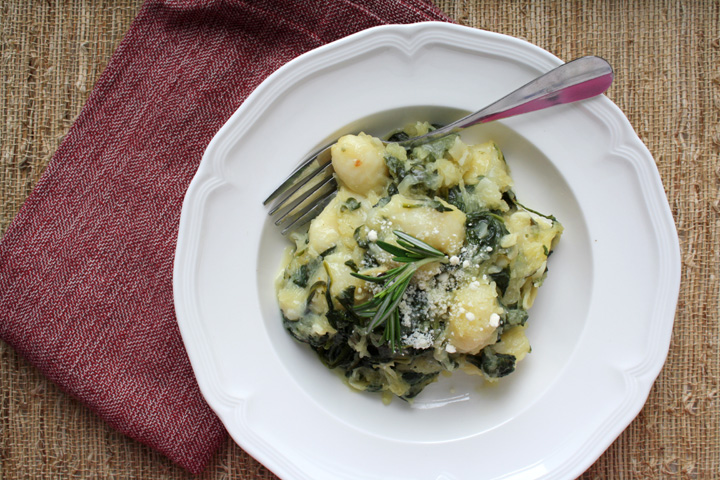 I'll have a festive Christmas brunch/breakfast recipe for you soon. Nate and I finally got into the holiday spirit. It's my first Christmas season as an honorary (by marriage) Christmas celebrator.
Speaking of marriage, we got our wedding photos on cd today! And the photographers sent us one of EVERY photo!!! So so sweet of them. Can't wait to pick out which we want for our album :)
Anyway, the first thing I did for our Christmas decorating was pick up a cute cotton ball and jingle bell wreath from Target. I didn't want anything too Christmas-y since we are still a multi-holiday household. I thought the wreath was a little too boring though, so I bought a couple different sized berries branches from Michaels and I cut them up and hot glued them on. Muuuch better I think :)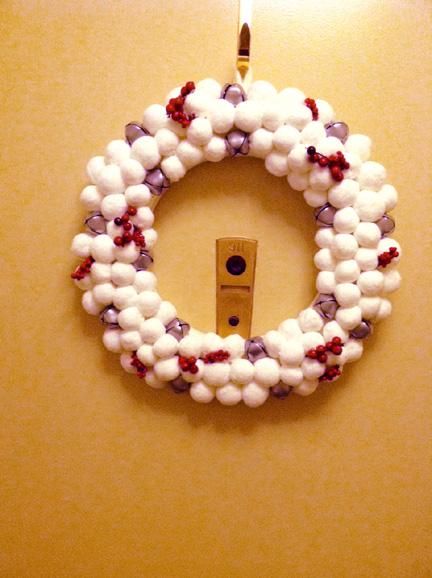 We have a tiny apartment and a michievous feline, so we knew we couldn't get a full-fledged Christmas tree yet. Instead we went to Michael's to see what we could find. We ended up getting the cutest miniature tree and there were all kinds of mini ornaments and garlands you could get to decorate it!!! Btw, I love anything in miniature. We also picked up a silver reindeer from Home Goods and I broke up some branches to make a little festive setting on our living room mantle dresser.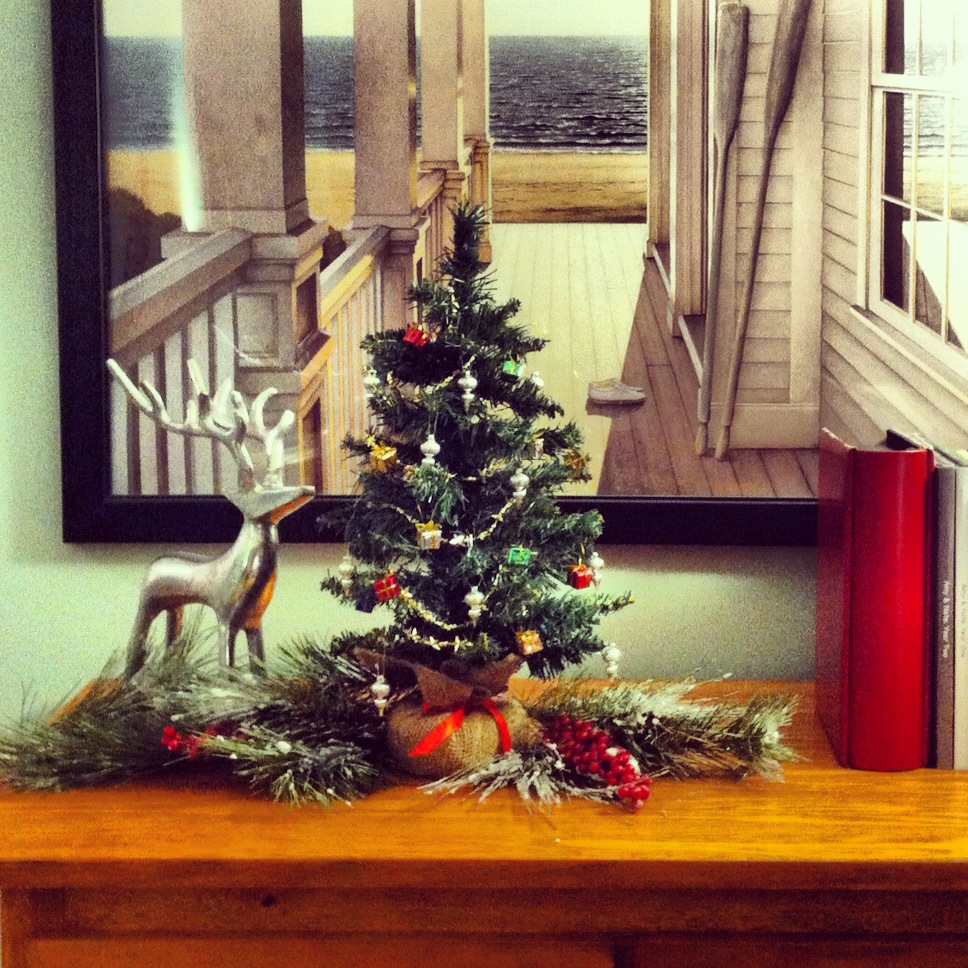 I have also since pulled out our gorgeous new menorah that we got for a wedding present. I'm so excited to finally have a nice menorah :)
All this holiday decorating was done in preparation for our little cookie-decorating party we hosted this past weekend. Since all my friends who came are cat lovers like us, I baked up some gingerbread cookie paws and cats in addition to the traditional gingerbread men. After we exhausted the possible decorating combos for the paws/cats, we decided to get creative. This was what I came up with:
LC even put on her Christmas best in honor of the party.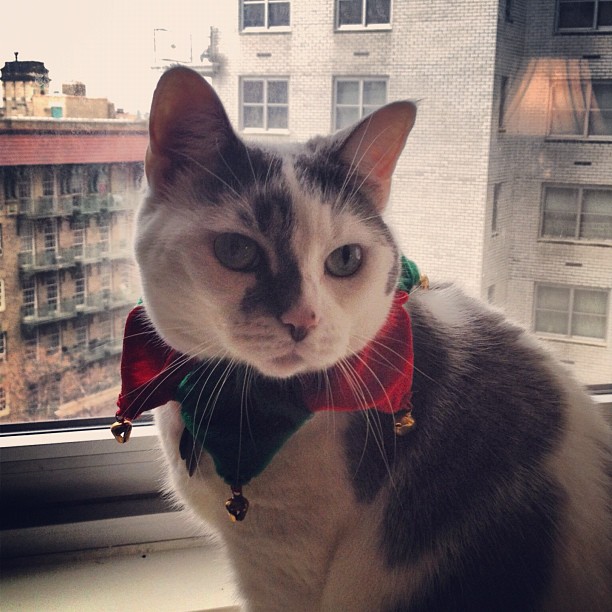 a most photogenic feline- photo credit, Erica Harmon :)
It was a fun weekend. Despite the fact that we both OD'd on cookies throught the day, Nate and I had this delicious gnocchi dish for dinner.
We eat a decent amount of pasta, but I never think to cook gnocchi. It wasn't until I made this recipe that I realized how quickly it cooks (if you buy it rather than making it) and how much I love it's chewy texture.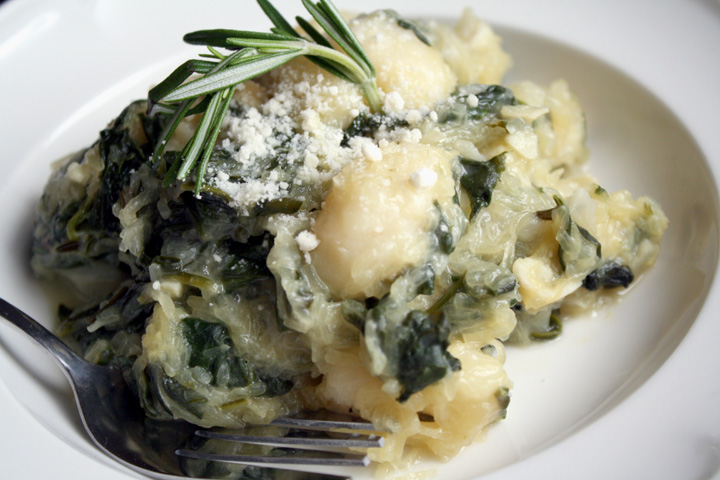 I randomly came across a Food Network recipe and since I didn't have any of the ingredients, I subbed in my own similar ones and it was a major hit. Nate and I couldn't stop raving about how delicious it was.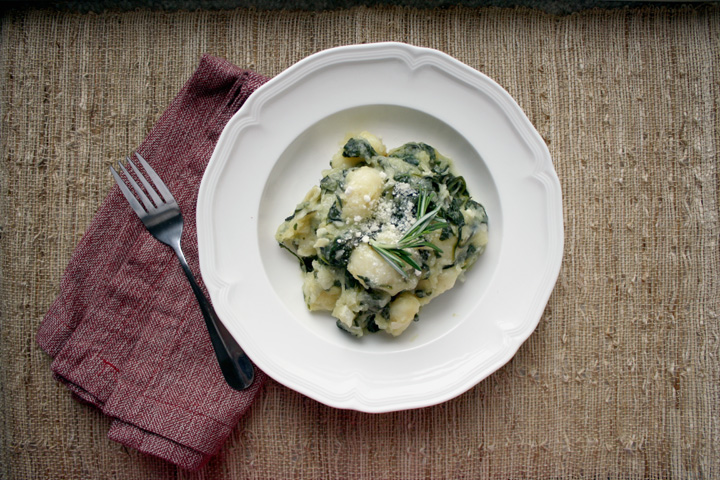 Gnocchi with Spaghetti Squash, Spinach and Rosemary
Adapted from the The Food Network
Serves 4
Ingredients
1 small-medium spaghetti squash
2 tablespoons unsalted butter
1 small onion, diced
4 cloves garlic, thinly sliced
1 tablespoon roughly chopped fresh rosemary
1/4 teaspoon red pepper flakes
Kosher salt
1 1/4 cups low-sodium chicken broth or water
11 oz package baby spinach
1 17.5-ounce package potato gnocchi
3/4 cup grated parmesan or pecorino romano cheese
Cut squash in half, remove seeds, and put cut side down in a microwaveble dish. Put 1/4 cup water in bottom of dish, cover with plastic wrap and microwave for 11 minutes (you want it cooked but still slightly "al dente." Cool til you can handle it and scrape pulp out into a dish.
Melt 1 tablespoon butter in a large ovenproof skillet over medium heat. Add the onion and cook, until soft, about 8 minutes. Add the squash, garlic, rosemary, red pepper flakes and 1 teaspoon salt; cook until the garlic is soft, about 2 more minutes.
Preheat the broiler. Add the chicken broth to the skillet. When it starts to simmer, stir in the spinach and cook until it wilts slightly, about 2 minutes. Add the gnocchi, stirring to coat. Cover and cook until the gnocchi are just tender, about 5 minutes. Uncover and stir in 1/4 cup parmesan and the remaining 1 tablespoon butter. Sprinkle with the remaining 1/2 cup parmesan; transfer to the broiler and cook until golden and bubbly, about 3 minutes.