Today is my wonderful fiancé's birthday.
Happy Birthday, Nate!
You can see the recipe for this cake I made him last year here: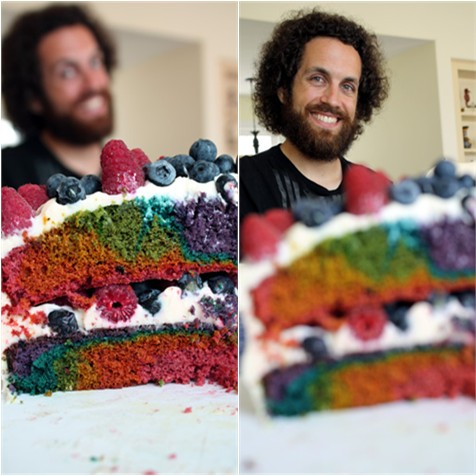 I think that was the prettiest cake I've ever made…or at least the most colorful! It was actually a joint bday cake for Nate and my dad, since his bday is two days after Nate's. So Happy early Birthday, Pops!
Nate doesn't know what I have in store for him this year cake-wise. I'll be posting the recipe sometime in the next week so I guess you'll just have to wait :)
Oh, and on a side note, I made the quickest, easiest, most delicious soup ever on Tuesday. We had some cherry tomatoes sitting in our fridge for a while, so I decided to roast them in the oven. I'd say it was a little over a pint. I wanted to do something with them thought. I sauteed about 1-2 cups of finely diced carrot (also dying in our fridge) in some olive oil, added about a cup of chopped fresh basil and sauteed a few min. Then I added the roasted tomatoes and sautéed til the carrots were just about soft. I then added the veggie mixture with a little leftover tomato juice I had on hand to the food processor and processed til it was almost puréed, but still a little chunky. It wasn't the most delicious looking texture (kinda pukey if you ask me), but I don't like real super smooth purées. Anyway, I then added this with the rest of the tomato juice (prob about 2 cups total) back to the pot and heated til warm. I added a splash of balsamic vinegar, salt, pepper and garnished with some parmeson. SO GOOD!!!