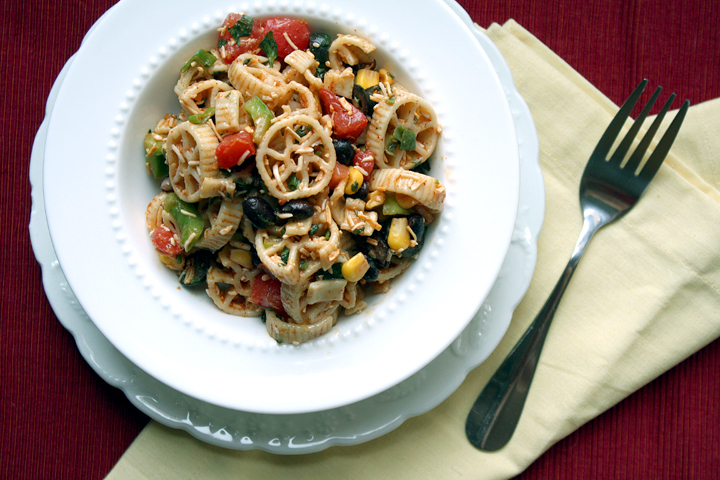 Here's another no-cook recipe coming your way! Ok, well I guess you technically have to boil the pasta, but you don't have to turn on your oven.
This is a nice twist on the traditional pasta salad. The vinegar-based one, I mean.
I don't really understand the mayo-based pasta salad. Maybe because I didn't grow up eating it? I always take a bite thinking I'm going to like it and then I don't. I guess maybe I think it's going to be like an alfredo sauce or something but it's actually kind of tangy. I think maybe I don't mind the taste so much but I just get thrown off because it's not what I'm expecting.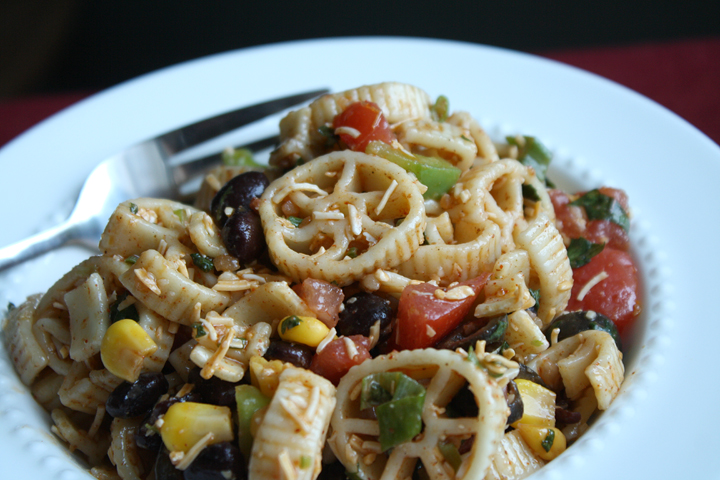 Anyway, non-mayo pasta salads are much healthier…AND they're good for picnics! I don't want you to go making something and getting people sick because the mayo sat in the sun too long. And I especially don't want you to blame it on me.
I suppose I'm a bit late for you to make this for 4th of July, but I'm sure you have plenty of upcoming summer bbq's that you could bring this to….or you may eat a little too much while doing "quality control" taste-testing and not have any left to bring so you just have to keep it for yourself.
Oh well, these things happen.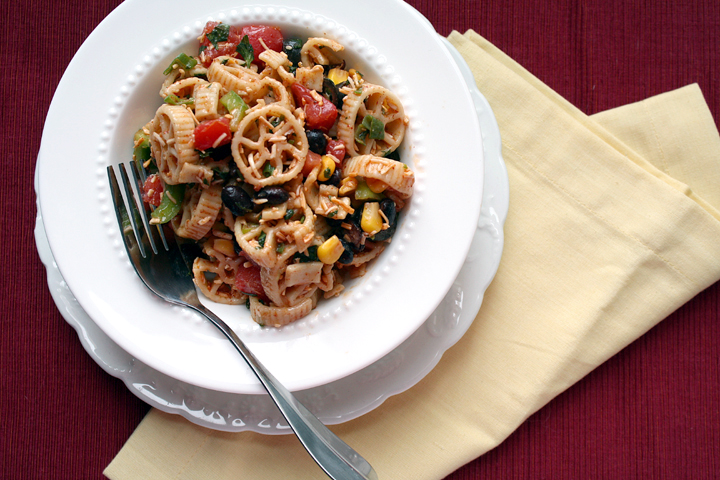 On another note, Saturday is my birthday!!! My parents are coming into the city and we're going to see a concert by the singer/songwriter who will be playing at our wedding, David Berkeley, so I'm pretty excited.
Also, Nate ordered me a birthday cake from this little bakery near us called Two Little Red Hens. I got to choose exactly what I wanted and so I decided to go with an orange cake with chocolate pudding filling and orange buttercream frosting. Um, yeah, I know. A.M.A.Z.I.N.G. I'll be sure to take pics and tell you how it was since there won't be enough to go around ;)
Vegetarian Tex-Mex Pasta Salad
adapted from Cooking Light
Serves 10-12
1 pound uncooked pasta- i like wagon wheels :)
1 1/2-2 cups preshredded Mexican blend cheese
2 cups chopped seeded tomato
1 cup chopped bell pepper
1/2 cup chopped fresh cilantro
1/2 cup chopped green onions
1/2 cup sliced ripe olives
1 (15.5-ounce) can black beans, rinsed and drained
1 cup corn kernels, fresh or frozen
2 Tbsp water
1 (1.25-ounce) package 40%-less-sodium taco seasoning (such as Old El Paso)
2 tablespoons red wine vinegar
1/4 cup extra-virgin olive oil
juice of 1 lime
for next day:
2 Tbsp olive oil
2 Tbsp red wine vinegar
salt to taste
Cook pasta according to package directions, omitting salt and fat. Drain and rinse with cold water. Drain; set aside.
Combine pasta, cheese, and next 7 ingredients (through corn) in a large bowl.
Combine water, taco seasoning, vinegar, oil and lime juice. Whisk well. Pour over pasta mixture; toss gently to coat. 
If you make a day ahead, stir in 2 Tbsp oil, 2 Tbsp vinegar and salt to taste.
*This is best made a day ahead of time.