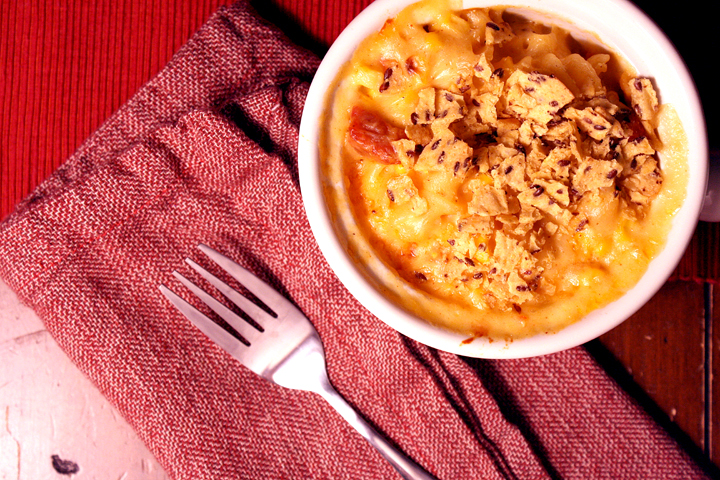 Sorry for the lack of posts lately. As you may or may not know, I'm getting married in 4 months and I decided to take on quite a bit of DIY projects for the wedding. Any free time I have has been spent cutting, painting, gluing, and sewing.
Here's just a peek of one of the projects I have going on…wedding signage!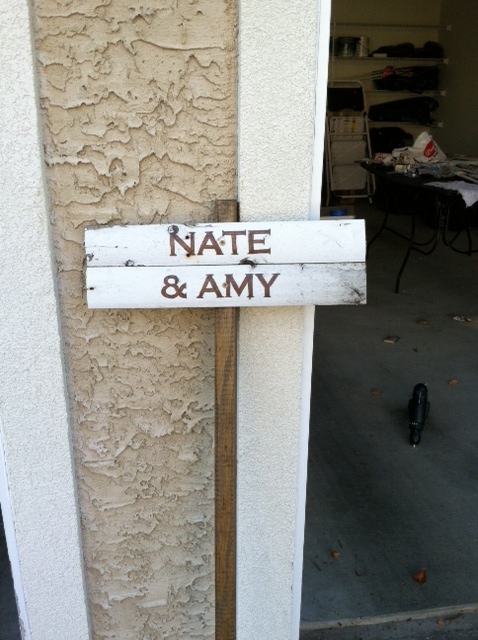 The white parts are an old picket fence I picked up off the street. The directional signs I made use the pointed parts of the fence, but this one doesnt since it doesn't need to be pointing anywhere. Painting on the letters was quite time-intensive, but I'm so pleased with how it came out! The rest you'll have to wait and see when I post wedding pics ;)
Anyway, on to the food. I think this must be my third or fourth mac and cheese recipe on the blog, but honestly I don't think there can ever be too much mac and cheese! (I totally just typed man and cheese by mistake…there can't be too much of that either!)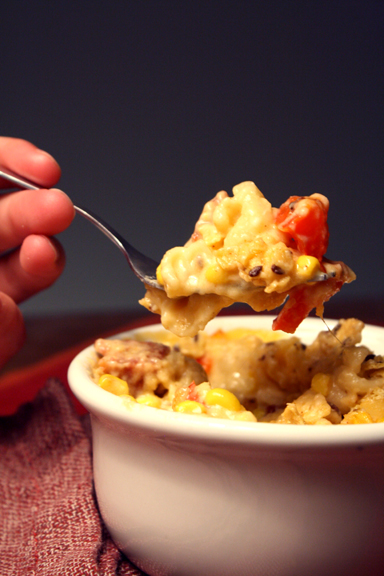 This one takes advantage of the fresh corn in season now. It was kind of annoying to roast the corn and peppers but at least it could be done while the pasta was cooking. The chorizo and mexican blend cheese take it to a whole other level!
All in all it came together pretty quickly, which was good because I didn't have much time.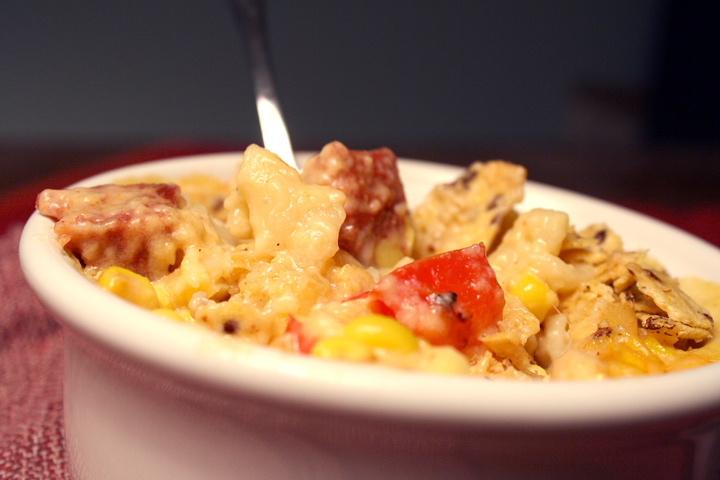 Since I had plans to meet friends after work later in the week, I knew this would be a perfect meal to start the week off with since it would last for several days. Nate could just portion some out and reheat it in the microwave.
The chorizo totally made this! It added so much flavor to the meal. I also topped my portion with buffalo sauce :)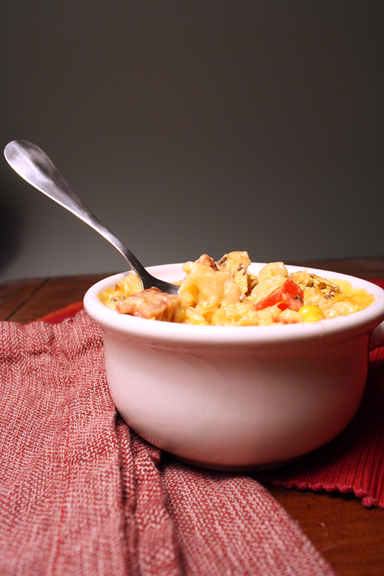 I doubled the recipe, but think perhaps I didn't need to double the sauce. There was a LOT there, but i just left a little out when mixing it up.
Overall, I'd give this two thumbs up for when you're looking for something a little different than your regular old macaroni and cheese.
Tex Mex Mac and Cheese
Slightly adapted from Southern Living
Serves 8-10
1 cup cherry tomatoes
2 red peppers, diced
4 ears fresh corn, husks removed, kernels stripped from cob
16 ounces uncooked rotini or fusilli pasta
1 cup chopped cooked Mexican-style chorizo (the hard, cured kind…not raw)
5 tablespoons butter
1/3 cup all-purpose flour
6 cups milk
6 cups shredded pepper Jack cheese
2 teaspoon salt
1/2 teaspoon freshly ground pepper
1.5 cup crushed tortilla chips
Preheat broiler with oven rack 5 1/2 inches from heat. Broil peppers, tomatoes and corn at the same time on an aluminum foil-lined jelly-roll pan. Broil 20 minutes or until charred, turning every 5 minutes. Reduce oven temperature to 400°.
Cook pasta in boiling salted water to cover 8 to 10 minutes or until al dente. Drain.
Melt 5 Tbsp. butter in a large heavy saucepan over medium heat; whisk in flour until smooth, and cook, whisking constantly, 2 minutes or until golden brown. Slowly whisk in milk, and cook, whisking often, 10 to 12 minutes or until thickened. Remove from heat, and gradually add cheese, stirring until smooth. Stir in chopped peppers, corn kernels, chorizo, salt, and pepper. Gently stir together cheese mixture and pasta in a large bowl. Spoon into a 9×13 baking pan.
Sprinkle with crushed tortilla chips. Bake at 400° for 12 to 15 minutes or until golden and bubbly. Let stand 5 minutes before serving.