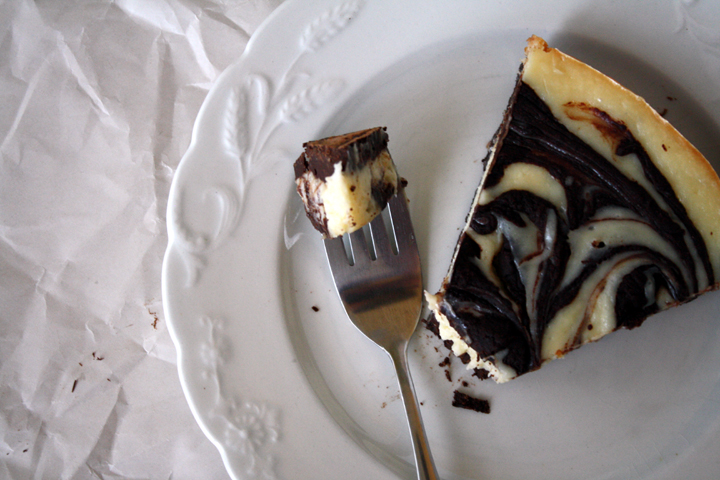 I'm the most indecisive person you've ever met. My family and Nate can certainly vouch for that.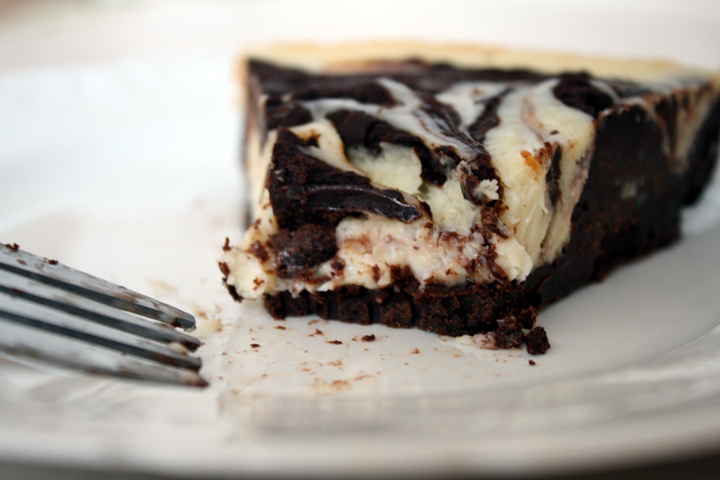 I rarely buy things for myself, so when I do you can imagine how long I spend deciding exactly what item I want. I will literally stand in a department store with a blue shirt and a red shirt in each hand, looking back and forth for a good 30 minutes to figure out which one I really want.
I'm not exaggerating.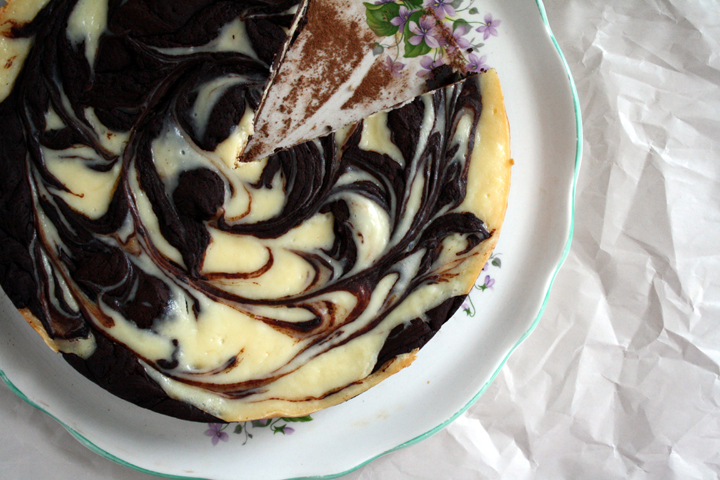 At restaurants I will agonize over what to order because everything sounds so good and I know I can only get one thing. I usually make the waiter go to everyone else and take my order last just so I have that extra 1 minute to finalize my choice.
It's like making decisions paralyzes me.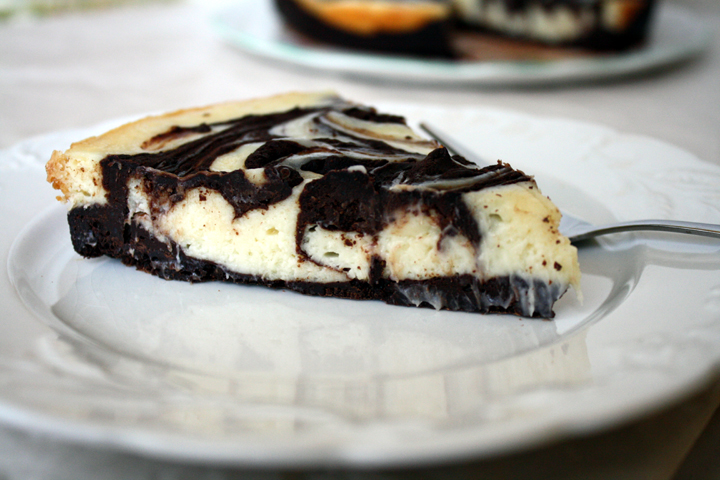 How do you choose what to have??! Well with this recipe you don't have to. There's a super dense chocolate layer for the chocoholic in all of us, and then there's the tangy cheesecake marbeled throughout for those of us cheesecake lovers!
This is not for the faint of heart. If you like serious chocolate desserts than this is for you. Nate could barely finish his slice…although it could be because it was a large slice and we had just had a giant mac and cheese dinner. Man, I wish I had his metabolism…
Marbled Chocolate Fudge Cheesecake
slightly adapted from Baker Street
makes one 9″ round cake
For the vanilla batter:
8 oz. cream cheese, softened to room temperature
2/3 cup granulated sugar
1 large egg
1 tsp. pure vanilla extract
For the chocolate batter:
8 oz. bittersweet chocolate, finely chopped
1 stick (8 Tbsp) unsalted butter, cut into pieces
3 large eggs
1/3 cup granulated sugar
1 Tbs. dark rum or espresso
1 tsp. pure vanilla extract
1 Tbsp flour
Pinch table salt
Cocoa powder for dusting
Preheat the oven to 300°F.
Lightly grease a 9 inch round cake pan and /or line the bottom with parchment.
Make the vanilla batter:
In a medium bowl, beat the softened cream cheese with an electric mixer until smooth.
Add the sugar and continue beating until well blended and no lumps remain. Add the egg and vanilla and beat just until blended. Set aside.
Make the chocolate batter:
In a medium bowl, melt the chocolate and butter in a large metal bowl over a pan of simmering water or in the microwave.
Whisk until smooth and set aside to cool slightly. With a stand mixer fitted with the whip attachment (or with a hand mixer), beat the eggs, sugar, rum or espresso, vanilla, and salt on medium high until the mixture is pale and thick, 3 to 4 min.
With the mixer on low, gradually pour in the chocolate mixture and continue beating until well blended. Beat in the flour.
Spread about half of the chocolate batter in the bottom of the pan. Alternately add large scoopfuls of each of the remaining batters to the cake pan.
Using a knife or the tip of a rubber spatula or a toothpick gently swirl the two batters together so they're mixed but not completely blended.
Tap the pan against the countertop several times to settle the batters.
Bake until a pick inserted about 2 inches from the edge comes out gooey but not liquid, 40 to 42 min.; don't over bake.
The top will be puffed and slightly cracked, especially around the edges. It will sink down as it cools. Let cool on a rack until just slightly warm, about 1-1/2 hours. Let cool completely. Cover and refrigerate until very cold, at least 4 hours or overnight, or freeze.
Remove cake from fridge one hour before serving. Loosen the cake from the pan by holding the pan almost perpendicular to the counter; tap the pan on the counter while rotating it clockwise. Invert onto a large flat plate or board. Remove the pan and carefully peel off the parchment. Sift some cocoa powder over the cake (this will make it easier to remove the slices when serving).
Let sit until cake warms to room temperature before serving. (or eat it cold if you like that!)
Invert again onto a similar plate so that the top side is up.