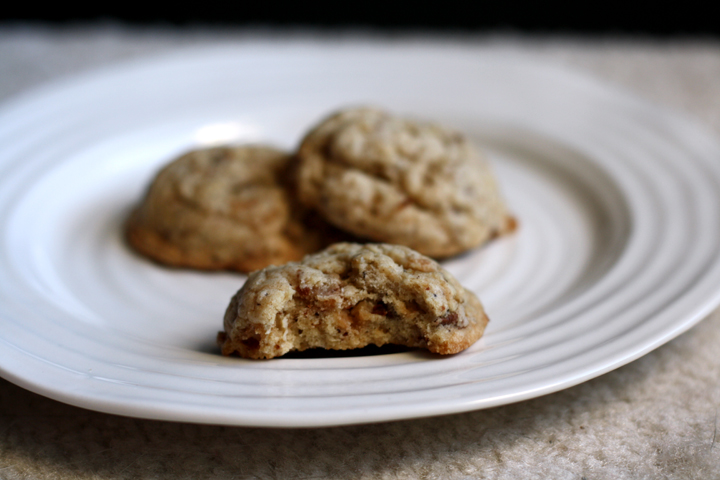 I haven't really been cooking anything worth sharing. I'm just trying to get used to my new job and schedule…and the fact that I have to walk further to get to and from work. Sadly, it's only about 2 or so miles round trip, but when I get home I just want to go sit on the couch. It's a pretty nice walk though. I work in Rockefeller Center and on my way to work yesterday I walked by a window and saw Matt Lauer filming the Today Show.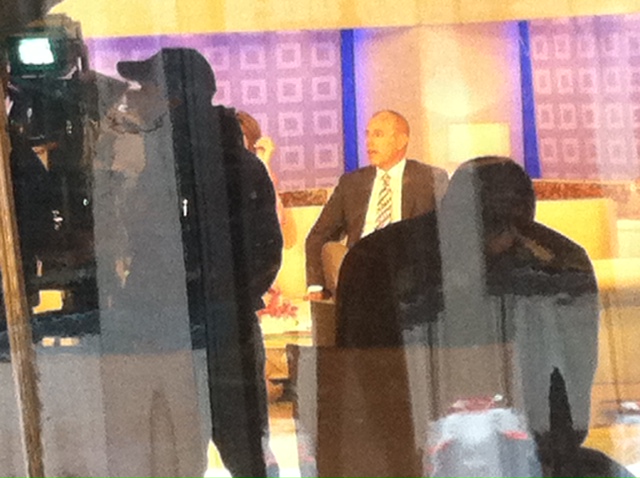 I thought it was pretty cool, but I texted it to Nate who said I was "such a nerd." I hear that from him a few times a week. I think it's probably true.
Anyway as I said, I haven't done much cooking. The other night we had "homemade" pizza using the Pillsbury pizza crust that comes in the can. Has anyone else every used that? It's seriously just their crescent roll dough that's made into a big sheet that can fit a 10×15 sheet pan. It's yummy if you want a crescent roll but it's kind of a funky/sweet tasting pizza dough. It does get nice and crispy and hold toppings, though.
Usually if I don't have time to make dough, I'll either buy it fresh or frozen from the market, or even get some from the pizza parlor across from my apt. You know my beef with nyc supermarkets though…they rarely have what I need. I checked all over for any sort of dough and came up empty. I was pretty upset.
I used some premade pesto and then sauteed some fresh broccoli and garlic to put on top, with some mozzarella cheese. It was pretty tasty for a meal that got thrown together quickly.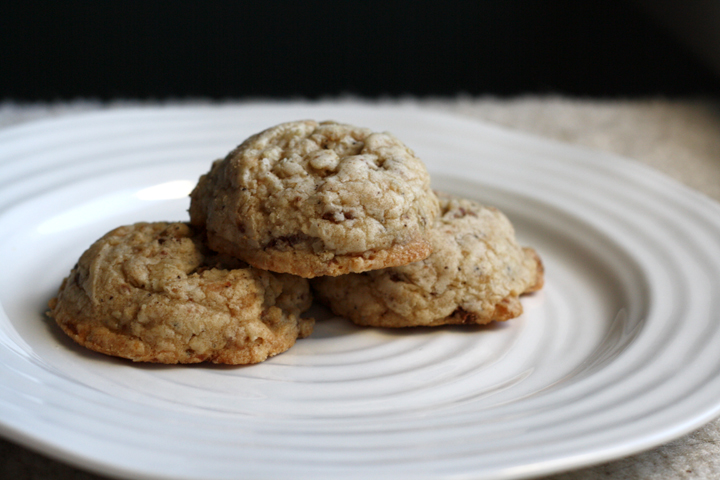 That being said, it wasn't much of a recipe so it's not something worth sharing. All I have for you today are these cookies. I almost didn't post these either because I kind of feel like most people have plenty of cookie recipes. I added a little something special to these though- brown butter*. It's what happens to butter when you cook it past melting but before burning. It takes on a nutty, caramelized taste and turns a rich caramel color.
People in the food blogging world have been obsessed with it for quite some time but I never really got into the whole trend. I thought I'd add it to basic oatmeal cookies, though, to give them a little something special. I also threw in some toffee bits, because why not.
These cookies came out a little salty and sweet, with a great crumbly texture. The oatmeal gives them some bite and the browned butter definitely makes the whole thing taste like caramel. If you're looking for a cookie to liven up your repertoire, give these a try!
I brought our realtor a dozen of these because I felt so bad for her for having to show me sooo many houses. I suppose that is her job, but still. She ate a couple as a pick-me-up after house number 5 or so, and I don't blame her one bit. Now that I think about it, I wonder if it was the houses or me that was so exhausting ;)
*If you'd like a good tutorial for browning butter, you can find one here on How Sweet It Is.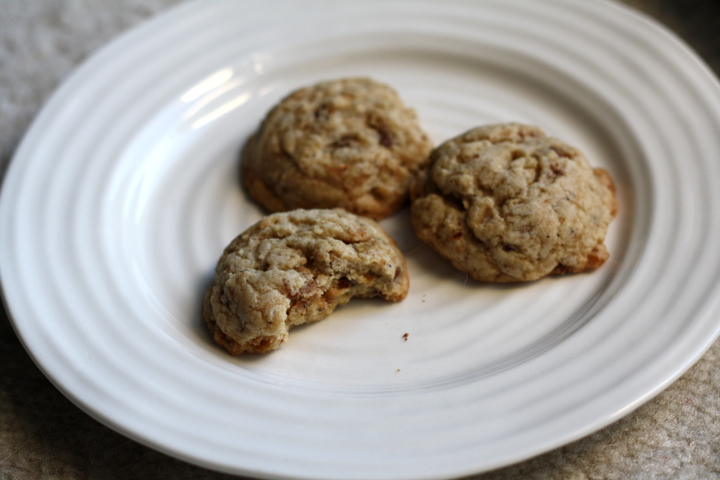 Brown Butter Oatmeal Toffee Cookies
Very slightly adapted from the Food Network
makes about 3-4 dozen, depending on size
2 sticks butter
3/4 cup brown sugar
3/4 cup white sugar
1 tsp vanilla
2 eggs
2 1/2 cups flour
3/4 tsp baking soda
1 tsp salt
3/4 cup whole oats (not quick-cooking oats)
1 cup toffee bits (or chocolate covered toffee bits)
Preheat oven to 350.
Melt 2 sticks butter over medium heat until browned (see directions at http://www.howsweeteats.com/2012/10/exactly-how-i-brown-my-butter/), then cool.
Beat the browned butter, brown sugar and white sugar until fluffy. Beat in vanilla and eggs.
Whisk flour, baking soda and salt, then stir into the butter mixture. Add oats and toffee bits and chill 30 minutes.
Drop by tablespoonfuls and bake 12 to 15 minutes at 350 degrees. Transfer to wire racks to cool.