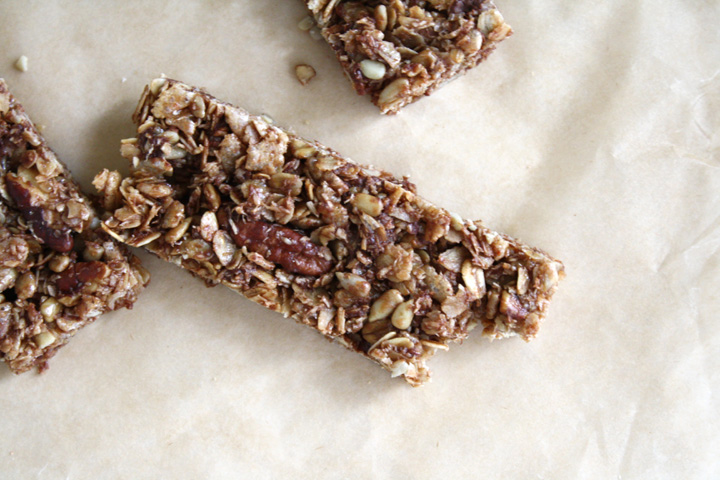 My laundry usually sits on my bed for the whole day after I wash it in the morning. Sometimes I don't even put it away when it's time for bed…I just put it in a little pile on the floor until I feel inspired to clean up.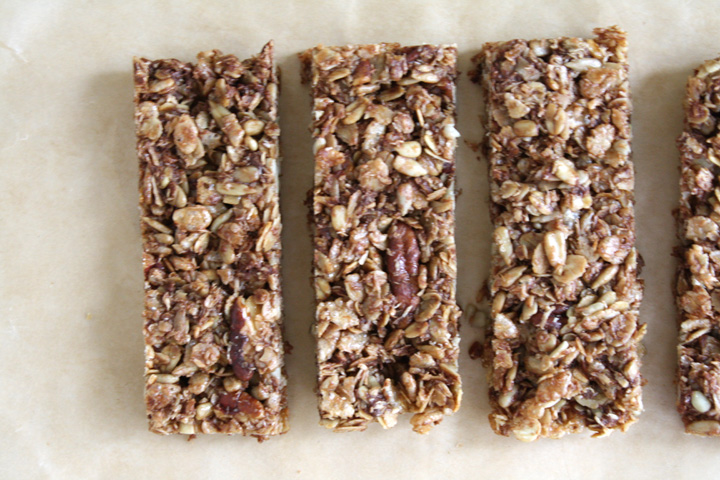 After trips, my suitcase full of clothes sits in the corner of my bedroom for at least a week or two before I manage to empty it and put it away.
I haven't worked out in months, even though there's a gym downstairs in my building.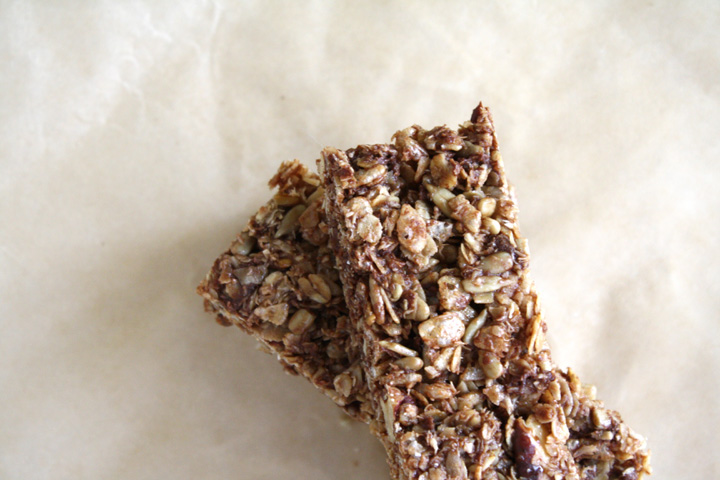 But As lazy as I am, I decided that I wanted to try my hand at making homemade granola bars rather than paying the exhoribitant nyc prices for a box of packaged ones. See, I'm also extremely cheap frugal, and in this case, that won out over laziness.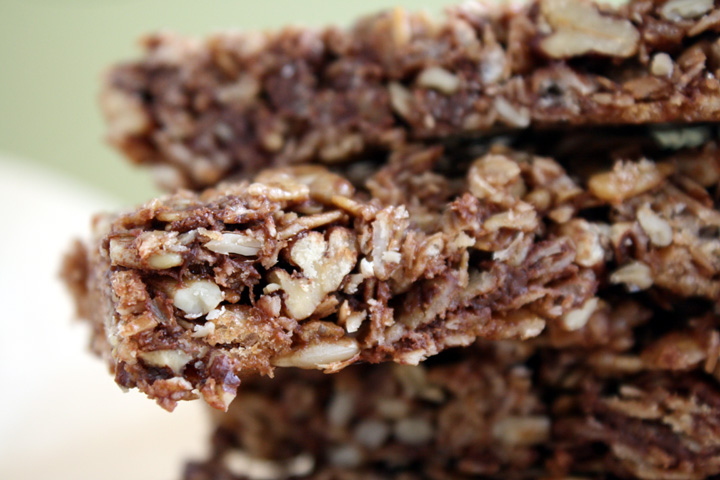 Sometimes it's nice to have convenience foods, but they never taste as good as homemade. I also wanted Nate to have an easy-to-grab, nutrious and calorie dense fuel for his morning runs. I guess these granola bars are technically still a convenience food for him, since he didnt have to make them ;)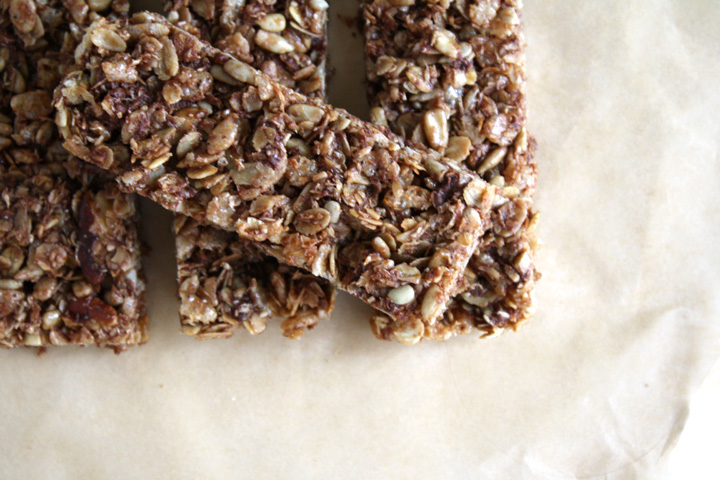 But in all honesty, these are super easy and, if you have all the ingredients, will take you less time than it takes to get to the store and back.
Crispy-Chewy Chocolate Granola Bars
Very slightly adapted from Once Upon a Chef
makes 12-16 bars, depending on how big you like them
1 + 1/2  cups old fashioned rolled oats
1/2 cup chopped pecans
2/3 cup shredded unsweetened coconut (available at Whole Foods or natural food markets)
1/2 cup honey
3 tablespoons light brown sugar
2 tablespoons unsalted butter
1 + 1/2  teaspoons vanilla extract
1/4 teaspoon salt
3/4 cup roasted, salted sunflower seeds (not the kind in the hull)
1 cup crisp rice cereal, such as Rice Krispies
3/4 cup mini chocolate chips
Preheat the oven to 350 degrees. Line a baking sheet with heavy duty aluminum foil.
Spread the oats and pecans onto prepared baking sheet. Place in the oven and toast for 7 minutes. Add coconut and toss well, then place back in the oven to cook about 6-8 minutes more. Keep an eye on it towards the end; you want the coconut to turn golden but not burn.
In the meantime, combine the honey, brown sugar, butter, vanilla extract and salt in a small saucepan and place over medium heat. Stir with a whisk until the brown sugar is completely dissolved. Turn off heat and set aside.
Once the oat mixture is done, remove it from the oven and reduce heat to 300 degrees. Combine the the oat mixture, honey mixture, rice cereal, and mini choco chips in a large bowl and toss well.
Use the foil to line a 9 x 13-inch baking dish, then spray foil with nonstick cooking spray. Turn granola bar mixture out into the prepared baking dish and spread evenly, being careful not to press down too hard. Bake for 20 minutes (be sure heat is reduced to 300 degrees). Remove from the oven and cool completely, about 1-1½ hours. Use the foil overhang to tranfer bars to cutting board, then use a large knife to cut into rectangles. Store in a single layer in an airtight container for up to a week (do not stack the bars or they will stick together and fall apart).
*I think next time I make these I'll add peanut butter into the wet ingredients…give it a try!