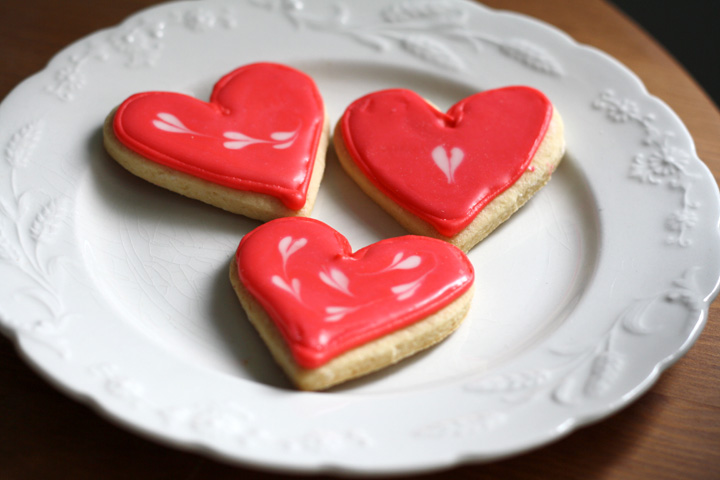 Before I get into my Valentine's Day treats, I wanted to share a couple things with you. If you've been following me since the beginning, you know that a couple years ago, I catered lunch for Nate and his little film crew while he filmed a short film he wrote, directed, and acted in. It took a long time to finish editing, but I can finally share it with you. It's equal parts suspenseful and amusing, and I hope you enjoy it :)

Lost Keys from Nathaniel Carota on Vimeo.
(You can also see the video he made for our wedding here.)
The second thing I want to share with you is another doggy painting I completed. I'm really trying to build up a pet portrait side business (see the "Pet Portrait" tab on my page menu). I really want to expand to animals other than dogs, but so far that's all I've done. This one was done in memory of Charlie, who passed away recently from cancer :(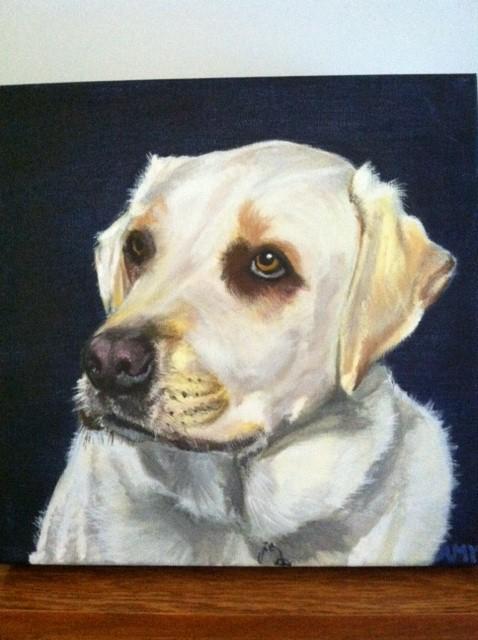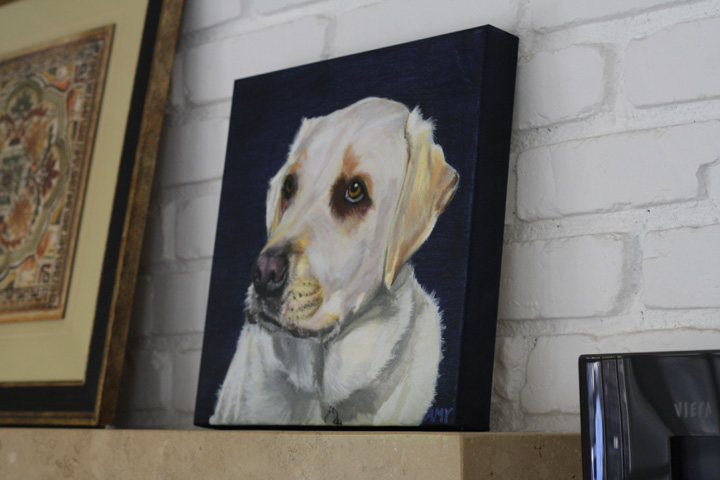 Now onto the recipe…
I know a lot of people aren't fans of Valentine's Day. While it's true that it's not as exciting of a holiday if you're unattached, it's a perfect excuse to eat chocolate no matter what your relationship status :)
There are a couple cookie recipes I've been meaning to share. I'll share one today and one in a few days. The first is a semi-homemade cookie that I found years ago and often use it for beautiful Christmas Cookies. It's a cut-out sugar cookie, but because it's an upgrade to a powdered mix, you can spend more time decorating and less time measuring out ingredients! Also, the texture is such that you don't even need to refrigerate before rolling out.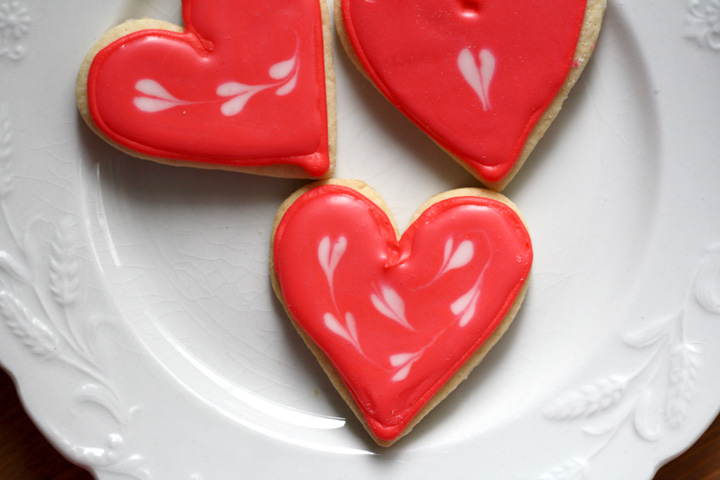 I usually use it with regular royal icing and decorate pretty snowflakes and santas for Christmas. This time, however, I used a super easy marbling technique I found on this site. It's so easy and sooo impressive looking!
Since I won't get to be with Nate this Valentine's Day, I sent him these in a little care package with some toffee blondies. The blondies were a recipe I made for the first time and they were SO good, but I didn't photograph them, so I'll have to make them again sometime soon for you.
Make these cookies for someone you love today!
Semi-Homemade Roll Out Sugar Cookies
From Sandra Lee
makes 4 dozen small cookies or 2 dozen larger
17.5-ounce package dry sugar cookie mix
4 ounces cream cheese, softened
2 eggs
1 teaspoon vanilla extract or other flavoring
1 cup all-purpose flour
royal icing (recipe below)
Preheat oven to 350 degrees F.
Combine the cookie mix with the cream cheese until crumbly. Mix in the eggs and flavoring until well combined. Add enough flour to make a firm dough that can be rolled out. Refrigerate briefly if too sticky.
Roll dough out on lightly floured board to 1/4-inch thickness. Cut out hearts or other desired shapes.
Place on ungreased baking sheet and bake for about 8-10 minutes.
Make royal icing. When cookies are cool, ice cookies by following marble technique found here and here.
Royal Icing
from Annie's Eats
this might yield slightly more than you need, but it's better to have too much so you don't have to match the color when you make more.
Ingredients:
4 cups powdered sugar, sifted
2 tbsp. meringue powder
5 tbsp. water
Combine all ingredients in a bowl. Whisk until the sheen has disappeared and the icing has a matte appearance (or use a stand mixer.
Transfer the contents of the mixing bowl to an air-tight container. This will be the stiffest consistency of the icing, and at this point it is still too stiff to use for decorating.  Add water a very small amount at a time and stir by hand until fully incorporated.  Continue until the icing has reached a consistency appropriate for piping.  (Remember, if you are having any difficulty piping, it is still too thick.  Add a little more liquid and try again.)
Using a pastry bag, pipe around the edges of each cookie.  Let stand so the icing will set.  Make sure to keep the leftover icing covered at all times when not in use so that it does not begin to harden.
Once all the cookies have been edged, transfer some of the remaining icing to a separate air-tight container.  Thin out by incorporating a small amount of water at a time, until the icing drips off the spoon easily when lifted and then smooths in with that still in the bowl.  If you go too far and the icing is too thin, add more sifted powdered sugar to thicken it again.  Once the icing has reached the desired consistency, transfer it to a squeeze bottle (or a plastic bag with a hole in one corner), and flood the area surrounded by the piping on each cookie.  If it does not completely spread to the edges, use a toothpick to help it along.  Pipe on dots in a contrasting color and use a toothpick to drag into hearts. Allow to set.