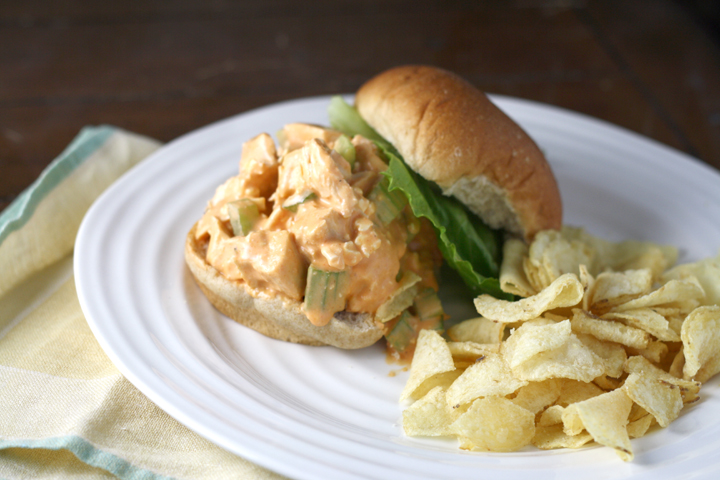 It was such a nice day out today in NY. Warm but breezy. It makes my walk home so nice.
I'm trying to savor these warm, dry days before we get to the so-humid-you-stick-to-your-pants days. Unfortunately, we did have a couple of those in the last two weeks. All I want on days like those is something cold.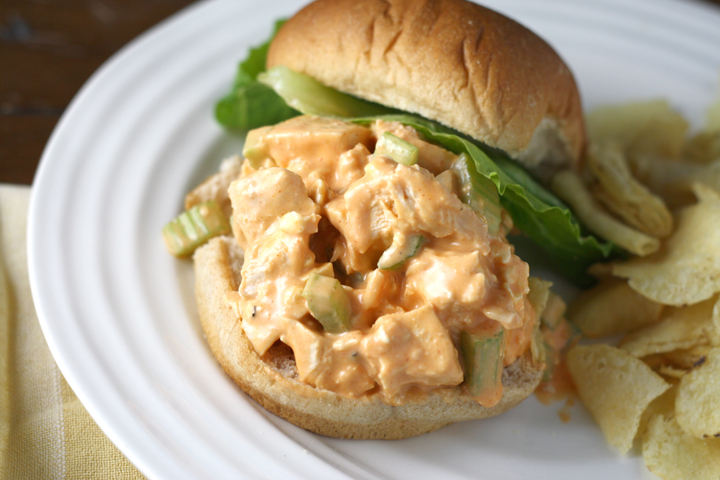 Ice cream is totally a possibility for dinner on those days. At least for me. But since I have a husband to feed who can't subsist on dessert alone, I have to come up with other things.
We had some whole wheat rolls lying around from veggie burgers on Memorial day, and since you know I can't let things go to waste, i had to come up with some use for them.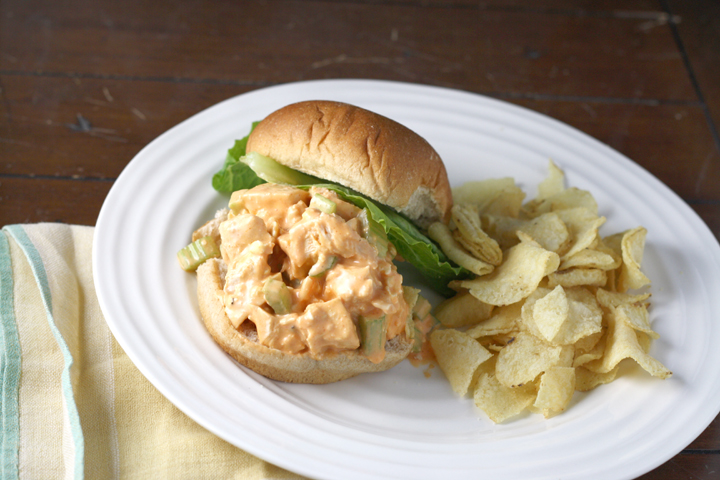 I thought chicken salad would be great, but to kick it up a notch, I added the most delicious sauce on the planet- Frank's Buffalo Sauce. I seriously could eat that sauce every day on anything.
I had a hard time coming up with what I should call this, because when I did a google search for "Buffalo Chicken Salad," all I could find was buffalo chicken pieces ON a salad….which totally makes sense although I hadn't thought of that at all. I wish I could like emphasize that "chicken salad" is one phrase. Oh, I know…"Buffalo" Chicken Salad.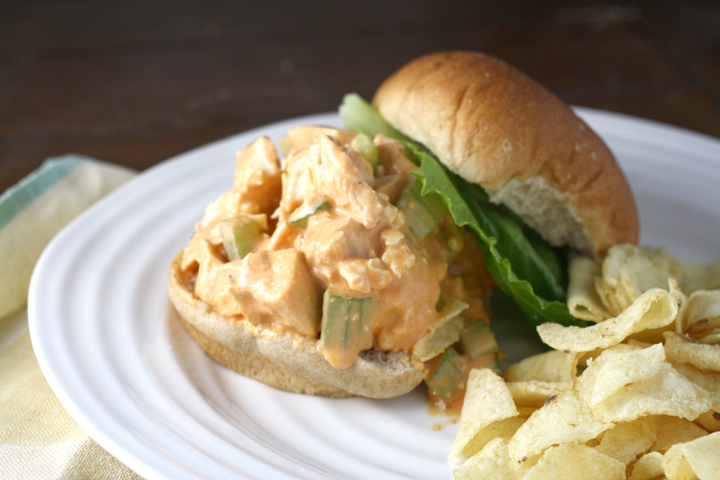 That was totally my thought process, by the way. I literally came up with that as I was typing. Now you probably understand why Nate has learned to completely tune me out when I talk, since for me talking actually means voicing my every thought.
Oh well, I guess it's worth putting up for if you get this for dinner :)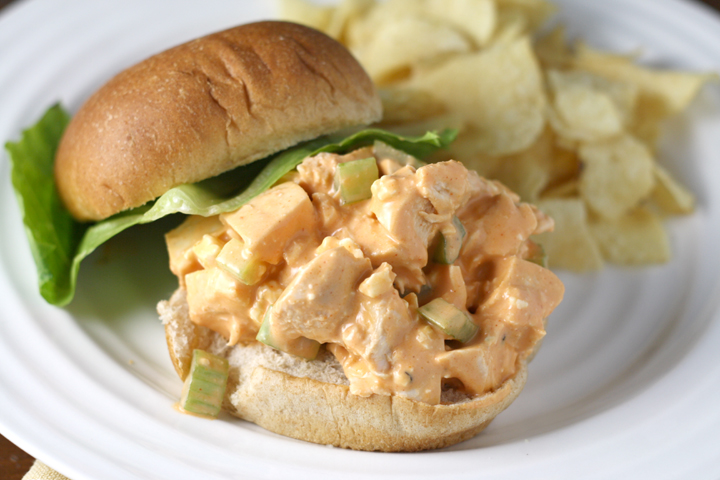 "Buffalo" Chicken Salad Sandwiches
Makes about 6 sandwiches
1 2/3 lbs chicken breast, raw (I guess the same amount cooked if you have leftovers? prob a little less pre-cooked)
4 ribs celery, chopped (about 1 cup)
2 Tbsp lemon juice
6 oz. 2% Greek Yogurt
1/2 cup blue cheese crumbles
1/2 cup buffalo sauce
salt and pepper to taste
6 hamburger buns
Romaine lettuce for garnish (optional)
Put chicken in a pot and cover with cold water. Bring to a boil and heat until chicken is cooked through. I find the easiest way to tell is to take a piece out and cut into it.
Pull chicken out and set on cutting board to cool.
Meanwhile, chop celery. Whisk lemon juice, yogurt, blue cheese, buffalo sauce and s/p. Dump in celery.
When chicken has cooled, chop into small bite-sized pieces and mix with the sauce. Put in fridge to cool.
Top each bun with a lettuce leaf and a large scoop of chicken salad.