Side-note: Do you guys like my new header?? It took me so long to draw and decide on how it should look (with some good input from Nate and my mom!), but I think I like it. I'm also teaching myself HTML and CSS and am working on a whole new blog design, to be unveiled semi-soon!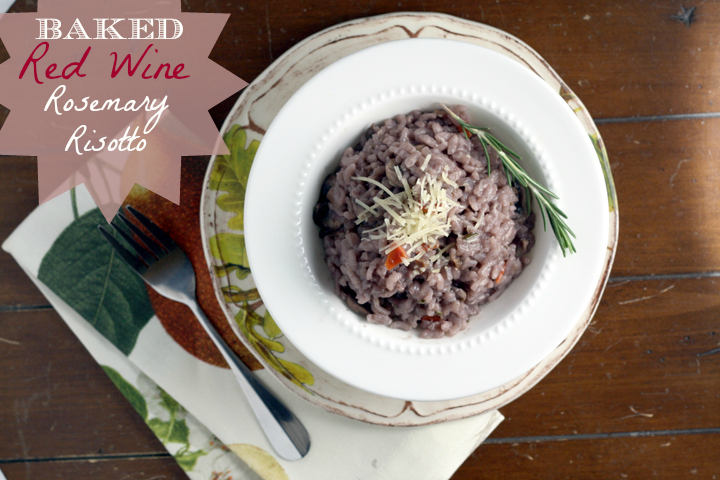 Do you happen to have some red wine lying around? If Nate was home I wouldn't, since the man loves some red wine…but he's not, and I happened to have some red wine leftover from the bolognese I made last week. Since I'm not a drinker or a waster, I had to find another use for it! After doing a little search for recipes using red wine, I settled upon risotto.
But as you know, I'm currently all alone with no one to impress with this dinner, so I certainly wasn't about to spend an hour standing over a pot stirring. I decided to take the lazy way out and shoved my risotto in the oven (and crossed my fingers it would work).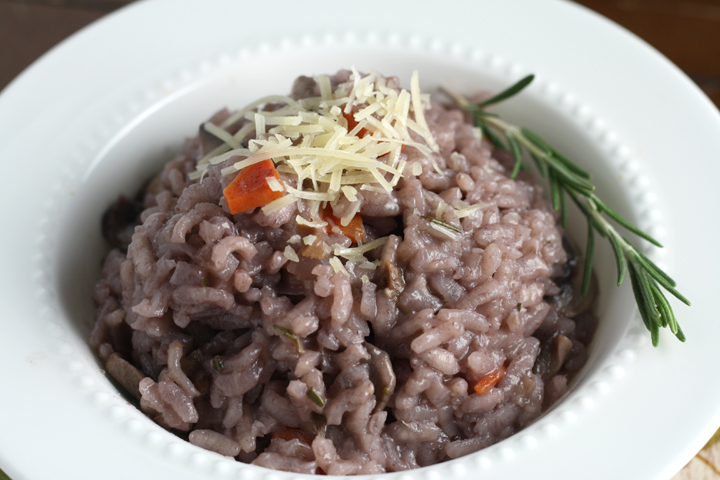 Lo and behold, after about an hour it was done! You don't save any time making it in the oven versus the stove, but it's not active time. While it was baking I started this blog post, checked email, chatted with Nate online and cuddled with my kitty cat, so it was definitely an hour well-spent.
I pulled it out of the oven not sure what to expect, but it really looks and tastes like regular risotto. It was absolutely delicious! Although I'm partial to anything with rosemary and mushrooms, so I knew I'd love it even if it came out as one gloppy mess…which thankfully it didn't :)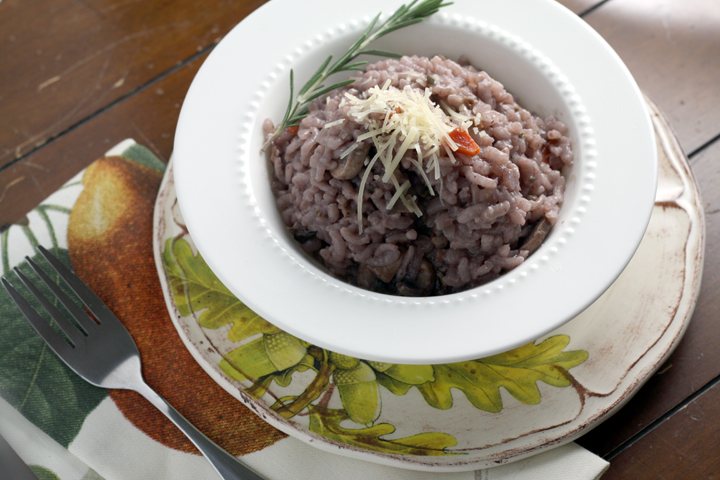 Since I'm eating this alone and it will take me at least the entire week to finish, I'll probably be so sick of it that I won't want to look at risotto again for a year.
I still have half a bottle of wine left. Be prepared for some sort of chocolate cake incorporating it. Unless you guys have some better ideas?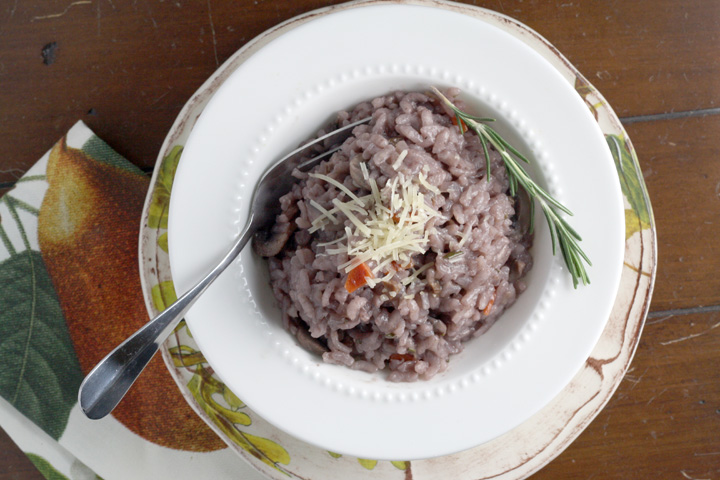 Baked Red Wine Rosemary Risotto with Mushrooms
Makes 4 LARGE or 6 smaller servings
1/4 oz. dried mushrooms
3/4 cup boiling water
2 Tbsp butter, divided
1 lg onion, diced
1 lg carrot, diced
2 cloves garlic, minced
2 cups arborio rice
1 1/4 cup red wine
8 oz. mushrooms, sliced
1 Tbsp fresh rosemary, chopped
1/2 cup shredded parmesan cheese (plus more for garnish)
32 oz. chicken stock
1-1.5 tsp salt (depending on how salty you like things)
ground pepper
Put dried mushrooms in a cup and cover with 3/4 cup boiling water. Set aside to reconstitute for 20 min.
Preheat oven to 350 and coat a 9×13 pan with cooking spray.
While dried mushrooms are softening, melt 1 Tbsp butter in a large sauce pot or saute pan over med high heat. Add onions and carrots and cook til onion is soft.
Add garlic and cook 2 minutes. Add rice and toss to coat.
Add red wine, stirring completely. Dump winey rice mixture into prepared pan.
Melt second Tbsp of butter in the saute pan. Add sliced mushrooms and stir. Remove dried mushrooms from water, reserving water. Chop mushrooms and add to other mushrooms along with rosemary. Saute til soft.
Add mushroom mixture, mushroom water, parmesan cheese, chicken broth, and salt/pepper to baking pan and stir.
Place in oven and cook uncovered for one hour, stirring halfway. Rice is done when the liquid is completely absorbed and mixture is cooked. If still undercooked/crunchy, add more water 1/3 cup at a time, cooking until absorbed. Remove from oven and cool for 10 min.
Salt more if needed. Serve with a sprinkling of parmesan.
Inspired by Joy the Baker