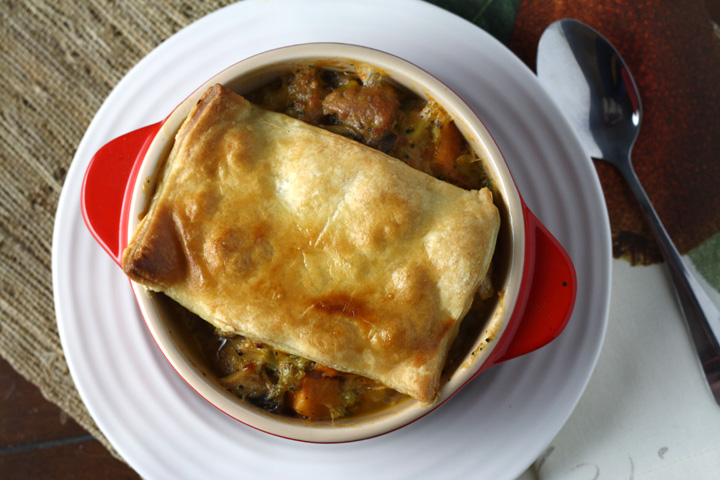 While Nate's been gone, I've been getting my fill of girly activities. This past weekend one of my best friends (and one of my Maid of Honors at my wedding), Emily, came into the city from Jersey. She spent all day Saturday with me, and we did a ton of walking.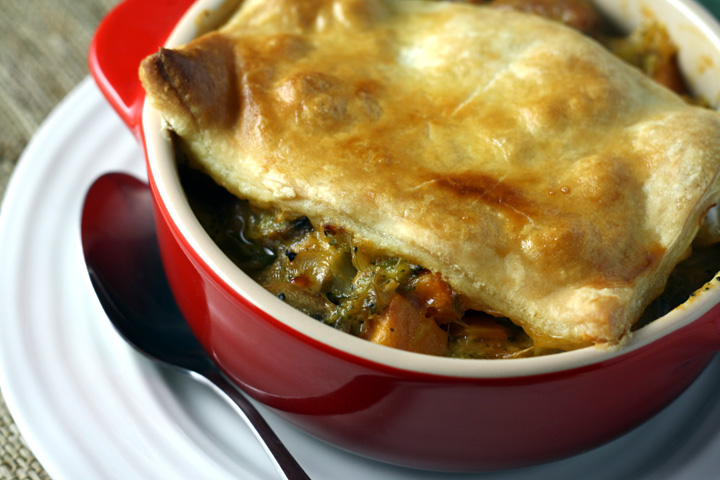 Since she had travelled so far to get to me, we planned for a sleepover! Since we had worked up an appetite walking around the city, we decided to make this yummy dinner. Then we watched chick flicks :) As much as I miss my hubby, getting to have girl time was great.
If you can believe it, I actually lightened up the recipe I based this from considerably, while adding veggies to give it more bulk per serving. It's still fairly high in fat content (due to the turkey sausage…who knew??), but it's only about 500 calories per serving, which is pretty reasonable for a tasty and filling dinner.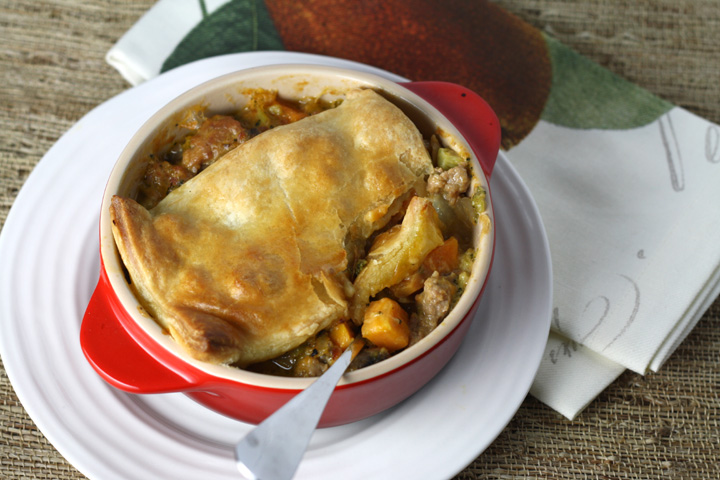 The smoked cheddar is vital to this recipe, as it adds an amazing flavor. I don't think it would be nearly as good with regular cheddar. In fact, the cheese sauce was so yummy, I feel like it would be great to make Mac and Cheese out of. I bought way too much cheddar, not knowing how much it would increase in volume when I shredded it, so I may just have to try it out that way next ;)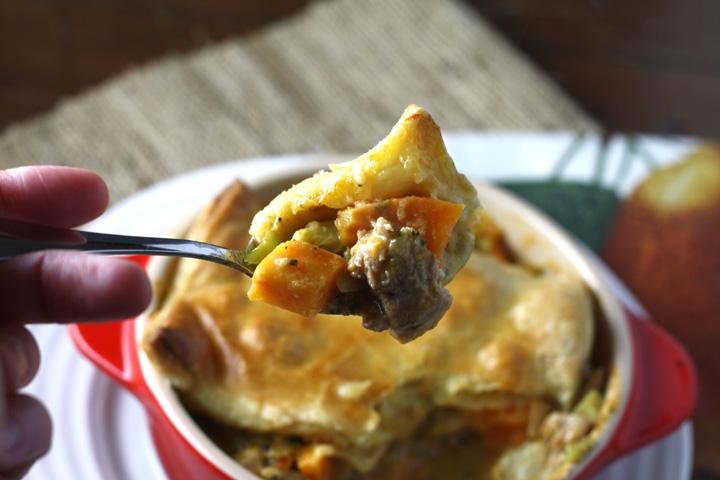 This recipe is delicious and Emily gave it two thumbs up. Sadly it's also a recipe that Nate would love. Plus, I have so much left and I'm sick of it, whereas he would have made short work of the leftovers. Another reason I need my husband to come back to the east coast!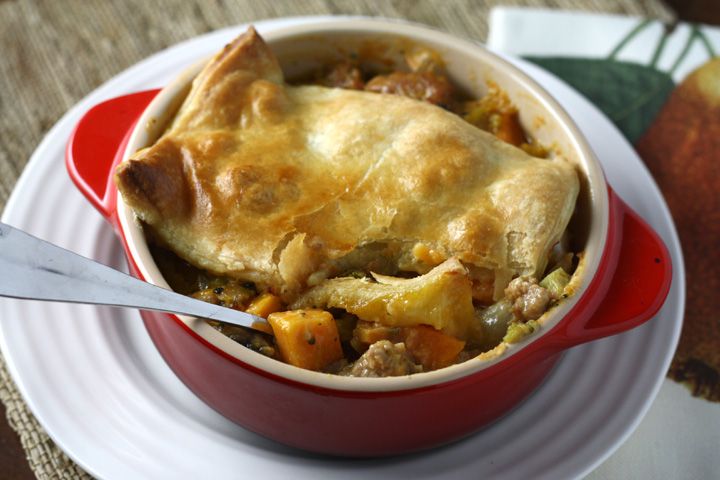 Sausage, Sweet Potato and Smoked Cheddar Pot Pie (lower cal)
Adapted from Cinnamon Spice and Everything Nice
Serves 8
1.25 lb lean italian turkey sausage
1 Tbsp olive oil
1 small onion, diced
3 cloves garlic, diced
2 cups sweet potatoes, peeled and diced into 1/2″ pieces
8 oz sliced mushrooms, coarsely chopped
10 oz. chopped frozen broccoli, thawed and well drained
pinch of red pepper flakes
2 Tbsp butter
2 Tbsp + 1 Tbsp flour
2 cups chicken stock
3/4 cup fat free evaporated milk
1 heaping cup shredded smoked cheddar cheese
1 sheet puff pastry
1 egg
Take puff pastry sheet out of freezer so it has time to thaw (about 40 min at room temp). Preheat oven to 400.
Put sweet potato pieces in a pot with water. Bring to a boil and cook 8-10 minutes or until cooked but still firm. Drain and set aside.
Heat a large saute pan over med-hi heat and add turkey sausage to pan, removing casings. Cook turkey sausage, breaking it up into small pieces with a wooden spoon. When no longer pink, remove turkey with a slotted spoon to a bowl and set aside.
Add the olive oil to the pan. Add onions and saute until translucent. Add mushrooms and garlic and cook until mushrooms are soft. Add the broccoli, sweet potato and turkey to the pan and warm up. Turn off heat and set to the side.
In a saucepan, add butter until melted. Whisk in 2 Tbsp of the flour, continually cooking for 2 minutes. SLOWLY add the broth, whisking well so no clumps form and it evenly distributes in the broth. Whisk in the evaporated milk and the last tablespoon of flour.
Bring to a boil, whisking often. Simmer for 2-3 minutes or until it thickens. Turn off the heat and whisk in the cheddar. Add red pepper and salt/pepper to taste.
Pour the cheese sauce over the veggie/turkey mixture and mix thoroughly.
Place mixture in serving dish(es). I used individual ramekins for portion control, but it should fit in a 9×13 pan. Cut puff pastry into 8 pieces and place one on each portion.
Whisk egg with 1 Tbsp of water and brush tops of puff pastry. Place in oven, putting a foil-lined pan underneath to catch drips. Bake for 35-40 min or until puff pastry is golden brown.
Cool for 5-10 minutes before eating, as it will be VERY hot. Also, it thickens as it cools.