I'll be back with a recipe soon, but today it's Pinterest Challenge Time!
Two of my favorite DIY blogs do something every season called the Pinterest Challenge. The goal of this challege, is to make one thing each season that's inspired by all the gorgeous stuff that we've pinned on Pinterest! It keeps us from continually pinning things and never doing anything about them.
This month, the challenge is hosted by: Sherry, Katie, Emily and Renee.
Because I just can't wait to share with you til the end of the post, here is my finished, custom-initialed champagne glasses!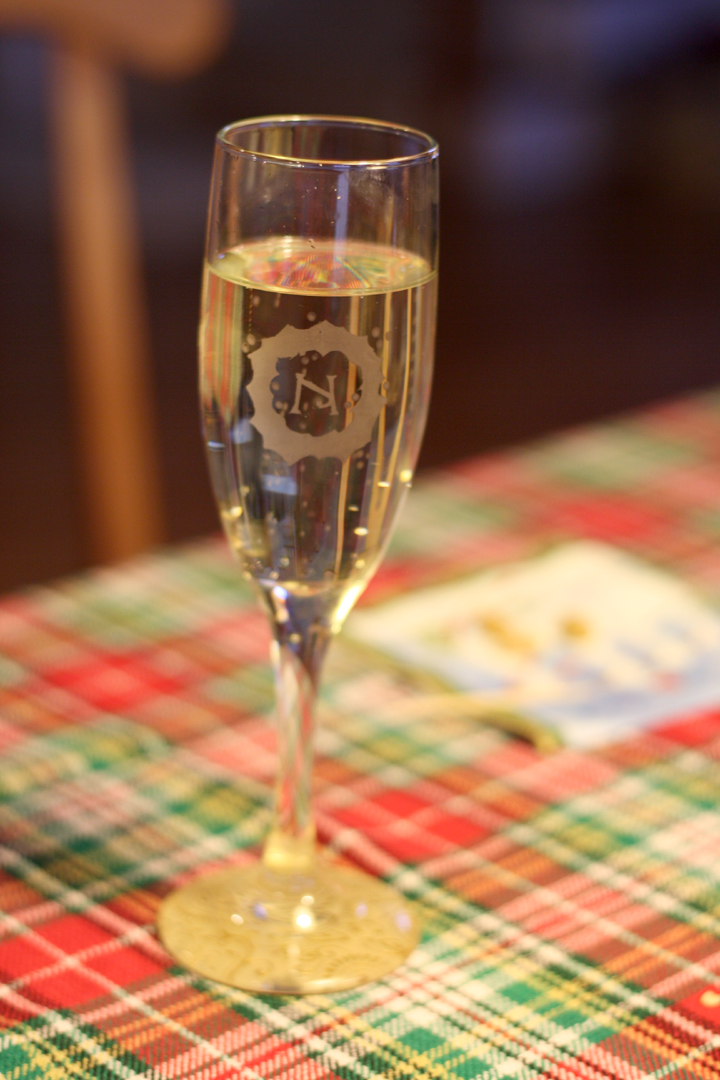 You may remember I've participated in this challenge several times so far:
In the winter I made a lovely button bird for Nate's mom's Xmas present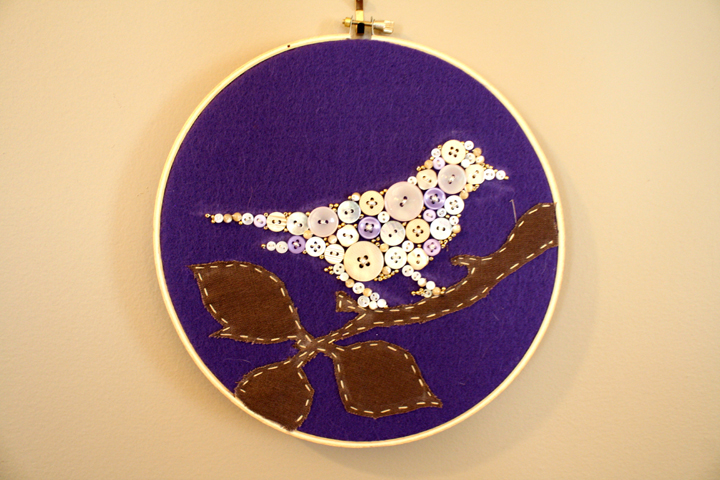 This fall I made a flower girl sign for my wedding :) – my favorite one to date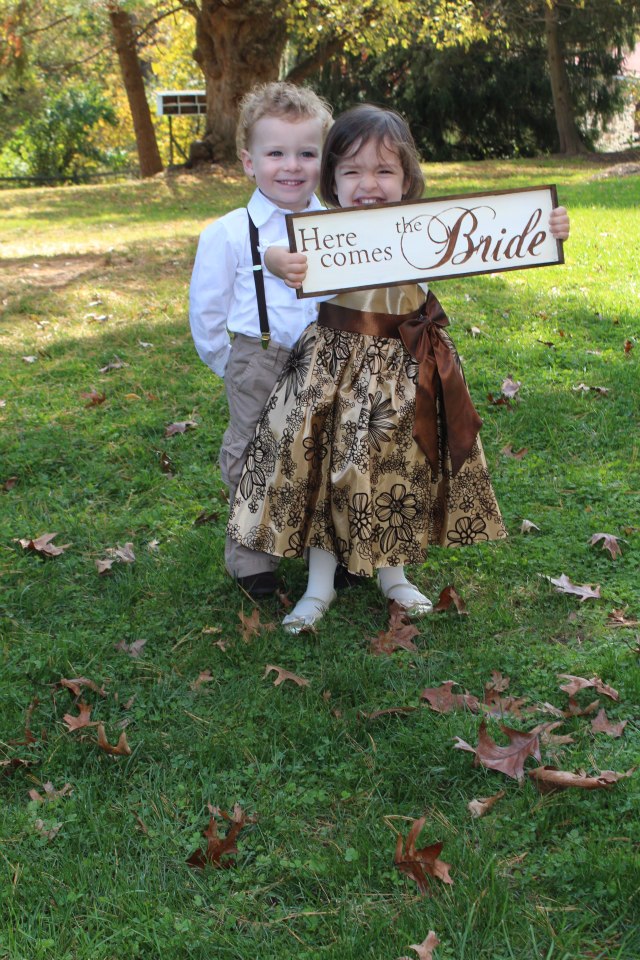 Although it's been a while since I made this new project, it was part of my Christmas present to my mother-in-law again. That's my favorite time to get crafty!
Every Christmas and New Years, Nate's mom breaks out some champagne for us all to celebrate. I thought that it would be really nice if I made her some personalized champagne glasses, one for each of us with our first initial on it and a glitzy gold bottom.
I actually combined two different pins/ideas for this project.
First I found this pin where someone added a gold doily to the bottom of a basic glass:
Second, I had seen a bunch of projects where people etched glass for various purposes, such as spice jars.
Ok, so the first thing I did was go to Target and buy two cases of the cheapest champagne glasses they had. They were $10 for 6 glass, I believe.
Then I searched far and wide for a gold doily, but I couldn't find them anywhere, so instead I bought some gold patterned scrapbook paper.
This definitely wasn't the best idea. The gold doily was much more delicate and could easily bend to the slight curve under the champage glass, but the paper was stiff. The paper was a lot harder to work with, but I managed.
First I traced the bottom of the glass onto the pretty paper: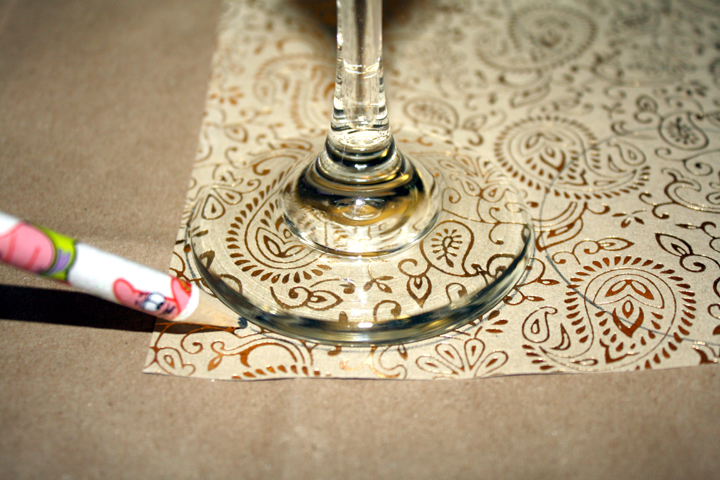 and cut it out.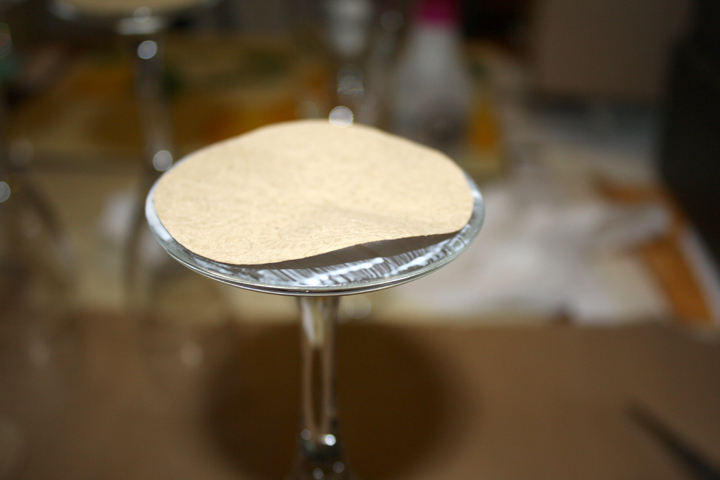 Next you put a layer of Modge Podge on the glass, put on the paper and smooth it out well.
Then put another layer of Modge on top of the paper. I then let it dry and put another few layers of Modge on top (letting each dry in between), just to make sure it was fairly water-tight.
Obviously you'll still have to handwash the glasses, but at least I wouldn't worry if a little water got on the bottom now.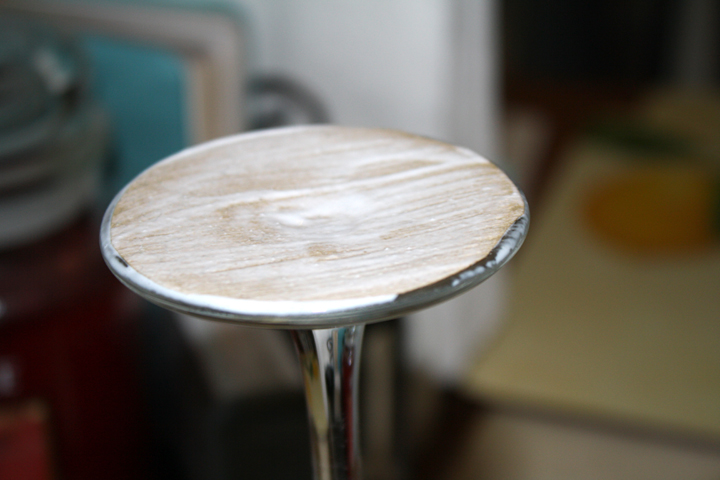 For the etched initials, I could have taken the easy way out like my inspiration pin and found a stencil, but of course I had to be all complicated like the idiot I am. Truthfully, I just couldn't find a stencil in the right font/size I had in mind.
I was looking up pretty fonts to use, but I had an idea in mind that I wanted the letter to be very gothic, kind of like this:

But the more I thought about it, I realized how hard it would be to cut those shapes out to make a stencil, so I searched a little more for a font I thought was sophisticated and kind of said "holiday."
I eventually found this free font called the RM Wreath font on this awesome free font site.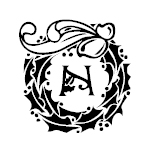 Very festive, no?
So I followed the directions of another glass etch site- buy that contact shelf liner you buy at any hardward store that's sticky on one side. *Make sure it's the kind that's sticky on one side! They do make one that's not.
Then you print out the font you want at the right size and use an exacto knife to cut out the liner so the letter (or design) is empty space. This is the part that will get etched.
I had to simplify it a bit since I had to cut it out with an exacto knife. My mom suggested removing the bow since the first try with it didn't look like a bow. I instead made a kind of abstract wreath.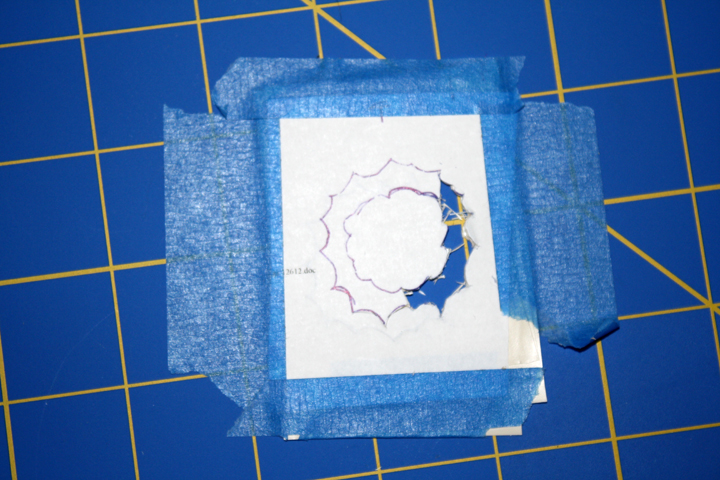 Basically after cutting it out, you stick it on the glass then follow the directions of the etching cream bottle. I used Martha Stewart's brand since it was all I could find at Michaels, although it was probably more $ than it should have cost. You just put on a thick layer of cream, let it sit 15 minutes, then wash it off. Simple as that!
I had to do this in three parts- 1) wreath stencil then etch 2) letter stencil then etch 3) berries the etch
It was kind of a pain but in the end, all the etching went by fairly quickly and it was fun to wash off the etching cream and see the glass etched :)
And voila! the finished product: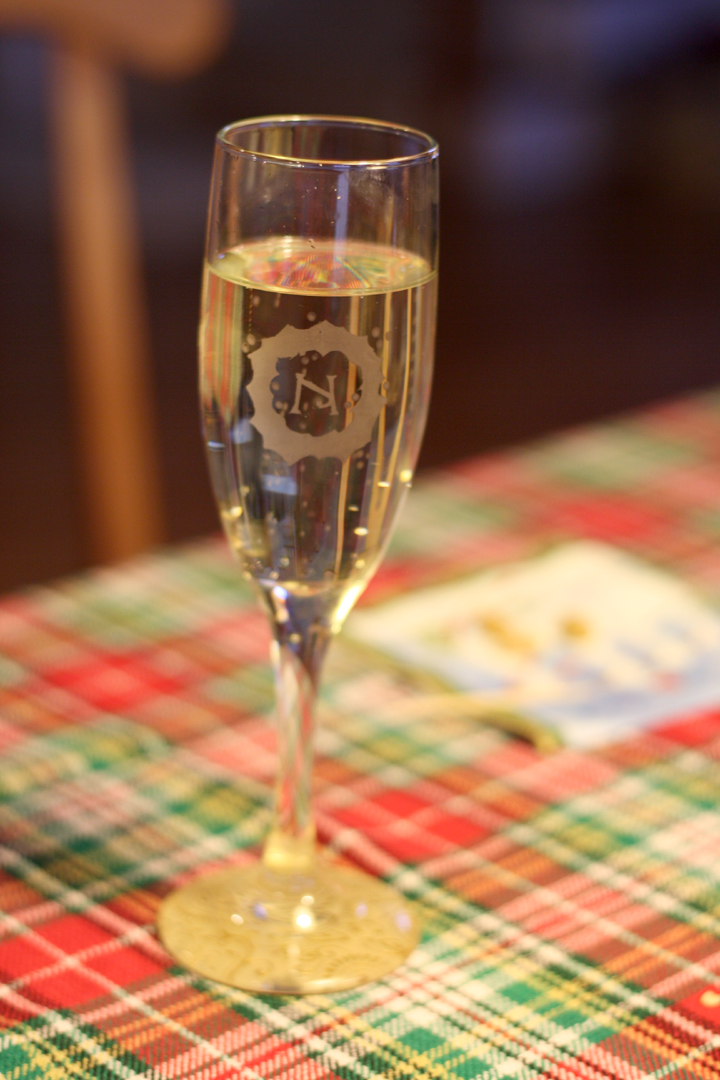 It's hard to see the berries in and around the wreath because all you can see are the champagne bubbles, but I promise they're there.
It was a decent amount of work to do this, but only really took me a few evenings becauese of a lot of drying time and a low attention span ;)