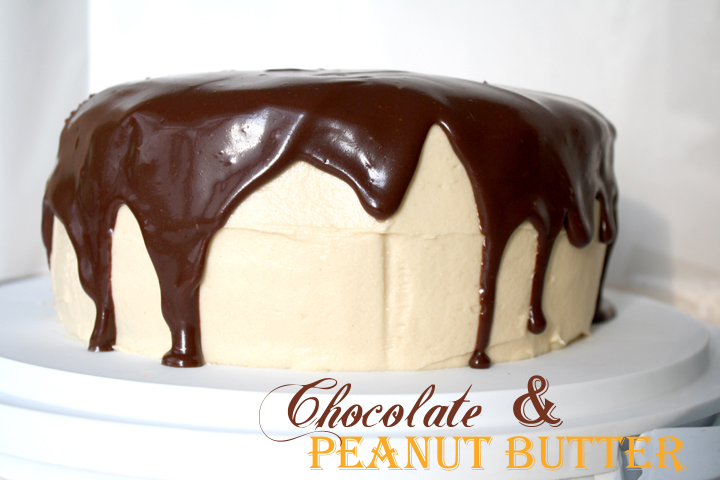 As you all know, this past Thursday was Nate's birthday….or as Nate likes to call it, the day he's "on vacation." By this he means that I'm not allowed to make him run any errands.
Nate's currently home during the day while I'm at work, and as most of us working folk know, most stores that you need to run errands at are only open during the hours we're at work. So annoying, right?! I've been having Nate run some errands for me and he's been none too pleased.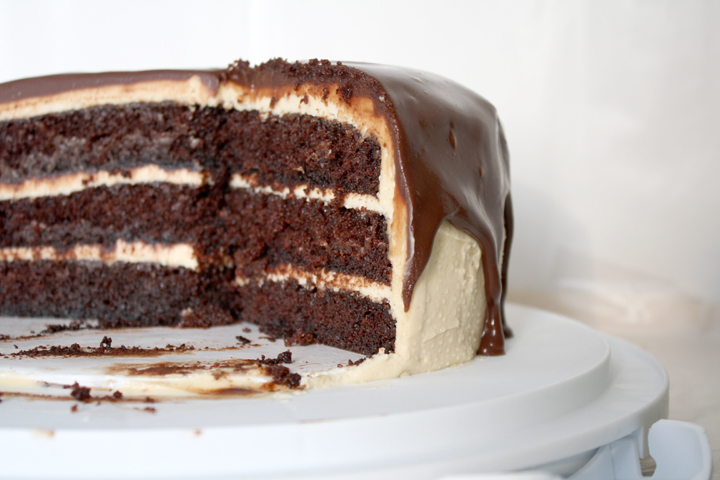 I did really want to give him "the day off" on his birthday, but my library books were about to expire so I asked him to do me a favor and return my books to the library across the street from our apartment. I don't even want to tell you how much he complained….but then I reminded him about this wonderful cake that I'd be serving him that evening. I didn't hear another word. At least for a day.
Nate is a man of simple tastes, so when it came time to figure out what to bake up for his bday, I only had to think of his few favorite combos: chocolate-mint, red velvet/carrot cake + cream cheese frosting, and of course, chocolate peanut-butter.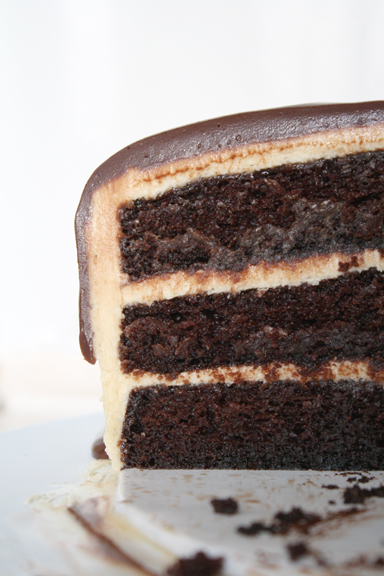 It seems that Deb's ( from Smitten Kitchen) husband is a choco peanut butter fan too, and so when I saw this recipe on her site, I knew I had to make it. I've had good luck with the recipes on her site because they're well-tested, so I was pretty sure this one would be a winner.
I have to say that as I added the 1.5 cups of water the recipe calls for and stirred it up, I was slightly skeptical. The batter before the water was added had normal cake consistency but after it was incredibly watery. I checked the site and no one had said anything in the comments about a typo, so I forged ahead.
35ish minutes later I had the most fluffy looking cake I'd ever seen. After cooling the cakes in the pans for 20 minutes, I following Deb's advice and shoved them in the freezer for about 30 minutes, which seems to have been a good choice given how delicate these cakes were.
My only other comment is that the glaze seems kind of clumpy when you melt the chocolate, pb, etc in the pan, but after adding the half and half and vigorously mixing, it smooths out nicely….so fear not!
Anyway, I know this is a bold statement, but I think it may be the most delicious cake I've ever made or eaten. Ever.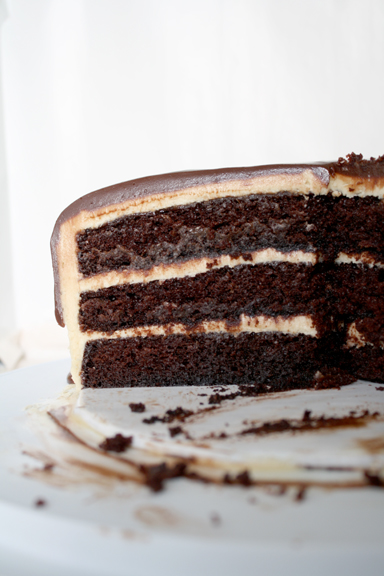 And I wasn't the only one who thought that. Nate and I had 3 friends over to dinner and the only sounds coming from them after biting into the cake were ooohs and aaaahs…and a few "this is amazing"s.
I know it may look complicated, but following Deb's tips regarding the cooling times, it was surprisingly easy. I made the cake and pb frosting and frosted it all within 3 hours or so after I got home from work. After sticking it in the fridge overnight, I made the chocolate glaze the next evening, poured it onto the cold cake, stuck it back in the fridge to firm up while we started eating dinner. I then took the cake out about 30 min to an hour before we were ready for it so it could soften up.
YOU NEED TO MAKE THIS. Seriously, you don't know what you're missing.
Sour Cream-Chocolate Cake with Peanut Butter Frosting and Chocolate-Peanut Butter Glaze
From Smitten Kitchen via Sky High: Irresistable Triple-Layer Cakes
makes one 8 inch 3 layer cake
2 cups all-purpose flour
2 1/2 cups sugar
3/4 cup unsweetened cocoa powder, preferably Dutch process
2 teaspoons baking soda
1 teaspoon salt
1 cup neutral vegetable oil, such as canola, soybean or vegetable blend
1 cup sour cream
1 1/2 cups water
2 tablespoons distilled white vinegar
1 teaspoon vanilla extract
2 eggs
1. Preheat the oven to 350 degrees F. Butter the bottoms and sides of three 8-inch round cakepans. Line the bottom of each pan with a round of parchment or waxed paper and butter the paper.
2. Sift the flour, sugar, cocoa powder, baking soda, and salt into a large bowl. Whisk to combine them well. Add the oil and sour cream and whisk to blend. Gradually beat in the water. Blend in the vinegar and vanilla. Whisk in the eggs and beat until well blended. Scrape down the sides of the bowl and be sure the batter is well mixed. Divide among the 3 prepared cake pans. **Note batter will be incredibly watery
3. Bake for 30 to 35 minutes, or until a cake tester or wooden toothpick inserted in the center comes out almost clean. Let cool in the pans for about 20 minutes. Invert onto wire racks, carefully peel off the paper liners, and let cool completely. (Deb's note: These cakes are very, very soft. I found them a lot easier to work with after firming them up in the freezer for 30 minutes. They'll defrost quickly once assembled. You'll be glad you did this, trust me.)
4. To frost the cake, place one layer, flat side up, on a cake stand or large serving plate. Spread 2/3 cup cup of the Peanut Butter Frosting evenly over the top. Repeat with the next layer. Place the last layer on top and frost the top and sides of the cake with the remaining frosting. (Deb note 1: Making a crumb coat of frosting–a thin layer that binds the dark crumbs to the cake so they don't show up in the final outer frosting layer–is a great idea for this cake, or any with a dark cake and lighter-colored frosting. Once you "mask" your cake, let it chill for 15 to 30 minutes until firm, then use the remainder of the frosting to create a smooth final coating. Deb note 2: Once the cake is fully frosted, it helps to chill it again and let it firm up. The cooler and more set the peanut butter frosting is, the better drip effect you'll get from the Chocolate-Peanut Butter Glaze.)
5. To decorate with the Chocolate–Peanut Butter Glaze, put the cake plate on a large baking sheet to catch any drips. Simply pour the glaze over the top of the cake, and using an offset spatula, spread it evenly over the top just to the edges so that it runs down the sides of the cake in long drips. Refrigerate, uncovered, for at least 30 minutes to allow the glaze and frosting to set completely. Remove about 1 hour before serving. Decorate the top with chopped peanut brittle.
Peanut Butter Frosting
Makes about 5 cups
10 ounces cream cheese, at room temperature
1 stick (4 ounces) unsalted butter, at room temperature
5 cups confectioners' sugar, sifted
2/3 cup smooth peanut butter, preferably a commercial brand (because oil doesn't separate out)
1. In a large bowl with an electric mixer, beat the cream cheese and butter until light and fluffy. Gradually add the confectioners' sugar 1 cup at a time, mixing thoroughly after each addition and scraping down the sides of the bowl often. Continue to beat on medium speed until light and fluffy, 3 to 4 minutes.
2. Add the peanut butter and beat until thoroughly blended.
Chocolate-Peanut Butter Glaze
Makes about 1 1/2 cups
8 ounces semisweet chocolate, coarsely chopped
3 tablespoons smooth peanut butter
2 tablespoons light corn syrup
1/2 cup half-and-half
1. In the top of a double boiler or in a bowl set over simmering water, combine the chocolate, peanut butter, and corn syrup. Cook, whisking often, until the chocolate is melted and the mixture is smooth. **Note the consistency will be incredibly thick and slightly grainy but this is normal.
2. Remove from the heat and whisk in the half-and-half, beating until smooth. **It will separate before it combines and smooths out. Use while still warm.