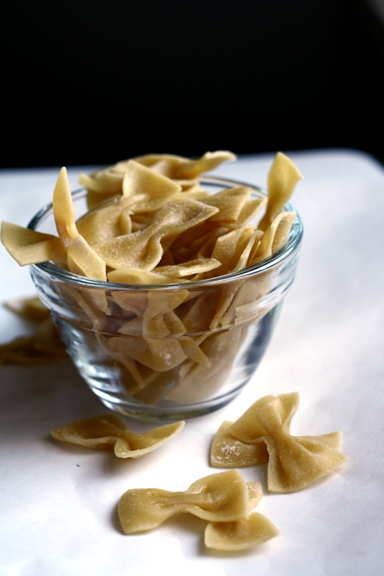 Sadly, two weeks ago one of Nate's closest family friends, Henny Ray Abrams, passed away unexpectedly at the young age of 58. In the years of knowing Nate, I had gotten to know Henny pretty well.
He had, as an adult, learned to cook and had taken to inviting us over to dinner parties in his brooklyn apartment fairly regularly. He always served us a delicious 3 course meal including freshly baked french bread. He and I often talked about cooking, comparing knowledge and recipes. So it was only appropriate that when we got married, Henny's gift to us was the pasta maker attachment for my kitchenaid mixer. I decided to pull it out this weekend, in honor of Henny, who I know would have been excited to hear that it got put to use.
Because Nate knew Henny much better than me, I thought that I would invite him to take over before I share the pasta recipe, telling us a little more about the man that he came to know so well:
I first want to thank Amy for allowing me to write this post since there is never a good way to deal with a subject like this. Last week a very close, way too young, family friend passed away suddenly.  His name was Henny and he was basically like an uncle to me.
Henny was a well-known and respected photographer, working in news, sports, entertainment, but mainly he worked in motorcycle racing as a photographer and reporter.  When I got a go-cart for one christmas he supplied our helmets with some of his old motorcycle helmets. To say they looked ridiculous on us would be an understatement, but they did the job.
Christmas is the time of year that I most often associate with Henny, which is odd considering he was Jewish. But, until I was out of college every year we would all gather a couple of weeks before Christmas and do our annual Christmas picture. When we were younger these seemed like interminable exercises, with what seemed like hundreds of pictures being taken. As I aged, I noticed how much quicker the process seemed to take. Yet, this was a family tradition that Henny always took part in and really seemed to enjoy. He never married or had children of his own, so we were probably as close as it was going to get (along with all his other friends kids).
The other christmas tradition we had with Henny was him coming over on Christmas day for dinner. I have a feeling this is going to be the hardest part of all of this to face this coming Christmas. It was the one time of year we would have steak (I know, I never eat it otherwise) and he would always cook it. We started this tradition about 15 years ago, but it seems like it's the way it's always been.
I'm more in shock than anything else right now, considering Henny was only 58 years old. There are a lot of things that don't seem real, like we still have a batch of his amazing chocolate chip cookies in our freezer that he made at Christmas. When we'd go to his dinner parties, he used to always send us home with extra of whatever dessert he had served and so we still have a piece of his tupperware in our apartment that we had intended to return on our next dinner with him at his apartment. I'll never get to have those things again and I'm not sure I know how to handle that.
I'll end this post by telling a story that I think encapsulates what kind of guy he was. Henny came down for our wedding in October and was driving back up to NYC right after it ended (which was around 8pm).One of Amy's bridesmaids, and my friend Kim, needed a ride back up to the city. I didn't even have to ask, he just offered to take a complete stranger friend of mine back up to Brooklyn. I asked Kim afterwards how the ride back was and she said they talked the whole way back, despite having just met 2 hours prior. He would do anything for us and his other friends. At least I still have the photographs he took of us, but I will miss him.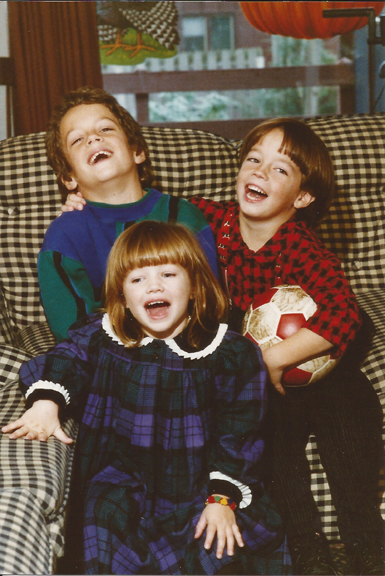 I'm so glad Henny gave us this pasta maker for a present. He knew how much I liked to cook and now every time I use it, I'm going to think of him.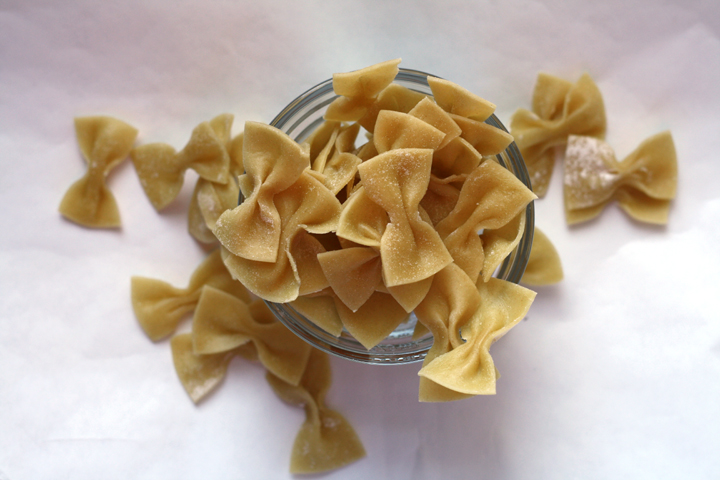 I have to say that making pasta was SO easy. Like, almost so easy that I might make it fresh every time I want it instead of getting pasta from a box. The only issue is the pasta maker attachments that I have can only make large flat sheets (lasagna), fettuccine  and spaghetti. If you want farfalle you make the large flat sheet and then cut and shape it, but it takes more effort. To make any noodles with a hole in them requires another attachment. Unfortunately for me, Nate doesn't like long noodles, but the next time I make this I'm doing fettuccine because it's just quicker.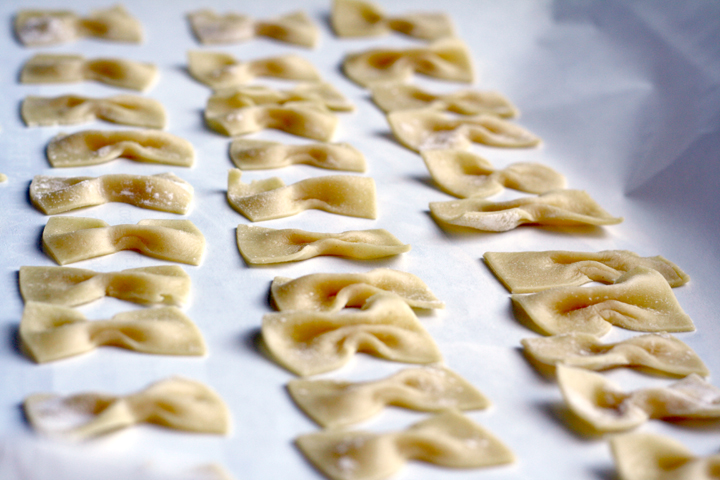 So many bowties. So many adorable little bowties. Right? If anything, I will make these again for the cuteness. Oh and speaking of cuteness, how cute are Nate and his siblings in those photos :)
Next up I'll share a recipe I made using this farfalle!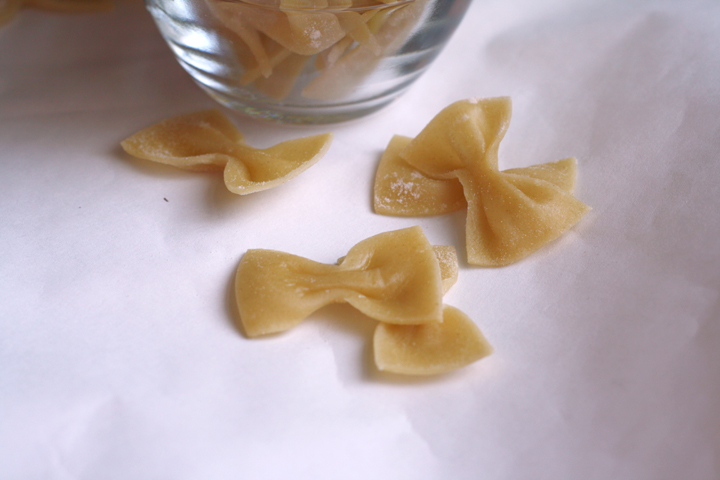 Homemade Farfalle (Bowtie) Pasta
Recipe from Lesserevillife, technique from various sources 
makes 6 oz. pasta– 3 proper (albeit small) servings
Ingredients:
1 cup all-purpose flour
½ tsp salt
1 egg
2 tbsp water
1 tbsp extra virgin olive oil
Preparation:
Combine the flour and salt in a medium-sized bowl. Beat the egg in a separate bowl, then add to the medium-sized bowl. Start mixing, then add 1 tablespoon of water. The mixture should be starting to appear doughy. Add 1 tablespoon of extra virgin olive oil. The dough should be ready to take out of the bowl and onto a flat surface to roll. If it's still feeling tough, add an additional 1 tablespoon of water.
Knead the dough with your hands a few times for a uniform texture. Cut dough in half and set one piece to the side. Follow directions below depending on whether or not you have a pasta maker.
With Pasta Maker Attachment:
Pat one of the pieces of dough into a rectangle about 3/8″ thick. Run dough lengthwise through pasta maker on setting 1. Fold dough in half lengthwise and feed back through pasta maker. Continue this folding and feeding back through until dough is smooth and is the width of the pasta maker.
Turn dial to setting 2 and run pasta through. Move to 3 and run through again, then 4 then 5. After running pasta through on setting 5, lay it out on a lightly floured surface. Repeat with other piece of dough.**
Without Pasta Maker:
Shape dough into a ball, then flatten slightly. Use a rolling pin to roll it into a large oval, about ⅛" thick.
**continue here for both:
Using a knife, cut the dough into strips about 1" wide. Take a strip, and use a pie cutter or knife to cut the strip into about 1 ½" rectangles. The ridges of the pie cutter will give the pasta ends the traditional farfalle zig-zag, but a plain old knife works fine
With the rectangle's long side facing you, put your pointer finger of one hand in the center of the rectangle. Using your other hand, pinch the middle sides of the long edges of dough together, towards the center and your finger. Release your finger from center of dough as you pinch together so the pasta meets the other side. Pinch hard enough for it to stay shaped. *If you're visual and need a tutorial for the bowtie-forming, visit http://www.pasta-recipes-made-easy.com/farfalle-pasta.html.
Dry dough for an hour. If making immediately, cook pasta in boiling water for 2-3 minutes.
Otherwse, refrigerate or freeze in an air-tight container until ready to cook. Cook for 7ish minutes when ready.
.