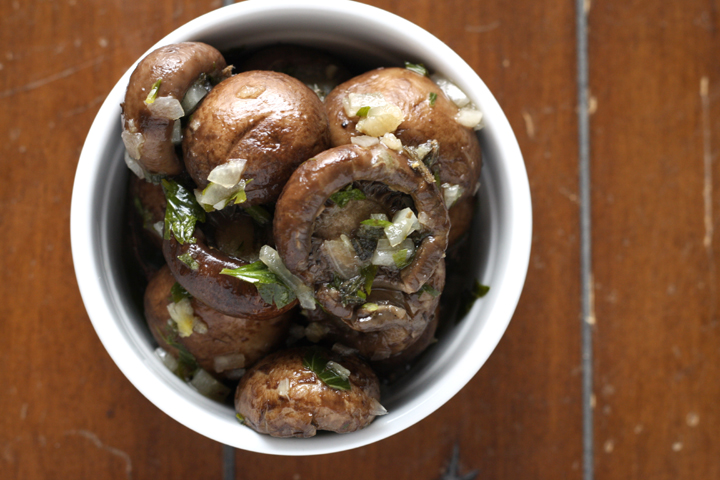 As you know, I just got back from a short vacation to Idaho with Nate. Sorry in advance for all the photos. Hopefully you'll enjoy them. Recipe for these lovely mushrooms are at the bottom.
We stayed at Nate's dad's cute little log cabin. Well, it's not so little. It also isn't at all rustic. It has all the amenities of a typical house, complete with a beautifully updated kitchen.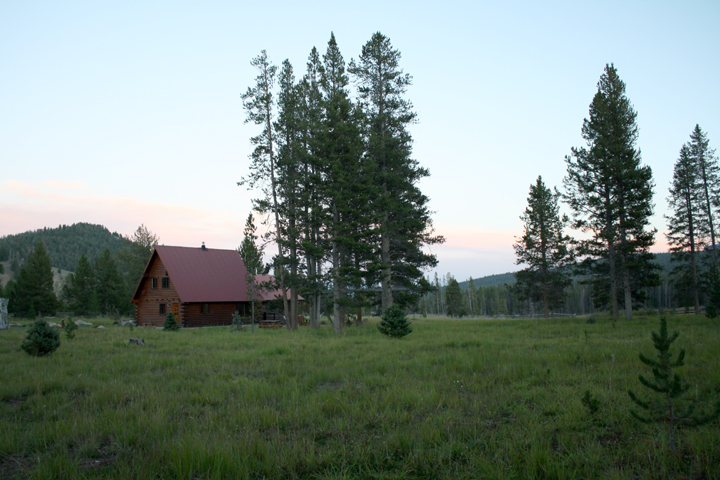 The cabin is kind of in the middle of nowhere. It's over an hour from the nearest supermarket.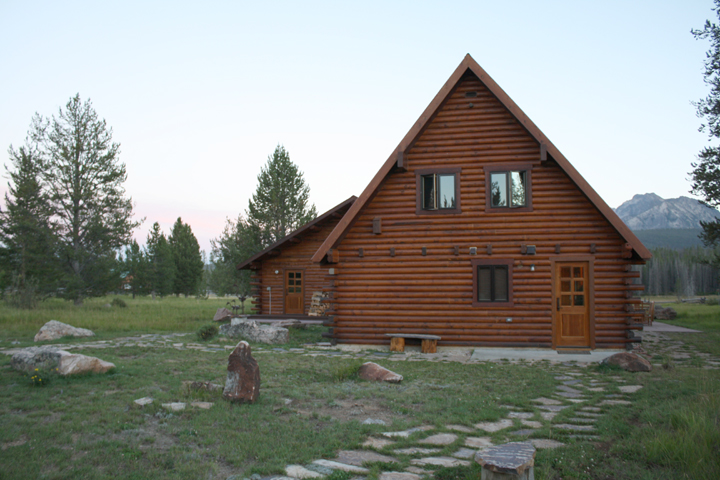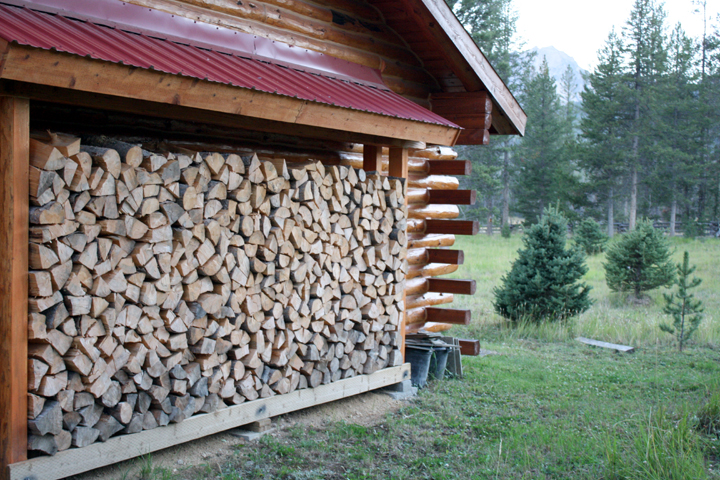 However what the area lacks in the civilization department, it more than makes up for it in the scenery. The mountains and view behind his cabin are just spectacular. I couldn't stop taking pictures of them in all sorts of light.
This is in his backyard with the clouds rolling in.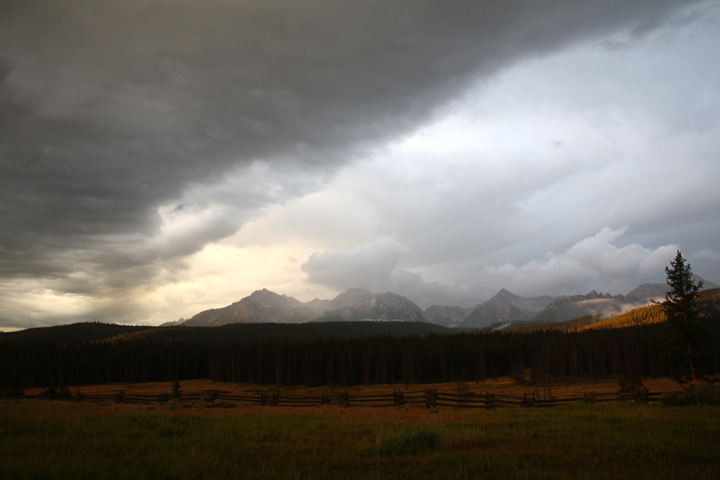 One morning after a light sprinkling, we even got a rainbow. I was still sleeping, so thanks to Nate for capturing this one.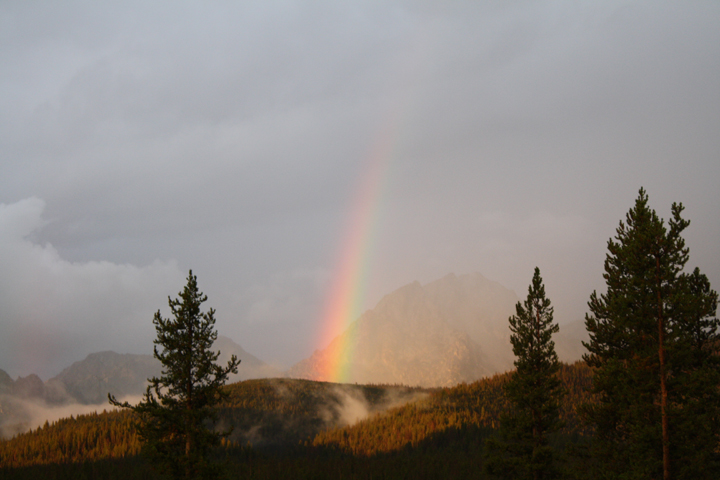 Not a bad view to have while eating dinner. We used the grill out on his patio the first night for some tasty salmon and veggie kabobs.
While there we tried to spend time outdoors, obviously. The cabin is surrounded by camp sites and hiking trails.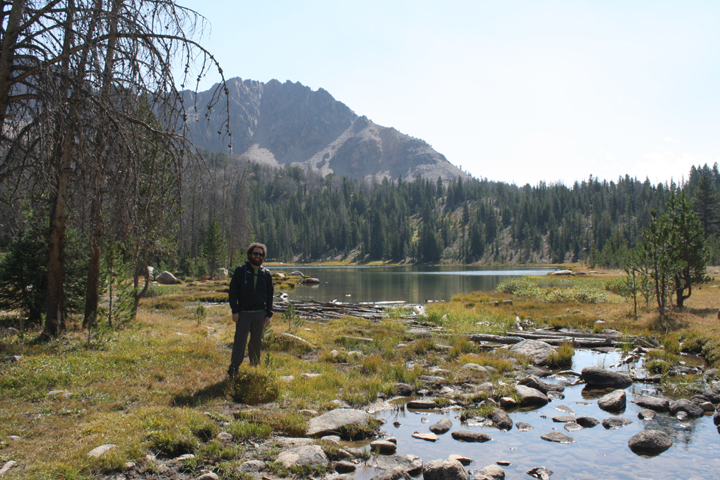 One day we did a 3 hour hike up to a couple pretty lakes.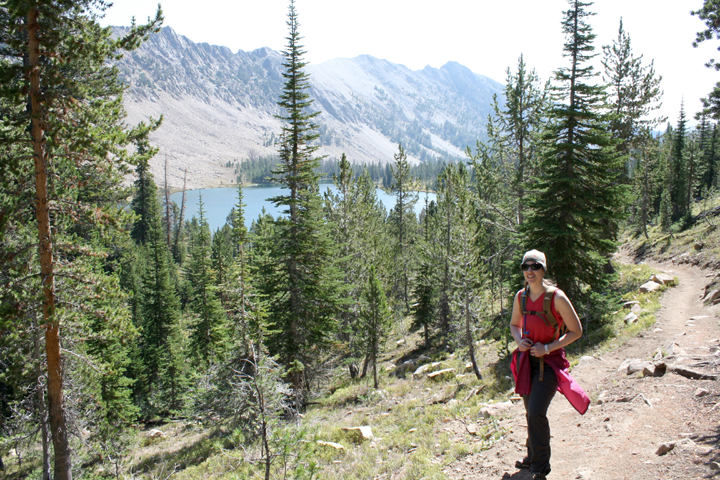 The area has had numerous wildfires over the years and you can see the devastation everywhere. Here were some burnt, dead trees along the hike. In this area the grass has mainly grown back. Some areas definitely look much much worse.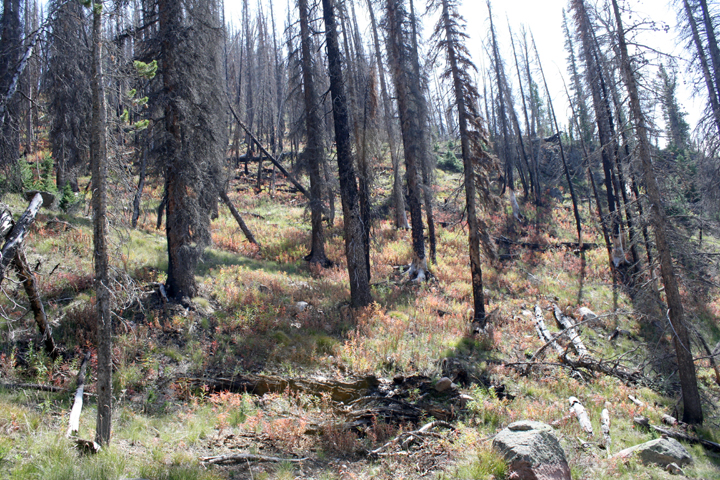 Despite the fact that many trees have burned down, there's an abundance of little baby pine trees starting to grow. I think they were my favorite part of the whole trip. This one happens to be right in his dad's yard.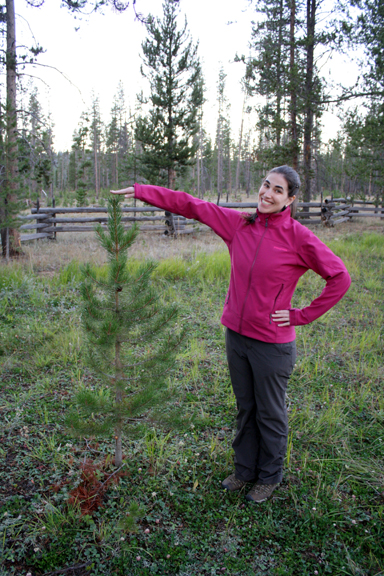 There were a few areas that were so close we didn't even have to hike. This was a short drive away and then just a walk to this little creek. There were lots of salmon in it! Apparently you can see them spawning at the right time of year.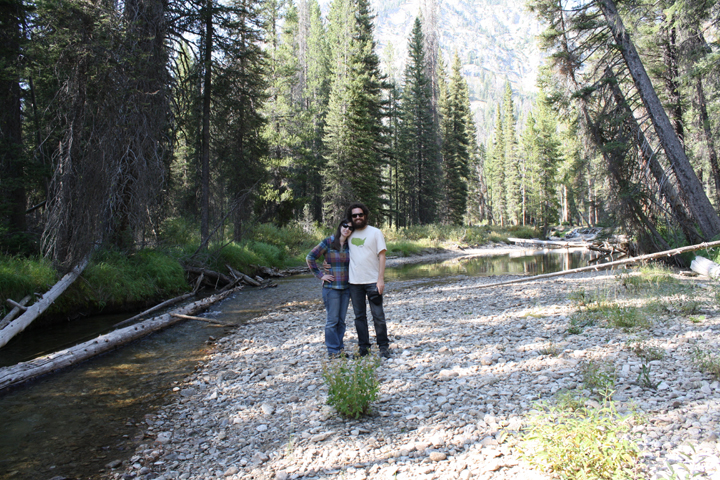 Another view of the backyard, just because.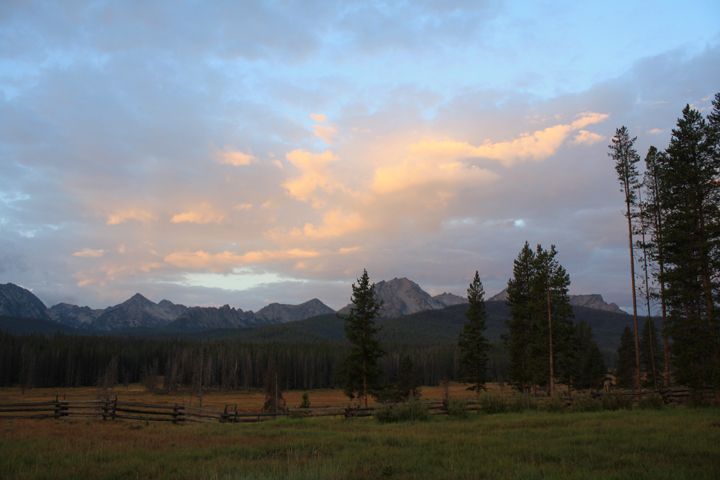 And just some more photos…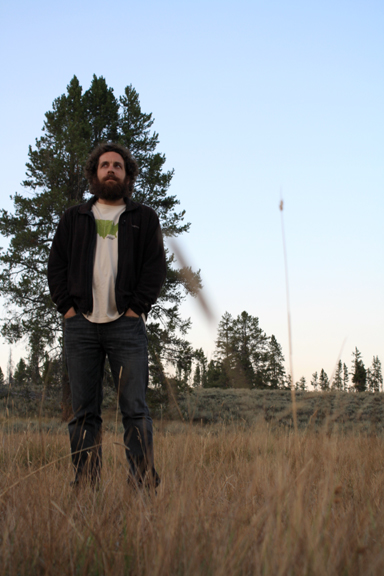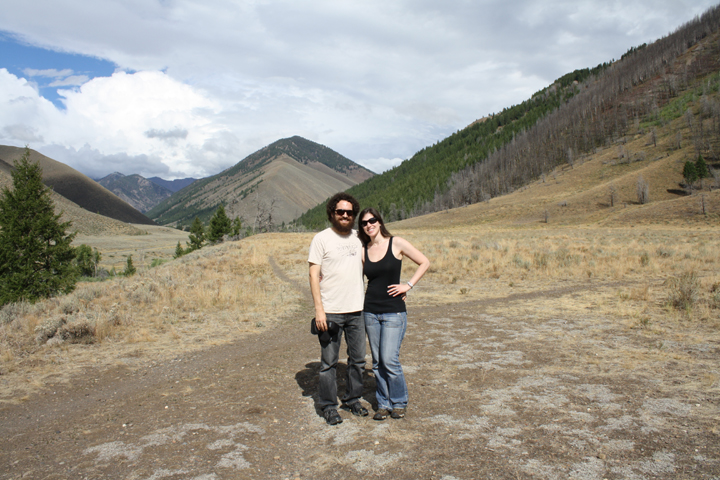 Ok, my final mountain shot, I promise. This was during sunset on our final evening there.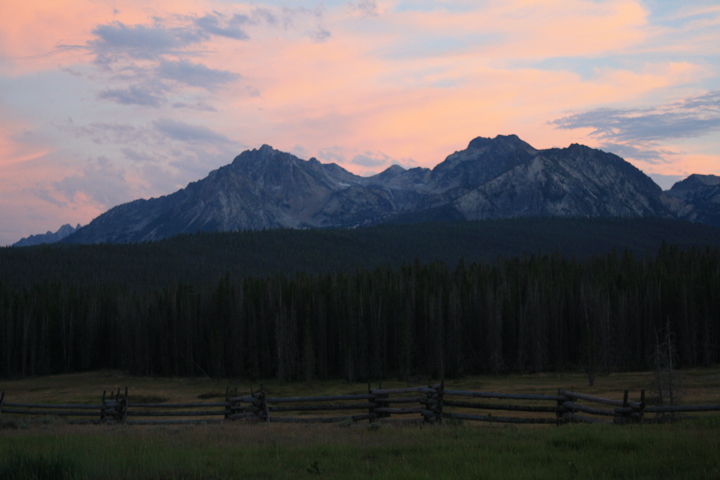 Now back to the recipe. I made these mushrooms as part of Nate's bday dinner party meal. They're absolutely delicious but chock full of garlic. If you're planning on doing some smooching, don't make these. Unless the other member of your party eats them too…isn't that the rule?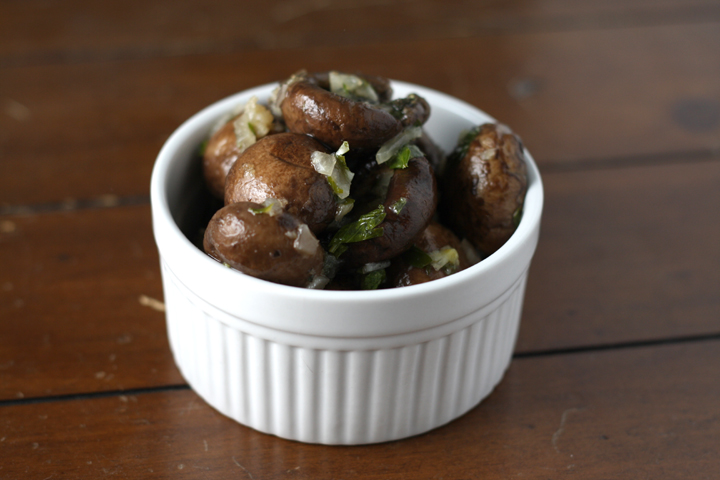 They're really simple to make- a quick boil of the mushrooms, mix up a tasty marinade, and then let them do their thing for a while, or overnight. You're left with a tangy, flavorful side dish that goes great with just about anything.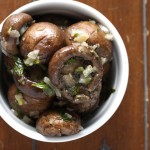 Marinated Mushrooms
2013-09-10 08:58:42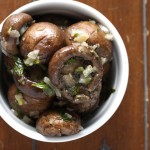 Serves 4
A zesty, flavorful side dish
Ingredients
1 pound fresh cremini mushrooms
2 tablespoons extra-virgin olive oil
2 tablespoons white wine vinegar
1 clove garlic, finely chopped
1/4 cup finely chopped red onion
2 teaspoons finely chopped fresh oregano
2 tablespoons finely chopped fresh Italian parsley
1/4 teaspoon sea salt
1/4 teaspoon crushed pepper
1/2 teaspoon coriander seeds (or a pinch of dried coriander powder)
Instructions
Clean mushrooms and remove stems. Simmer mushroom caps in salted water for 5 minutes or until mushrooms are tender. .
While mushrooms are cooking, mix olive oil, vinegar, garlic, red onion, oregano, parsley, salt, peppercorns and coriander in a medium bowl. Stir to combine. Taste and adjust seasoning.
When mushrooms finish cooking, drain and add to marinade. Toss well.
Marinate in the refrigerator for several hours or overnight. Bring to room temperature before serving.
http://elephanteats.com/