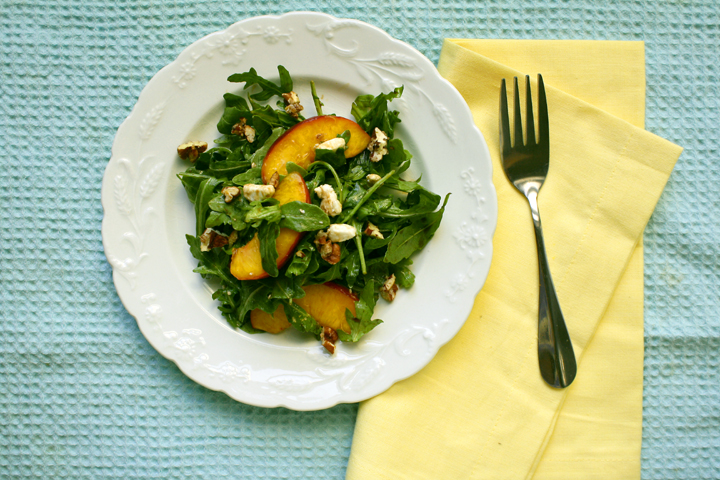 There's a lovely blogging group, that you may or may not know about, called the Love Bloghop. Every month they highlight a seasonal ingredient and we all link up together so you can see everyone's recipes. I've participated many times, but as you know, life has a way of keeping you busy…and I think this is my first time back in several months!
I really love doing these bloghops, not just because of the extra exposure one gets, but also because it's a great way to discover delicious, new recipes from all over the web in one convenient place!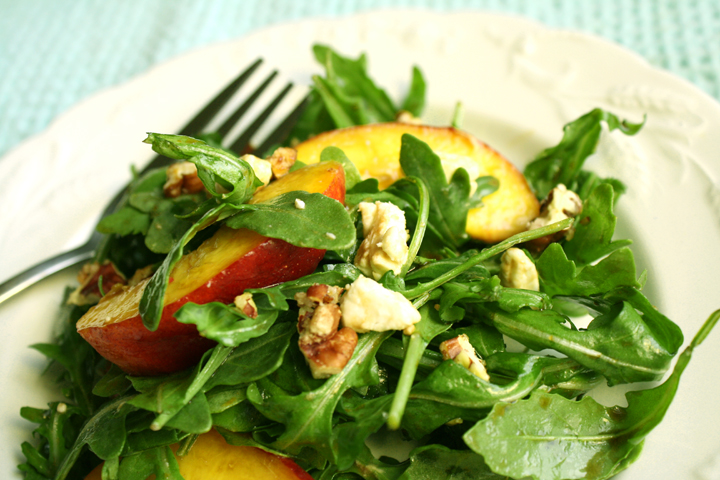 In recent months, I have become obsessed, perhaps even infatuated, with watermelon salad. I combine juicy, delicious watermelon atop a bed of arugula, sprinkle with some mint (or basil), goat cheese, and a drizzle of oil and balsamic vinegar, and I'm in heaven.
Seriously, you can ask Nate, I ate this salad for dinner every night for at least 2 weeks straight. But now that peaches are equally juicy and in season, I couldn't help myself from buying a few the other day. And you know what? They are just as good, if not better in this same simple salad.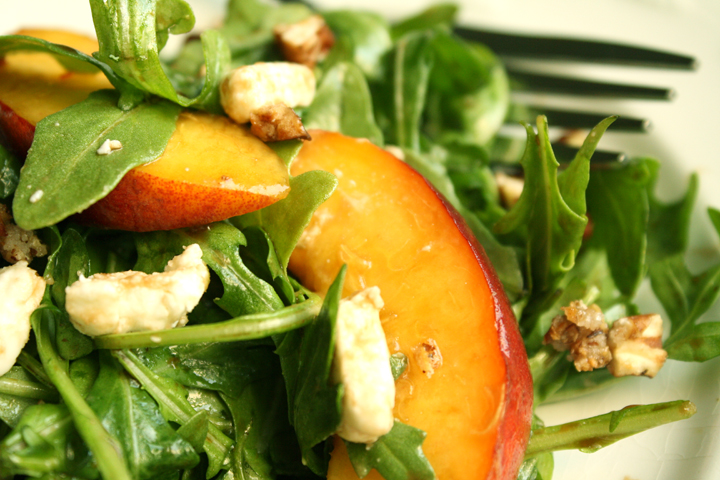 The bitter arugula, sweet peaches, creamy goat cheese and fragrant mint combine in the most amazing way. Also, at Nate's insistance, I added some candied pecans on top.
If it looks like there isn't mint in my pictures, it's because I forgot it at the market when I photographed this and wasn't about to go back and get it. But trust me, you don't want to leave it out!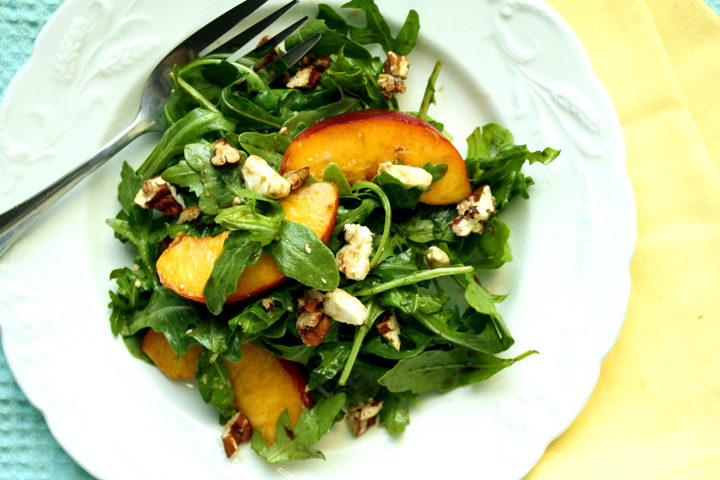 I join with the following lovely hosts this month for #peachlove!
Becky @ Baking and Cooking, A Tale of Two Loves  
Betsy @ Java Cupcake
T.R. @ No One Likes Crumbley Cookies
Jessica @ Oh Cake
Shelia @ Pippi's in the Kitchen Again
Helena @ Rico sin Azúcar 
Linda @ Savoring Every Bite 
Liz @ That Skinny Chick Can Bake!!! 
EA Stewart @ The Spicy RD 
Susan @ The Wimpy Vegetarian
Serena @ Teaspoon of Spice Serena
Please join in on the #peachlove fun by linking up any peach recipe from the month of August 2012. Don't forget to link back to this post, so that your readers know to come stop by the #peachlove event! The twitter hashtag is #peachlove :).
Recipe is below linkup!

Arugula Salad with Peaches, Goat Cheese, Mint, and Candied Pecans
Serves 2
1/4 cup chopped pecans
1 Tbsp sugar
3 cups arugula
1 ripe and juicy peach, sliced
3 Tbsp crumbled goat cheese
1/4 cup fresh mint, chopped
2 tsp extra virgin olive oil
2 tsp balsamic vinegar
Put chopped pecans in a small saute pan over med-hi heat. Sprinkle with the sugar. Stir occassionally until sugar melts and coats pecans. Turn the candied nuts out onto a piece of tinfoil to cool.
Put arugula and mint in a medium-sized bowl and toss with the oil and vinegar. Add peaches and goat cheese and toss to combine. Divide on plates and sprinkle with pecans