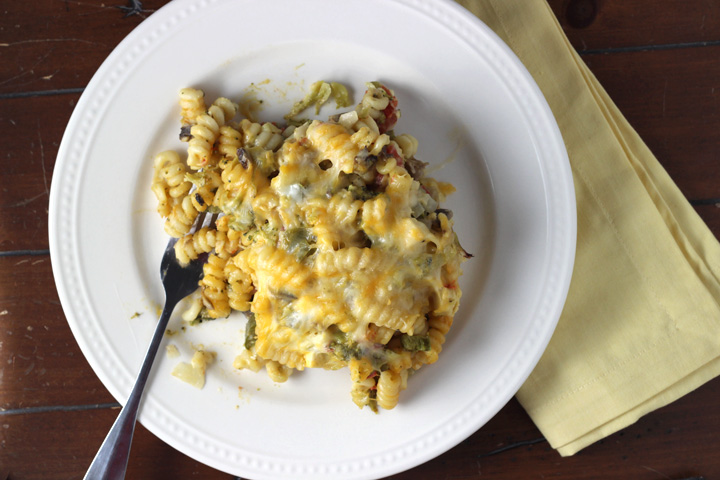 Good news! I got back in the kitchen again this week and actually made and photographed a recipe!
Sorry I've been so lacking on recipe posts, I guess I've just been really lazy since my Christmas break and haven't been able to get back into the groove.
This has been compounded by the fact that my computer is at death's door and I dread having to use it because it's SO SLOW and the battery dies in about 20 min. I'm going to start using Nate's computer but it's a Mac and I'm putting it off as long as possible since I'm a PC girl.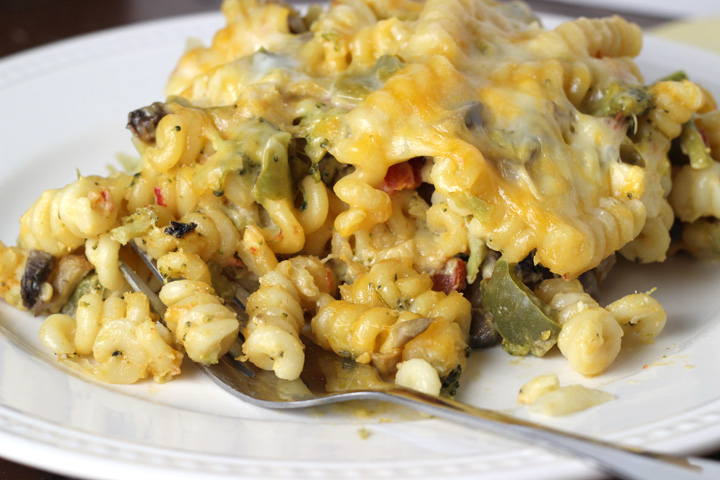 But anyway, let's get to this recipe. I think we all know that homemade mac and cheese doesn't hold a candle to the stuff in the blue box– although I'm partial to the Velveeta Shells and Cheese variety that comes with the pack of squeeze cheese.
Whenever I make macaroni and cheese from scratch, the cheese sauce looks so smooth, creamy and delicious in the pot, but then after you toss the noodles in it and put it in the oven, it kind of separates and turns to a texture I don't like at all. It gets kind of dry (which I guess some people like) and just not cheesy at all.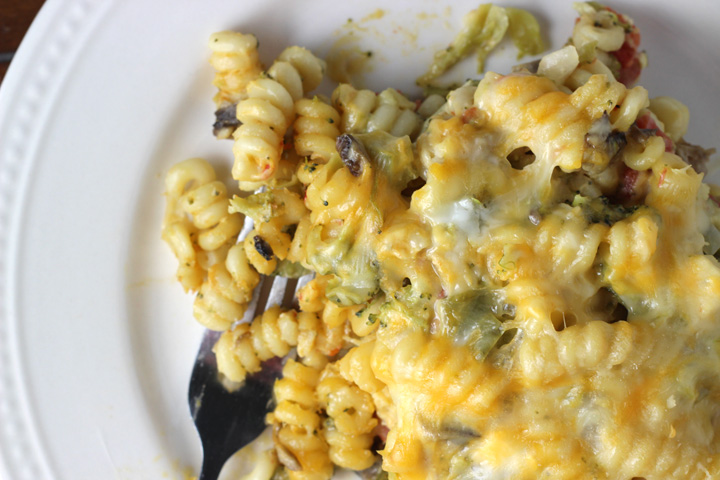 Ever since I was little, I've loved Velveeta cheese. In fact I just remembered that for breakfast I used to eat an english muffins toasted with Velveeta melted on it and sprinkled with bacon bits. I don't know how I came up with this, but MAN was it good….and I kind of want one of those sandwiches right now…
Anyway, I know Velveeta is artificially colored and probably so bad for you, but I'm convinced that in order for mac and cheese to be palatable, it needs to contain some of this delightful cheese product. Well this recipe is the best of both worlds. The cheese sauce is made using my favorite artificial cheese, keeping it smooth and delicious even after it's baked, but then there's real cheddar sprinkled on top for even more cheesy deliciousness.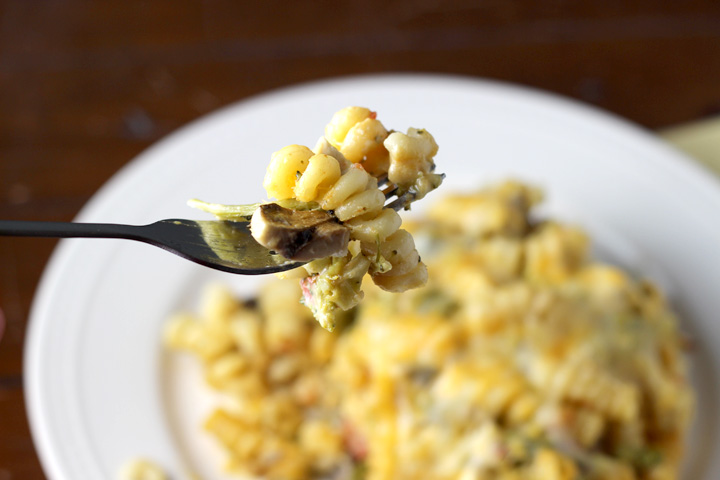 This particular recipe gets a little kick from the tomatoes with green chiles, and I've made it extra healthy by adding loads of veggies. I also added tofu since Nate and I don't love chicken but I wanted some added protein. You could definitely sub chicken if you'd like.
I could not stop myself from eating this!
Zesty Mac 'n Cheese Casserole
2014-02-07 07:21:37
Serves 6
A spicy, cheesy pasta casserole chock full of veggies!
Ingredients
16-oz. package corkscrew pasta (or whatever shape you like)
2 tablespoons butter
1 medium onion, diced
1 green bell pepper, diced
8 oz. mushrooms, diced
1 (10-oz.) can diced tomatoes and green chiles
10-oz. pasteurized prepared cheese product, cubed (like Velveeta, which comes in a box or shredded)
10 oz. frozen chopped broccoli, thawed
8 oz. super firm tofu, cubed and drained- i found a pre-cubed version (you could also sub chicken if you want)
1 (10 3/4-oz.) can cream of chicken soup
1/2 cup sour cream
1 1/2 cups (6 oz.) shredded Cheddar cheese
Instructions
Preheat oven to 350°. Cook pasta for slightly less time than package recommends so it's al dente. It will cook more in the oven so you don't want it to be too mushy.
Melt butter in a large Dutch oven over medium-high heat. Add onion, bell pepper, and mushrooms and sauté 5-10 minutes or until tender.
Stir in tomatoes and green chiles and prepared cheese product; cook, stirring constantly, 2 minutes or until cheese melts. Stir in broccoli, tofu, soup and sour cream and stir well. Mix in hot cooked pasta until blended.
Spoon mixture into a 9x13 baking dish; sprinkle with shredded Cheddar cheese.
Bake at 350° for 25 to 30 minutes or until bubbly.
Adapted from Southern Living
http://elephanteats.com/