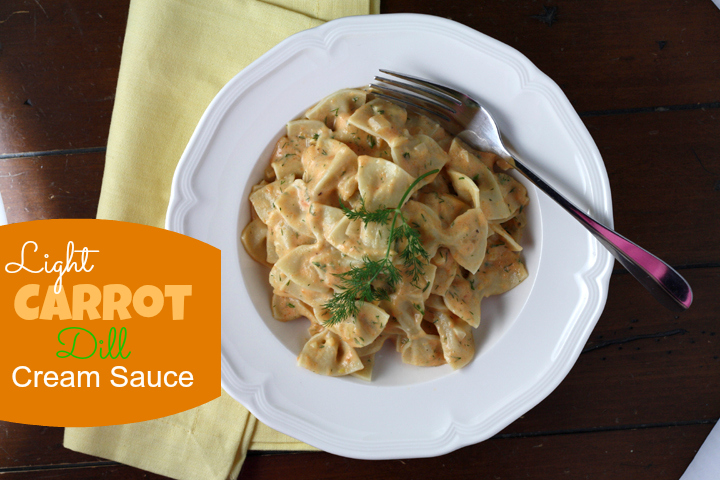 First of all, let me say that Nate is officially back! Unfortunately there's still no job, but he's back nonetheless. While I'm happy to have him back, it was nice to have a fairly empty fridge rather than one stocked to the brim with Trader Joes. Have I mentioned the boy can eat?!
So I took it upon myself to clean out the refrigerator a bit before his arrival. During my cleaning I came across a bag of baby carrots that Nate had bought and never opened. Nate had given me a list of food to get for him before he got home and baby carrots was on it. He claimed the ones in the fridge, though unopened, were no longer edible.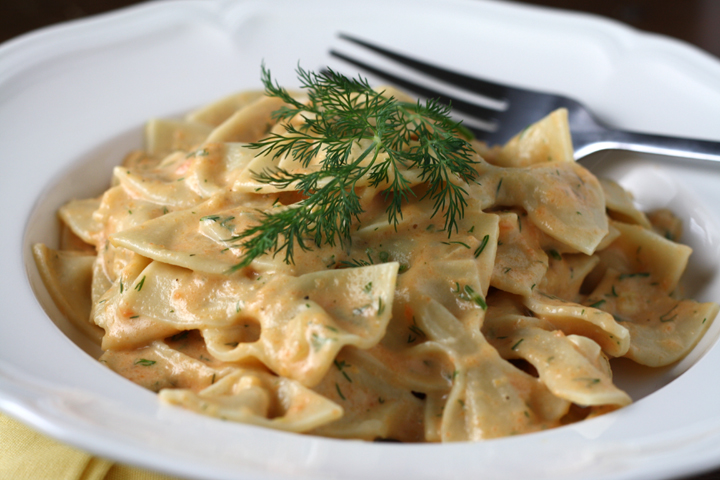 I wasn't about to waste those carrots! Have you noticed that I'm big on not wasting? :) So when I was deciding on some sort of sauce to make for my homemade farfalle, I knew I wanted to include carrots. Plus, carrots scream Spring to me, and now that daylight savings has come and gone, I know the new season is right around the corner.
Farfalle is good with a cream sauce, so I decided I'd use the carrots pureed in a cream sauce, and then the addition of dill was a no-brainer for a fresh, light taste perfect for Spring!
This sauce is actually very low in calories for a cream sauce. I used carrots to bulk it up and thicken it, and it contains only low-fat milk, not cream. You'd never know from the taste though, the onions, garlic and lemon give it so much flavor!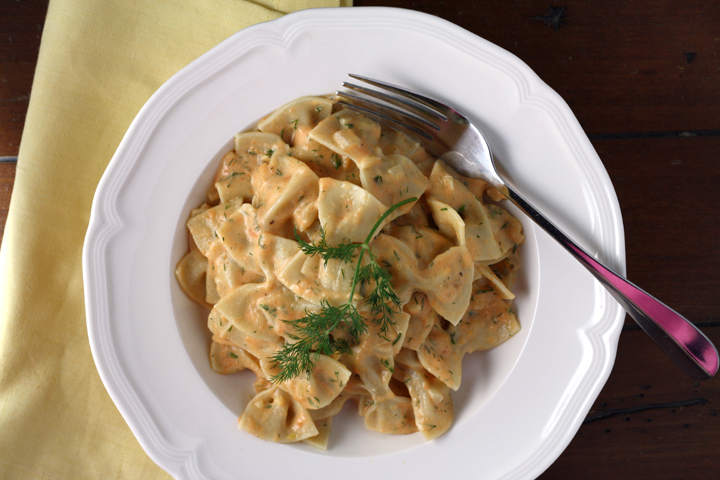 This recipe made about 3.5 cups of sauce. I found that 3/4 cup of sauce was plenty for the 6 oz of pasta that my farfalle recipe made.
6 oz is three proper servings….but in our household, 6 oz of pasta serves one Nate. So rather than making more pasta, I ate some of the sauce over spaghetti squash and it was delicious for what it was (I.e not pasta).
How beautiful is the color of this sauce? I just think it's so perfect for Spring :)
Since this recipe made so much, I'm thinking I might use the rest of it in a lasagna. Maybe I'll layer some zucchini and mozzarella in there? Yum!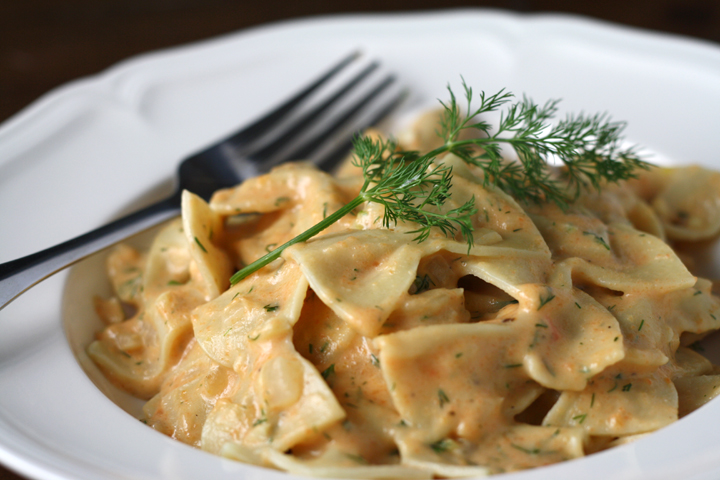 Light Carrot Dill Cream Sauce 
Yields 3.5 cups 
2 cups baby carrots (about 11 oz)
1 Tbsp butter
1 medium onion, diced
3 cloves garlic, minced
3 Tbsp flour
1 3/4 cup 1% milk, divided
3 oz. light cream cheese
1/2 cup fresh dill, chopped
juice of 3/4 lemon
salt (start with 1/2 tsp) and pepper
Bring a pot of water to boil. Add carrots and cook 15 minutes or until soft when pierced. Remove carrots to bowl of food processor but leave water on a low boil so you can cook the pasta later.
Melt butter in the bottom of a medium saucepan. Saute onions until soft. Add garlic and cook another minute.
Whisk in 1/2 cup milk and the flour until smooth. Whisk in 1 cup more milk and bring to a boil, whisking often. When it comes to a boil, reduce to simmer and cook until it thickens enough to coat the back of a spoon.
Add cream cheese to milk mixture and whisk til melted. Remove from heat and stir in dill. Set aside.
Add pasta to boiling water.
While pasta is cooking, puree carrots and 1/4 cup milk in a food processor until smooth. Add to milk mixture along with lemon juice, salt and pepper.
When pasta is done, drain and add sauce. (I found that 3/4 cup sauce covers 6 oz of pasta perfectly. So that means a pound of pasta should use about 2 cups sauce). However I recommend making a full recipe…the sauce is just so good!