I'm back from my honeymoon!…and just in time for a Pinterest Challenge!
I promise I'll be back with honeymoon details and my regularly scheduled FOOD programming shortly….
Two of my favorite DIY blogs do something every season called a Pinterest Challenge. The goal of the Pinterest Challege, is to make one thing each season that's inspired by all the gorgeous stuff that we've pinned on  Pinterest!
This month, the challenge is hosted by: Sherry, Katie, Carmel, and Sarah
You may remember I participated in this challege last summer and made myself a jewelry holder! I also participated in the winter and made a lovely button bird for Nate's mom's Xmas present :)
This time around, I had been stockpiling projects from the wedding, which I will be sharing with you over the coming months. But the one I thought I'd share first is my "Here Comes the Bride" sign for our flower girl.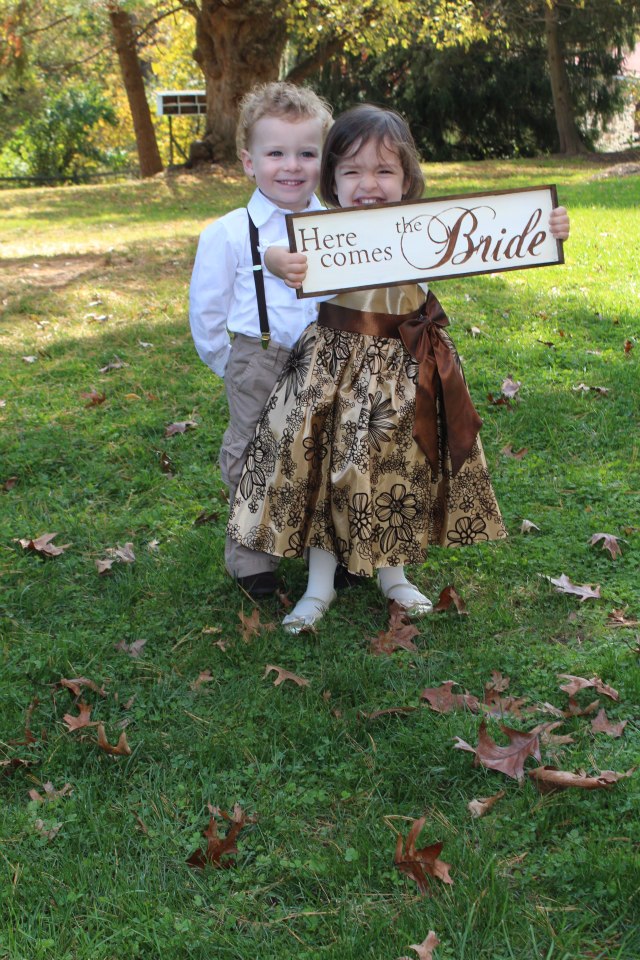 Before I go into to my inspirations for this project…HOW FREAKING CUTE ARE MY FLOWER GIRL AND RING BEARER?! Omg, I can't stand it.
Anyway, I knew I wanted to do something different for my flower girl. I had seen these signs around the web and thought it was cuter, and cheaper than going with a basket that my florist was going to charge me for.
These were some ones I saw:
 Since my flower girl is only 2 1/2 years old, I knew I needed something light weight. I also wanted something that would be easy to read. I contemplated fabric but it's a pain to paint on and would flap around if it was windy.
I wanted to use wood but thought it would be too heavy for her to carry. So my first go-round, I got some poster board, and spent an unecessarily long time making it look like wood and then painting the words on it. But when i was done I just wasn't happy with it. It didn't look like wood because you could see the styrofoam on the edges. I hated to waste it but I wanted it to be perfect.
So I headed to Michaels to try to find a piece wood that was light enough for a kid to hold. I spent a long time there examining all the options…a LONG time. I tend to have a hard time making decisions. Luckily my aunt was with me to encourage me to pick something.
I found this weird, VERY lightweight piece of framed balsa (?) wood. We asked a random kid at Michaels to hold it to see if it was too heavy but it passed the test! I forgot to take a pic but you can get the idea from the finished product. It was 14.5″ x 17.25″ and is in the section with all their wood frames.
I used photoshop to make the words fit inside the dimensions of the frame and to play around with fonts I liked. After much deliberating (and pestering Nate for his opinion…apparently he doesn't have one) I made a decision and saved the file as a .jpg. If anyone would like this file as a .psd or .jpg, let me know.

Because a lot of my wedding projects involved an old white picket fence and brown paint, I thought I'd go that same route color-wise.
The first thing I did was stain the back sides and inside edges of the frame with a dark walnut stain I had. I taped off the inside while doing it, put the stain on with a brush and then wiped off excess with a paper towel.
After that dried for a day, I taped off the inside edges and painted the inside main surface with plain old white paint. I had some leftover from a furniture project.
Once the paint was dry, I printed out my letters on two pieces of paper since it didnt fit on one and taped it onto my wood.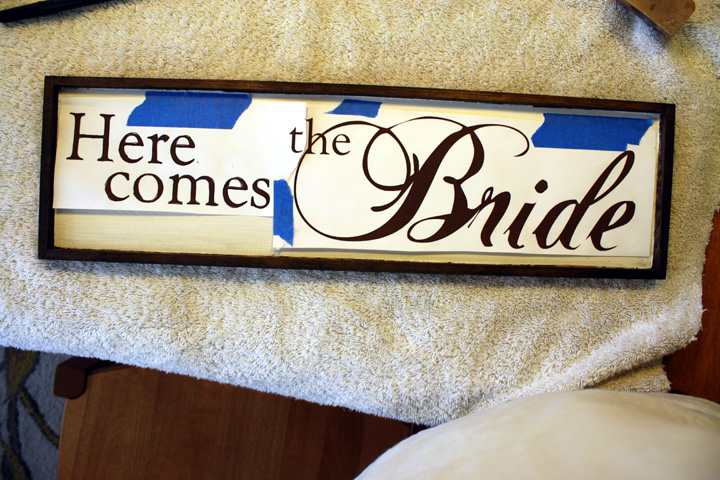 The next problem was getting the letter transfered somehow so I could paint them. I didn't want to freehand it. I had some charcoal transfer paper leftover from my wedding signage project (that I'll be sharing with you soon), so first I tried that. It was just messy.
The next thing I tried was something i had seen online. Since the wood was so soft, I just pressed really hard with a pen while tracing all of the letters and a faint outline appeared on the wood.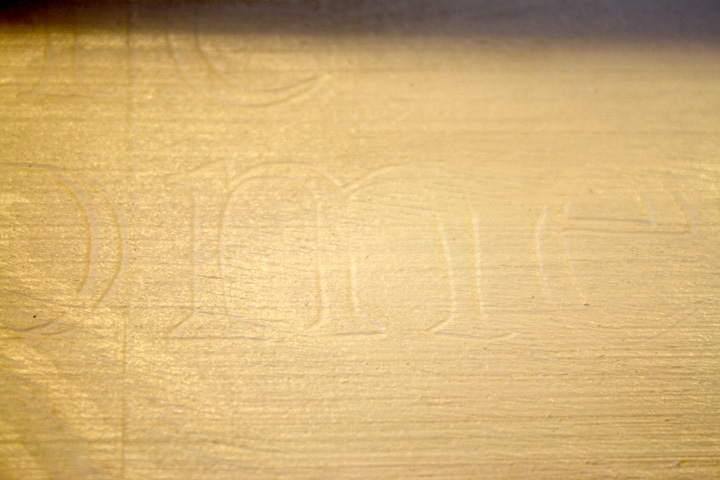 After I finished this, I went to town with my leftover brown paint and slowly and VERY carefully painting in the lines. I went over everything twice because the craft paint I used was kind of watery.
The painting part wasn't perfect, but it was definitely good enough.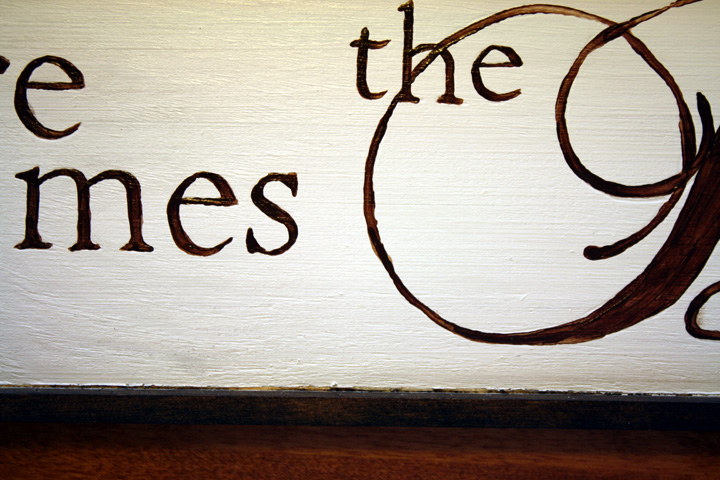 I'm SO pleased with the result…and especially with my lovely model :) It was worth the time that went into it, which honestly wasn't all that long.
Also, for a bonus, I won't be doing a post on the ring bearer pillow I made (also inspired by pinterest), since I just sewed some burlap with lace, but how cute is my ring bearer??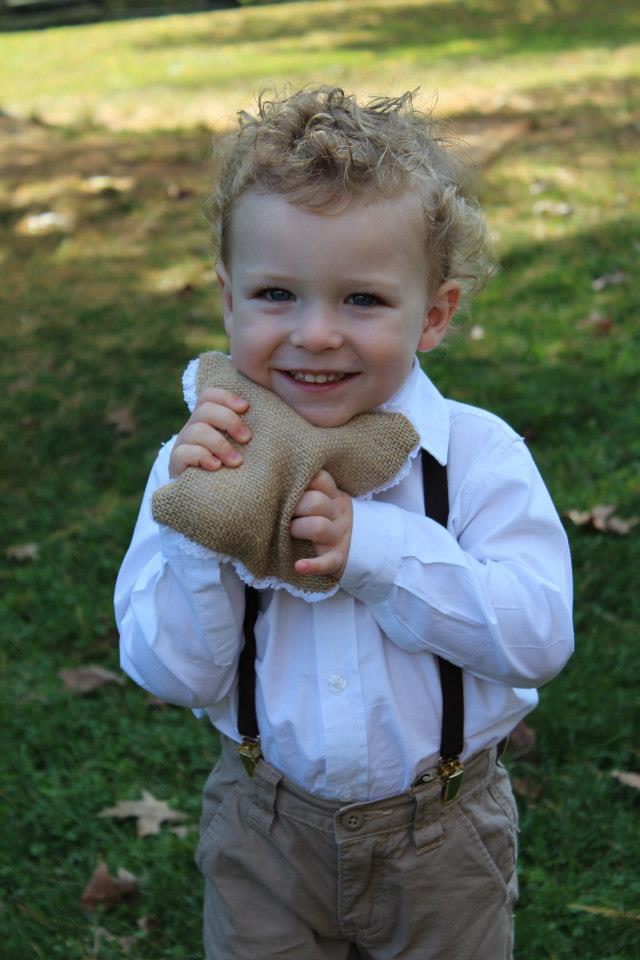 His suspenders, shirt, and khakis match the groomsmen! :)
Here's another shot of the pillow up close:
P.S. Go check out the owl pumpkin I carved this Halloween and entered in Movita's Pumpkin Carve-off 2012! It made it to the finals but sadly didn't win :(