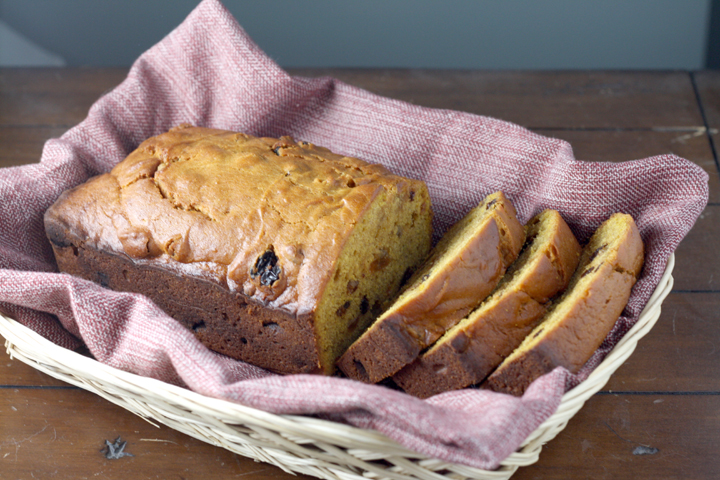 Well, I'm back from my Italian vacation. I'll have to tell you more about it in another post, but the highlight was definitely a private cooking class my parents and I had in Chianti with this awesome chef. He was a chemist before becoming a chef and he explained cooking very scientifically (Shannon, you would have loved it ;) ).
I ended up learning a ton! We cooked up grilled fresh porcini mushrooms on toast with truffles and truffle oil, homemade gnocci with an amazing bolognese sauce that didn't have to simmer for hours, white beans with fresh sausage, and the creamiest tiramisu for dessert.
But anyway, I'm SO excited it's October!!! Autumn is my absolute favorite season (I can't belive I got married last October!). Unfortunately it's still a bit warm here in NYC, but hopefully soon the weather will cool down enough for me to pull out my sweaters and curl up with some tea. I just love when the air is crisp and it smells like dry leaves outside. Not to mention, autumn has my two most favorite holidays- Halloween and Thanksgiving. I can't wait! :)
Nate and I headed upstate this weekend for a day of fun. First we went to Storm King, a really cool, huge sculpture park. The leaves are starting to change up there and they were so pretty :) The weather was overcast and sprinkly but we made the best of it.
Next we went to Fishkill Farms for some apple picking! Hopefully I'll make an apple recipe soon that I can post.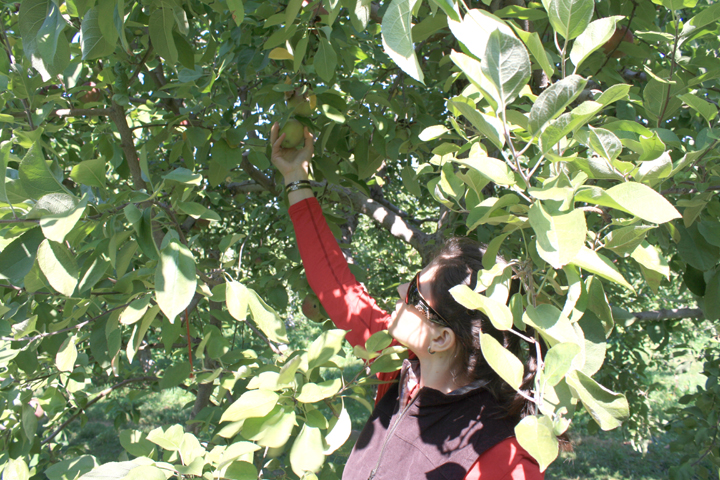 I love apple picking but it was super crowded at this place and I'm not a fan of crowds. We still managed to take home a good haul, in addition to getting to enjoy some cider donuts and apple cider.
After apple-picking we met up with our friends who live nearby for dinner, and then finally we headed over to The Blaze, which was the reason for our whole trip upstate. The Blaze is an elaborate walk-through experience of 5,000 individually hand-carved, illuminated jack o' lanterns.
I had heard great things about it from multiple people, so Nate and I thought we should do it at least once. It was definitely cool to see so many pumpkins lit up, but I wasn't particularly impressed by any of them.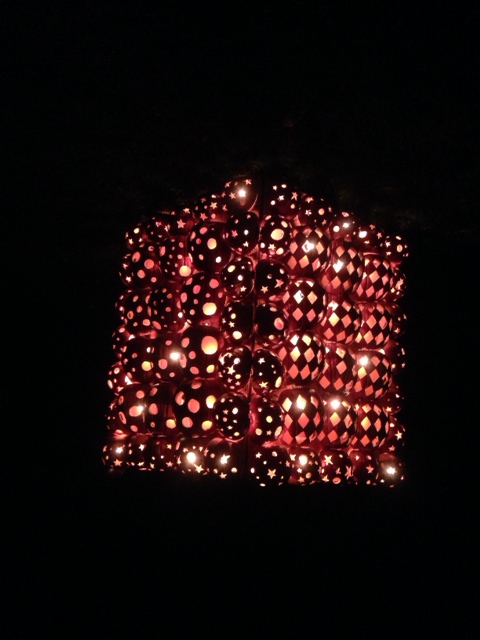 I think it was the sheer magnitude of them all together that impressed me the most. We tried to take pictures but most of them came out blurry since it was so dark.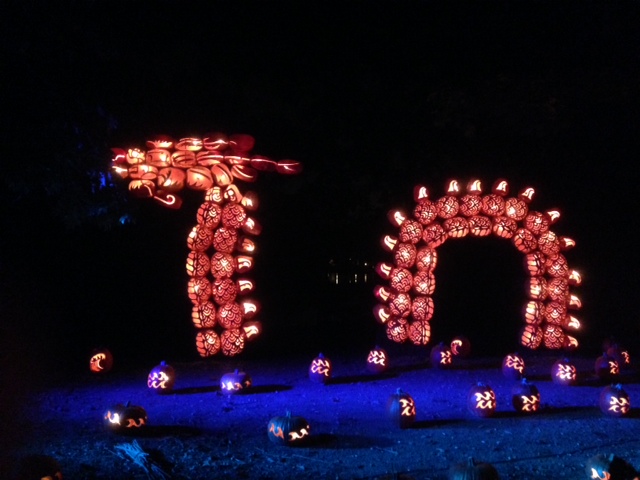 But back to the baking… Now that it's officially October, I can post another pumpkin recipe. This recipe is the one my mom baked for us growing up, but I'm not sure what the original source is.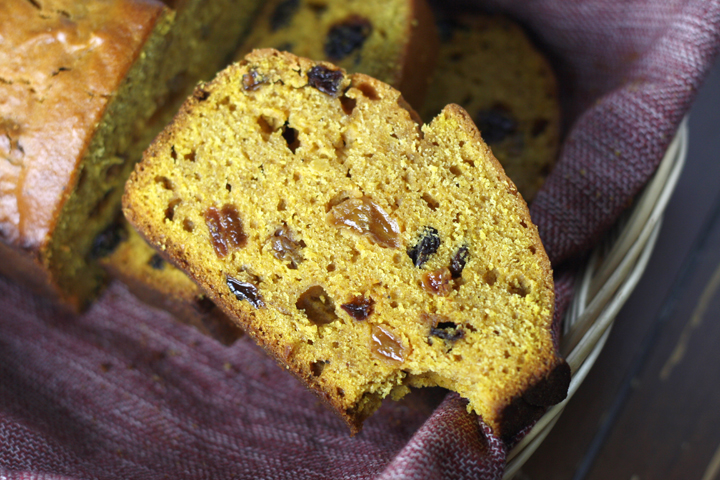 Since I already know I love the recipe, I decided to give it a try subbing in the butter-flavored Olive Oil that I got from Star Fine Foods. I figured a little butter taste certainly wouldn't hurt! It added an awesome flavor, but obviously you could definitely use regular oil as I've always done before now.
This bread calls for both raisins and pecans, but since Nate is a nuts-in-baked-goods hater, I omitted the pecans. I personally think they add a great crunch. This recipe makes two loaves- one for you and one to give to a friend :)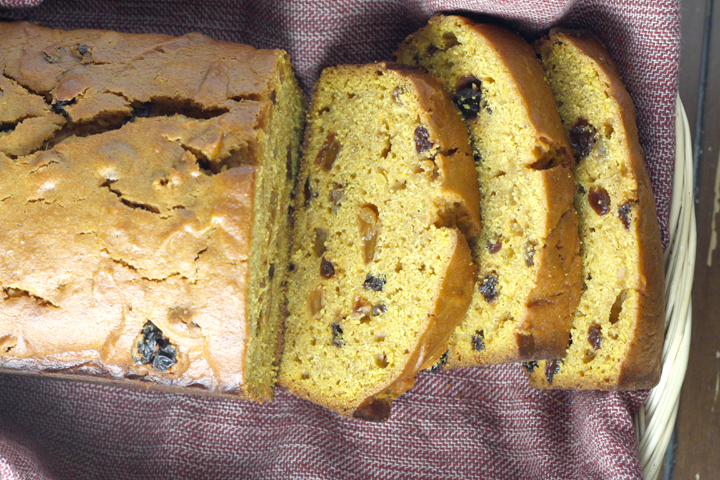 I'll be back later in the week with a little feline Halloween fun ;)
Here's a preview of LC with a cat-proportioned pumpkin we picked up for her at the farm.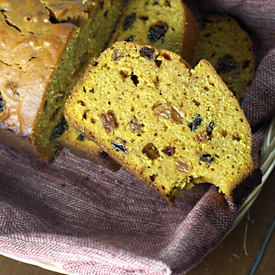 Spiced Pumpkin Loaves
2013-10-06 19:02:30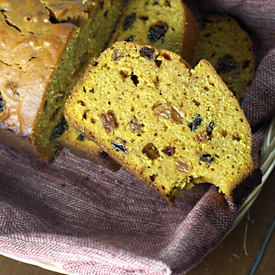 An autumn spiced pumpkin bread chock full of raisins and nuts!

Yields: 2 loaves
Ingredients
4 cups flour
2 tsp baking soda
2 tsp cinnamon
1 tsp nutmeg
1 tsp ginger
1 tsp salt
2 cups solid packed pumpkin puree (NOT pumpkin pie mix)
2 cups packed brown sugar
1 cup white sugar
1 cup oil
4 eggs
2 cups raisins
1 cup pecans, chopped
Instructions
Preheat oven to 350.
Butter two 9 1/4 x 5 1/4 loaf pans and dust with flour.
Sift first 6 ingredients into a medium bowl.
Using mixer (or whisk), beat pumpkin, sugars, oil and eggs in a large bowl. Beat in the dry ingredients until just blended.
Stir in raisins and nuts.
Bake until test comes out clean or with a few crumbs attached- about 1 hr 20 min.
Cool 15 min in pan, then remove and cool completely on wire rack before wrapping in foil.
Notes
This gets better in time. The cooked loaves can also be frozen and defrosted at a later time. Wrap them well in foil and then put in a ziploc freezer bag.
http://elephanteats.com/