I'm actually posting a recipe!!!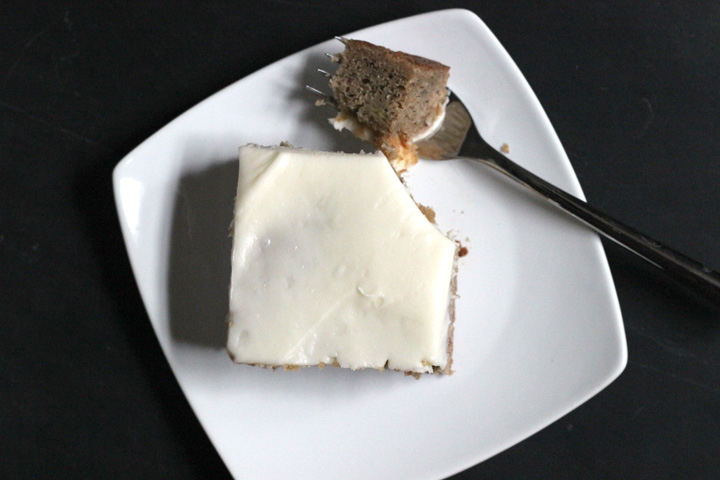 Apparently leg cramps are a common symptom of pregnancy. I've been getting so many of them that I wake up in the middle of the night in agony. Any time I flex my foot or calf in the slightest it cramps up.
I've long known that potassium can help with leg cramps, so I figured it couldn't hurt to start eating a banana every day. Now whenever I go to the market, I buy a big bunch, figuring that the ones that don't get eaten can get turned into something delicious- it helps that I'm loving cooking in my new kitchen :)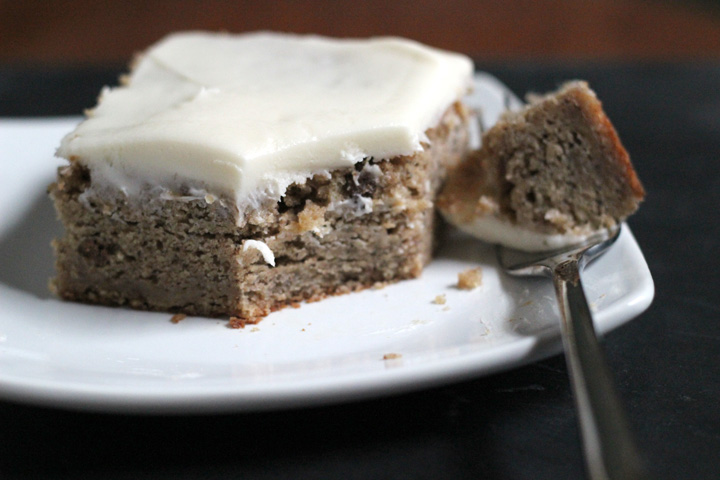 The first week I had leftovers, I made our favorite chocolate chip banana bread recipe (which I totally need to share with you guys some time). Then last week I decided a banana snack cake would be a tasty treat.
In addition to trying a new recipe, I decided to experiment with White Whole Wheat flour. Monica had first told me about this flour and has been touting it as awesome, especially if you want the whole grains from whole wheat flour but don't love the dry and gritty texture it adds.
I had never heard of white whole wheat flour so I decided to research it a bit and give it a try. The Whole Grains Council explains it as the following:
"White wheat is a different type of wheat that has no major genes for bran color (unlike traditional "red" wheat which has one to three bran color genes). An easy way to think of it is as a sort of albino wheat. The bran of white wheat is not only lighter in color but it's also milder in flavor, making whole white wheat more appealing to many people accustomed to the taste of refined flour.

The term "white flour" has often been used to mean "refined flour," so "whole white wheat flour" sounds like a contradiction in terms. But it is simply WHOLE flour – including the bran, germ and endosperm – made from WHITE wheat."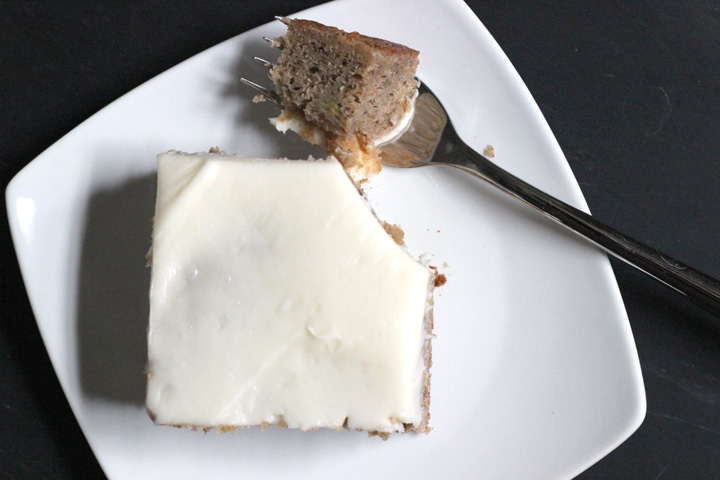 The one thing I was skeptical about was how it compares nutritionally to regular whole wheat flour, but the council goes on to say that experts consider these two kinds of whole wheat to be the same, nutritionally. I was sold!
I bought King Arthur Flour brand. Usually, if subbing whole wheat for all-purpose flour in a recipe, you would only substitue part of the all-purpose for whole wheat, lest you dry out your baked goods. Since I was using a lighter whole wheat flour and had the moisture from the bananas, I decided to use 100% of the white whole wheat flour.
Honestly, the result was amazing! It definitely helped that the bananas already added moisture, plus I upped the sour cream amount from the original recipe. And it never hurts to have a creamy cream cheese frosting on top.
I could feel the texture of the whole wheat in the cake, but I thought it went perfectly with the bananas and made even a small piece extremely filling! It also totally made this cake ok to eat for breakfast ;)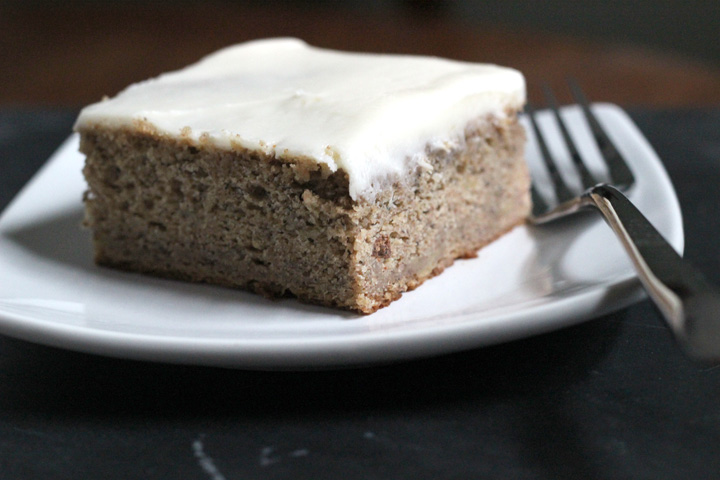 Whole Wheat Banana Spice Snack Cake with Cream Cheese Frosting
2014-06-13 07:49:30
Serves 12
A really moist, spiced snack cake made healthier with the addition of white whole wheat flour!
Cake
2 cups White Whole Wheat flour
1 teaspoon baking soda
1/2 teaspoon baking powder
1/2 teaspoon salt
2 teaspoons cinnamon
1 teaspoon allspice
1/2 teaspoon nutmeg
Pinch cloves
1/2 cup (1 stick) unsalted butter, room temperature
1 1/2 cups granulated sugar
1 1/2 cups mashed ripe bananas (about 3 large)
1 1/4 cup sour cream
2 large eggs
Cream Cheese Frosting
1 8 ounce block light or regular cream cheese, room temperature
3 tablespoons unsalted butter, room temperature
2 cups powdered (confectioner's) sugar
1/2 teaspoon vanilla
Pinch salt
Milk (only if needed for thinning the icing to a spreading consistency)
Instructions
Preheat the oven to 350 degrees Fahrenheit. Butter and flour a 13-inch x 9-inch baking pan.
In a medium bowl, stir together the flour, baking soda, baking powder, salt, cinnamon, nutmeg, allspice, and cloves. Set aside.
In the bowl of a stand mixer fitted with the beater blade attachment or in a large bowl using an electric mixer, beat together the butter and sugar on medium speed until pale and fluffy, about 1 - 2 minutes. Add the eggs one at a time and mix until well incorporated. Mix in the sour cream and the bananas.
Pour in the flour mixture, a little bit at a time, beating continuously until well-incorporated.
Spread batter into the prepared pan.
Bake for about 40-45 minutes, or until the top of the cake is golden and a toothpick or tester inserted into the center comes out clean. Remove the cake from the oven and place on a wire rack to cool completely.
To make the frosting, fit a stand mixer with the beater attachment or use a large bowl and an electric hand mixer. On medium speed, beat together the cream cheese and butter until smooth. Turn the mixer to low and gradually add the powdered sugar. Once all the powdered sugar has been added, increase the speed to medium and beat for another 30 seconds. Add the vanilla and pinch salt; beat for another minute or so until smooth. Add a little milk (a couple of teaspoons at a time) if the frosting seems too stiff to spread.
Spread frosting onto completely cooled cake. Cut into 12 pieces and serve. Cover and store leftover cake in the refrigerator. The cake stays moist even straight out of the fridge!
Adapted from Kitchen Treaty
http://elephanteats.com/