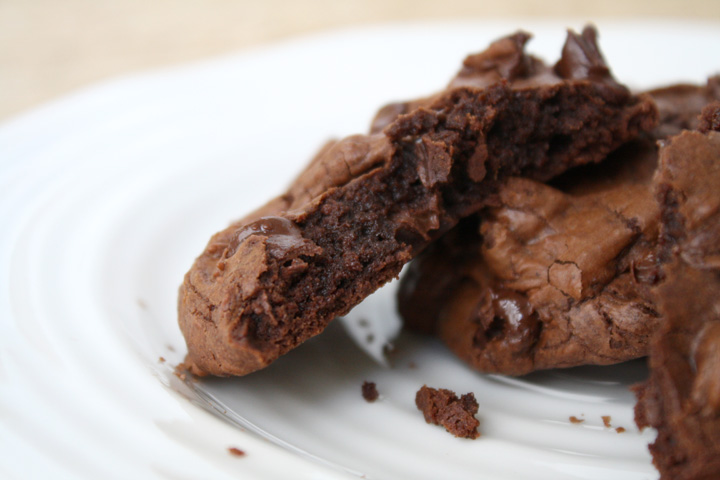 I teased you on Sunday with promises of another Valentine's Day treat. This one, lucky for you, is of the chocolate variety!
Sometimes you just decide that you need freshly baked cookies NOW. Don't tell me you never had thoughts like that. It's happened to me on several occasions, but unfortunately most cookie recipes call for room temperature butter, which foils all hope for spontaneity.
These Chocolate Brownie Cookies though, like brownies, use melted butter! So you have no excuse not to make them this very second, no advanced preparation needed…except maybe making sure you have enough room in your tummy to eat a few fresh out of the oven.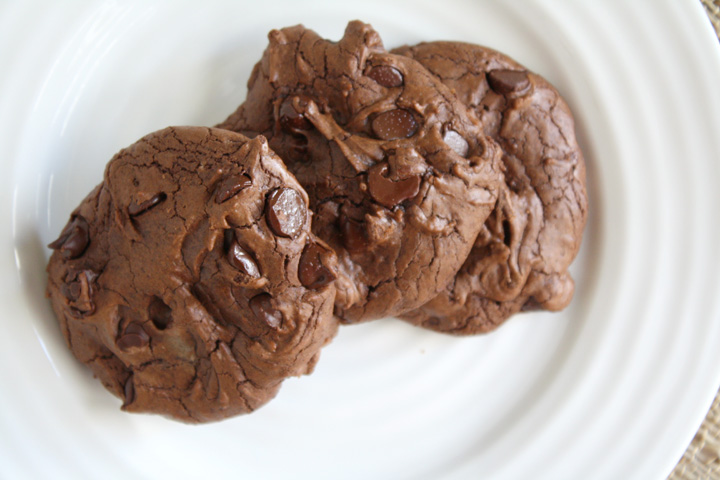 I actually made these cookies months ago for Nate's friend's birthday. I have a million yummy chocolate cookie recipes (and I'm sure you do too), but this one was pretty darn tasty and you should consider adding it to your repertoire.
They call for nuts, but Nate thinks that nuts ruin all baked goods, and so I left them out. Personally, I think they'd add a nice crunch.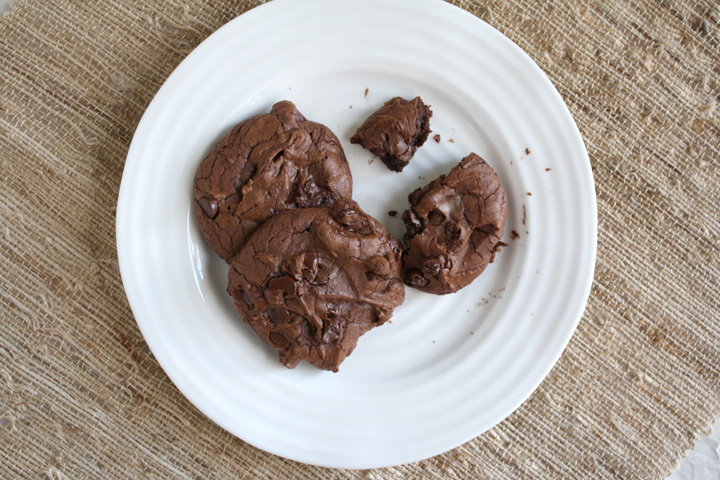 The key is to take these out of the oven when they seem too soft to be done. If you cook them too long, they will be dry. Trust me on this one :(
If you do happen to overcook them slightly, make sure you serve them warm-15 seconds in the microwave will moisten them right up. In fact, they're always best served warm regardless.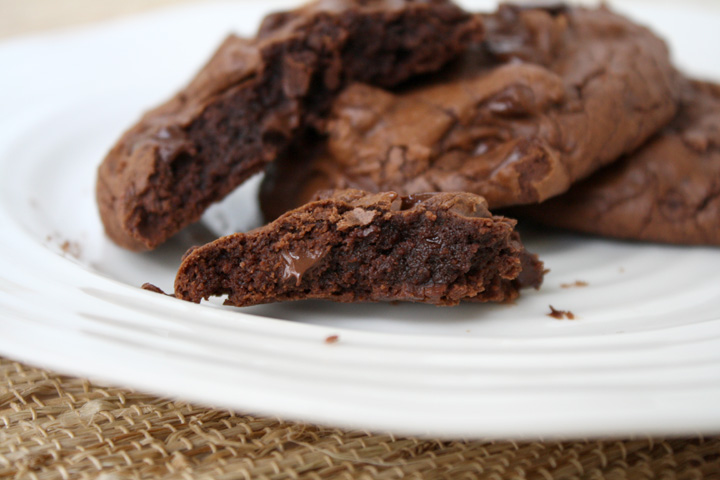 And in case you need some other Valentine's Day inspiration, here are a few of my faves: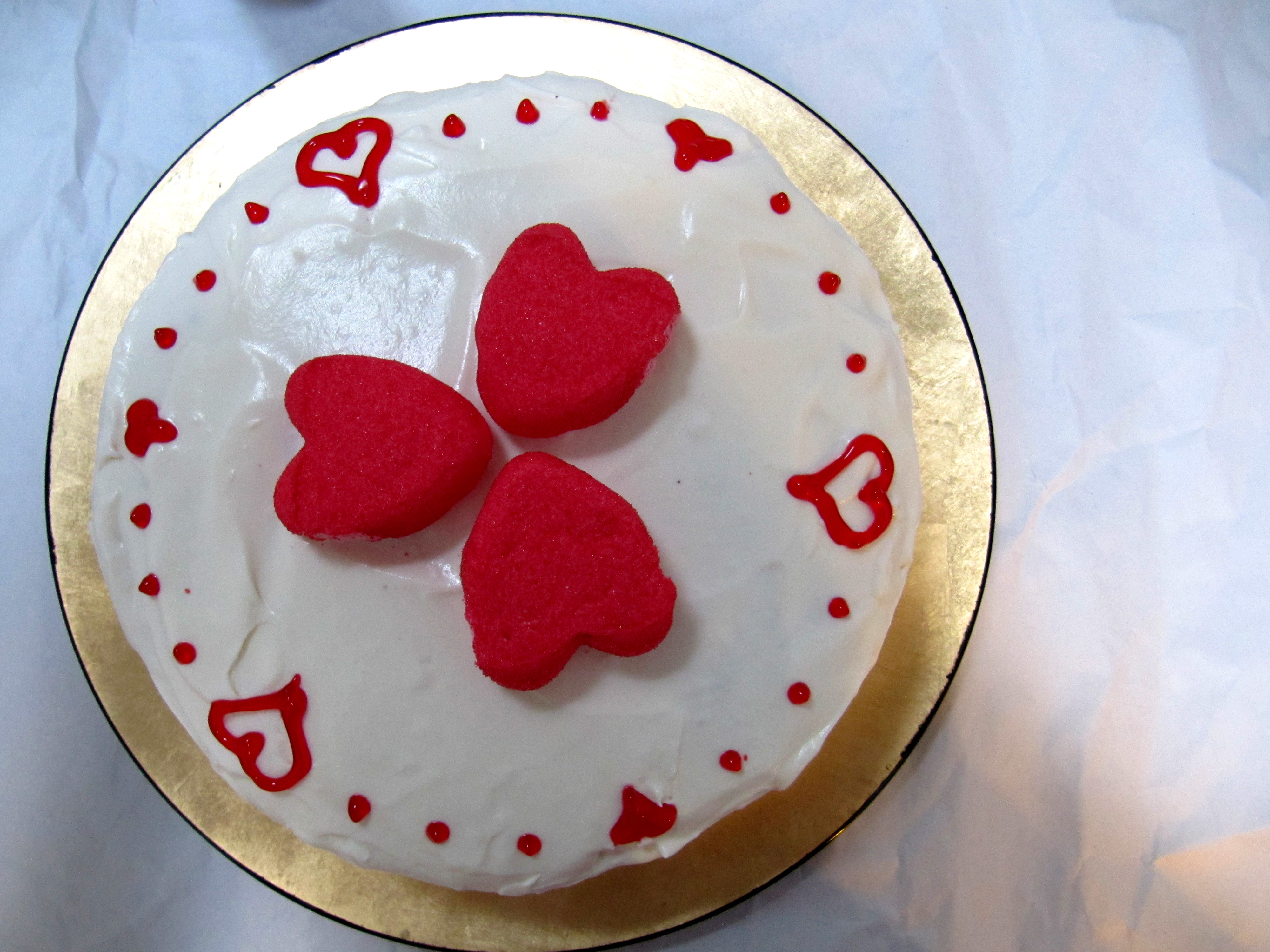 Red Velvet Cake with Raspberry Mousse and Fluffy Cream Cheese Frosting– I made this for my first Valentine's Day with Nate!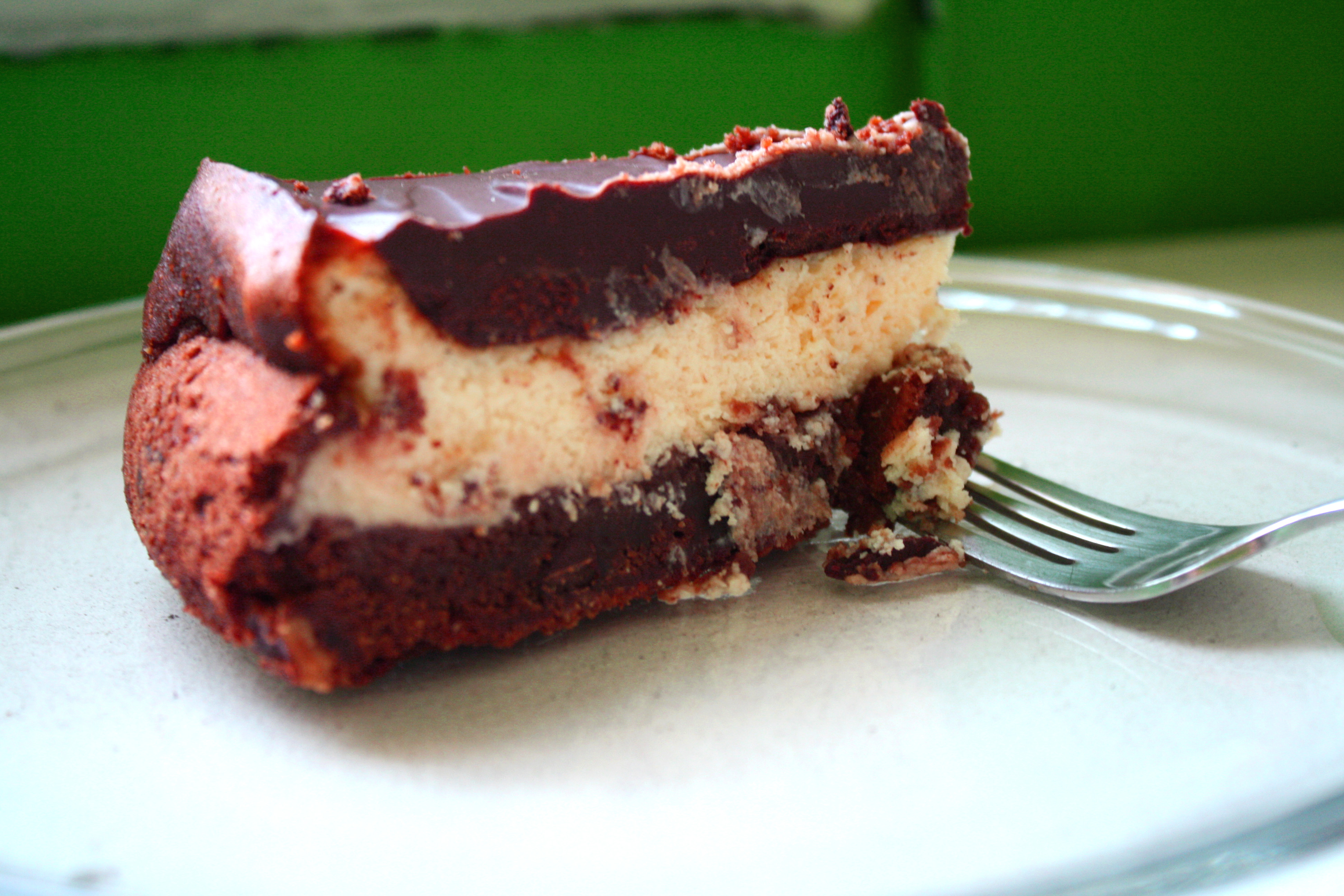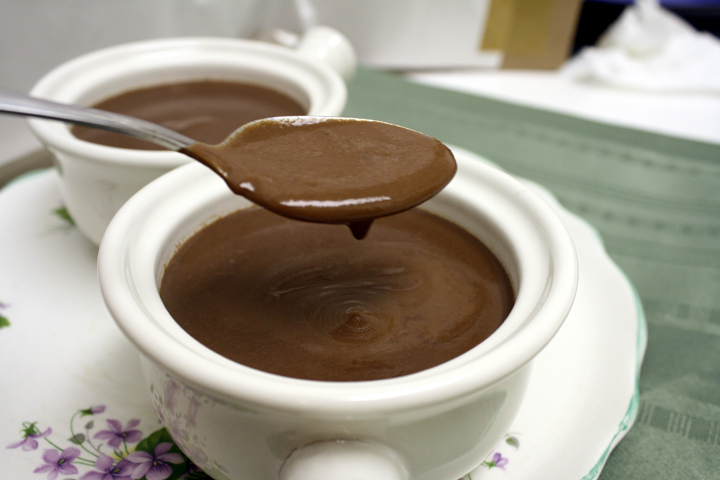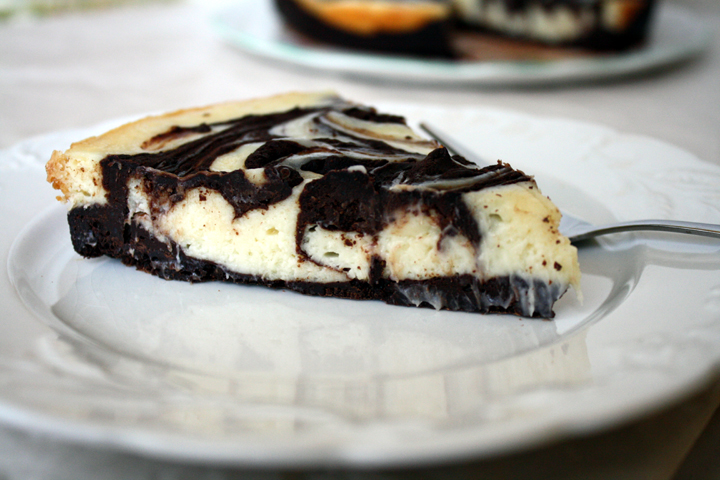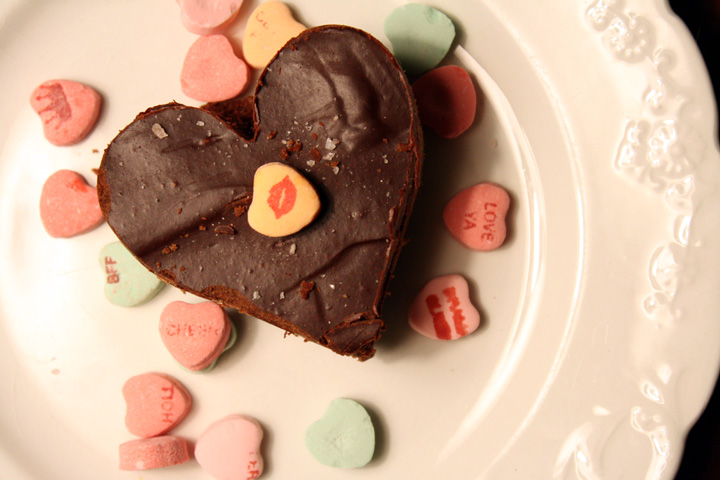 Dark Chocolate-Cherry Ganache Bars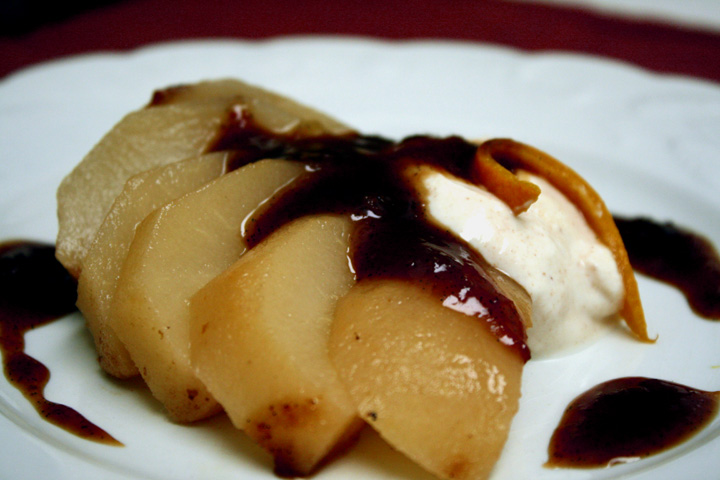 Cider Poached Pears– a delicious, lighter dessert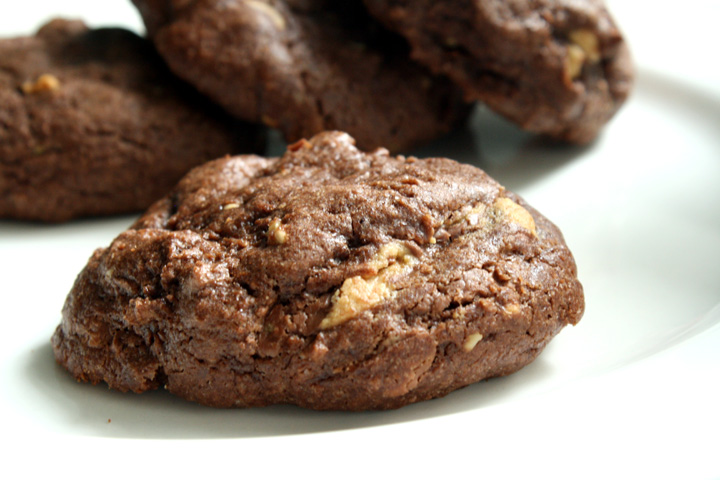 Chocolate-peanut butter pb cup cookies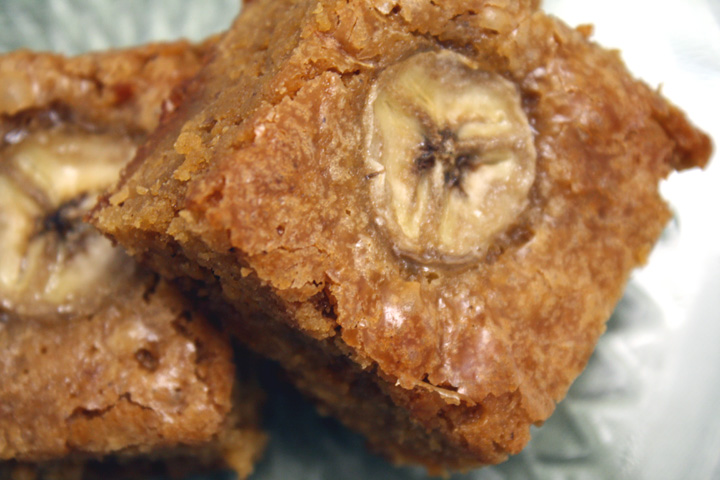 Butterscotch Rum Banana Spiced Blondies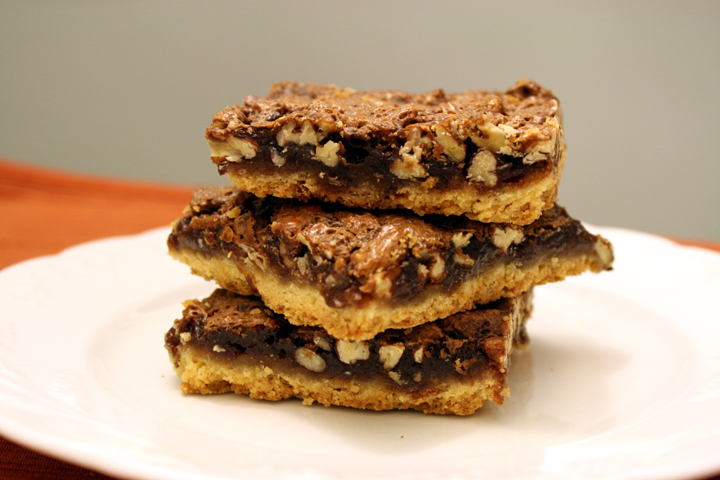 Brownie Cookies
From Oxmoor House
makes 2.5 dozen
1/2 cup butter
4 (1-oz.) unsweetened chocolate baking squares, chopped
3 cups semisweet chocolate morsels, divided
1 1/2 cups all-purpose flour
1/2 teaspoon baking powder
1/2 teaspoon salt
4 large eggs
1 1/2 cups sugar
2 teaspoons vanilla extract
2 cups chopped pecans, toasted (optional)
Combine butter, unsweetened chocolate, and 1 1/2 cups chocolate morsels in a large heavy saucepan. Cook over low heat, stirring constantly, until butter and chocolate melt; cool.
Combine flour, baking powder, and salt; set aside.
Beat eggs, sugar, and vanilla at medium speed with an electric mixer. Gradually add flour mixture to egg mixture, beating well. Add chocolate mixture; beat well. Stir in remaining 1 1/2 cups chocolate morsels and pecans (if using).
Drop dough by 2 tablespoonfuls 1 inch apart onto parchment paper-lined baking sheets.
Bake at 350° for 10 minutes- they will look slightly underdone, do NOT over bake!
Cool slightly on baking sheets; remove to wire racks to cool completely.