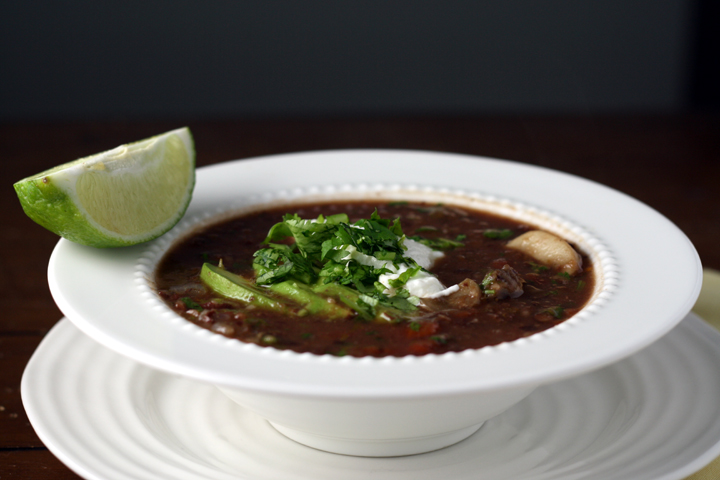 It's been nice having Nate home, because I can finally cook for more than one. Oh who am I kidding, I didn't cook for one when Nate was gone, I just ate crap.
Oh, and Nate got a job!!!!! and in New York, thank goodness! So no moving to Cali for us. I'm so so happy and relieved, both that he found a job and that we get to stay on the East coast. While visiting California was nice, I'd really hate to live in LA where there are no seasons. I just love autumn and snow too much!
And now we get to house hunt…YAY!!!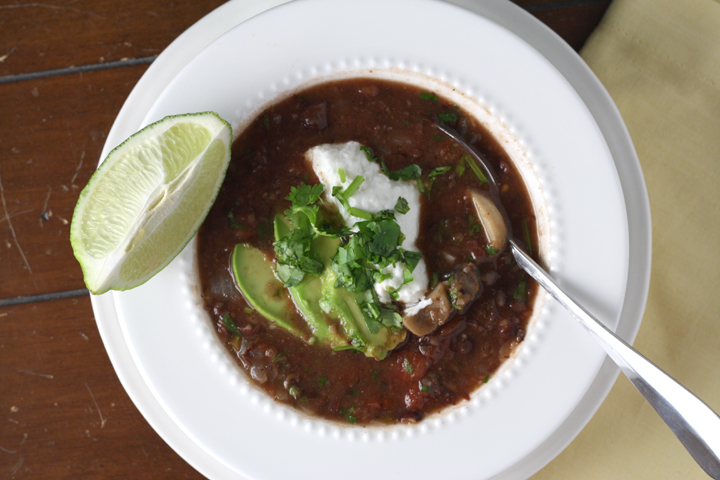 Oh and also somehow Recipe.com got a hold of my Carrot Dill Sauce recipe and has led a ton of new people to my blog, so welcome to any new folks :)
Ok back to the recipe. So, I guess I got used to not doing much cooking while Nate was gone…because I haven't been in the mood to cook too much lately even with him back. I've also been short on time.
It's days like these that I need some recipes that have few ingredients, require little to no prep, and can be pulled together in 30 minutes or less.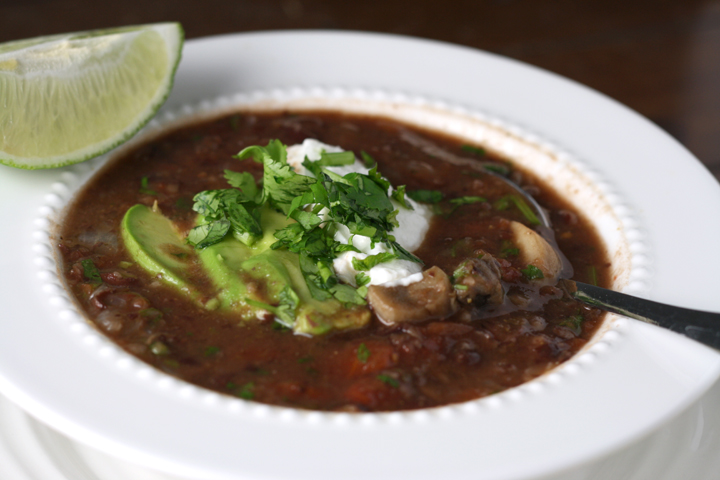 Since spring hasn't quite sprung here in New York yet, it's nice to have a steaming bowl of soup to warm up when we get home. Cold rain is just the worst.
I'm not a fan of pureed soups. I'm also not a fan of thick soups. My favorites are of the broth based variety, or semi-pureed. This tastes like your traditional black bean soup but isn't gloppy, which makes it a winner in my book.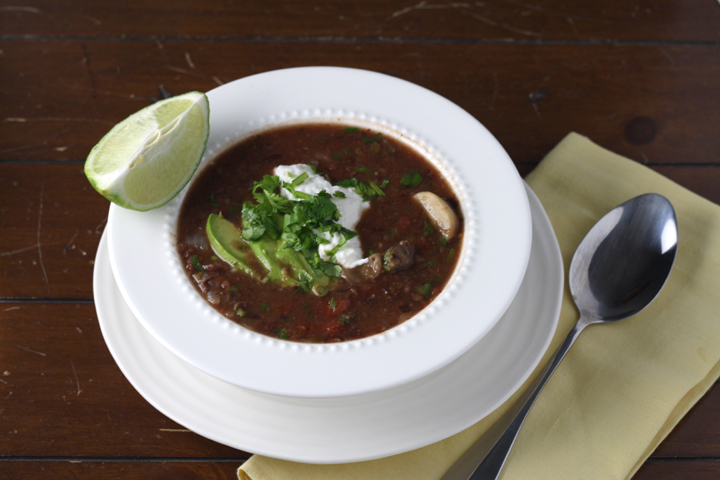 Quick Vegetarian Black Bean Soup
Slightly adapted from Epicurious
Serves 6-8
2 tablespoons olive oil
1 1/4 cups chopped onion
8 oz sliced mushrooms
4 large garlic cloves, chopped
1 tablespoon chopped fresh thyme or 1 1/2 teaspoons dried
2 15-ounce cans black beans plus juices
1 14 1/2-ounce can low-salt chicken broth
2 14 1/2-ounce cans Hunts diced tomatoes with zesty mild green chiles
2 teaspoons ground cumin
1 lime
1/2 cup cilantro, chopped
1 1/2 teaspoons hot pepper sauce
salt to taste
Sour cream and avocado to garnish
Heat oil in large pot over medium heat. Add onion, sauteeing until soft. Add garlic and mushrooms; sauté until mushrooms soften, about 5-8 minutes.
Add beans+juices, broth, tomatoes with juices, cumin and hot pepper sauce. Bring soup to boil. Reduce heat to medium-low and simmer until flavors blend and soup thickens slightly, stirring occasionally, about 20 minutes.
Stir in cilantro, salt and lime juice to taste.
If you have an immersion blender, puree part of the soup, leaving it mostly chunky, or to the consistency you like. If you don't have an immersion blender, working in 2 batches, purée 2 1/2 cups soup in blender until smooth. Mix purée back into soup in pot.
Ladle soup into bowls.