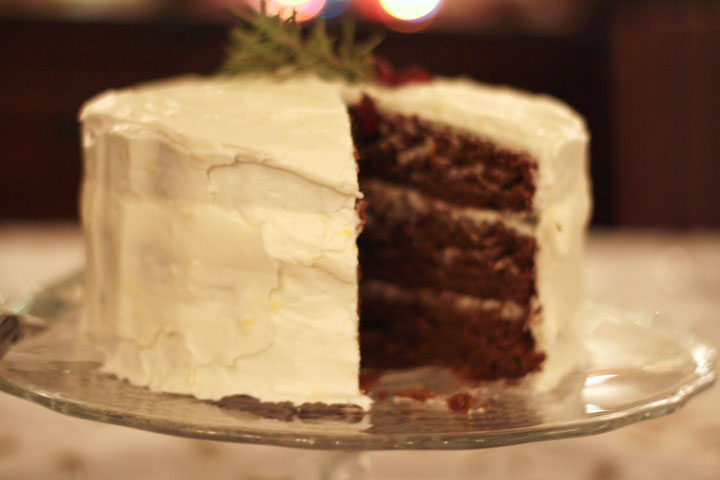 I mentioned that amongst our changes from our usual Christmas feast, this year I made dessert. I had seen a recipe for a gingerbread layer cake with cream cheese frosting online some weeks before Christmas.
Of course when I went to actually find said recipe, I hadn't marked it down anywhere. Does that ever happen to you? So frustrating!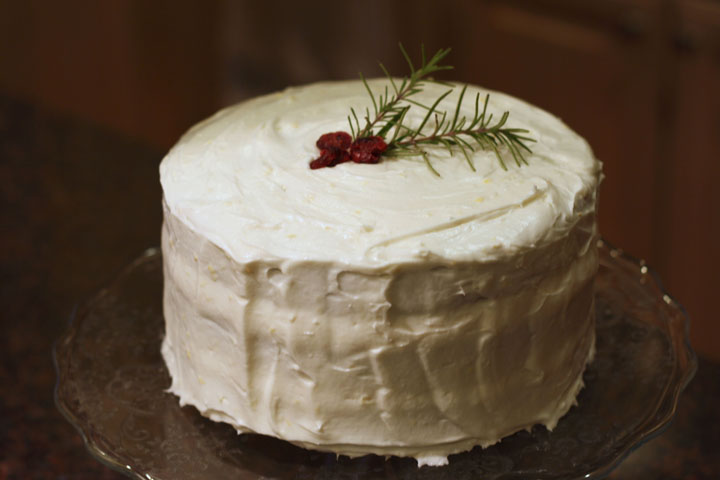 Well, I commenced a new search and was pleased to find this recipe from Good Housekeeping that seemed to be exactly like the original. The result was the most delicious, moist gingerbread cake, with a lemony cream cheese frosting that was a perfect complement. I had to even out the tops of the cake layers so they would lay flat and I couldn't stop myself from eating the pieces I cut off- they were so good I made myself sick.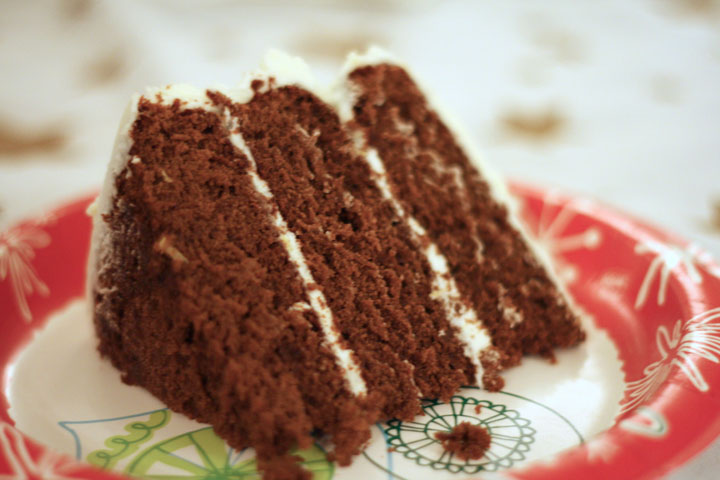 I wanted a wintry garnish, but wasn't sure if a holly branch was toxic or something, so I put a sprig of rosemary and some dried cranberries :)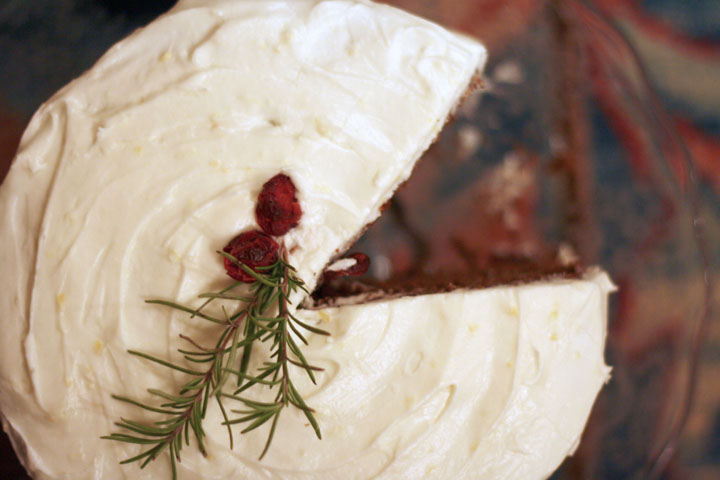 I just realized that this picture kind of looks like a Christmas Pac-Man.
My mom made this a couple days ago and she said she used orange instead of lemon zest and she said that it was yummy as well!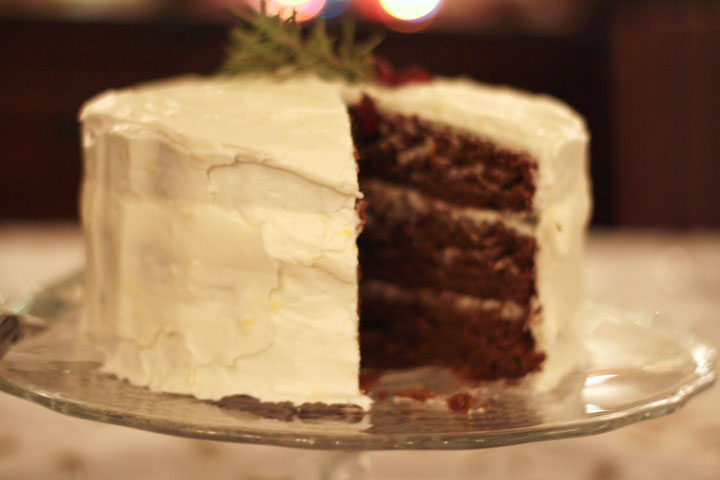 Gingerbread Layer Cake with Cream Cheese Frosting
2014-01-27 18:29:16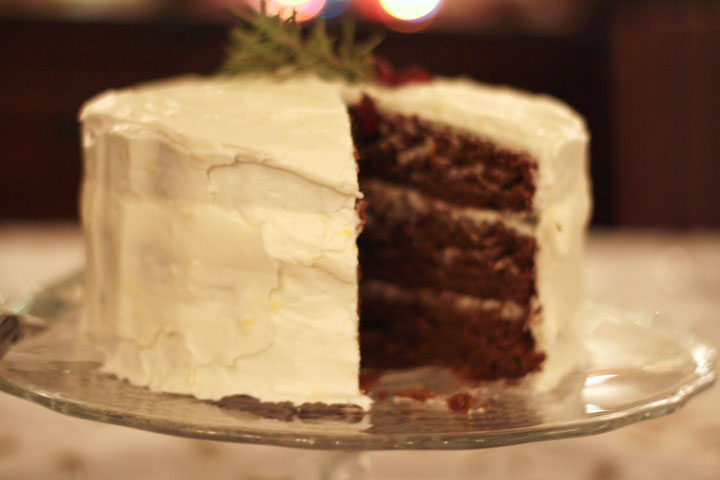 Serves 10
Gingerbread Cake
3 cup(s) all-purpose flour
1 tablespoon(s) ground ginger
1 1/2 teaspoon(s) ground cinnamon
3/4 teaspoon(s) baking soda
3/4 teaspoon(s) salt
1 jar(s) (12 ounces) light (mild) molasses, 1 1/2 cups
3/4 cup(s) (1 1/2 sticks) margarine, softened, substitute butter
3/4 cup(s) granulated sugar
2 large eggs
Cream Cheese Frosting
1 package(s) (16 ounces) confectioners' sugar
1 package(s) (8 ounces) cream cheese, softened
4 tablespoon(s) margarine, softened, substitute butter
2 teaspoon(s) freshly grated lemon peel
Gingerbread Cake
Preheat oven to 350 degrees F. Grease three 8-inch round cake pans. Line bottoms with waxed paper; grease paper. Dust pans with flour.
In medium bowl, mix flour, ginger, cinnamon, baking soda, and salt. In 4-cup glass measuring cup, whisk molasses with 1 cup water.
In large bowl, with mixer at low speed, beat margarine with granulated sugar until blended. Increase speed to high; beat until creamy, about 2 minutes, scraping bowl often with rubber spatula.
Reduce speed to medium-low; add eggs, 1 at a time, beating well after each addition. At low speed, alternately add flour mixture and molasses mixture, beginning and ending with flour mixture; beat until blended.
Pour batter into pans and spread evenly. Stagger pans on 2 oven racks, so layers are not directly above one another. Bake 25 to 30 minutes, until toothpick inserted in center of each layer comes out clean.
Cool layers in pans on wire racks 10 minutes. Run small knife around sides of pans to loosen layers. Invert layers onto wire racks to cool completely; discard waxed paper.
Cream-Cheese Frosting
In large bowl, with mixer at low speed, beat frosting ingredients just until blended. Increase speed to medium; beat until frosting is smooth and fluffy, about 2 minutes, constantly scraping bowl with rubber spatula. Makes about 2 1/2 cups frosting.
To assemble cake
Place 1 cake layer, rounded side down, on cake plate; spread with 1/3 cup frosting. Top with second layer; spread with another 1/3 cup frosting, then top with remaining layer. Frost top and side of cake with remaining frosting. Refrigerate if not serving right away.
Notes
-I find that it's best to shave off the top of the cake layers to make them flatter on top if they're too domed.
-It's easiest to frost the cake layers if they've been chilled in the fridge or freezer.
http://elephanteats.com/