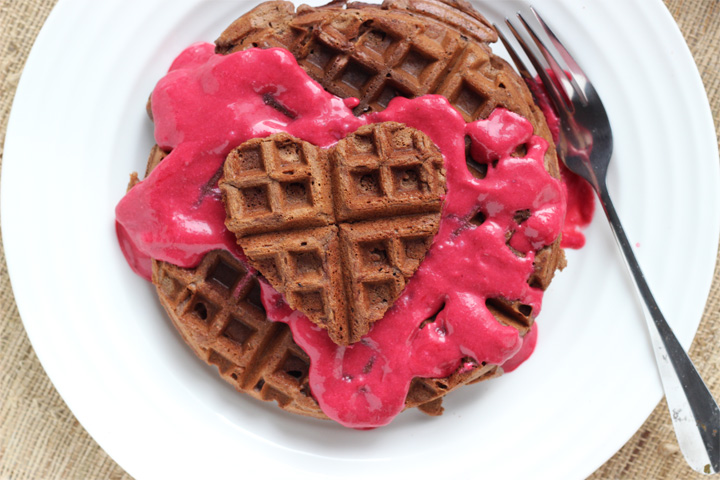 I'm not always the easiest person to live with.
I know you all probably find that very hard to believe ;)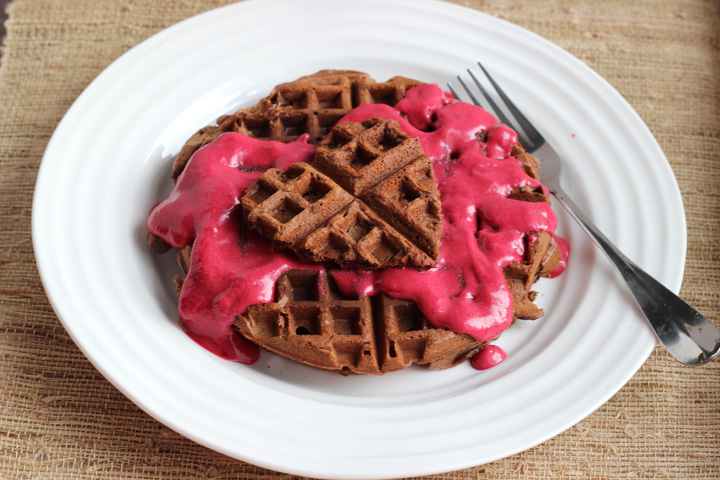 Although Nate often purposefully annoys me (though he'll deny it), he also does a lot of sweet things on a regular basis. He's extremely thoughtful and emotionally expressive. He will randomly buy me little "tasty treats" if he sees a dessert or something that he thinks I might like. He definitely knows the way to my heart!
While I do cook dinner for Nate weekly, I think that it's not so special anymore since I do it all the time. To mix things up and show him that I appreciate him, I decided to make him a special breakfast.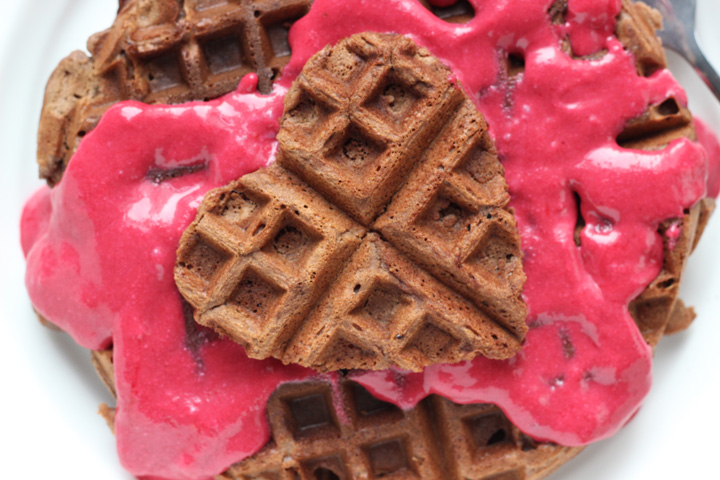 These waffles are chocolatey, but they're not overly sweet. They're totally appropriate for breakfast as opposed to dessert. The tart and sweet raspberry sauce is the perfect accompaniment and both have a subtle hint of almond flavor.
This is the perfect breakfast to surprise your special someone with on Valentine's Day!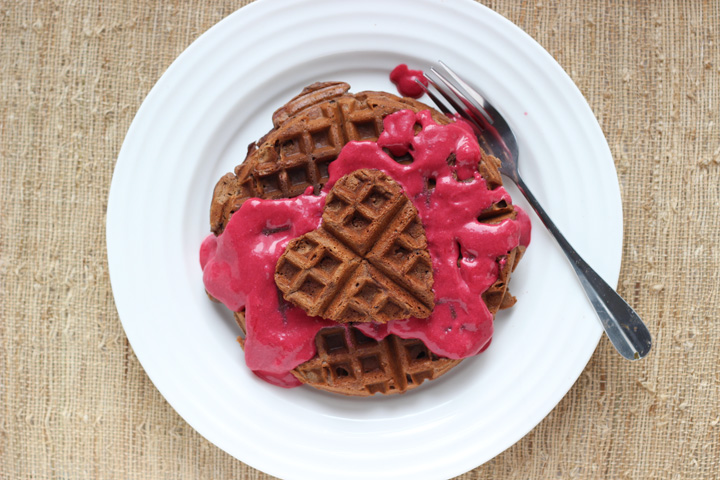 In other news, LC and my painting of her made it onto a buzzfeed list (she's #10)! That sadly is probably the coolest thing that has ever happened, and probably every will happen, to me (and her).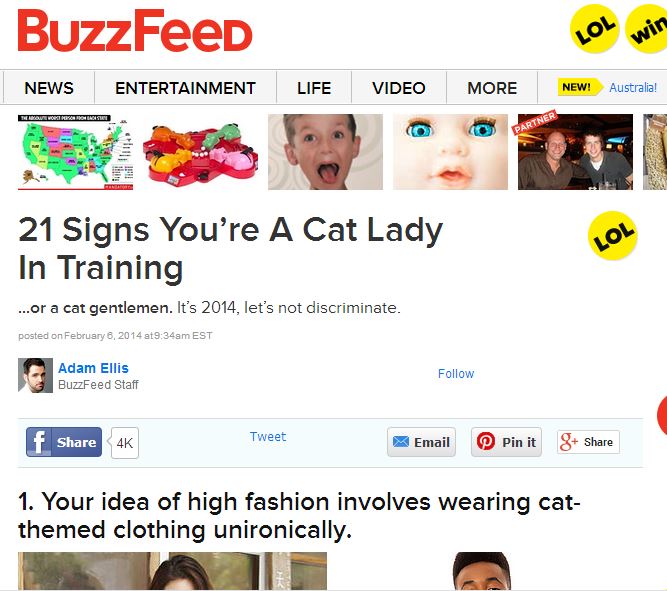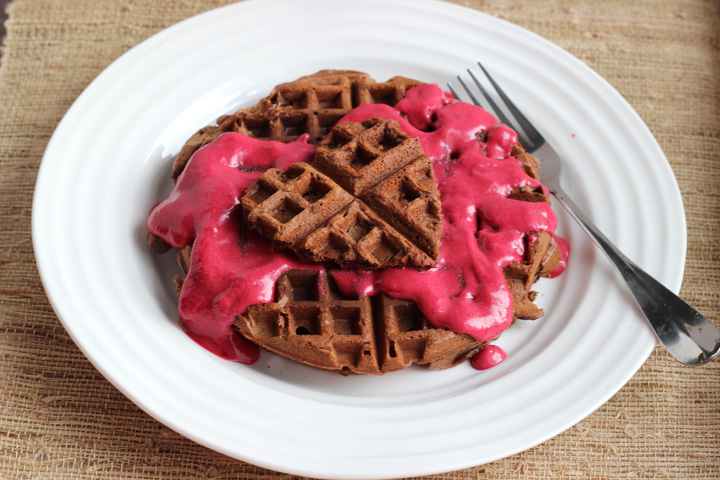 Chocolate Almond Waffles with Raspberry Sauce
2014-02-10 10:27:40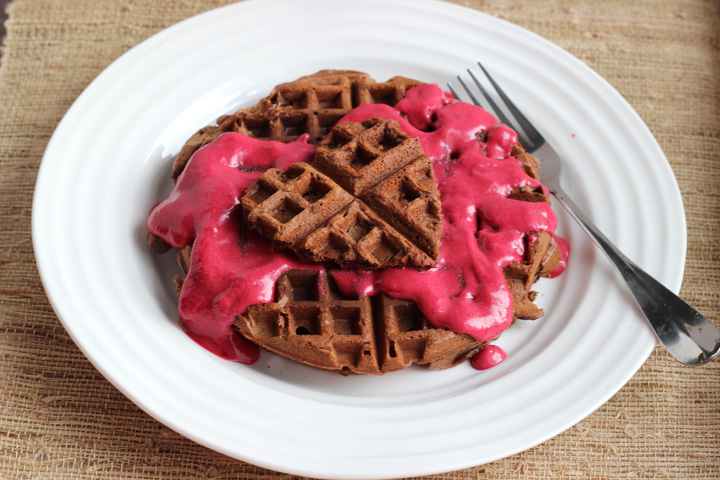 A not too sweet chocolate waffle with a sweet and tart raspberry sauce that's perfect for a special breakfast!
Waffles
1 cup all purpose flour
1/4 cup unsweetened cocoa powder
1 1/4 teaspoons baking powder
1/4 teaspoon baking soda
1/8 teaspoon salt
1/4 cup sugar
1/4 cup almond paste
2 1/4 ounces semisweet chocolate chips
3 tablespoons butter
2 large eggs
1 cup 2% milk
1/2 teaspoon almond extract
Raspberry Sauce
2 cups frozen raspberries, thawed
2 Tbsp almond paste
2-3 Tbsp water.
Waffles
Preheat oven to 300.
Mix first 5 ingredients into large bowl.
In a small food processor or blender, blend sugar and almond paste. Add to flour mixture.
Heat chocolate and butter in a small microwave-safe dish in the microwave at 30 second intervals, stirring in between, until completely melted.
Pour chocolate into medium bowl. Whisk in eggs, then milk, and almond extract. Gradually whisk milk mixture into dry ingredients.
Following manufacturer's instructions, make waffles with batter (waffles will be somewhat soft when removed from pan).
Place finished waffles on baking sheet in oven as you make the rest to keep them hot and crispy.
Raspberry Sauce
Blend raspberries and 1 Tbsp water in a food processor. Strain raspberry mixture through a fine sieve into a bowl, running a spoon back and forth over inside of sieve until all that's left in the sieve is seeds. Frequently scrape bottom of sieve, where strained pulp is coming out, into the bowl. Discard seeds.
Add raspberry puree back into food processor. Add almond paste and 1-2 Tbsp water and blend until sauce is to your liking. Serve over waffles.
Adapted from Bon Appetit
http://elephanteats.com/