I'm not a vegetarian by any means. In fact, there are days when I'm absolutely craving a good piece of steak, and a rare one at that!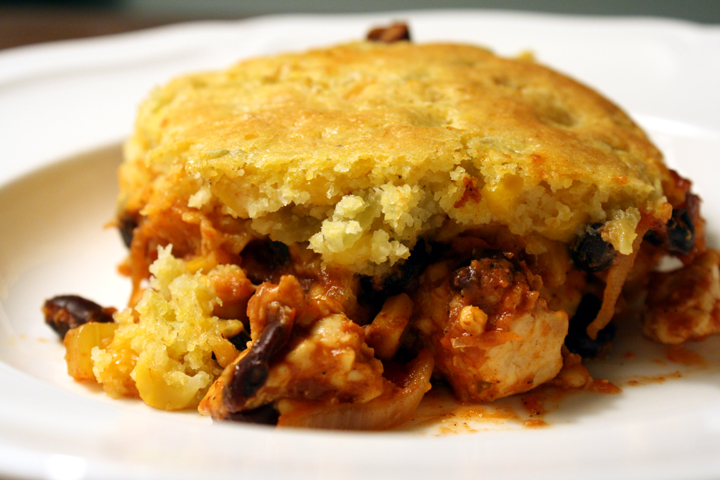 But Nate doesn't eat beef (he doesn't like the taste), and there are only so many ways to cook a piece of chicken or turkey. Not to mention I DETEST touching raw poultry. I'm totally paranoid about Salmonella and it takes me forever to cut it up and dispose of the infected knife/cutting board and then thoroughly cleanse every surface it might have touched.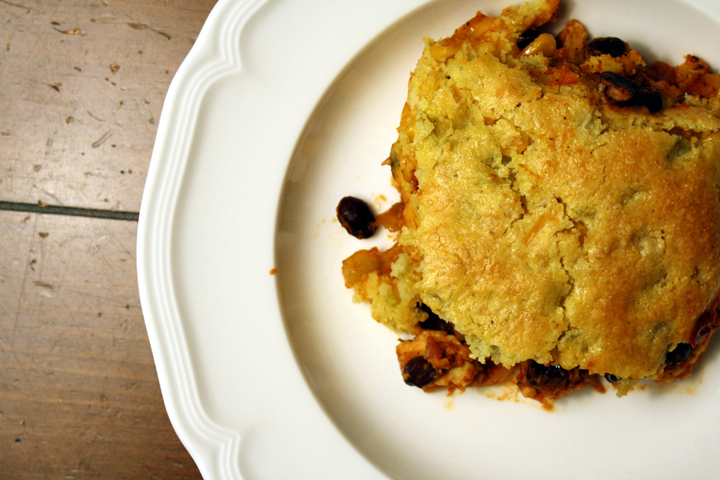 So sometimes it's easier, and spices things up, to just go vegetarian for a meal. I've been using a lot of beans lately because they're just so simple to use (especially when you get them precooked in a can). Not to mention vegetarian sources of protein are much lower in fat than animal sources.
I had seen a recipe for Tamale pie that just had me totally craving something similar, and that's when it hit me to sub Tempeh for the beef. Now in this case I more than made up for the fat I was saving by adding the cheese and cornbread topping, but that's neither here nor there ;)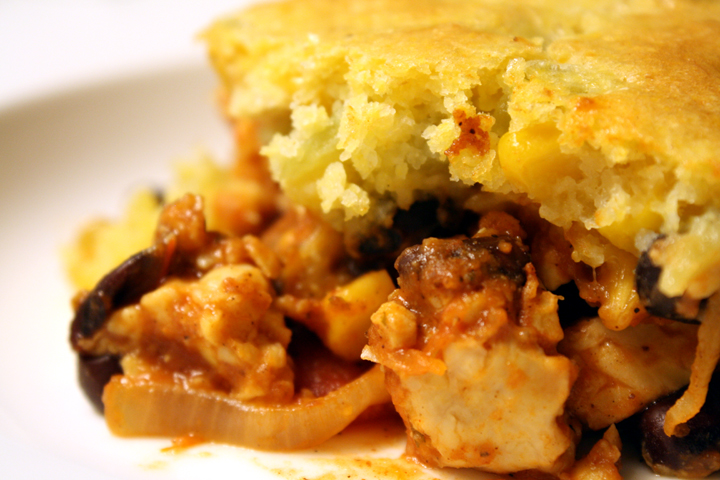 You can crumble it up to get it into similarly sized pieces as ground beef. I'm telling you, a man meat-lover will not even know that it has no meat!
This wasn't a super spicy version and I think next time I'd add even more mexican spices (or maybe just use a packet of taco seasoning instead of the chili powder/cumin/salt!), but it was still mighty tasty.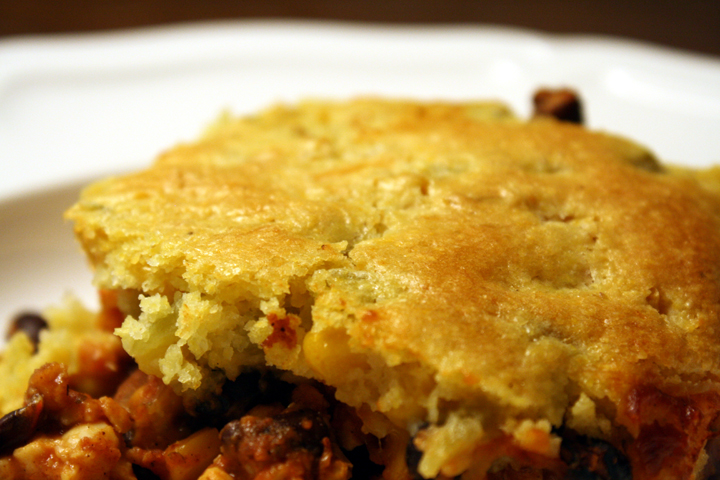 I dare you to make this "meaty" meal and see how many people notice there's no meat involved!
P.S. Please don't judge this recipe by the photos. I had a hungry man on my hands when this came out of the oven and had to rush.
"Meat Lovers" Vegetarian Tamale Casserole
Serves 6-8
1 Tbsp olive oil
1 medium onion, cut in half and then into thin slices
2 ribs of celery, diced
2- 8 oz. packages of Tempeh, crumbled
1 Tbsp chili powder (*alternatively use taco seasoning instead of chili powder, cumin, and salt)
1 tsp cumin
1- 19 oz. can black beans, drained and rinsed
1- 8.75oz can corn, drained
2 Tbsp Worcestershire sauce
2 tsp tabasco (or more to taste)
2 Tbsp apple cider vinegar
1- 10 oz. can enchilada sauce
2 cups tomato sauce
s+p to taste
1.5 cups shredded cheddar cheese
Sour cream for garnish (optional)
Topping ingredients:
1- 8.5 oz. cornbread mix (such as Jiffy)
1/3 cup milk
1 egg
1- 4.25 oz can diced green chiles
1- 8.75 oz can corn, drained
Preheat oven to 375.
Heat oil in a large saucepan over med-hi heat. Cook a few minutes until onions have started to soften. Add celery, Tempeh. Cook until Tempeh begins to brown, 5-10 minutes, stirring occasionally.
Add spices and stir well. Stir in beans and next 6 ingredients. Cook until warmed through. Salt and pepper to taste.
Remove mixture from heat and spread into a 9×13 pan. Sprinkle cheese evenly on top.
Mix cornbread mix, milk and egg until smooth. Stir in chiles and corn. Put drops of cornbread mixture even over Tempeh mixture and then spread into a thin layer.
Bake casserole for 40 minutes or until top begins to turn golden around the edges.
Cool 5 minutes before serving.