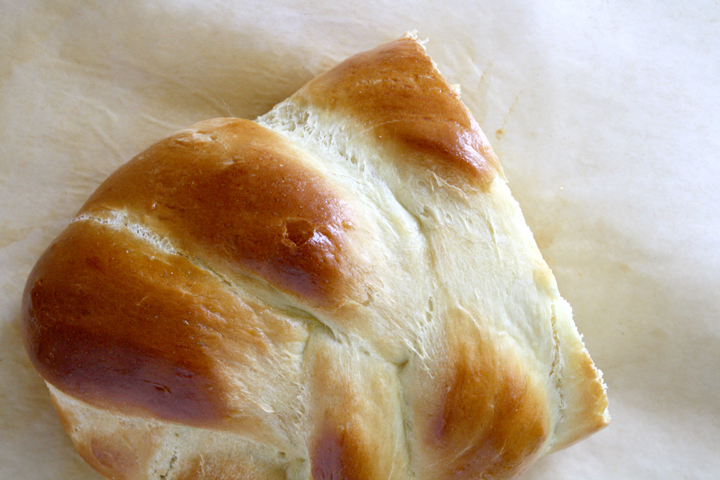 I've been so busy lately that the Daring Bakers completely slipped my mind and I hadn't done it for a couple months. I finally remembered to check on this month's challenge and was super excited when i saw it was challah!
The braided challah, which is made with eggs, is the Jewish Sabbath‑and‑holiday bread. It is surrounded by folklore and tradition and loaded with symbolism. On festive occasions a blessing is said over two loaves, symbolizing the two portions of the manna that was distributed on Fridays to the children of Israel during their Exodus from Egypt.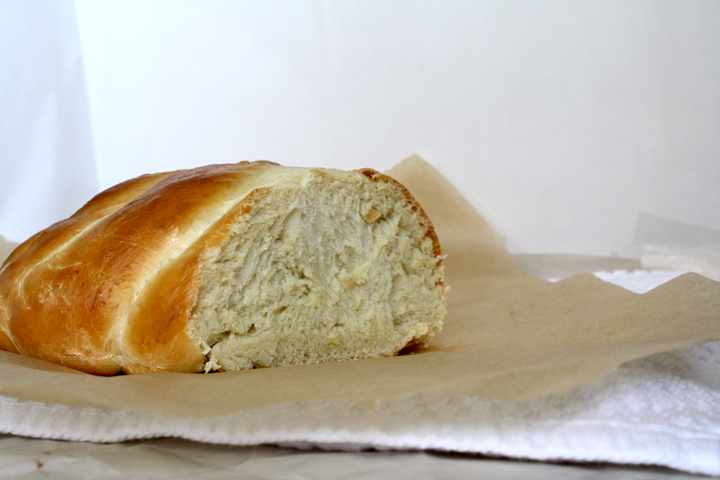 Challah is made in various sizes and shapes, all of which have a meaning. Braided ones, which may have three, four, or six strands, are the most common, and because they look like arms intertwined, symbolize love. Three braids symbolize truth, peace, and justice. Twelve humps from two small or one large braided bread recall the miracle of the 12 loaves for the 12 tribes of Israel. Round loaves, "where there is no beginning and no end," are baked for Rosh Hashanah to symbolize continuity. Sweet challahs with honey or raisins are baked during the festive season to bring joy and happiness.
The name "challah" is derived from the Hebrew word used for "portion" in the Biblical commandment "of the first of your dough you shall give unto the Lord a portion for a gift throughout your generations." Jews were biblically commanded to separate from their doughs one twenty‑fourth and give it to the kohanim (priests) every Sabbath. (source)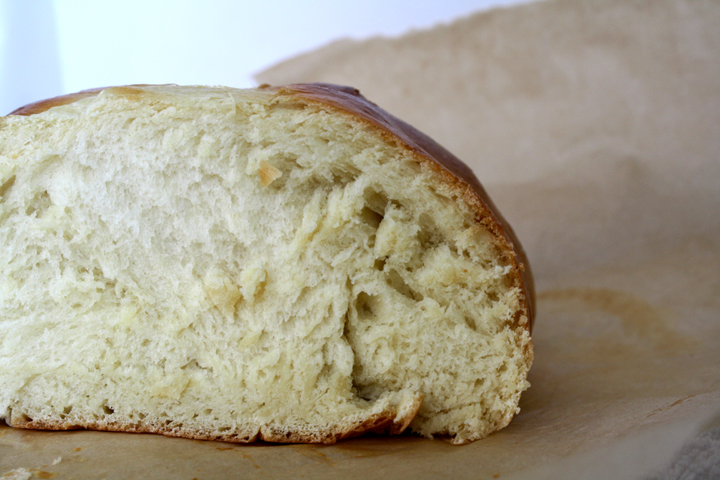 Honestly, I didn't really know (or remember) the significance of challah although I'm sure I was taught it in Hebrew School.
I've actually made Challah before but was really excited to give it another shot. Since Nate likes bread with his dinner on a daily basis, I knew it wouldn't go to waste.
While Nate was in California last weekend, I whipped up some of the dough and let it rise in between my wedding crafts (i made our cake topper!). It was super easy, and having the first rise in the fridge overnight was a huge time saver.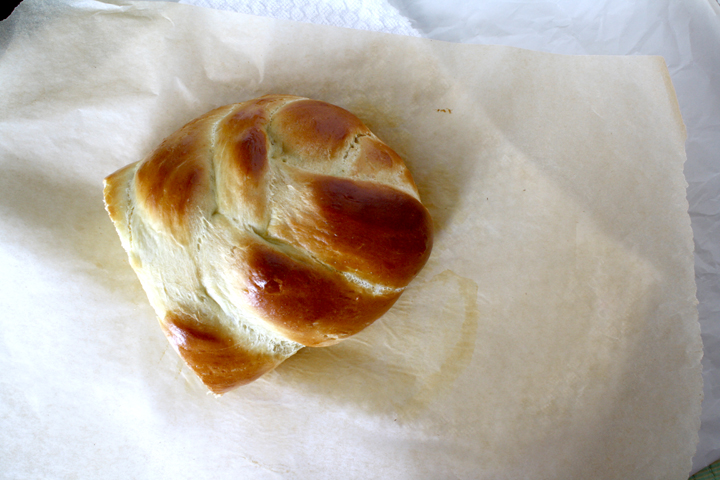 The Challah recipe I used was a honey white version and it came out just slightly sweet and as doughy and delicious as my favorite grocery store version. If you live near Shoprite supermarkets, they happen to have the absolute best challah. Anyway, this was pretty darn close!
I should have added raisins but couldn't be bothered at the time. Luckily it wasn't dry at all and was able to hold up on its own.
Blog-checking lines: May's Daring Bakers' Challenge was pretty twisted – Ruth from The Crafts of Mommyhood challenged us to make challah! Using recipes from all over, and tips from "A Taste of Challah," by Tamar Ansh, she encouraged us to bake beautifully braided breads.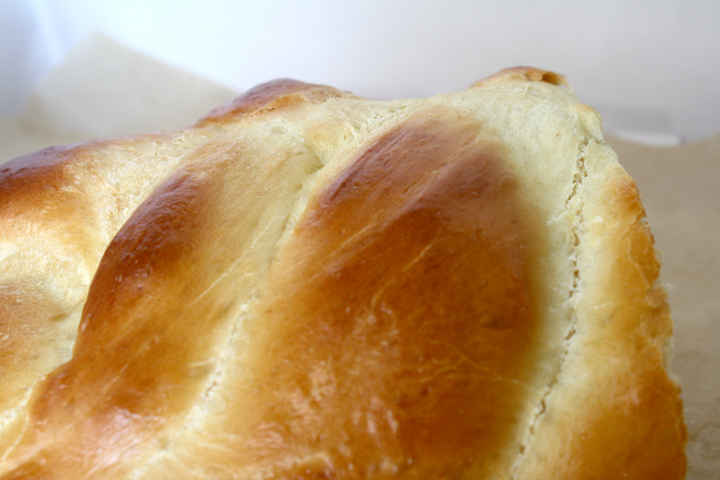 Honey White Challah
From Tammy's Recipes
makes 2 gigantic loaves
Ingredients:
1 ½ cups (360 ml) warm water, separated
1 Tbsp. (15 ml) (15 gm/½ oz sugar
2 Tbsp. (2-2/3 packets) (30 ml) (18 gm) (2/3 oz) dry active yeast
½ cup (120 ml) honey
1 Tbsp. (15 ml) oil (light colored vegetable oil, or olive oil if you prefer)
4 large eggs
1 ½ tsp. 7½ ml) (9 gm) (1/3 oz) salt
5 cups (1200 ml) (700 gm/25 oz) all-purpose (plain) flour, plus more as needed (up to 8 or 9 cups total)
1 egg beaten with 1 tsp. water
In mixer bowl/large mixing bowl combine ½ cup warm water, 1 Tbsp. sugar and 2 Tbsp. yeast. Allow to proof approximately 5 minutes until foamy.
To the yeast mixture add the remaining water, honey, oil, eggs, salt and 5 cups of flour. Knead (by hand or with your mixer's dough hook) until smooth, adding flour as needed. Knead for approximately 10 minutes.
Transfer dough to a clean, oiled bowl, turn to coat or add a bit more oil on top. Cover bowl with a kitchen/tea towel. Leave to rise in a warm place until doubled, about 1 ½ hours (**optionally you can have the first rise in the fridge overnight, which is what I did to save time. The next morning, remove from fridge and allow to come to room temp then move on to next step).
Punch down the dough, divide it into two sections. Use one half to make each loaf (shaped or braided as desired).
Place loaves on parchment lined or greased baking sheets, cover with a towel, allow to rise 30 minutes.
Preheat oven to 325 degrees.
Brush tops loaves with egg wash. (Sprinkle with seeds or toppings here if wanted.)
Bake loaves 30-40 minutes until done.
Cool on wire racks.
Storage & Freezing Instructions/Tips:
Once cooled, challah loaves which will not be eaten right away (or in the next couple of days) should be bagged in heavy duty freezer bags. Remove excess air from the bag before securing it tightly (tying a knot or using tape). Put the bagged loaf/loaves into the freezer as soon as possible to ensure fresh taste; frozen challah will keep approximately three months.