I don't want our wedding to look like anyone else's. Is that so much to ask? I don't think so.
I really want to make a statement on the tables and so I decided a while back that I wanted the napkin to have a pretty print on it. Do you know how hard it is to find printed rental napkins in my color scheme that are exactly what I want? Harder than it should. Actually, impossible.
Anyway, I finally convinced my mom that I could find a fabric cheap enough that we could get napkins made for the same price as renting would be…AND we could keep some and sell the rest after.
This way I got a gorgeous fabric that was exactly what I wanted, and no one else could  possible have it!
But in my fruitless search for the perfect napkin and tablecloth, I came across this one and showed it to Nate: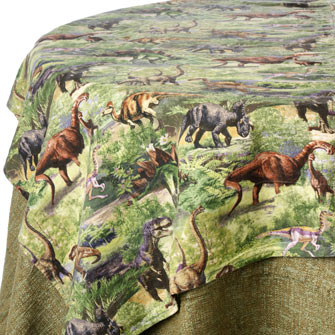 Have I mentioned that Nate LOVES dinosaurs?
This was the IM conversation that ensued:
Nate:  oh my god

MAKE THOSE THE TABLE CLOTHS

me:  we could do it just for our table

tell you what

we'll make our first child's bday a dino theme

im gonna groom them

to become a paleontologist

Nate:  and then they will create the first real jurassic park

me:  as long as they make enough money to support their folks

Nate: well if my son/daughter creates the first real jurassic park that will be our family business
i'll work there
and with any luck, at a ripe old age, be eaten by a dinosaur
by far the way i want to go
So there you have it. Nate's chosen way to go is death by dinosaur. Probably not a bad way, in fact, assuming there isn't too much chewing involved.
That also solves the mystery of who on earth would rent dinosaur tablecloths. But luckily Nate is not involved in making wedding-related decor decisions, or it would be a dino-themed wedding…and he'd probably serve these ribs.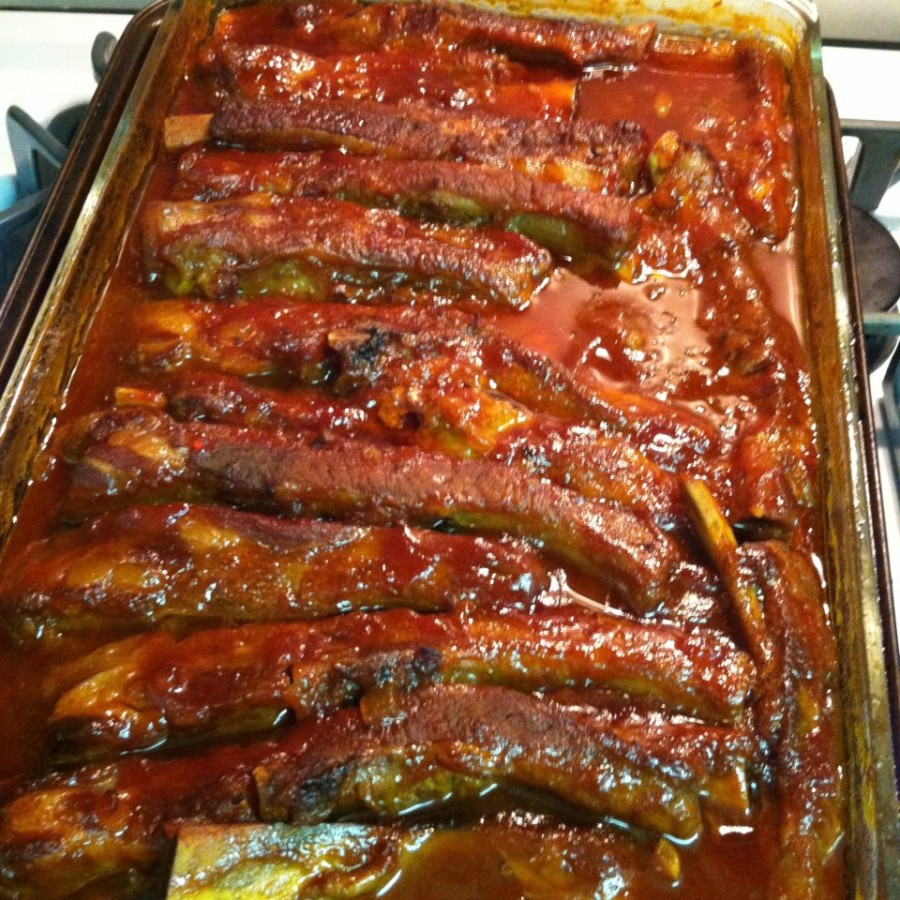 These aren't dinosaur ribs, but they'd certainly go with a paleontology-themed event. And I can't say I'd be upset if someone served them to me.
Unfortunately, the only photo I have to prove I made these ribs is one from my iphone, since Nate somehow deleted the others before I got them off the camera.
We, unfortunately, don't have a grill, but this is better than ribs you could ever make on a grill. Yeah, take that, grill!
You give them a quick boil beforehand and then shove them in the oven for an hour and a half.
I'm a fan of saucy, succulent meat. I know this is definitely possible on the grill, but I hate dry things. These ribs get braised in the oven, mixing with the homemade tangy bbq sauce you add, creating their own, absolutely delicious sauce. I could eat it with a spoon.
Even if you have a grill, you NEED to make these this summer.
I served it up with some baked beans and corn on the cob. Felt like summer for sure!
Too bad the caterer doesn't offer them….
Oh and here's another photo for you since I don't have any more of the ribs. Here's the ring bearer pillow I made for the wedding :)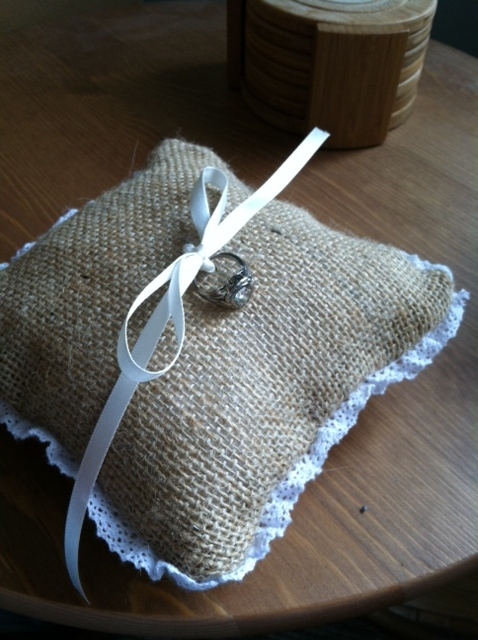 Saucy Country-Style Oven Ribs
from Gourmet 
4 lb boneless country-style pork ribs
1 large onion, finely chopped (2 cups)
4 garlic cloves, minced (2 tablespoons)
2 tablespoons vegetable oil
1 1/2 cups ketchup (12 oz)
2/3 cup honey
1/2 cup cider vinegar
1/2 cup Worcestershire sauce
6 tablespoons fresh lemon juice (from 2 lemons)
2 tablespoons plus 1 teaspoon dry mustard
2 teaspoons drained bottled horseradish
1 teaspoon black pepper
Put oven rack in middle position and preheat oven to 350°F.
Put ribs in a 6- to 8-quart pot and cover with water by two inches. Bring to a boil, reduce heat and simmer, uncovered, skimming froth, 30 minutes (I only cook for 15 and it's completely fine).
Meanwhile, cook onion and garlic in oil in a 3- to 4-quart heavy saucepan over moderate heat, stirring occasionally, until onion is tender, about 15 minutes.
Stir in remaining ingredients and simmer, stirring occasionally, 15 minutes.
Drain pork in a colander and pat dry, then arrange in 1 layer using tongs in a 13- by 9-inch baking dish. Pour sauce over pork to coat evenly, then cover dish tightly with foil.
Bake 1 hour, then remove foil and carefully turn pork over with tongs and cook, uncovered, until very tender, about 30 minutes. Skim fat from sauce if desired.
(**note that I don't normally cut the ribs apart before cooking as in the above pic, but that's how this particular batch came. Usually I put the whole rack in the pan in one long piece, only cutting off the ribs that don't fit the length and putting them along the side)