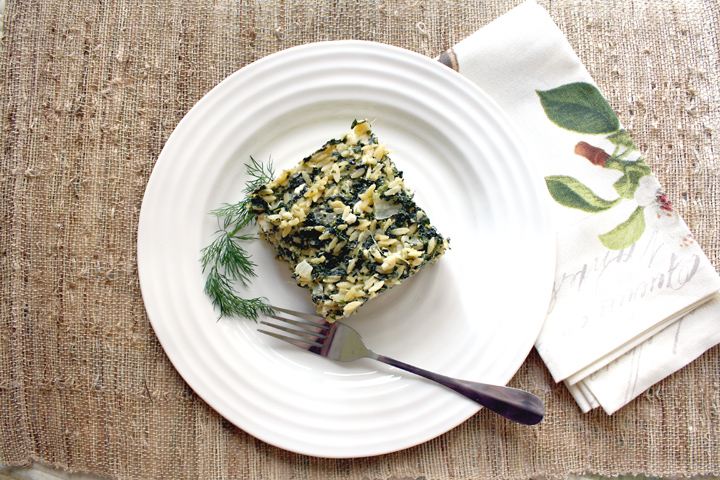 We're coming down the home stretch with wedding preparations, and let's just say I'm getting super stressed.
Among other things, I feel like there are so many incompetent people that I'm dealing with, or maybe I just see them that way, but it's making me seriously worried that things aren't going to get done on time…and to my liking.
Do I just have high expectations? or maybe I'm asking for things that normal people don't ask for? But whatever it is, I feel like no one "gets" what I want! I just really hope that in the end it all turns out ok.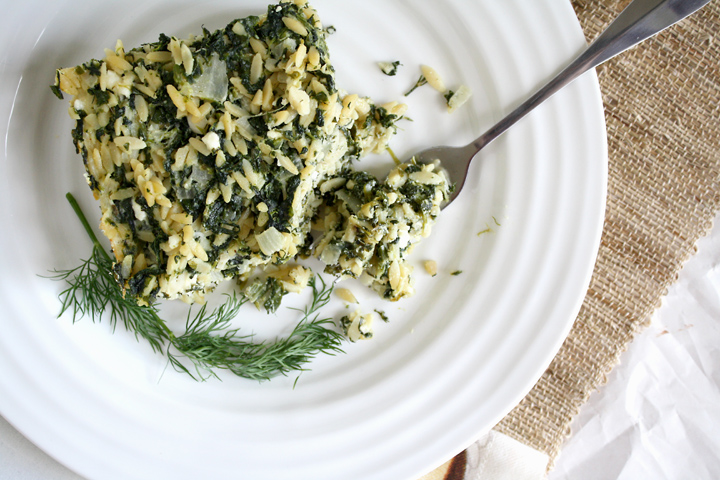 Nate and I have been watching Bridezilla on the WE channel. I hope that's not how I come across to the people I come in contact with.
I made an appointment over a month ahead of time for the only person I trust to do my eyebrows. The salon called me on Sunday to tell me that they had to cancel my appointment because the woman (with whom I had already made an appointment) decided she's going on vacation FOR A MONTH. Seriously?!
They told me she'd be back on October 16th, which is exactly one day before I leave to head down to PA for the wedding. I'm not sure if you know this about me, but I like to do NOT like to leave things til the last minute because I always expect the worst to happen.
She's foreign so I have a feeling she's going home to visit her family in Europe, but the vacation seems so sudden that now I'm paranoid she won't be back on the 16th and I'll be stuck with no one to do my eyebrows. I was so worried that I dragged Nate with me to the salon to talk with them in-person to assure me that she was in fact only going on vacation and that she'd be back on the 16th.
After 5 minutes of listening to me voice my every concern, the guy at the front desk told me there was no reason to think she wouldn't be back in time for my appointment…and then he turned to Nate and said "Are you sure you still want to marry her?"
I.kid.you.not.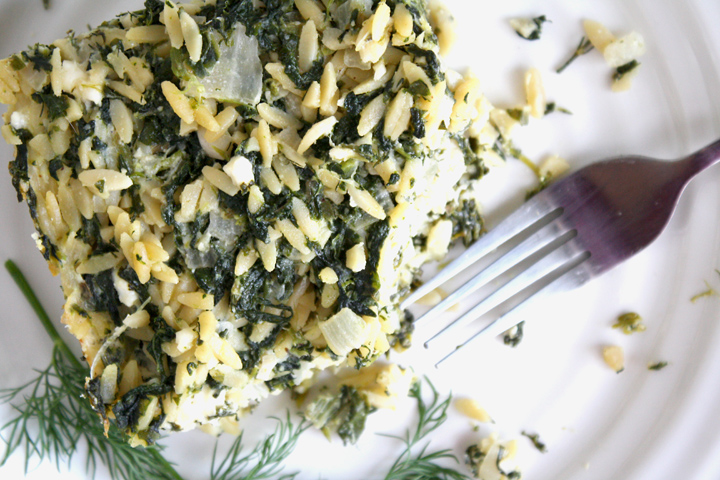 The only benefit of being stressed is losing my appetite. At least I hopefully won't have to worry about not being able to fit into my dress that has now officially been taken in. They still have some adjusting to do with other parts, so I suppose they could change the size a bit if they had to.
Although depending on how stressed I am, sometimes I eat more. Let's hope that's not the case this time.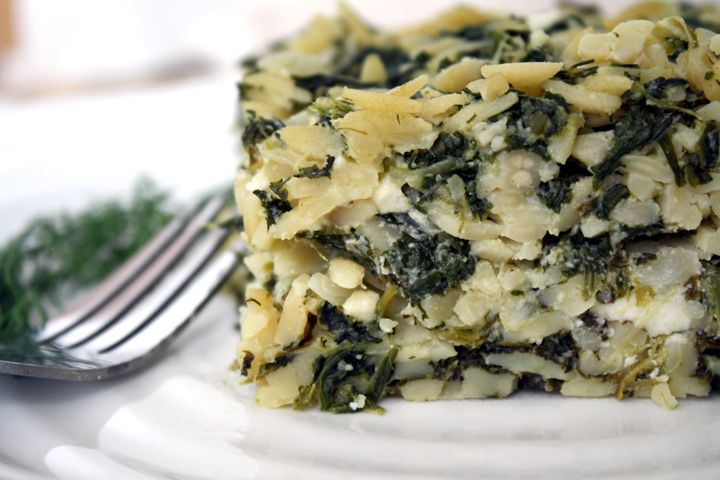 A dinner like this won't hurt too much in your weight loss goals. If you're trying to lose a few pounds like me, you could easily serve it with a nice green (or Greek!) salad and take a smaller portion.
I got inspired by a recent orzo pasta bake on saw on Smitten Kitchen's site. I thought if I subbed the mozzarella for feta, it seemed kind of Greek-inspired. I tried to figure out what else I could add to feta and when I thought of spinach, I knew I had to try to create the flavor of Spanakopita.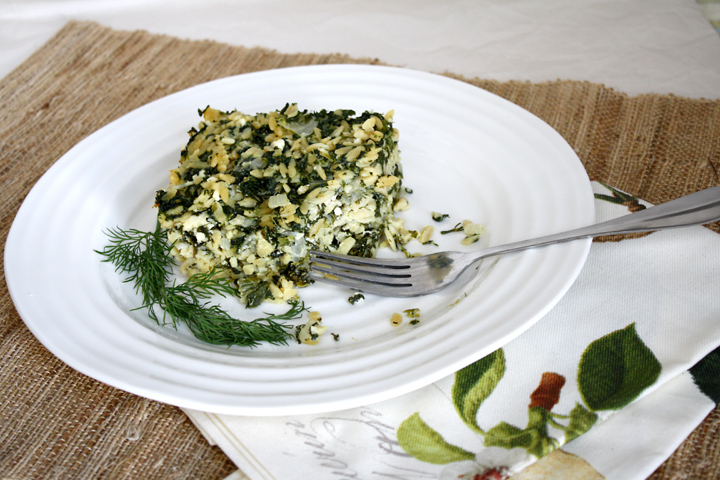 I looked up a few spanakopita recipes to get the ratio correctly and then just kind of winged it. This recipe uses several tablespoons of butter but it's spread over the entire pan. This was so good I kept going back for more…perhaps the only negative thing about making it :)
"Spanakopita" Pasta Bake
Recipe by Me
Serves 8-10
3- 10 oz. packages chopped frozen spinach
16 oz. Orzo shaped pasta
2 large onions, diced
4 garlic cloves, thinly sliced
4 Tbsp butter
2 tsp salt + pepper to taste
1/4 tsp nutmeg
1/2 cup fresh dill, chopped
12 oz. feta cheese
8 oz. Ricotta cheese
2 eggs, lightly beaten
Preheat oven to 350.
Boil water and cook pasta. While pasta is cooking, thaw spinach in microwave and drain THOROUGHLY. You will need to squeeze as much water as possible out of the spinach. Set aside.
Melt 4 Tbsp butter in a large saute pan. Add onions and cook 5 min. Add garlic and cook til onions are soft. Stir in spinach and warm through. Stir in salt, pepper, nutmeg and dill. Cool slightly.
In a very large bowl, combine feta, ricotta and 2 eggs together. Stir spinach mixture into egg mixture and mix thoroughly. Stir in drained pasta.
Pour mixture into a 9×13 baking pan. Bake 30 min or until top is crispy and mixture is bubbling at bottom. Let rest for a few minutes before digging in.