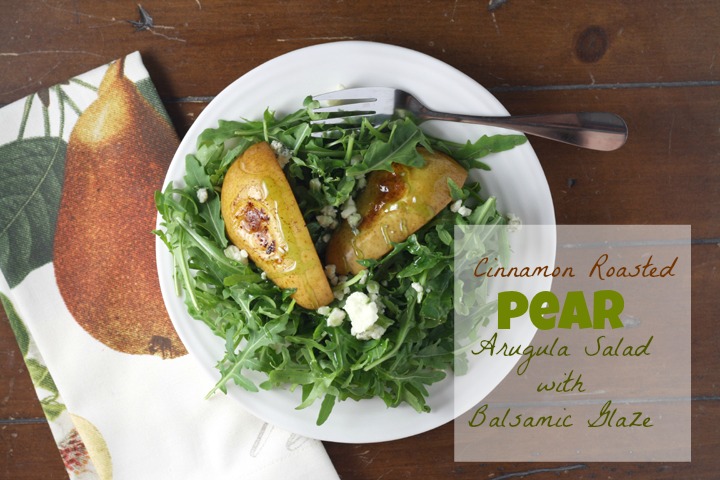 The other day I was reading one of the blogs I follow, Bake Your Day, and she had posted a recipe and reviewed a new butter-flavored olive oil product. I commented on the post saying how good it sounded, and the makers of the oil, Star Fine Foods, was kind enough to reach out to me and send me some samples!!!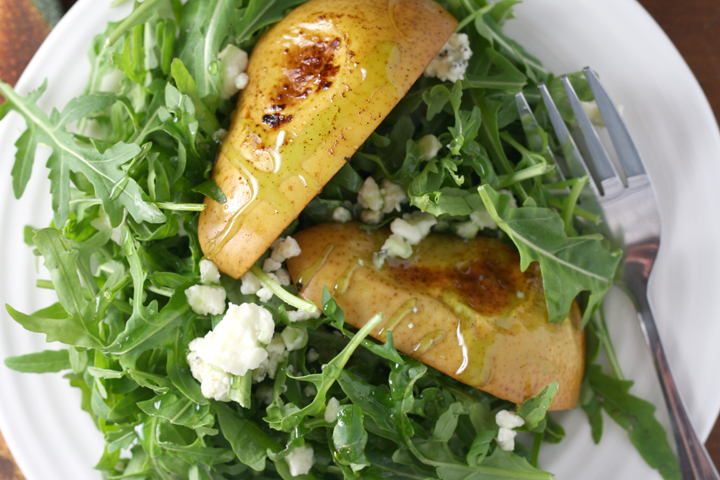 They not only sent me that flavored olive oil (which I can't wait to try), but also 2 different flavors of one of their other new products: flavored balsamic glaze!!
I decided to use the glaze on an autumn update of my favorite summer salad. All summer long I ate watermelon cubes over arugula, with feta or blue cheese, basil, and a balsamic glaze. At the time I used Trader Joe's brand balsamic glaze because it was the only brand I had ever seen. Well, when I saw that Star Fine foods sent me an Apple Balsamic Glaze I was SOOO excited! I knew it would be a perfect way to transition my summer salad to fall.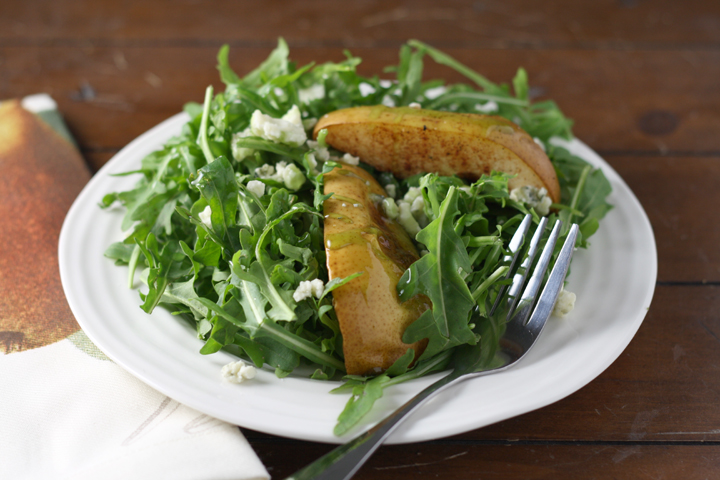 I decided to go with pears for the fall fruit portion of the salad….but not just any pears- cinammon roasted ones! In the summer I love the cold, juicy watermelon, but on a cold day these warm pears are just perfect. They slightly wilt the arugula and soften the blue cheese crumbled on top. The Apple-flavored Creamy Balsamic Glaze added the absolute perfect sweet/tart flavor to go with the juicy pears and bitter arugula.
I see myself eating this all the time this autumn and it might just be my new favorite salad! I hope it will become yours too :)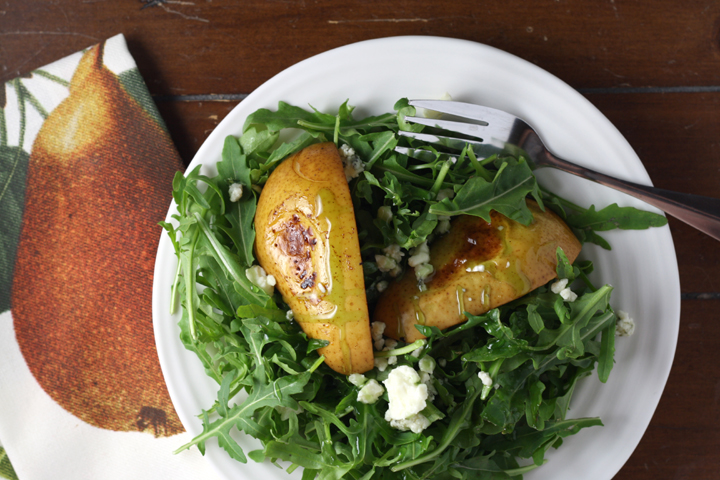 **I was given these products free of charge, but all opinions are my own. I would never post about a product I didn't love and plan to use again.
Arugula Salad with Roasted Cinnamon Pears, Blue Cheese and Apple Balsamic Glaze
2013-09-12 18:33:27
Serves 4
Warm cinammon roasted pears over a bed of arugula with blue cheese and an apple balsamic glaze
Ingredients
2 pears (I used Bartlett because I think they're the juiciest), not overly soft, cut into quarters and cored
1/2 tsp cinnamon
4 cups arugula
1/4-1/3 cup blue cheese crumbles (depending on how much cheese you like)
1-2 Tbsp olive oil
1-2 Tbsp Creamy Apple Balsamic Glaze (or any balsamic glaze if you can't find this one)
salt and pepper to taste
Instructions
Preheat oven to 450.
Spray a foil lined baking sheet with cooking spray. Place pears on sheet, cut side up. Spray pears with cooking spray or drizzle with some olive oil
Sprinkle pears with cinnamon, salt and pepper.
While pears cook, divide arugula onto 4 plates.
Bake pears for 30 min. Remove from oven and immediately place 2 quarters each over arugula on each plate. Drizzle with blue cheese, oilve oil, and balsamic glaze. Salt and pepper to taste.
http://elephanteats.com/