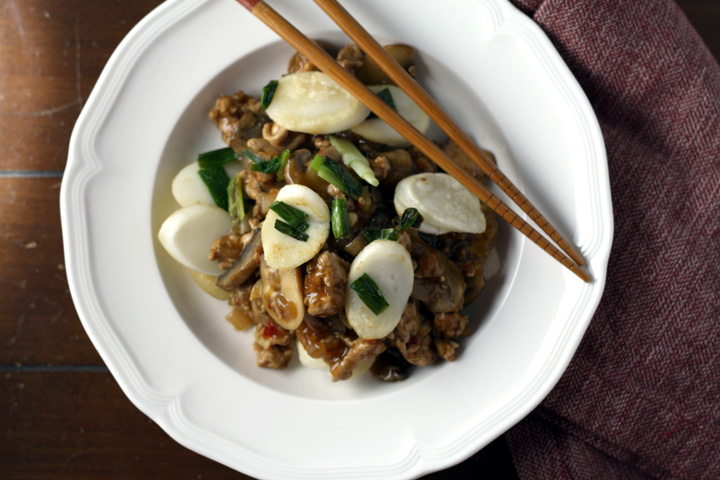 I'm so excited, Santa gave me a Lowell Ego Light Set for Christmas!! Now I can finally take good pictures at night, since that's the only time I have to take my food photos. I'm definitely jealous of food bloggers who have time to cook and photograph during the day!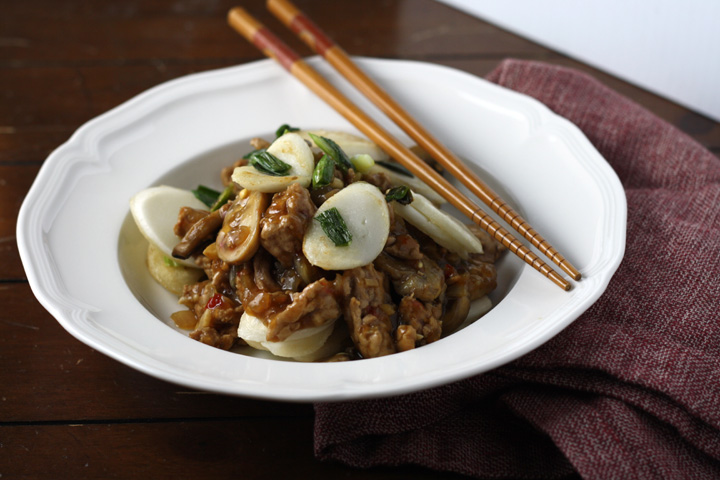 Unfortunately, Nate will be in California for most of January looking for a full-time job, and he said he's taking his camera with him. I'll be left with my crappy point-and-shoot, which I honestly have no idea where it is. But at least the lights might help a bit? I'm so mad because my parents got me a new lens for chanukah and it's great for food photos!!! Maybe I can convince Nate to leave his camera with me for safe keeping ;)
Anyway, I got the opportunity to use my new lights last weekend when I invited a friend over for dinner! The lights + my new lens were as amazing a team as I'd imagined.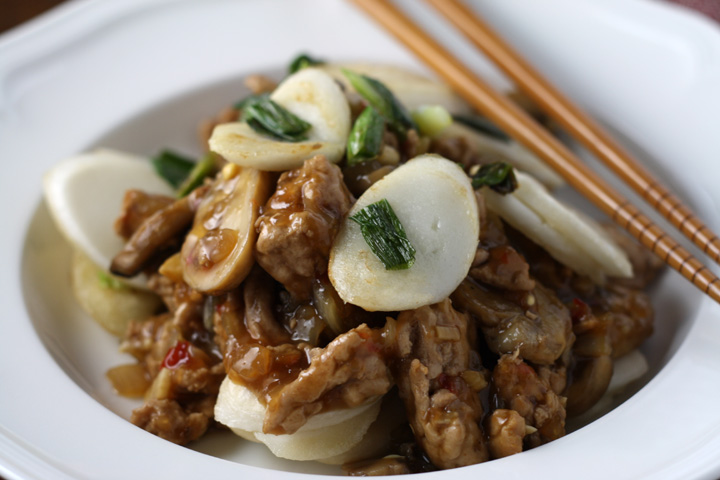 I'm not sure if you're familar with these korean rice cakes (tteok/dduk). They're not the puffed rice cakes you're probably thinking of that we eat in america. Instead, tteok are made of glutinous rice flour and when cooked, they become chewy and delicious. They come in many shapes this particular type is sliced into little flat disks.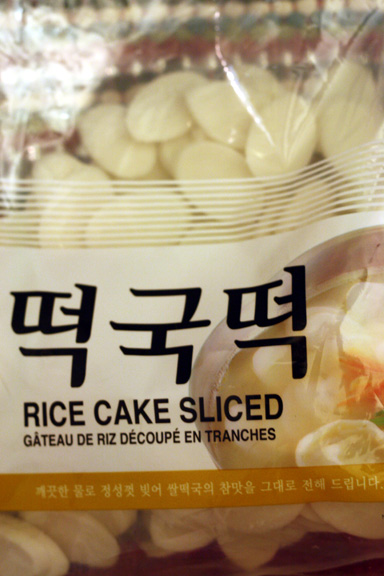 I had only had them before in korean soups, where they act kind of like noodles or dumplings. Recently, however, I came across this recipe in which they're stir-fried and they become slightly puffy and crispy on the outside, and I was intrigued! *You can find them in the freezer section of your local asian grocery store.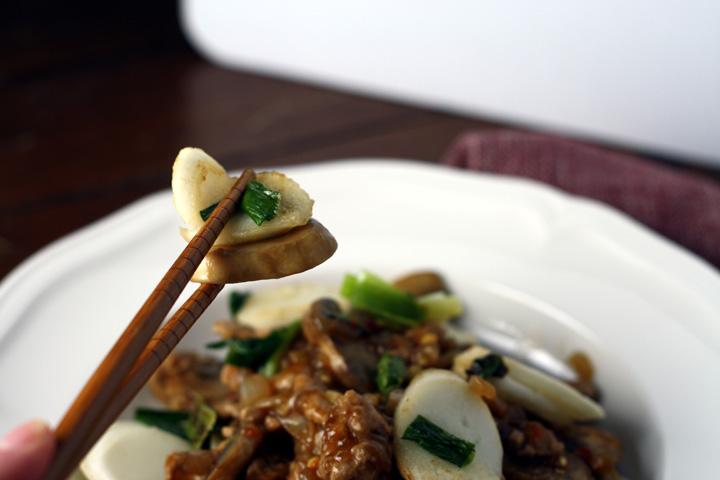 I don't think this dish is authentically from any asian cuisine in particular- more of a mix of korean and chinese. It was super quick to make and really delicious! I added some mushrooms to bulk it up a bit more in the veggie department.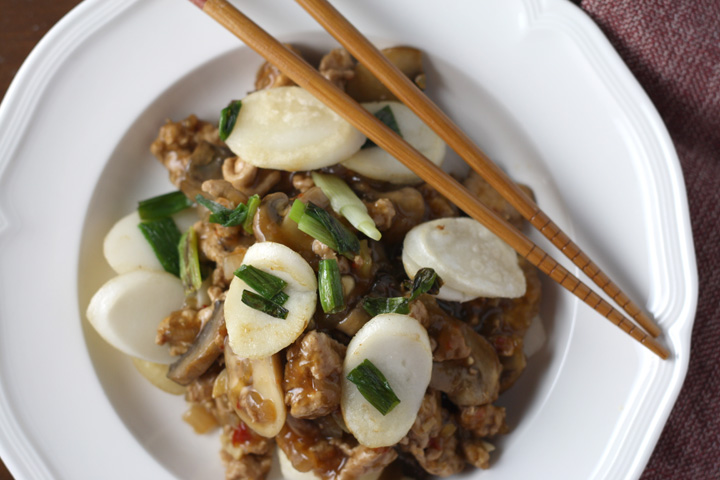 Stir-fried Spicy Rice Cakes with Pork and Mushrooms
Slightly adapted from Cooking LIght

Serves 4
2 tablespoons dark sesame oil, divided
4 cups sliced rice cakes (rice ovalettes), divided
1 bunch green onions, trimmed and cut into 1-inch pieces
12 ounces lean ground pork
8 oz. sliced mushrooms
1/2 cup chopped onion
1/4 teaspoon kosher salt
3 large garlic cloves, minced
2 teaspoons cornstarch
2 cups no-salt-added chicken stock (such as Swanson)
3 tablespoons lower-sodium soy sauce
1 tablespoon sambal oelek (ground fresh chile paste)
4 lime wedges
Heat a wok or large skillet over medium-high heat. Add 1 tablespoon oil to pan; swirl to coat. Add 2 cups rice cakes, separating the stuck-together ones as best as you can (otherwise they won't cook as well); stir-fry 3 minutes or until blistered, turning to brown on both sides. Remove rice cakes from pan; place in a large bowl. Add remaining 1 tablespoon oil; swirl to coat. Add remaining 2 cups rice cakes; stir-fry 2 minutes. Add green onions to pan, and stir-fry for 1 minute or until rice cakes are blistered, turning to brown on both sides. Remove rice cake mixture from pan; add to cooked rice cakes.
Add pork to pan; sauté for 2 minutes, stirring to crumble. Add mushrooms and saute 2 more min or until brown.
Stir in chopped onion, and salt; sauté 3 minutes, stirring occasionally. Add garlic; sauté 30 seconds, stirring constantly. Stir in cornstarch. Gradually add stock; bring to a boil. Stir in soy sauce and sambal; cook for 1 minute, stirring frequently. Divide rice cake mixture evenly among 4 shallow bowls; top each serving with 3/4 cup pork mixture. Serve with lime wedges.