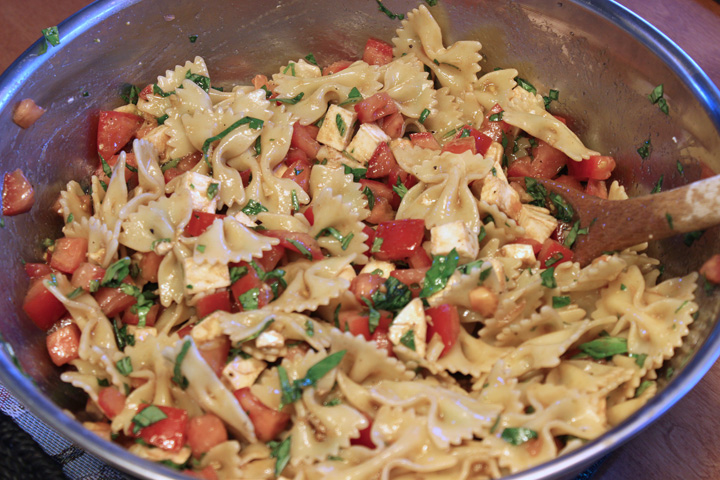 We're down at my mother-in-law's for the long holiday weekend, and her big, bright kitchen inspired me to finally do some cooking.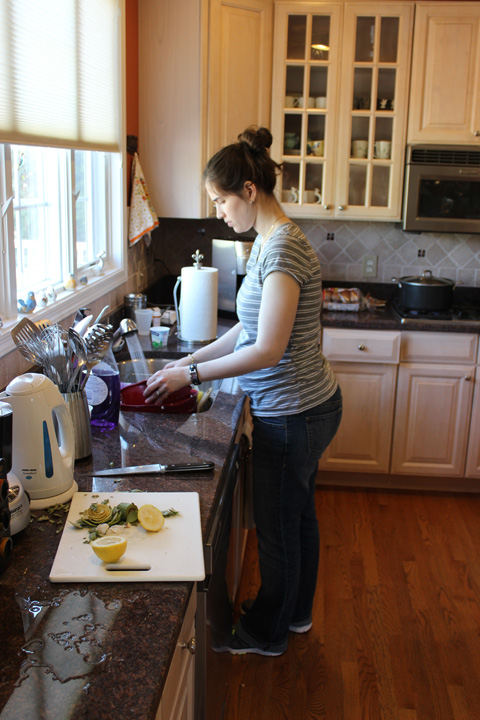 I hope that I'm getting this to you with enough notice that you can make it for your big Memorial Day spread tomorrow!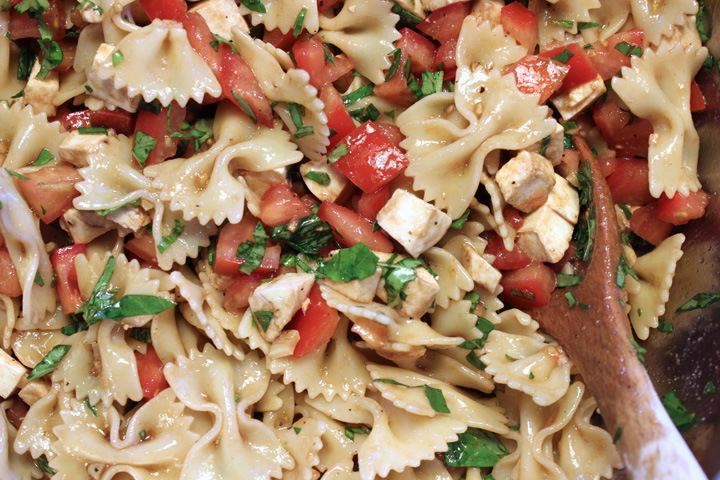 Not sure if it's pregnancy or the weather but I've been craving a tangy pasta salad, specifically one with all the flavors of summer. I combined my love of Caprese Salad with pasta into this tasty dish. It's super easy and quick and can sit out for a decent amount of time, so it's great for when you have a buffet at your bbq.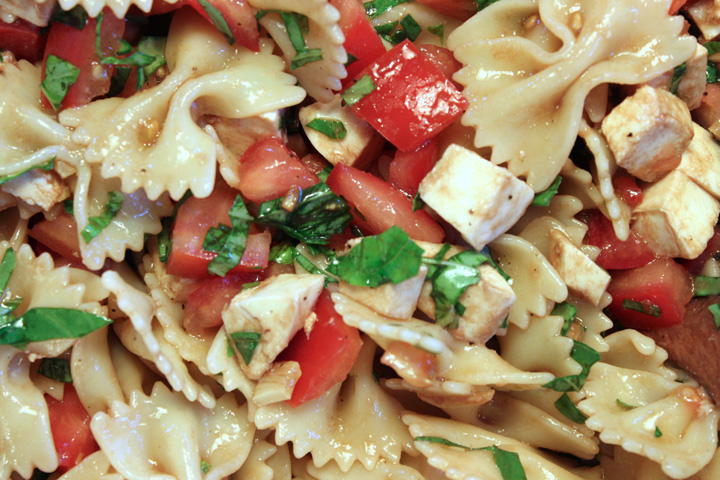 Also, figured I'd throw in my 23 week pic, although I'm at 25 weeks now ;) Getting bigger every day…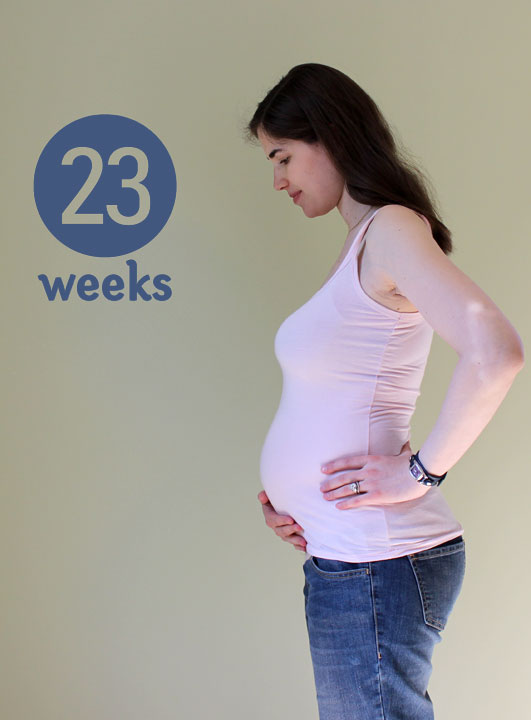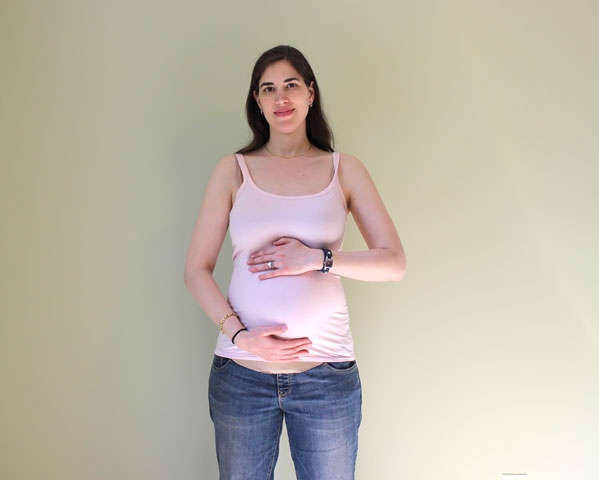 Happy Memorial Day everyone!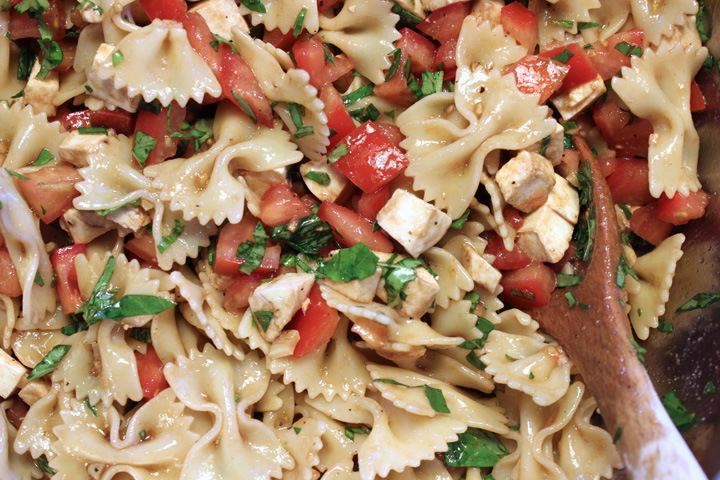 Caprese Pasta Salad
2014-05-25 09:29:04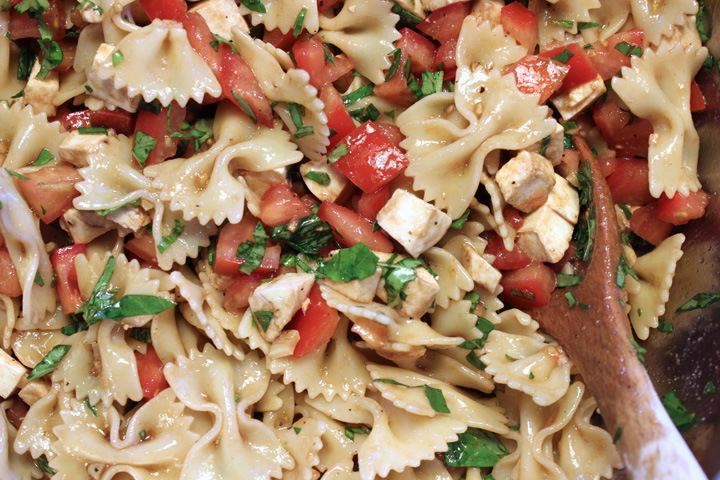 Serves 6
A quick and easy pasta salad, full of the flavors of summer!
Ingredients
1 lb farfalle pasta, dried (or any shape you prefer)
1/3 cup extra virgin olive oil
1/3 cup balsamic vinegar
3-4 cloves garlic, minced plus 1-2 Tbsp olive oil
5-6 medium tomatoes (this really depends how much tomato you like), diced with half of the juives removed
2 handfuls fresh basil, chopped
16 oz. fresh mozzarella, diced
1 tsp salt (plus more to taste) and pepper
Instructions
Cook pasta according to directions until al dente. Drain and rinse with cold water, then put in large bowl. Put empty pot back on stove top.
In a small bowl, mix vinegar and oil plus salt and pepper.
In the empty pot, add a couple Tablespoons of olive oil and add garlic. Saute a min until fragrant and lightly brown. Remove immediately and add to olive oil mixture.
Add chopped tomatoes, basil and mozzarella to bowl of pasta.
Add in oil/vinegar mixture and toss well.
http://elephanteats.com/