Well, yesterday Nate ran the NYC marathon. It was his 7th marathon overall and his 4th time running New York. A lot was riding on this marathon after the 2012 Boston marathon heat wave, and the fact that Sandy caused last year's NY marathon to be cancelled.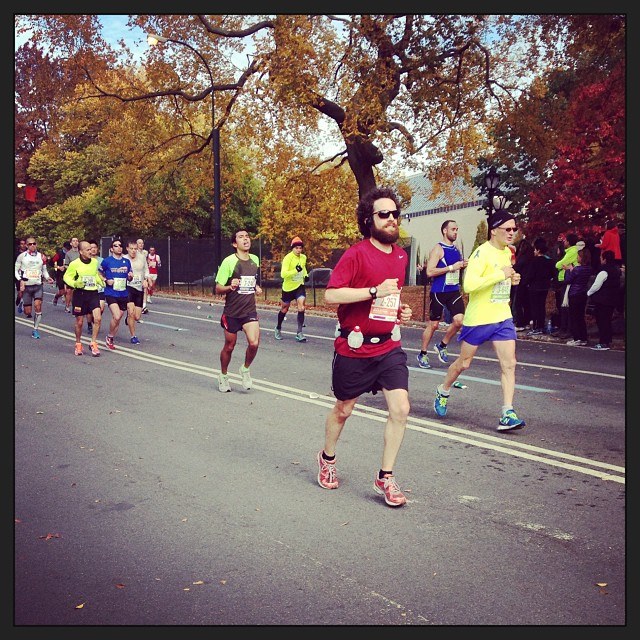 Nate had a goal to finish under 3 hours since his last marathon he ran in 3:03. The temperatures were perfect this year but it was VERY windy. To give you an example, this year's male winner, Geoffrey Mutai, finished in 2:08:24 which was well off his course record of 2:05:06 set in nearly perfect conditions two years ago. 3 minutes to an elite runner is huge. Nate ended up finishing in 3:24:21, which he wasn't completely happy with, but it's still an amazing time! I'm so proud of my hubby :)
On to the recipe…since the last recipe I gave you guys was a healthy one, I figured I'd include a very unhealthy one to go with it. I mean, you're probably having sugar withdrawal since your halloween binge, so this should help with that.
These brownies were another Nate-inspired recipe. You see, we've been stopping by our new house a bunch since we closed on it back in August, and there's a deli nearby that has the most amazing peanut butter-frosted brownies. The brownie itself is really moist and delicious, but what takes it over the top is this really thick layer of peanut butter frosting- the really sweet kind. That frosting must be like 1/2 inch to an inch thick!
So I set out to recreate the brownies for Nate since I know he loves them so much. Plus, it will probably save us money in the long run since I could see Nate stopping by the deli a little too often to grab a brownie once we finally live nearby ;)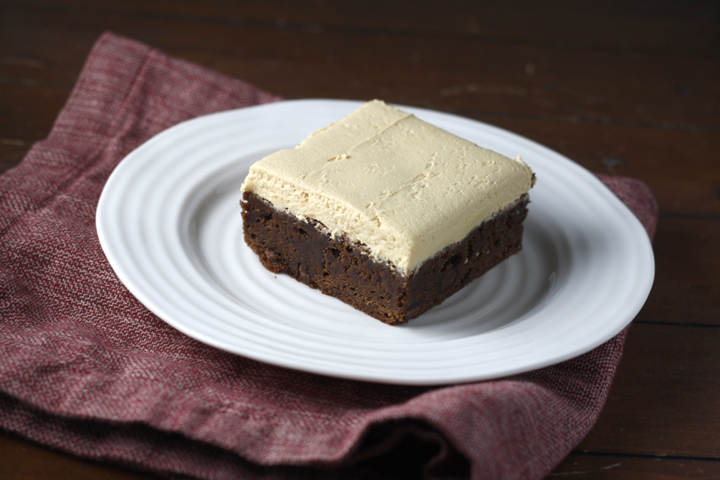 And for those of you that have been wanting to know about how our house stuff is going, we officially got the permits on Thursday! The contractor bids were also due on Thursday and on Tuesday I will be going over everything with the architect so I can make a decision as to which contractor we will hire.
I think that once I narrow it down to two people, I should probably meet with them to really get a feel for whether I could work with them. I'll share our finalized house renovation plans with you guys soon! Hopefully demolition can start in the next 2 weeks!!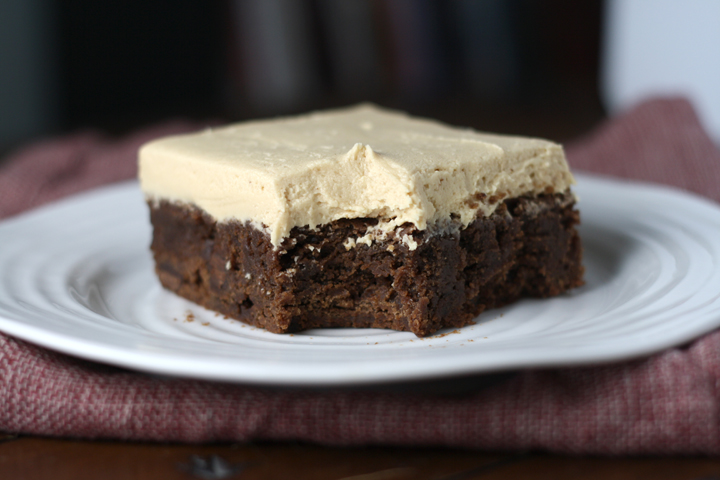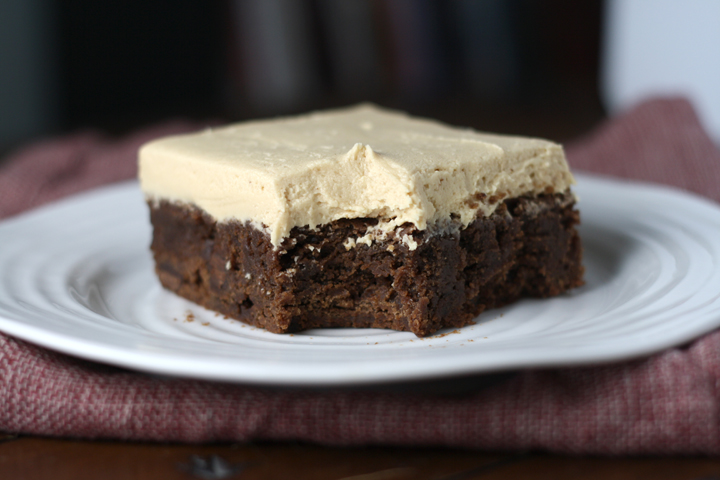 Thick Peanut Butter Frosted Brownies
2013-10-18 16:55:25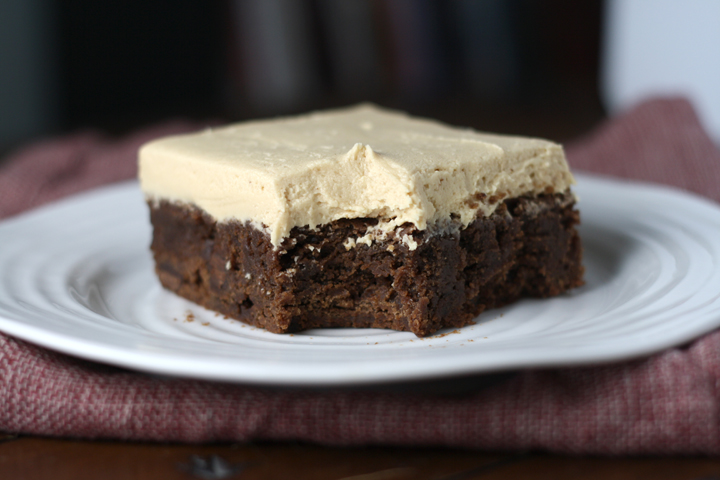 Brownies
2 sticks unsalted butter, chopped into small pieces
6 oz. dark chocolate, chopped
1 cup granulated sugar
1 cup brown sugar, packed
4 large eggs
2 tsp vanilla extract
3/4 cup semisweet chocolate chips
1.5 cups flour
2 tsp baking powder
1/2 tsp salt
Frosting
6 Tbsp shortening (i.e. Crisco)
2 Tbsp unsalted butter, room temp
3/4 cup creamy peanut butter (like Jif or Skippy, not "natural" pb)
2 cups confectioners sugar
1 tsp vanilla extract
2 Tbsp water
Brownies
Preheat the oven to 350. Line a 9x13 pan with foil, letting the excess hang over the edges. Lightly grease foil and set aside.
In a medium, microwave-safe bowl, combine the chocolate and butter for the brownies. Microwave in 1 minute increments at 50% power, stirring in between, until the chocolate and butter are melted and smooth.
Whisk in the granulated sugar and brown sugars. Whisk in the eggs and the vanilla. Add the flour, baking powder and salt. Fold the dry ingredients into the chocolate mixture with a spatula until combined. Stir in the chocolate chips.
Pour the batter into the pan and bake for 30 minutes, until a thin knife or toothpick inserted in the center comes out clean or with a few moist crumbs. Remove brownies from the oven and allow them to cool completely.
Once brownies are fully cooled, spread frosting (directions below) evenly over brownies. Remove from pan using foil "handles" and cut into pieces.
Store brownies in airtight container or tightly wrapped at room temperature or in fridge for 3-5 days.
Frosting
Using an electric stand or hand mixer, combine butter and shortening. Add peanut butter and combine til fully incorporated. Slowly add confectioners sugar and vanilla. Add enough water (about 2 Tbsp) to get to a fluffy, moist consistency.
Notes
These could probably last longer than 3-5 days in the fridge, but I personally love them room temp.
Adapted from (Brownies, not frosting) Annie's Eats
http://elephanteats.com/