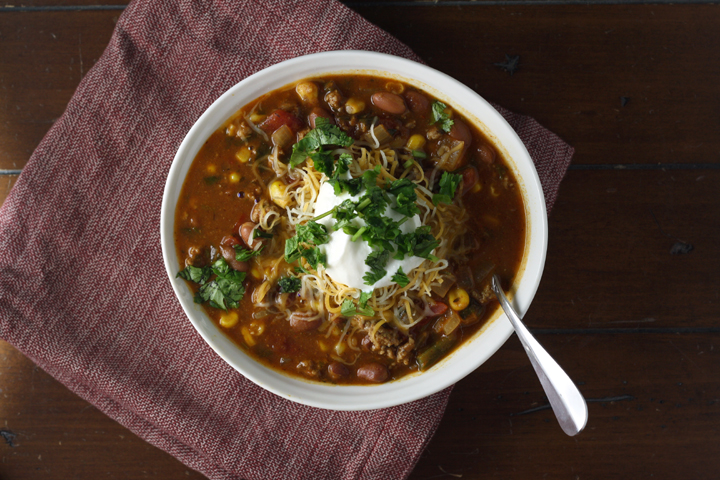 While you're reading this post, I'm currently in Italy, most likely ODing on pasta and gelato ;)
You see, I kind of conned my way into being included in my parent's Italian vacation (thanks mom and dad!). Unfortunately, Nate wasn't able to join because he doesn't get as many vacation days as me :(
Being the awesome wife that I am, though, I wanted to make sure that my hubby was well-fed while I was away. Since he is ok with leftovers, and his mom was going to be in town to take him out for a few meals, I figured that I would cook two big meals and freeze it so he had enough for the 6 dinners he'd need.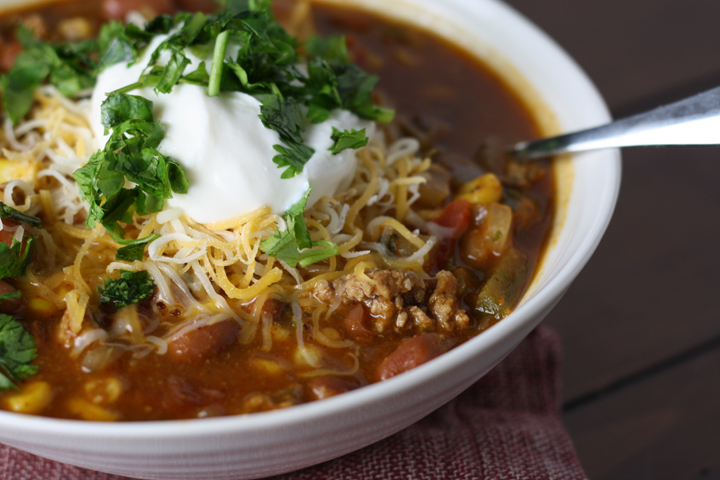 Not all meals freeze and reheat well, but chili happens to be great for that. I made a HUGE batch that we ate for dinner one night before I left, and then froze two giant tupperwares full. Each one of these holds about 3 meals worth, so he'll use one while I'm gone and the other can be taken out another time when I'm just not in the mood to cook. It's always good to have a few frozen meals laying around for convenience!
I also baked up my favorite Trader Joe's cornbread to go along with it. I used the butter-flavored olive oil sample that I got, and it definitely took it to another level! Also, I added pumpkin to the chili purely because I made pumpkin bread and had a little less than a can leftover in my fridge. You could make this chili without the pumpkin but you'll need less liquid.
And while I'm talking about favorites/Trader Joe's/freezing things, I used some Dorot garlic in this recipe. I had seen some of their products in Trader Joes before and used them, but when Natalie posted about them on her blog and I commented, Dorot reached out to me and sent me some coupons!
What makes Dorot products amazing is that you can have garlic, ginger and fresh herbs on hand all the time! They're basically little frozen cubes made entirely out of these fresh things. When you want to use them, you pop one or two of the little cubes out of the freezer tray they come in, and into your pan! They don't stick to the container at all and literally pop right out. They're SO convenient. Dorot makes crushed garlic, crushed ginger, chopped chile, sauteed glazed onions,chopped basil, cilantro, parsley and dill…AMAZING, i know!
I especially love the garlic ones because i hate stinky garlic fingers (and just generally detest mincing garlic). Do you ever notice that like 2 days after chopping garlic, you get a whiff of something funky and it's your garlic fingers? It's especially disconcerting/confusing when you're eating your oatmeal in the morning. And I love the chopped ginger and basil because let's face it, when you buy either of those fresh, you never use it all and end up wasting the rest.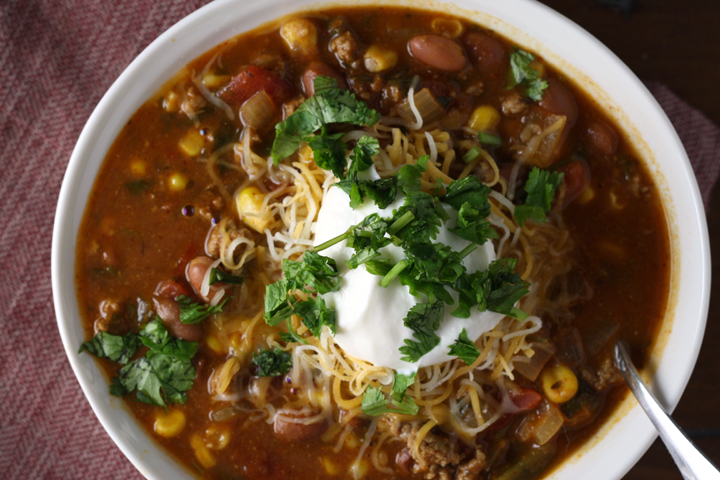 Apparently Dorot also has frozen cubes of sauces too!…but sadly no supermarkets near me carry them :( I wish it wasn't the case.
But back to the chili! I find that the best way to eat this after having frozen it is to take it out of the freezer and put it in the fridge the night before you want to eat it. Giving it 24 hours to partially defrost in the fridge makes reheating it much easier. Once defrosted, youcan either microwave it or put it in a pot and heat it over the stove.
Hopefully Nate is doing ok on his own. At least I know his belly is full, and someone is home to take good care of our kitty!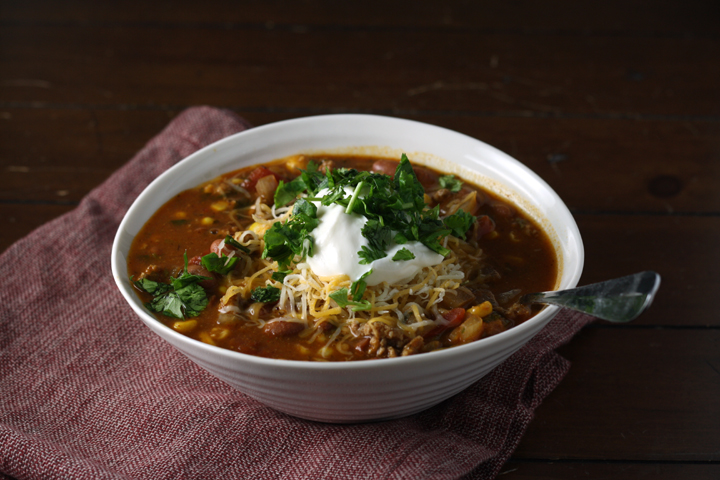 *Note that I was compensated for these products but all opinions are my own. I would never post about a product that I didn't love and plan to use again!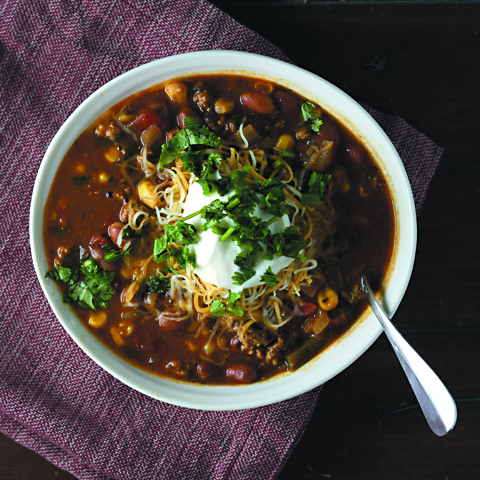 Turkey, Pumpkin and Veggie Chili for a Crowd
2013-09-20 19:30:23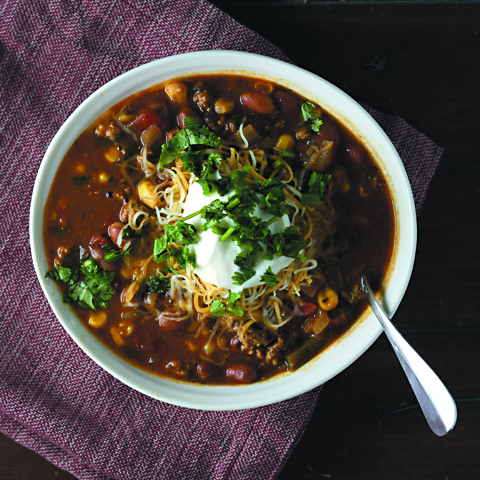 Serves 8
A steaming bowl of healthy chili that can be on the table in under 30 minutes!
Ingredients
2 Tbsp olive oil, divided
1 large yellow onion, chopped
1 green pepper, diced
1 red pepper, diced
2 lbs lean ground turkey
1 packet taco seasoning
4 Tbsp tomato paste
1 cup pureed pumpkin (a little less than 1 small can, but a whole can is fine too)
2.5 Tbsp chili powder
3 tsp ground cumin
10 oz. frozen corn
1 Tbsp dried oregano
1 19-oz can beans (any type), rinsed and drained
28 oz. can diced tomatoes, undrained
2 14-oz cans chicken broth
salt, pepper, and tabasco to taste
1 bunch cilantro, chopped
shredded cheddar cheese and sour cream for garnish (optional)
Instructions
Heat 1 Tbsp oil in a large soup pot over med-hi heat. Add ground turkey and stir, breaking it up for a couple minutes. Add taco seasoning and continue to heat until cooked through. Remove turkey with a slotted spoon to a bowl and set aside
Add remaining Tbsp of oil and cook onion and peppers until they start to soften. Add garlic and cook another minute.
Add tomato paste and pumpkin. Stir well. Add chili powder and next 6 ingredients (thru broth) and stir. Bring to a boil, then reduce heat and simmer for 20 minutes. Stir in cilantro and add salt/pepper/tabasco to taste.
Ladle into bowls and top with cheese and sour cream!
Adapted from Cooking Light
http://elephanteats.com/