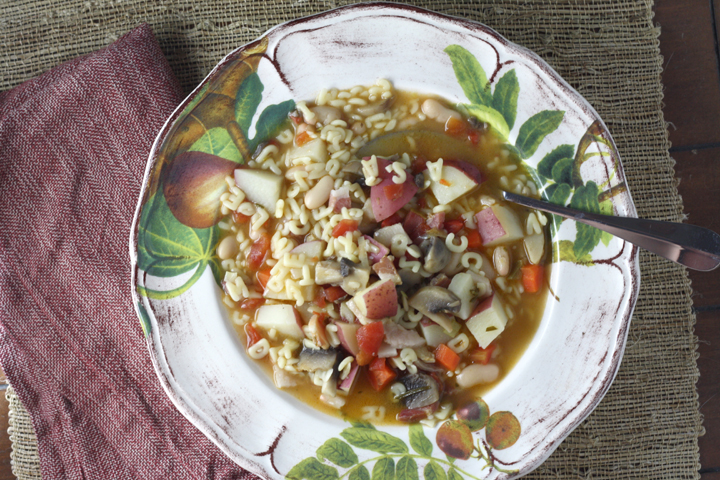 The other day got a little chilly out (FINALLY!!!) and on top of that, my office was freezing. All I could think about all day long was making soup for dinner.
I scrolled through my Pinterest soup board, which sadly doesn't have very many options yet, and settled upon a pasta soup. I added some white beans to give it protein and mushrooms…just because I can't NOT add mushrooms to a recipe :)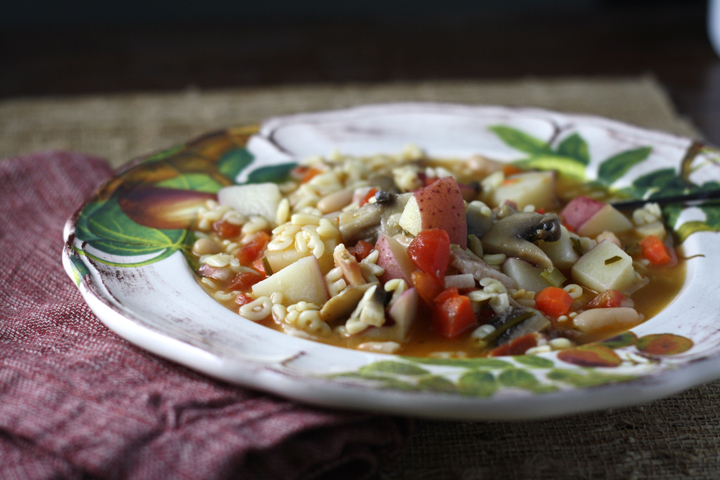 I recommend with any pasta soup that you only add the pasta to the amount you know you're going to eat. Otherwise, when you go to get your leftovers, the pasta will have absorbed pretty much all of the remaining liquid. You can just add water usually, but it's easy enough to just bring your leftover soup to a boil and cook up some new pasta in it.
I didn't heed my own advice, so the next day when we went to eat leftovers, I added water to my portion but for Nate's I just heated it up as-is. It was more of a pasta dish that way, which he much prefers to soup.
I'm sorry for all you vegetarians (or non pork-eaters) out there, but the pancetta absolutely makes this soup. It adds so much flavor and makes it smell amazing. You could leave it out but it definitely will be a different soup altogether.
I also highly advise you to use alphabet noodles :)
I recommend that the next day that there's a chill in the air, you whip up a batch of this delicious soup! Serve it alongside some crusty buttered bread and you have yourself a perfect cold-weather dinner.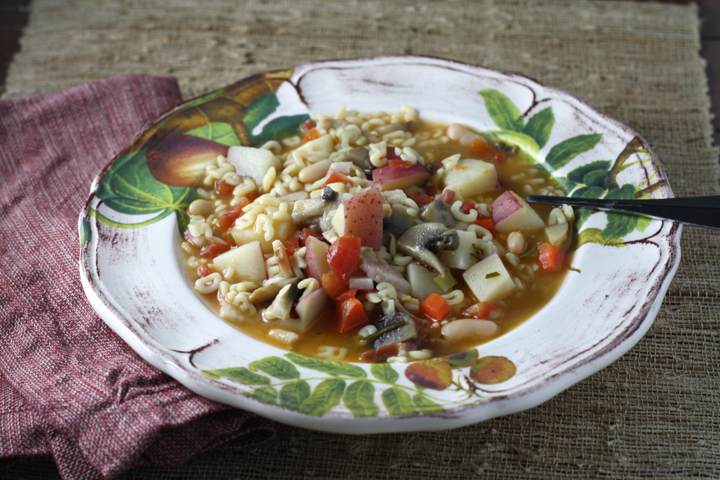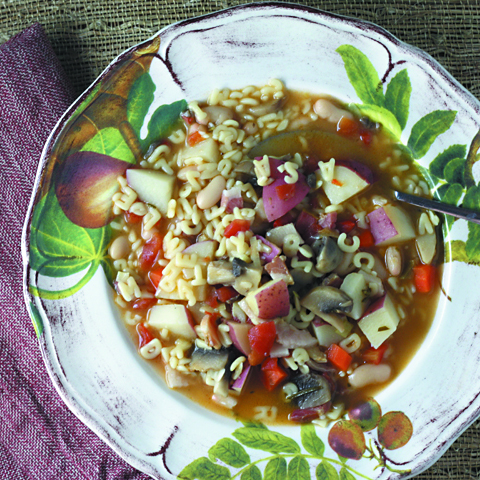 Pasta soup with Potatoes, Pancetta and Mushrooms
2013-09-10 18:59:50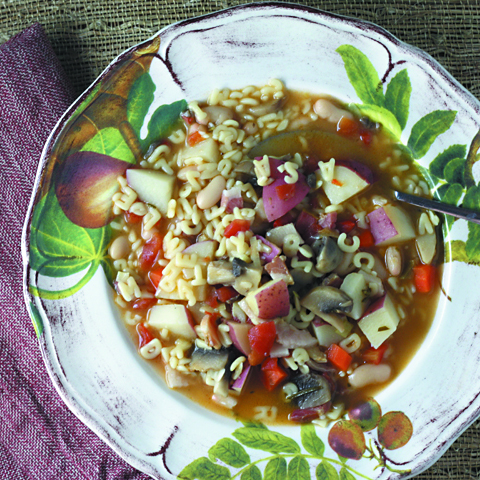 Serves 6
A chunky, broth-based soup perfect for a cold night!
Ingredients
2 Tbsp olive oil
1 large leek, washed and finely chopped
9 oz. pancetta, diced
1 large carrot, peeled and cut into 1/4-inch dice
8 oz. fresh mushrooms, coarsely chopped
4 medium red-skinned potatoes, chopped into 1/2" pieces
2 quarts (8 cups) vegetable stock (or substitute chicken, beef, or duck stock)
10 oz. can diced tomatoes
15 oz. can white beans, drained and rinsed
2 Tbsp fresh rosemary, chopped
Salt and freshly ground black pepper to taste
2 1/4 cups (9 ounces) farfalline or another soup pasta (or even spaghetti, broken into bits)
2/3 cup freshly grated Parmesan cheese
Instructions
In a large saucepan or soup pot over medium heat, heat the olive oil. Sauté the leek and pancetta for about 3 minutes.
Add the carrot, potato and mushroom and cook, stirring occasionally with a wooden spoon, for another 2 minutes.
Add in the stock, tomatoes, and rosemary, bring to a boil, and then lower the heat, and simmer gently, uncovered, for 20 minutes.
Season to taste with salt and pepper. Stir in the pasta and beans and continue to cook over low heat, uncovered, stirring every 2 minutes, until the pasta is al dente, about 7 minutes.
When the pasta is cooked to your liking, remove the pan from the heat and stir in the Parmesan cheese. Immediately ladle the soup into bowls. Or, ladle into bowls and sprinkle parmesan on top.
Notes
If you plan to eat this again the next day, only add noodles to the portion you are going to eat immediately. Otherwise, they will absorb all the liquid by the next day.
Adapted from Leite's Culinaria
http://elephanteats.com/