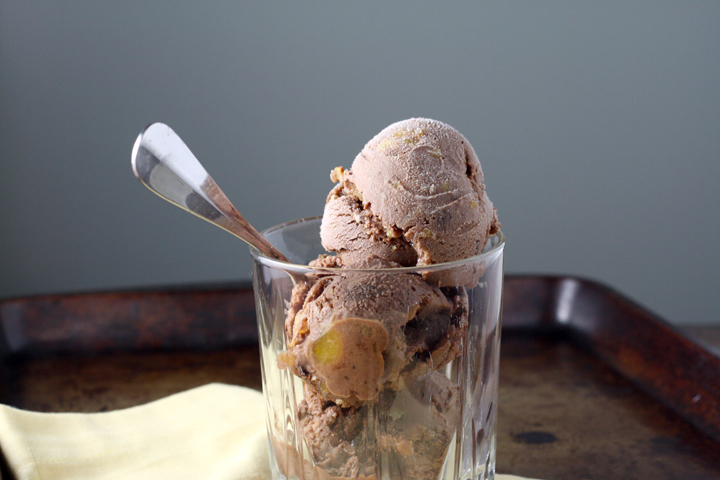 I think I mentioned this when I posted the Butterscotch Ice Cream recipe, but we got an ice cream machine as a wedding gift.
It has been both a blessing and a curse. On the one hand, it's been awesome to make homemade ice cream in all kinds of flavors. But then we have to eat all of this ice cream, and I imagine it's contributed to my gaining some weight. I think every bite of ice cream I've taken has been worth it though.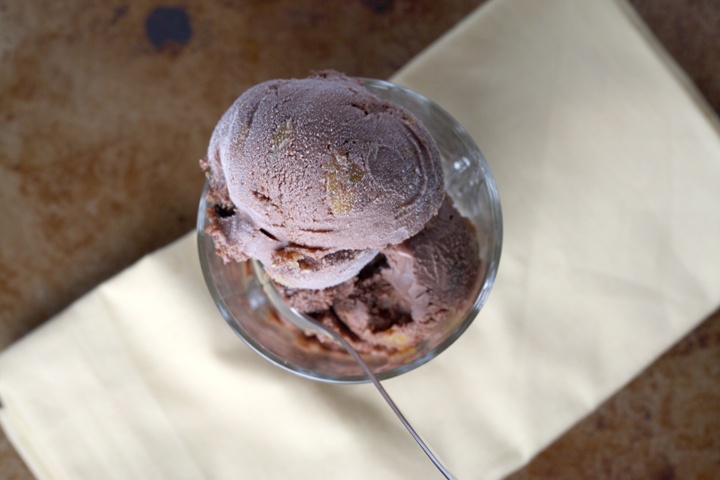 The best part of having the ice cream machine has been coming up with different flavors ideas. Up until this point I haven't experimented much because I figured I needed to just get the hang of making ice cream first. I wanted to understand the proportions of milk/cream/sugar, etc. I think I've got it down pat now, though!
I've had this idea swirling around in my head to make an ice cream version of one of the most delicious desserts ever- Apricot Chocolate Torte. If you haven't made this recipe before, you absolutely must. It's my family's go-to recipe for Passover because the original recipe contains so little flour that it easily converts with a flour substitute (for those who don't know, wheat flour is forbidden during Passover).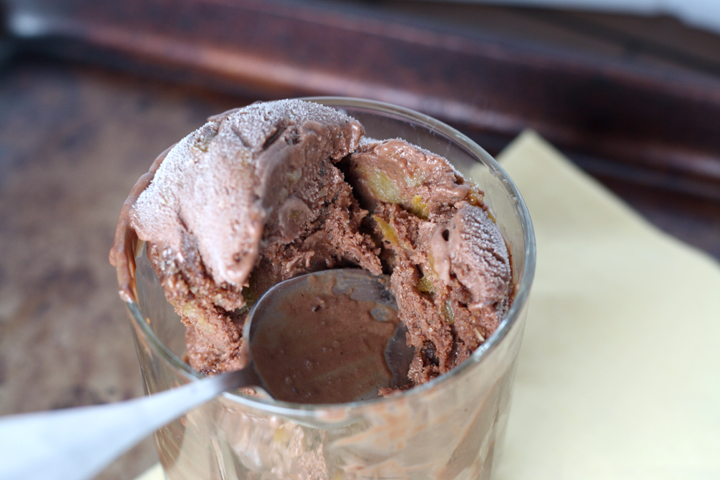 Anyway, I happen to love chocolate and fruit. Chocolate covered apricots are one of my favorite things- I even had them on our wedding dessert buffet! So for this ice cream, I imagined a rich chocolate ice cream base, with a fruity apricot swirl and chunks of the amazing crust from the torte.
The ice cream ended up being everything I imagined. Nate said it was really good but he'd rather not have chunks of fruit in his ice cream. Oh well, more for me ;)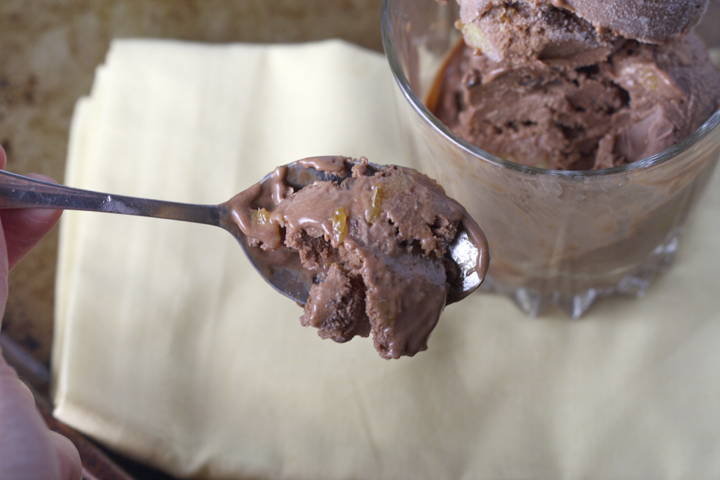 On another note, what do you guys think of this new recipe format? Better? Worse? I'd love the feedback.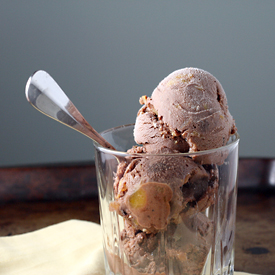 Apricot Chocolate Torte Ice Cream
2013-07-28 17:53:14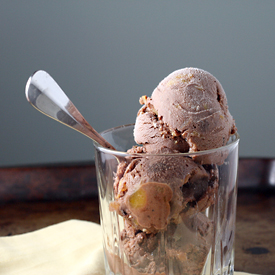 Rich chocolate ice cream with a chunky apricot swirl and bits of walnut chocolate crust.
Yields: about 1 quart
Chocolate Base
2 cups whole milk
1 cup sugar
1/3 cup unsweetened cocoa powder
pinch salt
3 Tbsp corn starch
1 cup heavy cream
3/4 cup semi-sweet chocolate chips
Apricot Swirl
6 oz. dried apricots, chopped
1/2 cup sugar
2/3 cup water
1.5 Tbsp flour
Juice of 1/2 lemon
"Crust"
3/4 oz. chocolate chips
1/2 cup whole walnuts
2 Tbsp old fashioned oats
pinch salt
1 Tbsp cold butter (i actually used oil in mine because I was afraid butter would be too hard when frozen, but the oil crust was too soft, so I think butter like the original crust it's based on would be better)
1 Tbsp cold water
2 Tbsp brown sugar
Chocolate Base
In a sauce pan over medium heat, stir together 1.5 cups whole milk, sugar, cocoa powder and salt. Heat until the milk start to steam, but before it starts to boil.
In a small bowl, stir together the remaining 1/2 cup of whole milk and the cornstarch. Stir until no lumps remain.
Add the cornstarch mixture to the heated milk and chocolate mixture and bring to a low boil. Boil until thickened. The mixture will look the consistency of chocolate pudding. Remove from flame.
In a small sauce pan, heat 1 cup of heavy cream. Once boiling, remove from heat and pour over the chocolate chips. Let sit for 1 minute, then stir the cream and chocolate mixture until incorporated.
Stir the cream and chocolate mixture into the cooling chocolate ice cream base. Place in a bowl, covered with plastic wrap or a lid, and put in the fridge until cool.
Apricot Swirl
Combine all ingredients in heavy saucepan. Bring slowly to a boil over medium heat. Reduce heat and simmer, stirring frequently and mashing any large pieces of apricot until mixture resembles thin jam, about 10-15 minutes. Cool to room temperature.
Chocolate "Crust"
Place chocolate in bowl of food processor and chop roughly. Add nut and chop coarsely. Add oats, sugar and salt then blend. Add butter and process to blend. Add water and pulse until mixture is crumbly. Keep in fridge til ready to use.
Assembly
Once base is cool, follow the manufacturers instructions on the ice cream maker to churn ice cream. Once the mixture has chilled and thickened in the ice cream maker, add the apricot swirl and crust in your favorite way- Some people prefer to layer ice cream and mix-ins in their freezer-safe container and swirl with a knife. Otherwise blend half of apricot into ice cream, then transfer the ice cream into a freezer safe container and fold in the remaining apricot and the crust crumbles.
Cover and freeze until solid.
http://elephanteats.com/