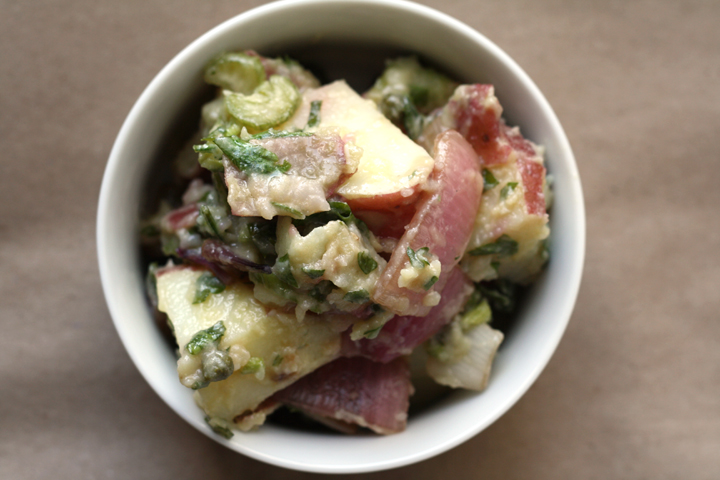 I was reading Cooking Light magazine the other day and there was a picture of this potato salad but not a whole recipe. It was a question and answer section and it kind of told you approximately what to do to make the salad. The picture, however, looked amazing.
Nate loves potatoes and has been begging me to make him a potato recipe for some time now, so I knew this was the one. We both love sour things so this recipe's vinegar, dijon mustard and capers were a perfect match for our taste buds. I just made the recipe up as I went, adding what I thought the photo showed.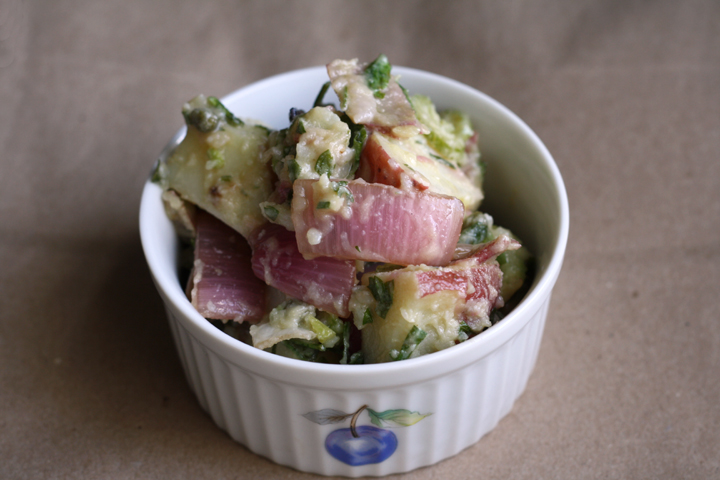 The recipe mentions an interesting technique for the dressing. By mashing up some of the potato and mixing it with the dressing ingredients, you get a creamy, highly seasoned dressed that coats the potatoes and really stays in place.
This dressing also, unfortunately, makes for a less than gorgeous appearance-hence the reason there are only two photos. But you'll have to trust me that it tastes THAT good.
Nate and I ate this alongside our dinner for several days, and we found that it only gets better as it sits, because the onions and potatoes really absorb all the dressing. We fought each other for the last serving.
I can't wait to make this again!
Mayo-free Potato Salad with Onions and Capers
adapted from Cooking Light
makes a lot (sorry, I have no way how to estimate this, but it filled my large mixing bowl, but prob 8 servings)
3 lb. bag red-skinned potatoes, washed and cut into bite-sized pieces.
1/4 cup white vinegar plus 2 Tbsp for boiling, divided
1 medium red onion, cut into quarters and then into 1/2 thick slices
2 Tbsp balsamic vinegar
3 celery stalks, thinly sliced
3 Tbsp capers
1/2 cup parsley, chopped
1/3-1/2 cup olive oil plus 1 Tbsp, divided
3 Tbsp dijon mustard
salt and pepper to taste.
Place the cut potatoes in a large pot and cover with cold water. Add a couple Tablespoons of white vinegar and 1/2 tsp salt. Bring to a boil, and cook for 5-10 minutes or until a fork can pierce them but they're not falling apart (I took a potato out, cut it and tasted it to really tell). Drain potatoes and rinse with cold water to cool them down and stop cooking.
While potatoes are cooking heat 1 Tbsp olive oil in a medium saute pan. When it gets hot, add the onion. Cook several minutes then add the balsamic. Continue cooking, stirring so balsamic doesn't burn, until onions are cooked but still hold their shape. Remove to a large bowl.
Take a heaping cup of cooked potato, put in a small bowl and mash well. Whisk in the olive oil, 1/4 cup vinegar and dijon mustard.
Add rest of the potatoes to the bowl with the onions. Add the celery, capers, parsley. Dump in the dressing and thoroughly combine. Serve at room temperature or cold. It's even better the next day after the flavors have really absorbed into the potatoes!