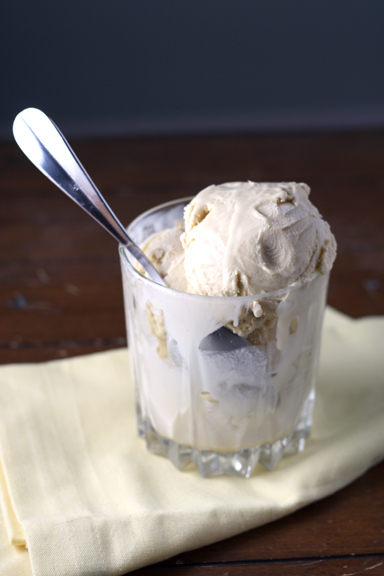 I don't know about what the weather is like in other parts of the country (or in other countries like some of my readers), but here in New York the last few days have been disgustingly hot. I really shouldn't even say that since I know it's only going to get worse as July and then, worst-of-all August, approach.
But the best thing about hot days is that you have an excuse to eat ice cream…for dinner. Or at least that's how I roll. Plus, it takes some of the guilt out of eating this full-fat deliciousness when you just make it your meal (and adding hot fudge doesn't count). I mean, ice cream has protein and fat so it will probably keep you full for an hour or two.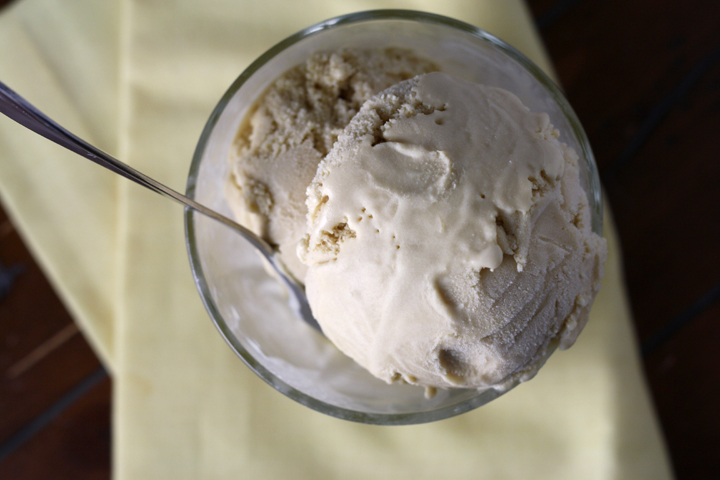 I based this off of Sunset Magazine's recipe (via SmittenKitchen) but altered the dairy products I used based on what I had already bought. I'm still learning the ins and outs of ice cream making so I haven't quite gotten down the ratios you need. I tried making ice cream with just whole milk and learned that you definitely need more fat in there.
My substitutions in this recipe, however, were absolutely perfect. In fact I think that if I had followed the original recipe exactly, it would have been waaaay too rich for me, since this already tasted richer than Haagan Daas.
The custard base for this is so so good. I couldn't stop sneaking spoonfuls before I got it into the fridge to chill out. It had this rich, buttery butterscotch flavor. Oh man.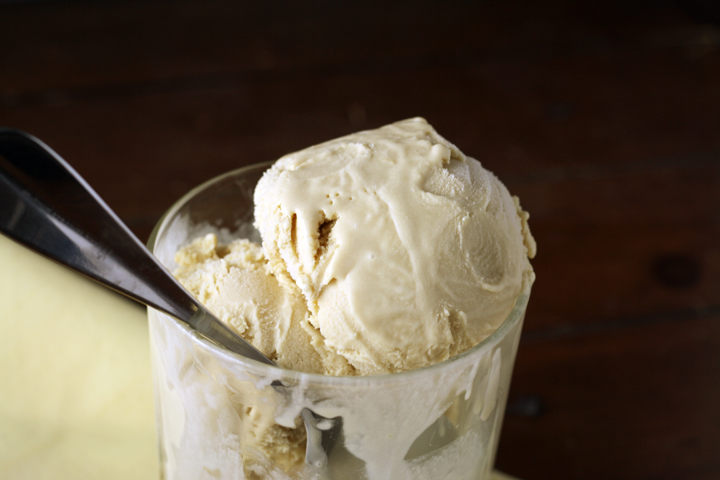 I was slightly disappointed that after being frozen, it tasted more like a very rich vanilla. If you close your eyes and really concentrate on the flavor, you can definitely get hints of the butterscotch, but it wasn't as pronounced as I would have liked. I think maybe I didn't cook the sugar/butter mixture long enough because I was so worried I was going to burn it. So make sure you cook it until it it's bubbly.
That being said, I would make this again regardless. Next time I might play around with some things I could add into it to make it extra special.
Now go put this on your dinner menu for tomorrow…i'm sure the kids won't mind a bit ;)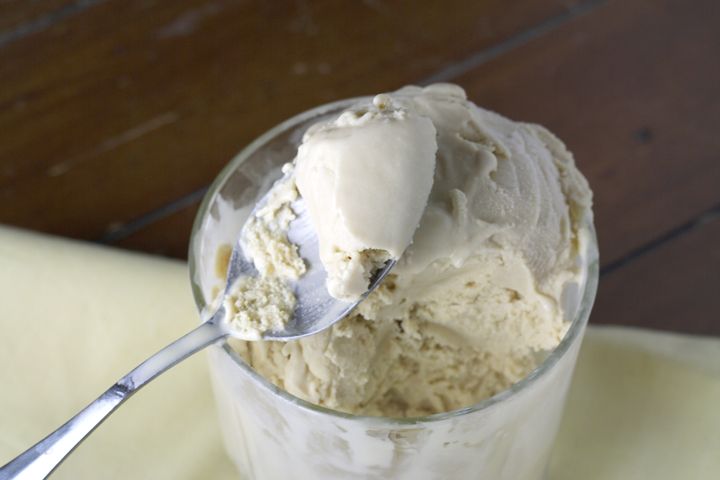 Butterscotch Ice Cream
adapted from Smitten Kitchen
Makes 1 quart
1 cup firmly packed brown sugar
2 Tbsp butter
1 Tbsp vanilla
2 tsp spiced rum (optional but recommended to keep the texture soft)
1 1/2 cups whole milk
2 cups heavy cream
6 large egg yolks
In a 1- to 2-quart pan over medium heat, stir brown sugar and butter until butter is melted, sugar is dissolved, and mixture is bubbly, 3 to 4 minutes. Whisk in 1/2 cup heavy cream until smooth; remove butterscotch mixture from heat. Add vanilla and rum, if using.
In a 3- to 4-quart pan over medium-high heat, combine remaining 1 1/2 cup heavy cream and the whole milk; bring to a simmer.
Meanwhile, in a bowl, beat egg yolks to blend. Whisk 1/2 cup of the warm cream mixture into egg yolks, then pour egg yolk mixture into pan with cream. Stir constantly over low heat just until mixture is slightly thickened, 2 to 4 minutes. Immediately remove from heat.
Pour through a fine strainer into a clean bowl and whisk in butterscotch mixture. Chill until cold, stirring occasionally, about 2 hours; or cover and chill up to 1 day.
Freeze mixture in an ice cream maker according to manufacturer's instructions. Serve softly frozen, or transfer ice cream to an airtight container and freeze until firm, at least 6 hours or up to 1 week.