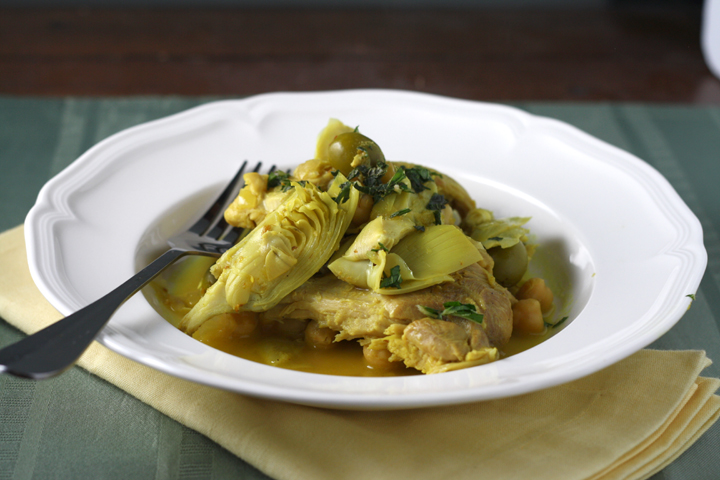 Whelp, I'm back. I know I disappeared for a bit, but so much has been going on.
This past weekend I saw a few of my childhood friends (you might remember them from my visit to Cleveland), and I got to give two of them, who happen to be married, a blanket I made for their second child who's due in June. It was my first time sewing a blanket, as opposed to crocheting, and it definitely came out a little crooked. I realize you can't tell unless you really stare at it though, so whatever.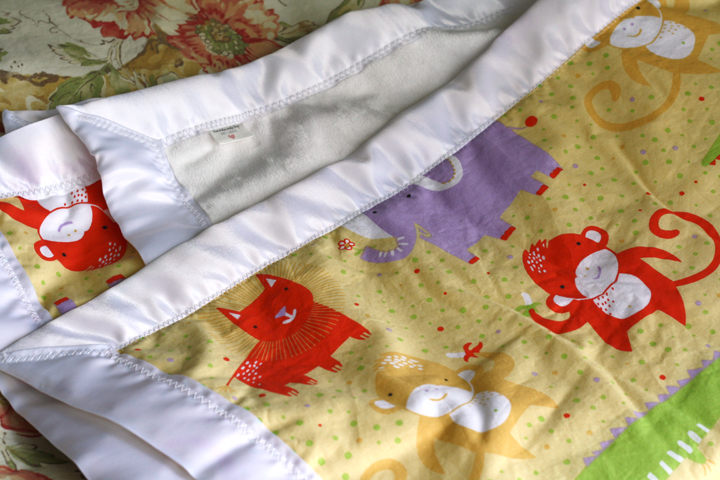 I order these little tags to sew into the lining. On one side it says "Handmade by Amy Carota <3" and on the back it has washing instructions. So cute, right?! The blanket is a white fleece on one side and just a cute fabric on the other, with a satin trim. I'm excited to try to make another one soon, so hopefully another of my friends will get preggo :)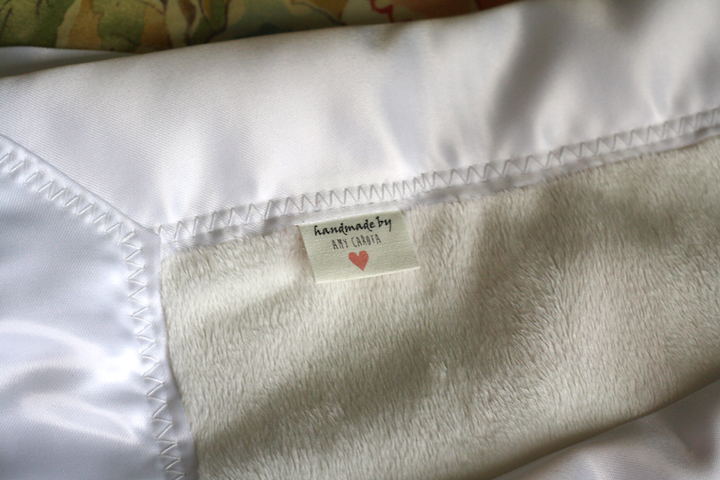 Today, I officially had my last day at work! I said my goodbyes to everyone, and they even got a Carvel ice cream cake for me. Yum :)
I spent Wednesday morning looking at a couple houses, because I could. It was the last time I could really take off part of a weekday, since I start my new job on Monday. Saturday I'm going to look at MORE houses (10 I believe). I think I must be setting a record with the amount of houses I've seen in the last 3 weeks. I definitely know the things I do and don't want, though, which makes it extra hard since I'm picky!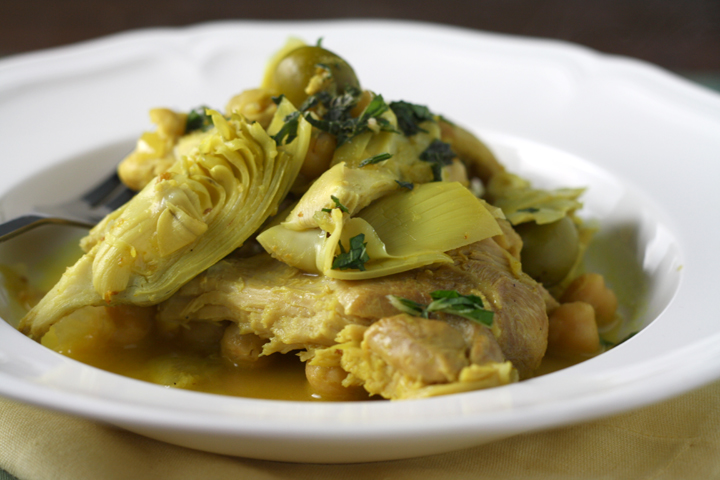 As you might imagine, I haven't had much time to cook, and thus to share yummy recipes with you. I did manage to make us this meal last night. It was something I pinned a few weeks ago and finally got around to making.
I loved the combination of flavors and ingredients. They definitely aren't ones I find myself eating often. It had the perfect balance of protein and veggies  (and carbs since I served it over brown rice). The spices are really delicious and unique.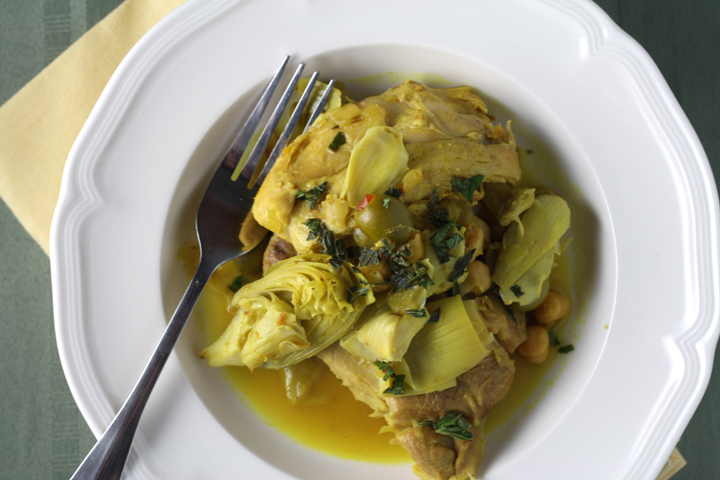 I made this after I got home from work, so unlike the Tomato Quiche, you could easily make this for a weeknight meal ;)
Hopefully I'll be back soon with a cookie recipe I baked up this week too!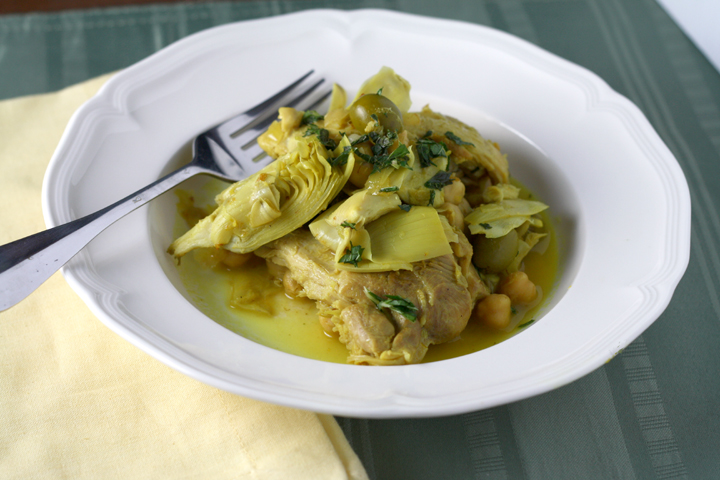 Braised Chicken with Artichokes and Olives
From The Longevity Kitchen via Epicurious
Serves 4-6
8 boneless, skinless chicken thighs- about 1.5 pounds (you MUST use thighs or they'll dry out)
salt
Freshly ground black pepper
3 tablespoons extra-virgin olive oil
1 yellow onion, diced
3 cloves garlic, thinly sliced
1 teaspoon turmeric
1/2 teaspoon ground cumin
1/2 teaspoon ground coriander
Generous pinch red pepper flakes
1 cinnamon stick, or 1/4 teaspoon ground cinnamon
1 bay leaf
2 cups chicken broth
2 teaspoons grated lemon zest
3 tablespoons freshly squeezed lemon juice
1 cup canned chickpeas, drained, rinsed, and mixed with a spritz of lemon juice and a pinch of salt
8 thawed frozen or jarred artichoke hearts (see note), quartered
1/2 cup pitted green olives, such as picholine or manzanilla (I used pimento stuffed ones because that's all I could find)
2 teaspoons lemon zest
2 tablespoons chopped fresh mint or cilantro (I used mint)
Pat the chicken dry and season salt and pepper. Heat the olive oil in a Dutch oven or heavy soup pot over medium-high heat. Add the chicken, working in batches if necessary, and cook until well browned on each side, about 3 minutes per side. Transfer to a plate.
Decrease the heat to medium. Add the onion and a pinch of salt and sauté until soft and slightly golden, about 5 minutes. Add the garlic and sauté for 1 minute. Add the turmeric, cumin, coriander, red pepper flakes, cinnamon stick, and bay leaf and cook, stirring constantly, until fragrant, about 1 minute.
Pour in 1/4 cup of the broth to deglaze the pot, stirring to loosen any bits stuck to the pot. Stir in a pinch of salt and cook until the liquid is reduced by half. Stir in the remaining 1 3/4 cups of broth, the lemon zest, and 2 tablespoons of the lemon juice. Decrease the heat to medium-low, cover, and simmer for 15 minutes.
Add the chicken, chickpeas, artichoke hearts, and olives and stir gently to combine. Increase the heat to medium-high and simmer uncovered, stirring occasionally, until the chicken is heated through, about 5 minutes. Stir in the remaining tablespoon of lemon juice. Taste; you may want to add another squeeze of lemon juice or pinch of salt.
Garnish with the mint.
Note:
The artichokes hearts can be fresh, frozen and thawed, or packed in water in a jar. Whichever type you use, rinse them well. If using fresh artichoke hearts, add them right after adding the garlic.
Variation: This dish would work well using a firm white fish, such as 1 pound halibut, cut into 4 ounces pieces, in place of the chicken. Begin the recipe by sautéing the onion. Proceed as directed, but substitute vegetable broth, homemade or store-bought, for the chicken broth. Add the fish during the last 5 minutes of cooking.