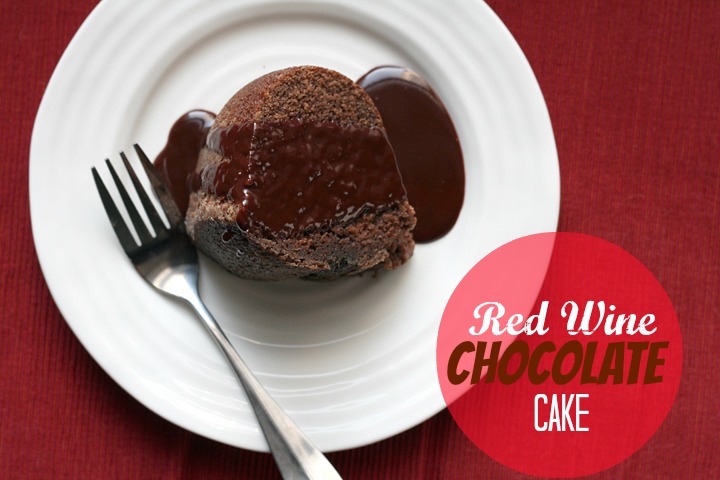 More WINE!!!
Haha, hopefully you're not sick of red wine recipes yet, because I have one more for you.
As you know I had a bottle of red wine I opened for a recipe that seems to have lasted forever, since i'm not a drinker. I knew at some point I'd make a red wine chocolate cake, but the recipes online weren't anything special.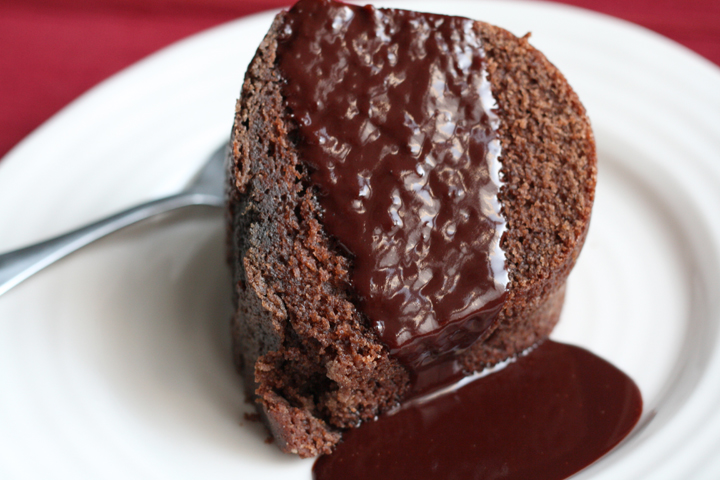 Then, I was scrolling through Shutterbean's recipes and came across this amazing-looking chocolate bundt cake. It happened to call for a liquid, water, which I figured I could easily substitute for some wine! I also replaced some of the heavy cream in the glaze with wine…and greek yogurt for the sour cream because that's all I had. Sometimes you just have to work with what you have!
So the moral of this story is, always use wine when a recipe calls for water ;) Jk. Although its really not a bad rule to follow.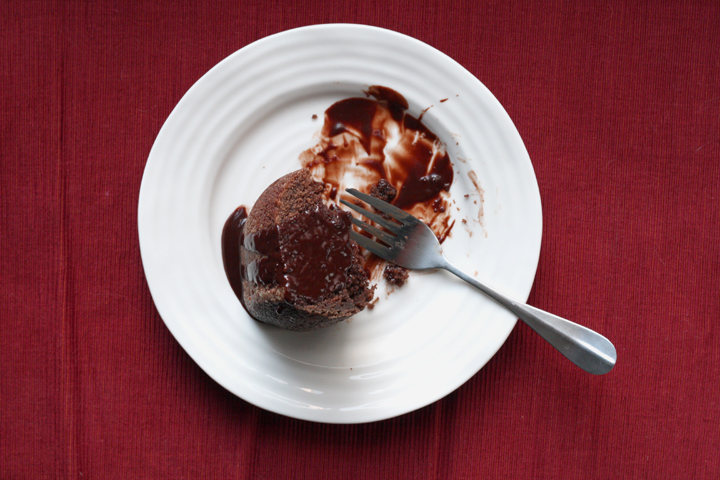 I was anxious to take a pic and eat this, so I didn't give the glaze a chance to thicken to a good consistency. If you want to have it oozing down the sides of the cake, you should put it in the fridge for at least 30 minutes. I didn't have time for that so I cut a slice and just poured the thinner version of the sauce over it…equally tasty but not as pretty.
Note that this cake definitely has a distinct wine taste, but I think that's what makes it so unique and tasty. The cake itself is moist but still a little crumbly and the glaze…well I ate that by the spoonful ;) The alcohol content in the cake bakes off, and the glaze only has 1/4 cup so I'm pretty sure it's fine to serve this to kids.
Whether you have some red wine sitting around, or you just want an excuse to open the bottle so you can drink the rest yourself, this recipe is for you!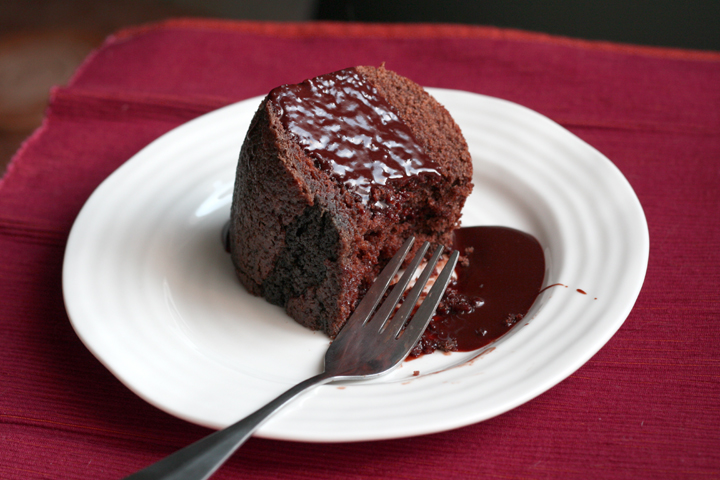 Red Wine Chocolate Cake
adapted from Bi Rite Market's Eat Good Food Cookbook via Shutterbean
Makes 1 bundt cake- serves 10
For the cake
1 cup (2 sticks) unsalted butter, plus more for the pan
1/3 cup cocoa powder
1 teaspoon salt
1 cup red wine
2 cups all-purpose flour, plus more for the pan
1 3/4 cups sugar
1 1/2 teaspoons baking soda
2 large eggs
1/2 cup greek yogurt (or sour cream)
1 teaspoon pure vanilla extract
For the glaze:
4 ounces semi-sweet chocolate, finely chopped
1 1/2 tablespoons corn syrup
1/4 cup red wine
1/4 cup heavy cream
1 1/2 tablespoons sugar
Make the cake:
Position a rack in the center of the oven and heat to 350 degrees. Butter and flour a 10- or 12-cup Bundt pan and set aside.
In a small saucepan, combine the butter, cocoa powder, salt, and wine and put over medium heat. Cook, stirring, just until melted and combined. Remove from the heat and set aside.
Put the flour, sugar, and baking soda in a large bowl and whisk to blend. Add half of the melted-butter mixture and whisk until completely blended (it will be very thick). Add the remaining butter mixture and whisk. Add the eggs one at a time, whisking each to blend completely before adding the next. Whisk in the yogurt and vanilla until smooth.
Pour the mixture into the prepared pan and bake until a toothpick inserted into the center of the cake comes out clean, 40 to 45 minutes.
Let the cake cool in the pan for 15 minutes and then invert onto a rack. Let cool completely before making the glaze.
Make the glaze:
Put the chopped chocolate and corn syrup in a medium bowl and set aside.
Combine the heavy cream, wine and sugar in a small saucepan and put over medium heat. Stir constantly until hot and the sugar is dissolved. Pour the hot cream over the chocolate and whisk until melted and smooth. Refrigerate for 30 min or until the glaze is thick enough to ooze down sides of the cake.