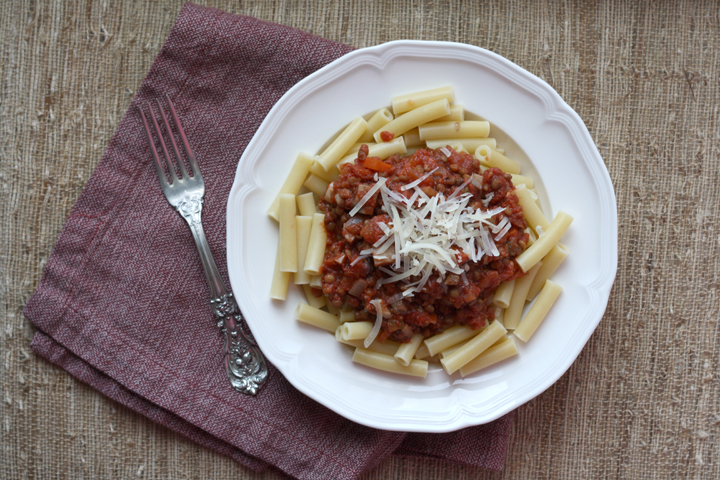 I'm not a vegetarian but I find that I cook more than 50% of our meals meatless. This is in part because the only animal protein Nate will tolerate is poultry. He'll eat seafood (though not shellfish), but it tends to be pretty pricey.
Anyway, I can only eat so much chicken and turkey, especially since I'm not particularly fond of either. Plus vegetarian meals are usually lower in fat and calories.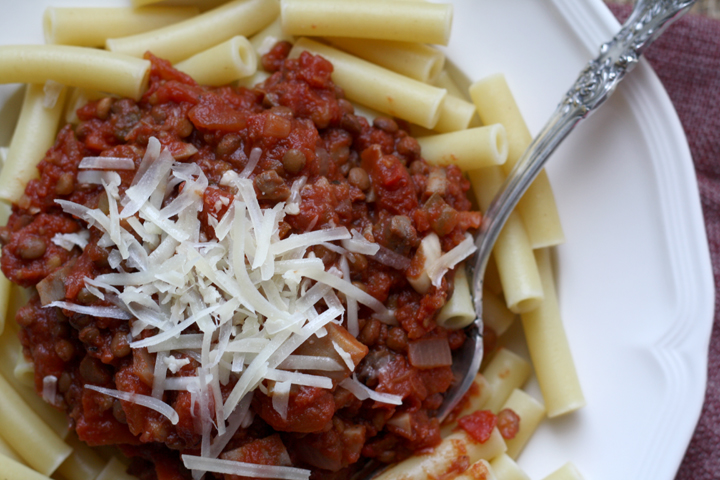 Who doesn't love a good Bolognese sauce? I make pasta sauce a lot for Nate and I usually use our go-to protein- Lean Italian Turkey Sausage. The sausage is raw and I squeeze it out of the casing and chop it up in the pan with a wooden spoon as it cooks. It adds tons of flavor and has much less calories than beef.
However after calculating the nutrition in the Smoked Cheddar Pot Pies that I made a couple weeks ago, I realized that turkey sausage, while healthier than ground beef, is still incredibly high in fat! I don't usually care about these things but I figured it just can't be healthy to eat as often as we were eating it.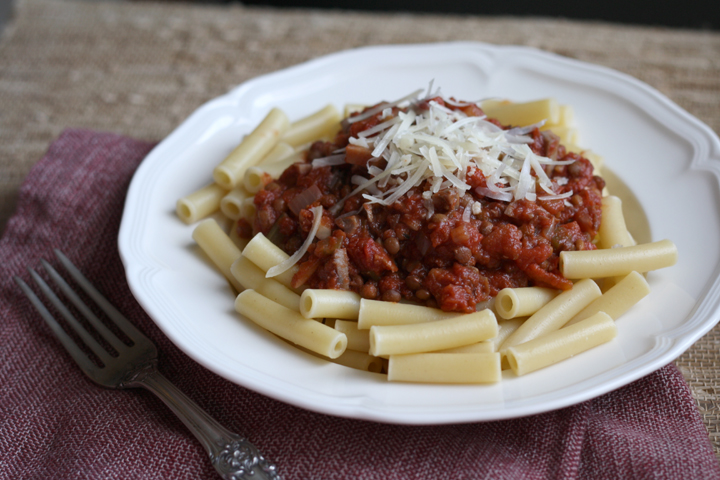 So I set out to make my usual pasta sauce completely vegetarian, without sacrificing the taste or texture. I thought about what I could add for heft, and I remembered that I had a pack of Trader Joe's precooked lentils in the fridge. I also decided to throw in some mushrooms to add a nice chew. I think next time I might even use some reconstituted dried mushrooms for more chewiness and depth of flavor.
I think this sauce easily rivals a traditional Bolognese and it's much lower in saturated fat and calories. The wine makes it feel indulgent. Enjoy it over a steaming bowl of pasta and a sprinkling of parmesan for a delicious, satisfying, well-rounded dinner!
This makes about 7 heaping cup servings at around 210 calories, 2g fat, and 10 grams of both protein and fiber per serving! I calculated the nutrition here.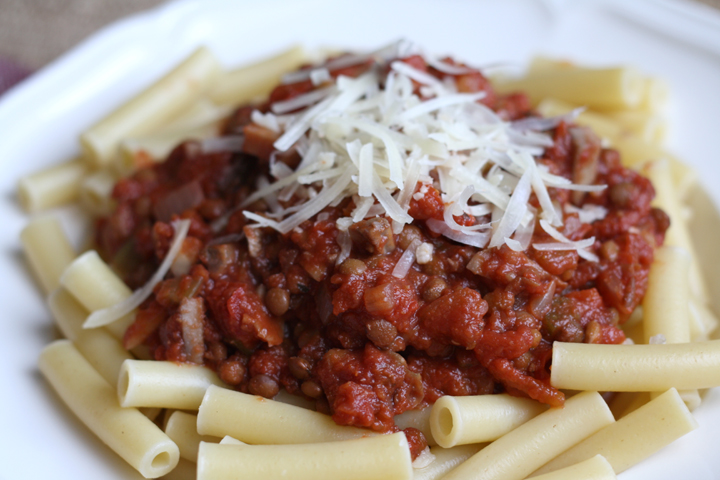 Lentil "Bolognese" Sauce
Makes about 7 cups
Ingredients:
1 Tbsp olive oil
1 medium yellow onion, diced
1 large carrot (or two small), diced
1 rib celery, diced
3 cloves garlic, minced
One 8-oz container mushrooms, chopped coarsely
1 lb cooked lentils (Trader Joes sells them in a vacuum sealed pack in the refrigerated section)
Two 28-oz cans crushed tomatoes
1/2 cup red wine
salt & pepper, garlic powder, italian seasoning
sugar to taste
Preparation:
Heat oil over medium high heat in a large, deep saucepan. Add onions, carrots and celery and cook until onions begin to soften.
Add garlic and cook for a minute. Add mushrooms and mix together. Cook for 5-10 minutes or until mushrooms begin to soften. Mixture may look dry but the mushrooms will begin to release moisture after a minute or two.
While mixture is cooking, warm lentils according to package directions. Add lentils to pan. Add tomatoes and wine and bring to a boil. Reduce head and simmer for 30 minutes, partially covered, stirring occasionally.
Season to taste with salt/pepper, garlic powder and italian seasoning. Add sugar to taste. This depends on the tomatoes. Sometimes they're very acidic and other times they aren't. Taste your sauce and see…if it seems to sour, add sugar starting with a Tablespoon or so.
Serve on pasta!