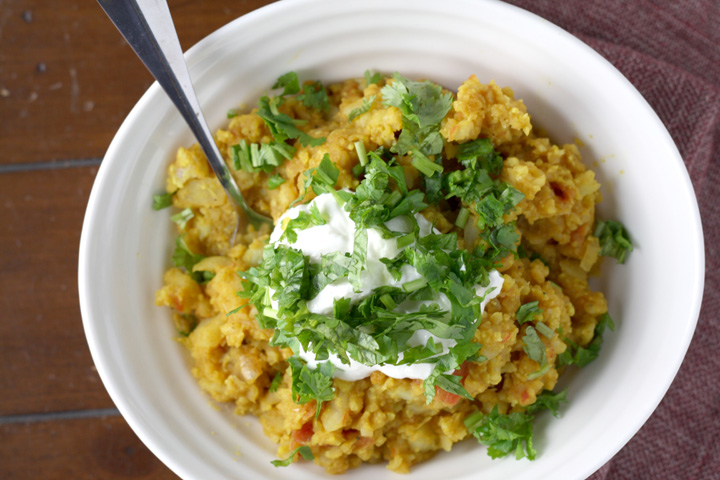 Sorry to barrage you all with cauliflower recipes, but as you know, I have a limited time period during which I can make them. I actually made this recipe once before but never got around to posting it. I'm kinda mad about that because I know I added something else last time that made it even tastier, but oh well. This was still really delicious.
In addition to my love of cauliflower, I have a love for Indian spiced dishes. Add a little Garam Masala and Tumeric, and I'm a happy girl.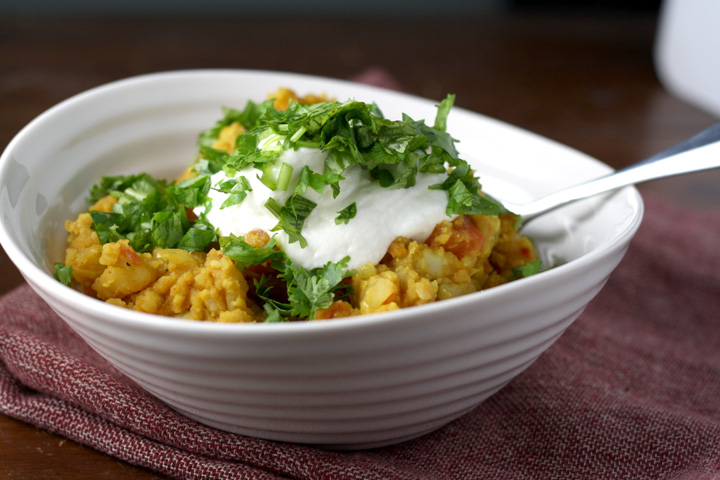 I had some leftover potatoes laying around and knew I wanted to make something with cauliflower, so this recipe came to mind. I had every intention of using a higher cauliflower to potato ratio, but alas the stupid NYC supermarket I went to only had the most tiny cauliflowers you have ever seen…and to make matters worse, they were $5.99 each! How absurd is that?! I would have just gotten two of them, but not at that price.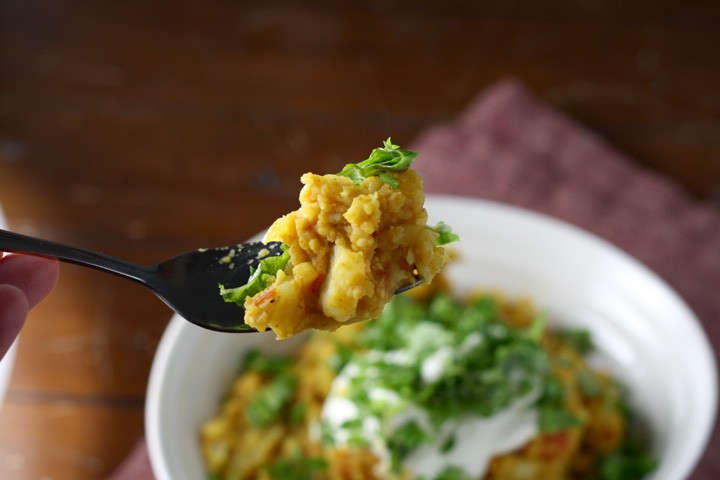 I also wanted to use up these potatoes I had laying around, so unfortunately there was more potato to cauliflower which, had I followed the original recipe, would have ended up being really dry. This was the main reason I edited the recipe. Also, I like things a little more moist and acidic, so I threw in some diced canned tomatoes and yogurt.
This dish was perfectly spicy and satisfying. Although i suppose you could eat it as a side dish, I put a hefty dallop of greek yogurt on top rounding out a great dinner for one.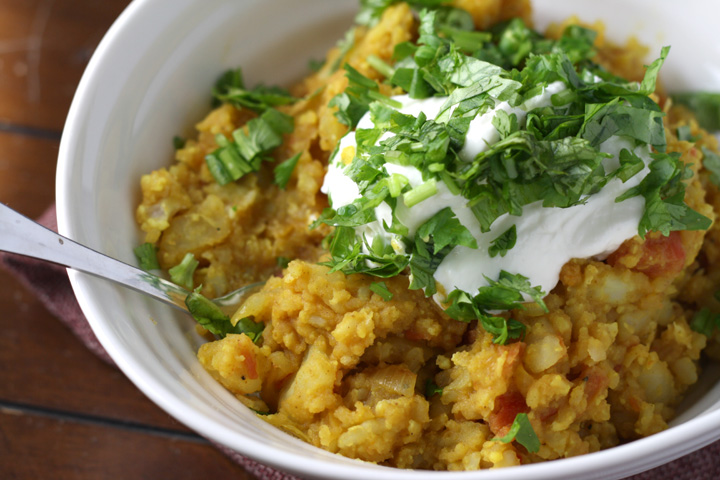 Indian-Spiced Cauliflower and Potatoes
adapted from Spicie Foodie
Serves 4-6
1 cauliflower head, cut into large florets
4 small potatoes, peeled and cut into large pieces
1 tbsp. vegetable oil
1 small onion, finely chopped
3 garlic cloves, minced
small piece of fresh ginger, ginger and finely chopped
1 tsp-1 Tbsp chile garlic sauce (depending on how spicy you like it)
11/2 tbsp. garam masala
1 tsp. ground turmeric
salt to taste
1- 14.5 oz can diced tomatoes
1/4 cup greek 2% yogurt, plus 1+ cup more for garnish
1/2 cup cilantro, chopped, plus more for garnish
Boil the cauliflower and potatoes until tender. Drain and set aside.
Heat the oil and cook the onion until soft and translucent. Add the ginger, garlic and chile sauce and saute for another 3 minutes.
Place the boiled cauliflower and potatoes into the pan. Add the spices to the pan. Use a potato masher and mash until the vegetables have broken up into a thick mash, leaving chunky. Stir well and cook for another 10 minutes.
Add tomatoes, 1/4 cup yogurt, 1/2 cup cilantro and salt to taste. Stir to combine all ingredients well, and cook another minute or two.
Serve with a large dallop of yogurt and a handful of chopped cilantro.