Well, I got my wedding photos back (you prob already got a sneak peek if you're my fb friend) and they're pretty much better than I ever imagined they'd be.
Jodi Miller Photography does SUCH an amazing job (you can see my engagement photos by her here). Not to mention, Jodi and her husband Kurt are the sweetest people you'll ever meet. They send all the clients they work with the most thoughtful and beautiful care packages and are just so great to work with. Anyway, you can click here to see the highlights of the wedding that they posted on their blog. There are SOOOO many more amazing pictures but I obviously can't post them all. She did a pretty good job summing up the important parts in her blog post…but I can share some more when I go into detail with my wedding craft projects sometime in the near future.
Also, if you missed it in my prior post, check out Nate's seriously amazing video he made for the wedding :)
I thought once the wedding was done that I'd have more time for blog posts…but now instead of wedding crafts and stressing over my dress, I'm busy with thank you note-writing, cleaning the apartment (which is a mess between honeymoon unpacking and tons of wedding gifts), and the usual other million to-dos.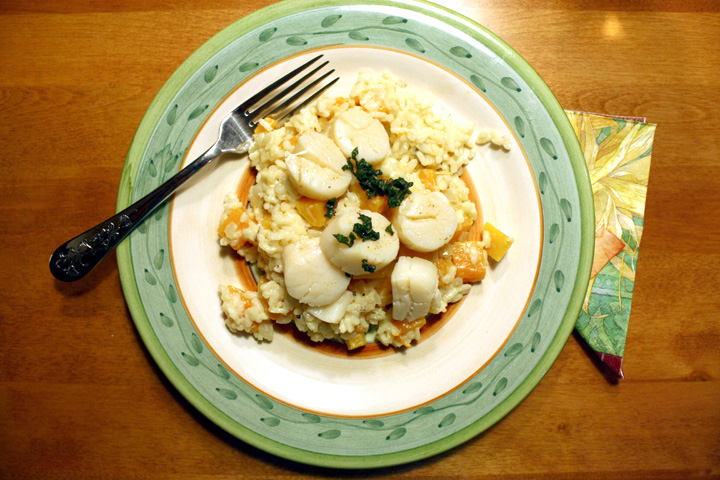 I do have a lot of recipes stored up though. Even though I haven't found the time for blog posting, I've still been doing a decent amount of cooking. I made this recipe when we went down to my mother-in-law's house. She always cooks dinner for us when we're there, but I was kind of in the mood to make something, so I found this recipe and it's definitely a winner. Hopefully you guys aren't too sick of pumpkin yet (actually i used butternut squash).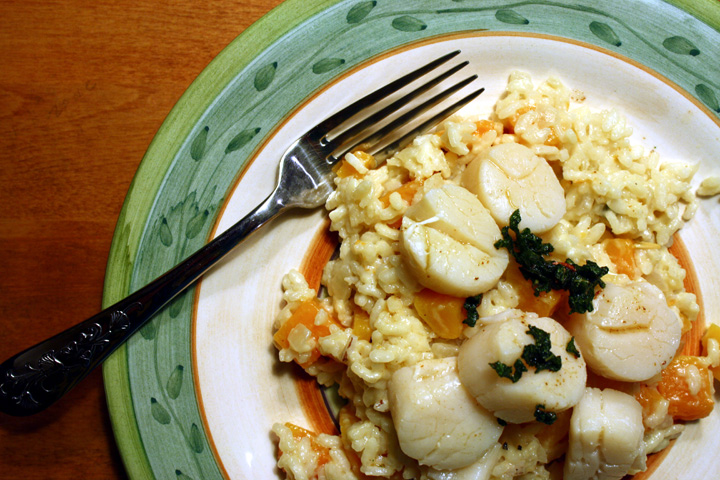 I know I'm late on the brown butter band-wagon, since it's been all over the food blogger world for months now, but the sage brown butter on this is amazing. It's nutty and rich. So rich that a small portion of this meal is seriously satisfying. In fact, I think I made myself sick eating it.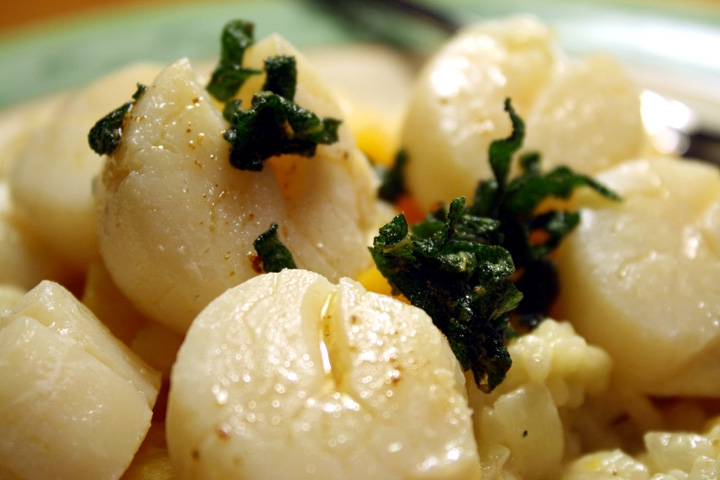 Pan-Seared Scallops with Pumpkin Risotto
Sightly adapted from Gourmet, October 2001
Serves 4
For risotto:
1 1/2 cups diced (1/4 inch) peeled seeded fresh pumpkin (preferably from sugar or cheese pumpkins) or butternut squash
3 cups chicken stock
1 cup white wine
1 small onion, finely chopped
1 tablespoon olive oil
3/4 cup Arborio rice
1 oz grated Parmigiano-Reggiano (1/3 cup)
1 tablespoon unsalted butter
For scallops:
20 large sea scallops (1 1/2 lb), tough muscle removed from side of each if necessary
1 1/2 tablespoons olive oil
3 tablespoons unsalted butter
2 tablespoons thinly sliced fresh sage
2 tablespoons white truffle oil (optional)
Cook diced pumpkin in a medium saucepan two-thirds full of simmering water until tender, 3-5 minutes. Drain in a colander.
Bring stock and wine to a simmer in a small saucepan and keep at a bare simmer. Cook onion in oil in a 2- to 2 1/2-quart heavy saucepan over moderate heat, stirring occasionally, until softened, about 3 minutes. Add rice and cook, stirring, 1 minute. Add 1 cup simmering stock and cook at a strong simmer, stirring constantly, until stock is absorbed. Continue simmering, adding stock 1/2 cup at a time, stirring constantly and letting each addition be absorbed before adding the next, until rice is tender and creamy-looking but still al dente, about 18 minutes total. (There may be broth left over.)
Remove from heat and stir in diced pumpkin, cheese, and butter, stirring until butter is melted. Season with salt and pepper and cover to keep warm.
Prepare scallops:
Pat scallops dry very well (especially if they were pre-frozen) and season with salt. Heat oil in a 12-inch nonstick skillet over moderately high heat until hot but not smoking, then sauté scallops, turning once, until golden brown, 4 to 6 minutes. If scallops are not cooked through, reduce heat to moderate and cook about 2 minutes more. Transfer to a bowl with a slotted spoon and discard any oil remaining in skillet (do not clean skillet).
Cook butter in same skillet over moderate heat until it foams and turns light brown. Add sage and cook, stirring, 1 minute. Remove from heat and stir in truffle oil if using. Season with salt.