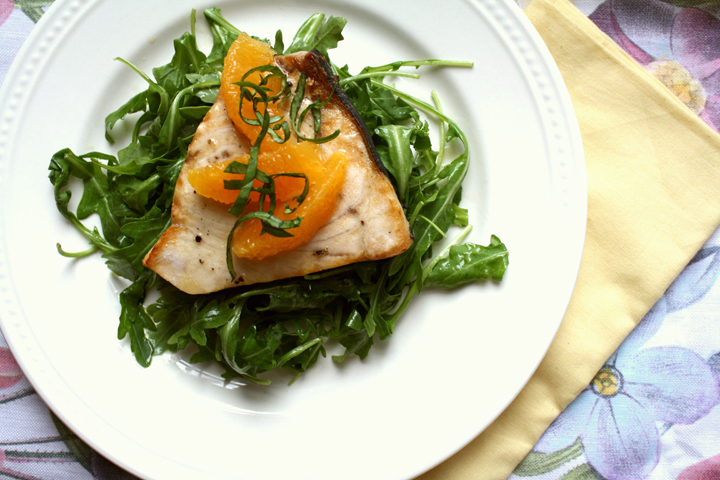 Nate and I were down in PA last weekend, where I was working on more wedding-day crafts. I made the signs for the back of our chairs and they turned out exactly how I wanted! I used some more of the old fence I had found that I used for the signs. I'm going to post a whole bunch of pics with tutorials after the wedding.
Speaking of which, I can't believe I'm getting married in 9 weeks. It's totally crazy. I think maybe it's starting to feel more real. I still have a bunch more stuff to do.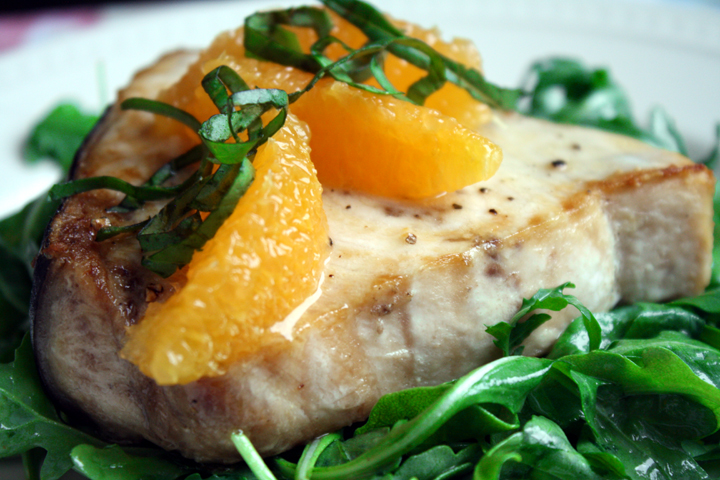 Nate and I are writing our own vows and I'm not sure I love what I have so far. I know Nate's going to totally steal the show on this…he's much funnier than I am. He claims that his vows are going to make our guests both laugh and cry. My goal is just to make Nate get a little teary-eyed since he claims he isn't going to.
Obviously with the wedding fast approaching, I've been trying to cook pretty healthy. In fact, I had my first dress fitting on Tuesday!!! Anyway, I think that Nate and I don't eat enough fish so when I saw some frozen swordfish filets at Trader Joes, I decided to get them. I've never cooked with Swordfish before. I think that I thought it was dry and that I didn't like it.
I learned that I actually don't mind Swordfish, although parts of it were a bit too fishy tasting. I also discovered that L.C. likes it…or at least she thinks she does judging by the way she photobombed my pics!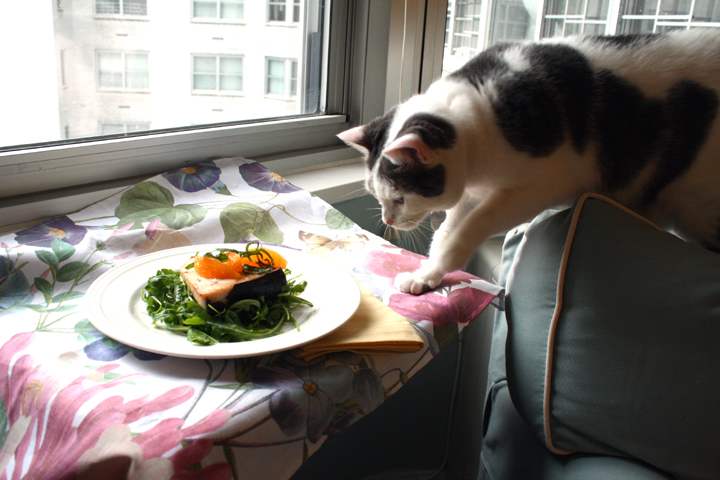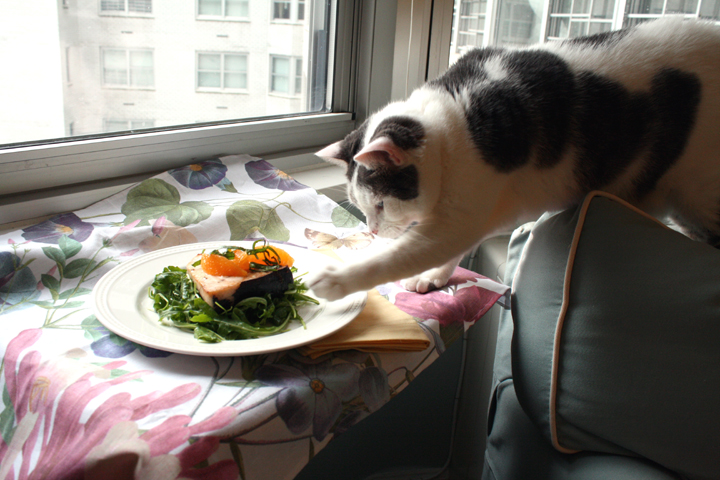 I tried to stop her but when she reaches out her little arm to try to grab things, it's just so cute that I can't yell at her. Nate says I'm not strict enough with her. But look at that little face!!!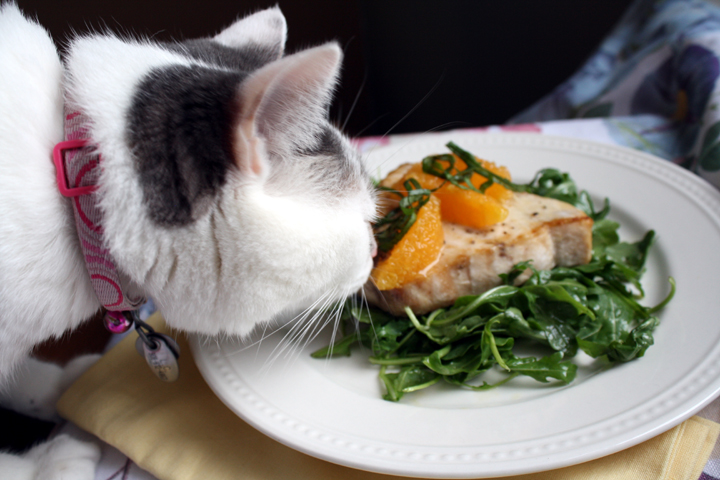 Citrus Swordfish over Arugula
Adapted from Emeril 
Ingredients
1/4 cup rice wine vinegar
2 oranges
2 teaspoon Dijon mustard
salt and pepper to taste
1/4 cup plus 2 Tbsp extra-virgin olive oil
2 tablespoons chopped fresh basil leaves
4 (6-ounce) swordfish fillets
6 cups arugula
Segment (supreme) the two oranges, squeezing out and saving all the juice that remains after removing the segments. Set the segments aside and put the juice in a medium bowl.
To the bowl of juice, add the rice wine vinegar and Dijon, season with salt and pepper. Whisk to combine. Drizzle in the 1/4 cup of the olive oil in a slow and steady stream to properly emulsify the vinaigrette. Add the chopped basil and set aside as you prepare the rest of the dish.
Turn on broiler and set oven rack about 6 inches from flame.
Season each swordfish fillet with salt and pepper. Brush with the remaining olive oil and place on the broiler pan. Cook for 6 minutes minutes, turn over, salt, pepper and oil, and cook another 6 minutes or until cooked thru. Remove the swordfish.
In a large bowl, combine the baby greens, and 1/3 cup of the vinaigrette. Toss to combine and divide the salad among the 4 plates with the swordfish. Top each fillet with a few orange segments. Drizzle a bit of the remaining vinaigrette over each swordfish fillet and serve immediately.