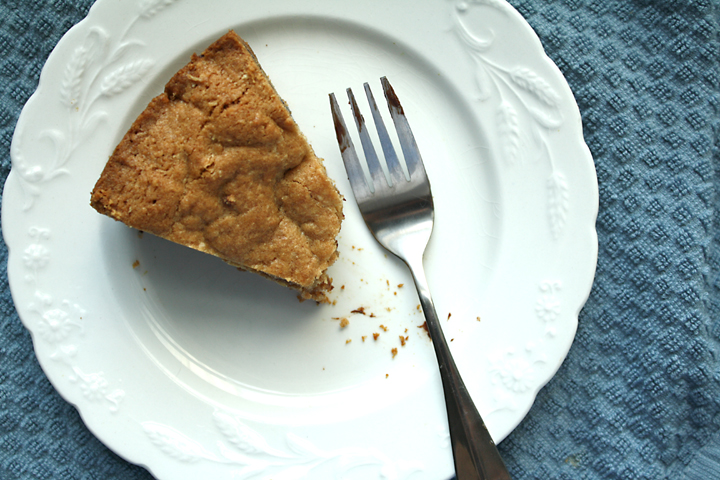 So I've still been busy taking care of a bunch of stuff for the wedding. The invitations arrived last weekend and I spent about 6 hours assembling and stuffing them. I'd like to say Nate helped. In his defense, he was working on his wedding video…and I'm a bit of a control freak so I probably would have ended up yelling at him anyway :)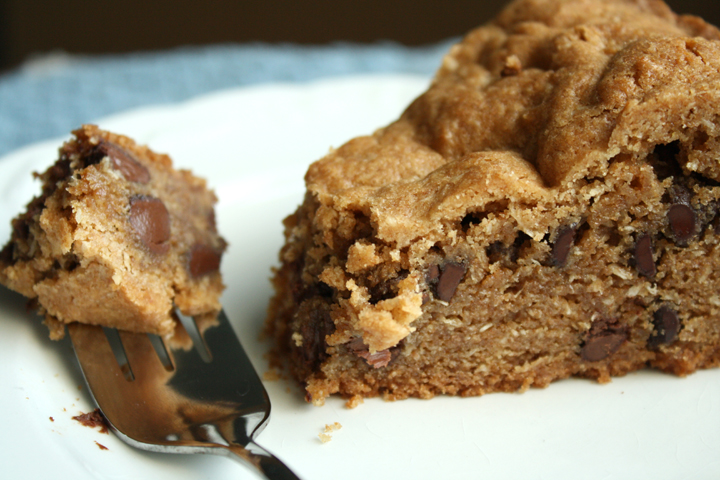 After my last few healthy posts, I figured you guys might be itching for something a little bad. While this recipe may fool you with "whole wheat" in the name, It has a decent amount of butter and chocolate.
That's not to say that it doesn't have its benefits. The whole wheat flour and coconut add a little fiber. And really, you should indulge now and then anyway.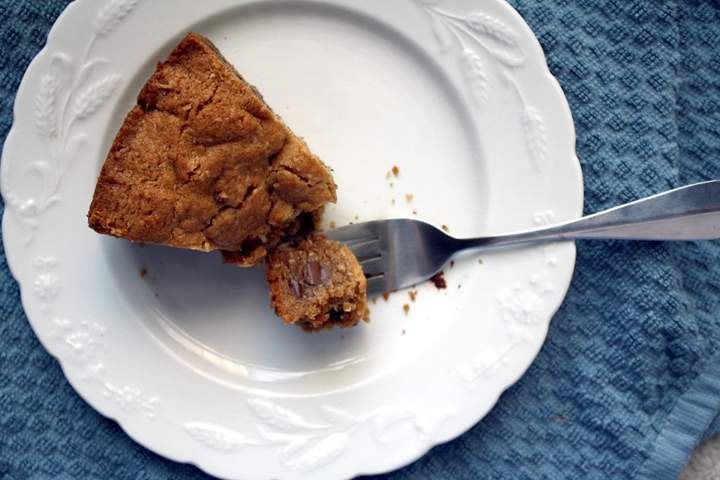 Nate was lacking on desserts in the apartment so I thought I'd do something nice. This is a cinch to mix up and will bake up in no time.
I was extremely sad that I didn't have a little vanilla ice cream to eat with this when it was warm from the oven. But even so, it was outstanding- dense, gooey, everything you'd want in a giant cookie cake!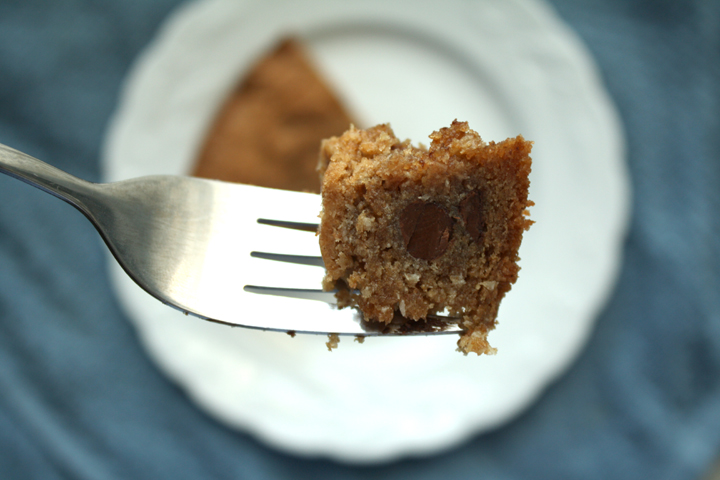 I can't take credit for this recipe. I got it off the site Bran Appetit. The recipe below makes a couple very small changes.
Whole Wheat Chocolate Chip Cookie Cake
VERY slightly adapted from Bran Appetit
Serves 16 (if you can stand to only eat a small piece)
8 oz. butter, softened, plus 2 Tbsp for buttering your pan
1 and 1/4 cups brown sugar
3/4 cup sugar
2 tsp vanilla extract
2 eggs
3 cups whole wheat flour
1 and 1/2 tsp baking powder
3/4 tsp baking soda
1 tsp salt
2 cups semi-sweet chocolate chips
1 cup shredded unsweetened coconut
Preheat oven to 350 degrees. Grease a 9 inch springform pan.
Dump the 8 oz. of butter into a large bowl (stand mixer or other big bowl) and pour in the brown sugar and sugar. Beat together for 3-5 minutes until the mixture is light and fluffy.
Beat in the vanilla, then add the eggs, one at a time, to the butter and sugar mixture.
Pour the flour, baking powder, baking soda, and salt into the bowl and mix into the butter.
Once the dough has come together, add the chocolate chips and coconut and beat the mixture for another minute until the chips are mixed into the dough.
Dump your dough into your pan and press into an even layer.
Bake at 350 degrees for 35-40 minutes until the top is golden and a toothpick comes out clean (or a little wet).
Let the cookie rest for at least 10 minutes before serving.